Arched windows may not be something that we see a lot in modern architecture, but they are a trend that is starting to pick back up and are here to stay.
If you are looking to choose the perfect shutters for arched windows, then you've come to the right place!
We've decided to round up some of the best designs that may inspire your home interior.
An arched window has a timeless appeal that offers your home a unique and distinctive appearance.
They are easy to care for and can last you a long time. Not only that, but arched windows typically have good energy efficiency too!
In terms of choosing shutters for this type of window, your creativity can run wild because the possibilities are truly endless. There are many types of window shutters that can reflect various kinds of atmospheres.
So, it's important to know your interior style and the vibe you're going for. Let's get started!
1. Go for 5-1/4″ Horizon panels from O'Hair as the Shutters for Arched Windows in a Traditional Bedroom
We have a traditional bedroom that features three arched windows for this first example. These 5-1/4″ Horizon panels from O'Hair are white shutters that evoke a cozy and timeless mood.
You may notice that the arched windows are actually separate from the rectangular section of the structure below it. To address this, the owner has used a custom divider rail that integrates both parts of the window.
The bedroom itself has carpeted flooring that matches the beige walls and wooden furnishing. All of this helps to create a traditional bedroom vibe that can fit into any classic-inspired home. We also love the antique lamps used here.
In terms of the finishing touches, adding personal mementos and details throughout the room can make the decor feel more intimate to you. For example, look at the photos and frames on the side table.
2. Paint the Shutters for Your Arched Windows in Black Walnut to Create a Lovely Contemporary Living Room
This trendy and contemporary spot shows you how you can treat your arched windows with wood shutters to evoke a classy and elegant look. It's perfect for a living room or a corner in your bedroom!
The wood shutters can adapt to the shape of the arch in the windows, which helps you maintain the beautiful appeal of the architectural details of the arch. Meanwhile, the choice to use black walnut is a great one that also brings out the furniture.
Here, you can see how the glossy and contrasting color of the black walnut pops against the beige walls. At the same time, it balances the medium-toned wood flooring under the fuzzy, beige carpet.
You can sweeten up the space by adding some details to the area, like the mustard green pillows on the seats, indoor plants, and a stack of books.
3. Use Custom Wood Shutters for Dramatic Arched Windows to Highlight the Stunning Architecture in a Bedroom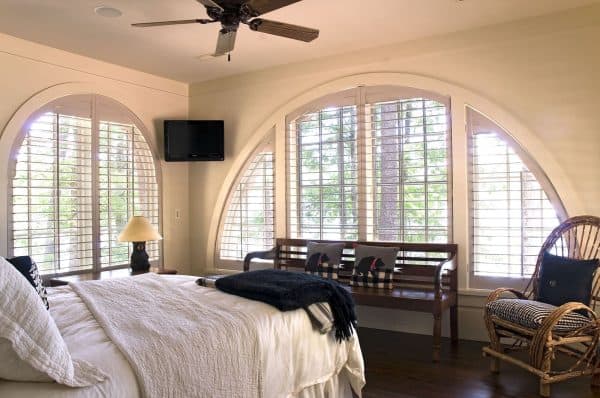 Another way to highlight the dramatic architectural charm of arched windows is to use dramatic custom wood shutters that loosely match the wood flooring in the room.
You can try using 3 1/2″ louvers to recreate this look, which is also the standard louver size for most shutters. Of course, feel free to customize the louver size depending on what's right for your space.
In this bedroom, it's almost impossible to ignore how the massive windows act as a centerpiece in the design. The bed faces the largest window to make the most of the view outside, while a cozy wooden bench is set directly against the window.
In addition, you can also notice the various furnishing that adds even more character and pizzazz to the interior. From the rattan and nature-inspired chair to the side to the wood dresser with a classic lamp and the ceiling fan overhead.
One other benefit of having such huge arched windows is that you can let in plenty of natural light, which will make the room feel brighter and cleaner. Plus, it also allows you to create the illusion of space even with a smaller room.
4. These Hunter Douglas Shutters for Arched Windows Evoke a Gorgeous and Bright Living Room Ambiance
Next up, we have got an example of Hunter Douglas arch window shutters that highlight the appeal of white shutters to evoke a gorgeous ambiance in any living room.
The shutters themselves are white hardwood plantation shutters, used on all three identical arched windows and glass-covered doors. They look quite fetching against the light beige walls of this space.
To decorate the living room itself, we would recommend going for bright colors that can establish a sense of airiness and elegance.
For instance, the brown carpet looks chic against the light wood flooring, while the beige sofa with multi-colored pillows adds depth to the room.
It can also be a good idea to add some flowers and plants, like the yellow vase of flowers on the side table. Not only can they add more color in a subtle way, but these plants can also make the living room feel livelier.
5. This Contemporary Space Pairs Simple White Shutters for Arched Windows with a Fiddle Leaf Fig Plant
If you love contemporary interior styles and want to create the ultimate modern living room with a simple yet attractive charm, then you might love this next photo.
This living room features a single arched window on one side with white shutters that are super simple in design and fits the overall theme of this space.
The white color blends seamlessly with the white walls and ceiling to ensure a bright atmosphere.
There's also another rectangular window with matching shutters.
One tip when decorating a white-colored room is to play with deep contrasts in the flooring.
For instance, the wood flooring here adds a sense of warmth and avoids too much white. However, you can still place a patterned rug underneath to ensure a balanced look.
Furthermore, we also adore how the fiddle leaf fig plant in the corner adds so much life and character to the room without stealing any of the spotlights.
6. White Plantation Shutters for Arched Windows Can Look Beautiful in an Elegant, Dark-Themed Living Room
The photo above shows a great way to use plantation shutters for arched windows so you can evoke a sophisticated mood.
Plantation shutters are, in essence, shutters with wider louvers, usually flat or elliptical shaped.
The timeless design itself can be a great benefit to choosing this type of shutter, but the solid hardwood material also makes it a durable and high-quality feature.
If you're really wanting to create an elegant and upscale atmosphere in this living room, placing a grand piano in the center can be a brilliant move. You may notice that there is also a violin, which may indicate that the homeowner is a music enthusiast.
Lastly, adding a touch of greenery will also tie the whole room together. You can see how the green of the stalks, white plantation shutters, and the white of the flower petals pop against the dark brown walls.
7. Try Dark Wood Shutters for Arched Windows to Contrast Light Walls in an Airy Atmosphere
This is another example of plantation shutters that you can try to dress up any room in the house. You can use dark wood shutters to embellish your arched windows and create a super classy vibe.
Here, the choice of dark-toned wood for the shutters is excellent because it contrasts with the light wall color. This helps your window feature pop even more and become an attractive visual element.
The shutters also can fold on the lower half, while the upper slats can move to let in more light during the day. This is another great benefit of using plantation shutters, so you can maintain an airy and cool atmosphere inside the house.
To make any space feel more personal and customized, you can hang some frames next to the window. These could be either personal photos or art pieces that speak to you.
8. Induce the Mid-century Charm with Stained Wood Shutters for Your Arched Windows
There is something striking about mid-century design that is sure to draw the attention of anyone who sees it. This corner in a traditionally decorated living room is living proof.
You may notice how the arched window steals the show here, especially with the stained shutters with satin coating, which gives them a beautiful subtle sheen as well as protection. These shutters can move to reveal the view outside.
In terms of furnishing this style of interior, using lots of gold accents and colors can be the right move. Pair them with light yellow walls and wood flooring, and you will immediately get an elegant vibe.
The simple white rug also adds so much character and uniqueness to the space while adding a little bit of texture and pattern. Likewise, we love how the pair of pendant lamps on the wall cast a warm and exquisite glow.
9. Aesthetic Shutters for Arched Half Moon Windows in a Modern and Classic Bedroom
What first caught our attention about this bedroom is that it manages to blend both modern and traditional interior elements to create a space that feels contemporary and classic at the same time.
The arched windows, sometimes also known as half-moon windows, play a huge role in establishing an old-school charm feel. Combining it with roller shades can also be great as it allows you to fold and open up the shutters for super bright lighting.
Meanwhile, the color palette of this bedroom is calming and fitting for a place of relaxation. From the grey and green leather ottoman and headboard, to the grey bedside table, and multi-colored floral sheets.
Plus, the simple print above the bed of seashells also manages to add a subtle beachside vibe without losing the appeal of its minimalist visuals.
10. White Shutters for the Arched Windows in a Cozy Living Room with Earthy Tones
When you are trying to decorate a living room with arched windows, it's always worth choosing shutters that match the color palette of the room.
For example, this one has earthy tones like brown, beige, and yellow, so one of the best colors for the shutters would be white.
The crisp shutters can then stand out against the rest of the interior and highlight the beautiful arched detail of the windows.
The room itself is painted in Benjamin Moore's Jamesboro Gold HC-88, which is a super warm and natural shade that makes an excellent foundation for the rest of the furnishing.
Starting from the yellow sofa and armchair, the latter of which has a crisscross pattern on the upholstery that gives it a little depth of design.
There are also brown settees and decorative cabinet, which looks stunning against the wood floors.
11. Create a Fun Kid's Bedroom Featuring White Shutters for Arched Windows and Colorful Quilts
Next, we will show you a fun kid's bedroom that has an arched window and how you can style it in a way that feels fun, bright, and engaging for the little ones.
The first thing you'll notice is, no doubt, the massive underwater mural on the wall depicting a whale and the stunning landscape. This can be an excellent idea, and you can try extending the sky up to the whole ceiling for an infinite illusion.
Meanwhile, use Water Flow by Behr for the rest of the walls to maintain a similar shade that is equally bright and uplifting. You can then balance this bright color with dark-toned wood flooring that will establish warmth and coziness.
For the window, you may notice that the white shutters look really charming against the light blue walls. They can open up to let in more light, which in turn allows for better natural lighting inside the bedroom.
12. This Stunning Family Room Combines Vibrant Colors with White Shutters for Arched Windows
When we look at the living room pictured above, we immediately feel a sense of joy and pleasure. There is something about the vibrant yet soft color palette that feels very optimistic and relaxing.
Painted in Peach Land by Benjamin Moore, the walls here have a flattering shade that fits really well for the setting of a family room.
In addition to the medium-toned wood flooring underneath, you can place a pastel green carpet to add a refreshing touch.
The green color can also be matched by the coffee table, whereas we recommend using light beige upholstery with floral patterns for the seating.
Finally, there is the multiple arched windows line against the wall with sleek, white shutters. These are great as they ensure that natural light filters into the space, while the white color itself helps maintain a bright and airy atmosphere inside.
13. Elevate an Elegant Master Bathroom with White Shutters on Arched Windows and Marble Tile Floors
For this following example, here is an elegant master bathroom that features white shutters on its arched windows as well as marble tile flooring.
You can see that the bathroom is attached to the master bedroom, which means that the marble flooring actually goes through both rooms.
This is a great trick to make the flooring feel seamless and continuous, and to open the flow between rooms.
The arched windows add an elegant and classic touch which helps create an open and bright feeling in the bathroom. You may also notice a skylight above, which acts to the same effect.
Plus, we love how the white freestanding tub also matches the various white accents throughout the interior. This includes the doors and other smaller accessories.
However, you can still use wood for the console table and countertop to create a nice contrast.
14. Use Site White SW Walls and Shutters for Arched Windows to Create a Welcoming Family Room
Lastly, a gorgeous family room that oozes with a welcoming atmosphere and features lots of Moroccan-inspired fabrics and textiles.
The walls and molding in this room are Site White 7070 and Software 7074 by Sherwin-Williams. They are a fantastic choice for a room with such rich patterns and heavy furniture, as they can balance them out and avoid a cluttered and constricted appearance.
Meanwhile, the arched windows are also an important feature of this space. They come with white shutters and grey frames for the door part, which actually opens all the way.
This is perfect for when you want to blend the indoors and the outdoors, especially during the cool afternoon or when you are hosting guests over.
For the final touches in this family room, we do love the various pops of colors placed throughout. From the red and gold cushions on the sofa to the fuzzy green throw blanket, green vases, and plants.
Of course, not to forget the stunning rug under the living area, which adds so much depth and personality to the entire room!
Closing
Ultimately, windows and shutters are a huge factor in decorating any room in your home. They may be overlooked and be categorized as the natural structure of the house. When really, they can actually elevate and round up your interior nicely.
Today, we have covered a range of examples of shutters for arched windows that will fit a huge array of decor styles.
It can be a good idea to note down what you like and don't like about each example. This will help you determine the right pair of shutters that can suit your home and individual preference.
With that said, don't hesitate to experiment and explore new styles that you may have never tried before. Good luck!