A staircase can be a huge centerpiece for any house that's more than one story high. In fact, there are many indoor wood stair railing designs that can truly elevate your home.
This is because stair railings are more than just a functional and safety feature. They can provide a beautiful style in terms of the visual aesthetic and allow your staircase to shine as an artistic entity.
One of the best materials you can use for the railing is wood, as this classic choice is perfect for more traditional and contemporary interiors alike. It offers a timeless look that will not go out of style, no matter how much time passes.
Some of the most common types of wood to use are red oak, white oak, mahogany, ash, and cypress. Red oak is especially easy to stain and finish, so you can achieve the exact look that you want.
Without further ado, let's explore some of the best indoor wood stair railing designs that can help you make a statement!
1. This Indoor Diagonal Wood Stair Railing Design Features a Mini Library for a Dramatic Entryway
First and foremost, take a look at this dramatic, modern entryway featuring a diagonal wood stair railing design and a stunning indoor vibe.
The diagonal infill members are parallelogram-shaped in sections. It is 3/4″ furniture-grade plywood set at an angle, while each of the long edges has been cut to a uniform angle. This will help highlight the striping in the plywood for a touch of authenticity.
Furthermore, the handrail is customized and built out of Baltic birch plywood. The horizontal woods have also been mortised into the vertical pieces for a seamless and well-integrated look.
You can even see a mini library at the back where the exposed brick acts as a gorgeous accent wall that contrasts the colorful book collection nicely.
This can be a great way to integrate the desk area in the lower level of the house with the upper levels.
For a final touch, you can even hang contemporary art on the wall beside the staircase to infuse some personality and modern crafts into your home.
2. Go for a Contemporary Southwest Look with this Indoor Horizontal Wood Stair Railing Design and Wooden Risers
Next up, this is a mid-sized southwest home interior with a wooden straight wood railing staircase and sleek wooden risers that match the overall vibe of the house.
The wood stair railing is a horizontal type that is thin and round, which provides a uniquely modern impression. These horizontal railings also have tall, vertical bars to keep them together and meld directly into the overhead wall.
Another thing that we love about this design is the wooden risers. Together with the railing and wood flooring of the rest of the house, you can really get the seamlessness of everything as the entire interior blends together.
This can be a great example to inspire your home design if you like a calming and zen atmosphere. Simply pair the wood elements with bright colors like white walls as well as warm, yellow lighting.
Don't forget to hang some photos or art pieces on the wall, complete with thin wooden frames, and go for wooden windowsills.
3. Distress Dark-Stained Turned Balusters for the Quintessential Rustic Indoor Wood Stair Railing Design
Now, what about a rustic design? For those who love the appeal of natural and aged interior styles, this photo could give you the perfect source of inspiration.
This rustic indoor staircase evokes such a rough and quintessentially cottage ambiance, which helps set the mood to a calming and cozy tone. Having warm lighting helps, too, as you can see with the charming chandelier hanging in the center of the room.
To talk about the stair railings, these dark-stained turned balusters have been distressed with an amalgamation of modern and traditional tools. From an electric grinder to a chisel and wire brush, the balusters are then sanded by hand.
It can be crucial to hand sand the railing as this will help remove splinters and rough spots while still maintaining a casual and authentic texture on the wood.
In a rustic home like this, you can also hang a classical painting that enhances the atmosphere even more. Like the painting of a colorful flower vase above the decorative table here!
4. Complete Your Indoor Geometric Wood Stair Railing Design with Crystal Balls and Modern Art Pieces
There is also plenty of beauty to find when combining traditional railing styles with bright colors and modern pieces of artwork, as you can see here.
The first feature we wanted to highlight in this indoor staircase design is the crystal balls hanging in the center of this room.
They resemble the stunning Bocci pendants and come in many different styles, so feel free to explore the Bocci catalog to find the perfect one for you.
Meanwhile, the board and batten next to the steps are around 12" from the center. If you want to recreate the bright and airy color scheme, try Valspar's Comet Dust for the wainscotting and trim and Valspar's Woodlawn Bedroom White for the rest of the walls.
The wood railing itself has a geometric pattern that calls up contemporary trends while still embracing some elements of the traditional Tudor style. The combination of the natural wood color and stark white also makes for a gorgeous finish.
Last but not least is the set of four pieces on the wall. These modern artworks sport vibrant colors that stand out against the white walls, while the white frames and backgrounds ensure that they still fit in well.
5. Build a Craftsman Inspired Indoor Horizontal and Vertical Wood Stair Railing Design for a Cozy Mountain Retreat Vibe
Some people are all for craftsman-inspired home interiors, and if you're like that, no need to worry!
This next photograph showcases a simple but beautiful indoor wood stair railing design that is reminiscent of cozy mountain retreats.
You can see that the railing itself mixes horizontal and vertical arrangements for a dynamic and deep impression. The wood itself matches the white oak used for the flooring, which hasn't been stained to emphasize its natural appeal.
In addition, the door and trimming that you can see for the walls and windows use mahogany with water-soluble poly. Again, these are not stained to truly bring out their natural color and texture.
In terms of the color for the walls, these are Benjamin Moore Nantucket Gray HC-111. The ceilings are in White Blush OC 86, also by Benjamin Moore.
6. This Spiraled Indoor Vertical Wood Stair Railing Incorporates a 25-feet Tree for the Ultimate Rustic Design
For those who love rustic interiors and styles, why not go all in and incorporate an entire tree stem that can immediately create a unique and striking centerpiece for your home?
This photo provides a snipper of a stone tower with a pastoral, indoor spiral staircase design.
The vertical wood stair railing is each made of individual hand-curated branches. These treads are carved by hand and notched into the central tree.
Moreover, the balusters are also hand-carved, while the tree itself measures 25 feet to connect all three stories of this home. This truly is a stunning example of making use of natural resources in the most epic, modern way.
When furnishing the home itself, we recommend going for natural materials and embracing their colors and textures so you can highlight the beauty of nature in a manmade structure.
For instance, there is a rugged stone countertop that is integrated with a wooden bench.
7. Embrace the Traditional Indoor Vertical Wood Stair Railing Design with Painted Risers Against The White Paint
Who says you can't take a traditional indoor wood stair railing design and make it look chic, classy, and a little bit modern? Well, this photo can show you how!
Starting with the vertical railing design, the wood has been stained dark to contrast the white paint for a stark and classic look, which you might love.
While you can't really see in the photo, the ceiling is actually sloped, and positioning the stair here is a nice architectural detail.
Next, painting the risers to match the tone of the wood railing is also a great idea. This adds even more depth and highlight to the space. It will stand out against the white paint that also covers the rest of the walls.
Not to ignore the set of photographs and arts on the wall. You can try arranging them in a sloped way to follow the shape of the staircase while making it a little asymmetrical for a bit more personality.
8. Try a Luxurious Air with Carpet on this Contemporary Indoor Vertical Wood Stair Railing Design
If you are into upscale and elevated designs, carpeting your indoor staircase can be the perfect way to complement the vertical wood stair railing that you have.
For example, you can see here that the contemporary vibe is prominent with the gold accent on the wall panels and carpeting that looks exquisite next to the wood floors.
The wood railing itself has a vertical design with some dynamic shapes to the handrail, which is stained dark for a touch of boldness. This can introduce some balance to the relatively bright color scheme.
Interested in recreating this luxurious interior? We've got you covered.
Try going for Benjamin Moore Sail Cloth to paint the walls, whereas the trim uses a high gloss finish for Benjamin Moore's Off White. These colors are bright and neutral while still evoking some semblance of warmth.
9. Consider Hanging Photos and Artwork Along with an Indoor Vertical Curved Wood Stair Railing Design
We have seen how artwork and photos can make a huge difference when decorating an indoor staircase, and this next example will convince you why, if you are not already sold on the idea.
The indoor vertical stair railing design that you see here has a curved silhouette to follow the architecture of the home, which also evokes some grandeur to the interior. We love that the risers are wooden slats that match the railing.
Sometimes, simplicity is the way to go. The interior designer here has chosen photos that are more neutral and muted in tone and color, which can be excellent for the mood of this home.
Finally, don't forget that the right pendant lighting can hoist the mood even more. Like this stunning piece from Feiss, a 4-light chandelier that adds so much style and personality.
10. This Rustic Indoor Horizontal Wood Stair Railing Design Contrasts the Shiplap Wall and Modern Living Room
Combining two contrasting styles can be extremely worthwhile when you do it right. Look at how this modern living room evokes a unique charm as it is set against shiplap walls and wood railing.
The indoor staircase here features a horizontal wood railing that doesn't shy away from the natural shade and blotches of real wood. This is a great way to introduce a rustic theme to your contemporary-inspired interior.
You can then choose dark-toned wood for the risers to match the wood flooring of the living room. It can help establish a continuous feel that ties the entire home together.
Of course, the shiplap walls here are also worth mentioning. Known for the long planks and white paint, these walls are reminiscent of exterior ship sidings and can evoke a subtle and gorgeous coastal vibe.
11. Evoke Beach Vibes with this Indoor Wood Stair Railing with Turned Baluster Design and Arched Double Doors
Ready to bring the ultimate beach vibes to your home? It may not be located in an oceanside setting or with any beaches nearby, but you can totally rock a coastal mood by incorporating the right colors and styles.
For instance, the indoor wood stair railing features turned balusters for a classic and timeless appeal. The twist is to use dark wooden risers and white paint for the balusters and roll out a carpet in the center of the staircase.
Another detail that we love is the double doors used in the entryway. Its arched top complements the six glass panels in the door for a grand and sophisticated effect.
Meanwhile, the secret to maintaining a beachy atmosphere is to use high ceilings, white walls, as well as a lot of windows that can maximize natural lighting indoors!
12. Revive the Timeless Tudor Style in this Indoor Dark Walnut L-Shaped Wood Stair Railing Design
Tudor style can feel a little outdated, but it can also be super charming and unique with its cool and cozy effects. It is a great style to try in any country or even urban estate.
This indoor wood stair railing design uses dark walnut for the black spindle and risers, which complement the stained hand railing. It has an L-shape to follow the old-school vibe of the rest of the home too.
Plus, you can see that the ivory and tan faux-finished walls look striking when you hang some abstract art.
This artistic touch of anachronism can be a playful way to jazz up the interior of your Tudor-inspired home!
13. Use a Custom-Designed Sofa to Embellish Your Curved Indoor Wood Stair with a Vertical Railing Design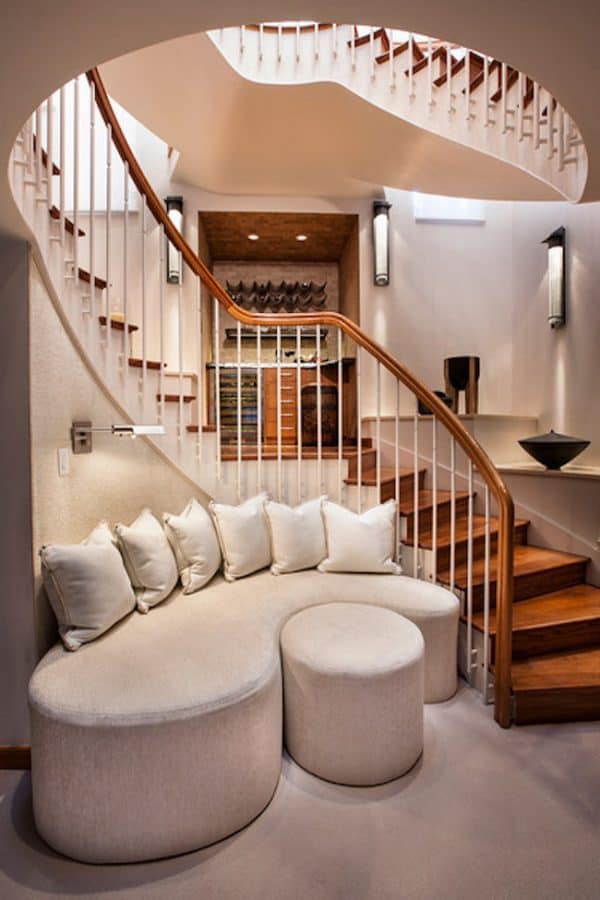 To wrap up our list, we have an example of custom-designed furniture to pair a vertical railing design. The result is a one-of-a-kind look that is only yours!
This indoor staircase has a contemporary design that is extremely plush and lavish, which can be great for any modern and timeless home. It features a wood stair railing with soft edges to enhance the feeling of warmth and coziness.
You can see that the staircase itself winds in a curved shape, so that the space at the bottom of the stair is curved. It may be hard to furnish this space with ready-made furniture. This is why going for a custom-made sofa can be a brilliant idea.
In terms of color choices, beige and off-white can be perfect to go with the wooden railing and risers as they can evoke a luxurious ambiance.
There is even a built-in alcove in the middle of the stairs, which adds even more sense of personalization to the space.
Closing
That is all for our top indoor wood stair railing designs. From a modern entryway to rustic second-level landings, there are tons of options for you to incorporate wood railing in your staircase.
We highly recommend going through this list and identifying what you like and don't like about each design. This will help you realize the style or vibe that fits more with your personal preference.
Therefore, you will be able to decorate your home in a way that feels customized to you.
Moreover, don't be afraid to go out of your comfort zone and experiment with new colors and materials. You might discover the perfect wood railing design for your home!