A dark grey bathroom is timeless and super versatile, which means it can be great whatever your interior style is.
From contemporary to farmhouse, you can't go wrong with using dark grey in the bathroom.
What we love about grey is that it will never go out of style.
As long as you know how to decorate and complement it with the right accents, furniture, and materials, your bathroom will always feel chic, up-to-date, and cozy.
In terms of color pairing, grey is neutral, so you can easily match it with either fellow neutrals or bolder colors. Whether that's brown, white, or striking red, the options are pretty much unlimited!
To help you out, we have compiled a list of the best dark grey bathroom designs so you can get some inspiration.
1. Create a Rustic Dark Grey Bathroom with Charcoal Limestone Tiles and a Country Wood Cabinet
In this first example, you can see a rustic dark grey bathroom that incorporates charcoal limestone as the tile flooring and natural wood for the furnishing.
The tiles for the floors and walls are brushed charcoal grey limestone from Canyon Tile and Stone in Agoura Hills, California. It features different shades of grey for a more authentic and natural feel, which really fits the rustic theme.
Using a freestanding tub is perfect as it gives you the freedom and flexibility of placing it anywhere.
The more central placement also provides a more balanced look and aesthetic to the space, whereas the bright white color of the tub contrasts the dark grey surfaces nicely.
Photographed here is Barclay's Electra 64″ Double Slipper Tub. There is also a glass wall to divide the tub and shower area without blocking any natural light. The effect is a bright and airy ambiance to make the space feel roomy.
Additionally, the linen cabinet to the side uses wood with a rugged and natural finish, which evokes a quintessential country feel.
2. Pair Dark Grey Limestone Tiles in a Bathroom with White Accents and Thrifted Decor for a Modern-Inspired Farmhouse Look
Farmhouse style doesn't always have to seem out-of-date and antiquated. The photo above shows how you can also mix modern vibes with traditional charm for a beautiful bathroom.
Starting with the tiles, these are dark grey mosaic limestone in both the shower and outside of it. You can then use dark grey planks for the walls to evoke the classic farmhouse ambiance.
Meanwhile, try contrasting the dark grey with white accents such as with the windowsill, shower walls, and ceiling. This evokes a bright and crisp highlight that is perfect for adding some elegance.
Another thing we adore about this interior is the thrifted decor and eclectic mood. For instance, the old letters displayed on the shelf have been found in a flea market and come from old advertising signs.
This is an excellent example of how using vintage objects can create a unique look.
3. Go for a Dramatic Freestanding Bathtub Design to Elevate a Dark Grey Bathroom with Basalt Tiles and Wood Furnishing
Next, look at how pairing dark grey with light wood furnishing and white accents can encapsulate a captivating modern ambiance that feels homey and comfortable.
One of the most eye-catching features of this bathroom is doubtless the dramatic freestanding bathtub.
You can go for a more striking and unique design to provide an attractive focal point. Placing it near a large window also lets you enjoy the view while soaking in the tub.
For the flooring, go for dark grey Basalt Tiles that are durable as well as pretty. Having one accent wall with these tiles can also create a seamless look and appealing highlight in the space.
Keep the other walls in a simple white color for a pleasant balance.
Moreover, the wood cabinets that you see use natural fiddle back maple, which has a unique depth and dimension to its look. Contrast them with white porcelain sinks and countertops.
4. Combine Japanese Marble and Porcelain Tiles in a Dark Grey Bathroom for a Zen Atmosphere
Zen in interior design refers to a state of calmness and peace that can help you feel deeply relaxed, content, and invigorated. This is a great thing to evoke in your bathroom!
So, our next photo features a dark grey bathroom that combines Japanese marble for the tiling on the walls and porcelain for the flooring.
The mixture of materials in the same color allows you to create variety and depth while still maintaining a cohesive color palette.
To further enhance this calming Zen atmosphere, you can place smooth black pebbles under the bathtub. It will add a natural feel that helps soothe the mind and also a better visual appeal.
There are also two sinks in this bathroom with a classic white color, which sit on the painted wooden vanity. You may even want to place a small gray mat to keep the floors dry and introduce yet another texture!
5. Use Elegant Marble Surfaces with Bespoke Dark Grey Color to Evoke a Lavish, Contemporary Bathroom
One way to evoke elegance in a dark grey bathroom is to use marble surfaces. You can see how the gorgeous marbling creates a lavish effect from the walls to the bathtub surround.
The dark grey walls in this bathroom are actually using a bespoke mix, which means it has been customized by mixing several existing colors. We recommend going for a darker and richer shade that can provide a snug ambiance.
You can then juxtapose the dark grey with white marbled tiles for the floors, bathtub, shower, toilet walls, and countertop. Meanwhile, the grey marbling on these white surfaces will look even more impressive.
Some details to enrich the space can include colorful flowers, photo frames, a pendant lamp, and brown-colored accessories like a tissue box or laundry basket.
6. Decorate a Modern and Attractive Dark Grey Bathroom Featuring Live Plants and Travertine Floors
Here is a unique dark grey bathroom that may be fitting for larger homes with a plush and contemporary theme.
Pairing attractive travertine floors with dark grey walls, this interior definitely exudes a strong presence.
The walls are Large Format Porcelain Tiles from the Neolith, which are in a dark grey, almost black, color to evoke the ultimate sense of coziness.
This modern vibe can feel even more stunning with black floating cabinets and a black freestanding tub.
Adding live plants and greeneries in this bathroom is an excellent idea because it can provide a refreshing touch of green and make the space feel more alive.
Not only that, but these plants will also actually help improve the air quality inside!
Lastly, don't forget to install large mirrors above the sink or vanity. You can even give them a multipurpose function by hiding cabinets behind them.
7. Place Monochromatic Photos and Striking Red Accents in Your Dark Grey Bathroom for a Dazzling Interior
For those who want to have a bolder look while still keeping the overall tone of the bathroom muted and sophisticated, this photo could provide the perfect inspiration for you.
The color used for the walls is 2124-10 Wrought Iron by Benjamin Moore, a complex shade of dark grey that almost looks like a black and has navy-blue undertones.
This seemingly simple shade is actually quite rich and works well in a bathroom.
You can take the dazzle factor of your interior up a notch by adding dramatic red accents, from the beautiful streamers in the corner of the tub, the red mat, and a red face towel, to the red storage boxes. These are small touches that can elevate the entire look.
Of course, not to forget the monochromatic photos hanging above the tub. Go for a larger frame with some negative white space, which can beautifully counterbalance the dark grey colors.
8. Install a Skylight and Large Mirrors in a Dark Grey Bathroom for a Bright and Spacious Effect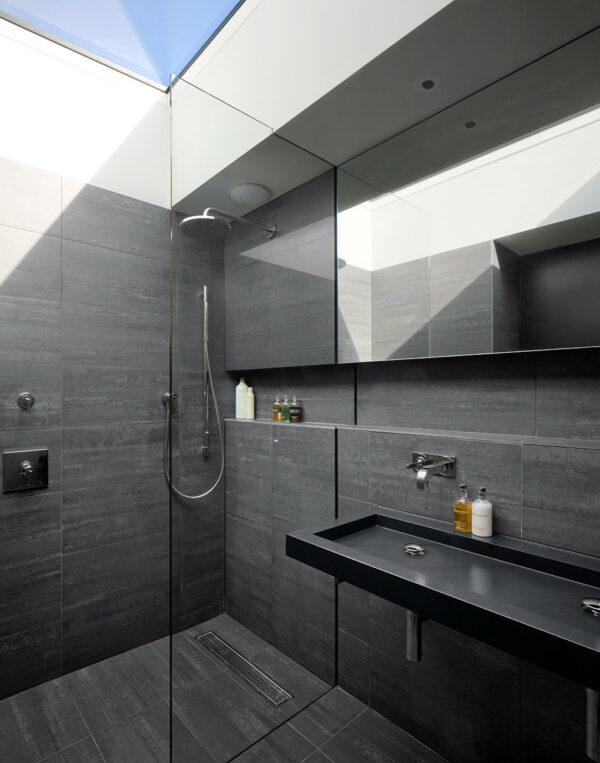 In this following example, we wanted to show you a bathroom that has a massive skylight. This is where using dark grey can be an excellent choice, even when you want to evoke a bright atmosphere.
Glass surfaces and mirrors are an important element of this space. From the shower glass wall divider to the large mirror wall above the sink, they help enhance the flow of natural light and amplify the size of the bathroom.
In terms of the color palette, don't be afraid to stick to just one: dark grey! The walls and floors utilize grey tiles, while the trough sink is painted in a lovely dark grey.
Another feature to include is a built-in shower shelf where you can store shower accessories and products.
9. Purple Flowers and a Wall-to-Wall Mirror Can Complete Your Dark Grey Bathroom for a Luxurious Appeal
When decorating a dark grey bathroom, we also love using natural elements like purple flowers, which you can see here is a beautiful way to elevate the space.
The countertops here are Minera by Cambria, while the cabinets are made of a rift-cut oak and stained in a custom-blended espresso. Overall, these features enhance the subtle and sophisticated dark grey mood.
For the walls, you can use Benjamin Moore's Gray. This is a classic shade that offers a brilliant alternative to black, as the charcoal tint provides a touch of warmth and softness.
We also adore the wall-to-wall mirror that you can see, which helps establish an illusion of space and create balanced and flattering lighting. You may even want to hang some pendant lights to add more character!
10. This Contemporary Dark Grey Bathroom Looks Fetching with a White Glacier Sink and Corian Countertops
Here is another contemporary bathroom that you might just love. It embodies modern interiors' minimalist aspect and simplicity, especially with the sleek dark grey tiles and white accents.
This trendy bathroom still feels spacious despite the slanted ceiling, which you can paint in a light grey for a complementary touch.
The walls and floors use dark grey tiles that look quite exquisite, especially if you have access to natural light.
You can then use Glacier White sinks and tub for a beautiful contrast against the grey. The Corian countertops for the bathtub surround are also a striking option to try.
Finally, to add a touch of rustic and pastoral feel to this bathroom, stick with brown wood for the windowsills!
11. Use Emser Tiles to Contrast the White Walls for a Dark Grey Bathroom that Feels Bright and Relaxing
This beachside-inspired bathroom shows how a dark grey bathroom can still appear super bright and relaxing if you contrast them with white walls and ceilings.
The large-format grey tiles used for the bathtub surround as well as shower walls and flooring are from Emser Tiles.
These accentuate the areas for relaxing, so you can keep the rest of the walls and floors in a brighter white and beige color.
Moreover, this bathtub is actually a hot tub. Feel free to go all in and include a luxurious feature in your bathroom, so you can recreate a spa-like ambiance that is perfect for relaxing in your own home.
12. This Farmhouse Inspired Dark Grey Bathroom Features Customized Vanity and Stunning Mosaic Tile Walls
In this next farmhouse-style bathroom, you can see how the customized vanity and mosaic tile walls are excellent elements to elevate the interior mood.
For one, the mosaic tiles incorporate different shades of dark grey with some hints of brown and beige, which is suitable for evoking a pastoral and rustic vibe.
This can make your bathroom feel much more distinctive and burst with character.
The vanity was custom-made by Akami Woodworks in Bend, and one thing we adore about it is the large mirror spanning the width of the wall. It
Meanwhile, the sinks are Kohler Reve vessel K-4819. They are rather shallow but offer quite a unique and stunning look that fits pretty well in this cottage-like space. These sinks also add a subtle modern touch.
13. Invoke Calming Japanese Vibes in a Dark Grey Bathroom with Wood Cabinets and an Oversized Window
Up next, this is a captivating bathroom that also invokes some Japanese vibes, thanks to the wooden furnishing and use of sleek dark grey colors.
You can use glass walls to divide the shower area as this will be great for keeping the space bright and airy. Adding a fun beige accent wall to contrast the dark grey walls can also be a great idea.
In terms of the vanity, go for wood as the main cabinet material and keep the countertop light with a translucent material. You can evoke the Japanese vibe with a sink like the one pictured above and by placing some small greeneries!
We also think that having an oversized window in the bathroom can be a beautiful touch, especially if it overlooks a secluded part of the forest or even the beach.
This allows you to make the most of any natural surroundings in your home while blending the indoors and the outdoors for a stunning bathroom.
14. A Round Mirror and Light Wood Shaker Cabinets Can Enhance a Rustic, Mountain Styled Dark Grey Bathroom
This mountain-styled bathroom has mostly dark grey colors but also pairs it with white surfaces and some wood accents. It's a beautiful interior that feels both bright and cozy, traditional and modern.
The walls and bathtub surround use dark grey stone tiles, whereas there is a white accent wall for added balance. Meanwhile, there are various touches of white, too, including the quartz countertop and marbled floor.
You can choose light wood material for the shaker cabinets for a more authentic vibe. This natural shade acts as the bridge between dark grey and white for an overall more seamless appearance.
Despite the rustic charm of this bathroom, you can also embrace the contemporary aspect by adding some more modern touches.
For example, this large round mirror sits right above the vanity. Its rounded shape adds some softness to the interior.
15. Embrace a Modern Interior with a Sleek Rain Head and Shower Shelf in a Dark Grey Bathroom
You can see a modern bathroom with dark grey tile walls and flooring in the last photo.
The use of a rain head here adds a beautiful touch of sleekness and modern technology.
Not only does this rain head provides an elegant look to the shower area, but it is also a beneficial feature. It provides more water coverage for showering and more hot steam, so that it's easy to feel relaxed!
Stick with a mainly dark grey palette for the walls and flooring for the color scheme. But going for white ceilings is also a great idea as it balances the dark hue for a cleaner nuance.
Another detail that we love is the shower shelf and the wooden shower bench underneath.
Closing
That wraps up the best examples we could find for a dark grey bathroom.
We have highlighted various ways to accentuate the appeal of your bathroom interior, from using wood flooring to accent colors.
As always, it can be worthwhile to look closely at each photo and pinpoint exactly which features you like and don't like.
This is an excellent way to find out your preference and style when it comes to decorating a space, so that you can ensure that your home reflects who you are.