If you are trying to decorate a royal blue bedroom, then you've come to the right place!
Today, we've gathered some of the most beautiful ideas that might give you inspiration.
Blue is actually one of the most ideal colors to use in a bedroom, thanks to its soothing and relaxing effect.
There are different hues of blue that invokes varying degrees of mood. Overall, it can help you establish a serene atmosphere.
In addition, it is also a versatile shade that you can easily pair with all kinds of colors, patterns, and materials. This will allow you to use your imagination and decorate the room to perfectly express your personality.
From welcoming and tranquil to dramatic and subdued, the possibilities are endless. Some of the examples you see also feature wood or carpet flooring to create distinct ambiances.
So, let's dive right in!
1. Incorporate Modern Door Fixtures for a Unique Bookcase and Entrance in Your Royal Blue Bedroom
Next up, this is a contemporary bedroom with an eclectic mood that incorporates unique and striking features for a one-of-a-kind interior.
These glass doors that you see have been customized by local lumber, solumber.com, but they can be constructed out of any secondhand doors or resources you may have.
You can use them as the sliding doors for your bookcase and entrance for a unique appeal.
In terms of the paint color, the royal blue walls evoke a bright, contemporary mood. This is Sailboat Blue by Sherwin Williams, which juxtaposes the white doors nicely for a striking contrast that enhances this room's overall personality.
Another gorgeous detail here is the custom Steel Bed by Chris Cardy of Delia Furniture. You can use white bedding with a couple of green pillows for a sophisticated balance.
Finally, we always recommend including an art or deco piece that speaks to you, which in this case also provides a fun pop of bright green color above the bed.
2. Use a Brown Bed with Benjamin Moore's In the Midnight Hour Wall and White Dove Trim for the Ultimate Royal Blue Bedroom
The photo above shows the ultimate royal blue bedroom that features a brown bed for stunning contrast and focal point. Its color contrasts nicely against Benjamin Moore's In the Midnight Hour.
In terms of the trimming in this room, try to use White Dove by Benjamin Moore, as it will offer a crisp and stark highlight. In addition, the white color can also accentuate the natural contours of the house.
You can get the chandelier by contacting Martha O'Hara Interiors, but we also encourage you to experiment with your own styles, so that you can build a bedroom that feels yours uniquely.
Other personal details to add include the wall art and pendant lamps.
For the flooring, you can use medium-toned wood that matches the bedframe. Simply lay a light brown rug under the beat if you want to highlight the sleeping area and add a stylish detail.
3. Go for a Modern and Minimalist Royal Blue Bedroom with Benjamin Moore HC-155 Newburyport Blue and Gorgeous Grey Features
One of the things we love about this bedroom is that it has a sleek and minimalist vibe, which can easily fit any modern home. It's a suitable design for kids or even teenagers.
The walls here are in Benjamin Moore HC-155 Newburyport Blue. It's a gorgeous color that establishes a royal blue theme for the ultimate calming and relaxing space. Don't forget to choose blue bedsheets too!
Try adding grey features and accents throughout the space to balance out the blue and offset the brightness of the shade, from the bed frame and carpet flooring to the armchair and curtains.
Overall, it produces a more muted and toned-down effect that can be perfect in a contemporary interior.
The trim and ceiling use Benjamin Moore's White Diamond, which is a clean and classic white color.
Of course, adding a few pops of colors will also help liven up the space, such as the orange pillows and green lamps.
4. Try a Playful Royal Blue Kids' Bedroom Using Sherwin Williams' Loyal Blue and a Sleek Black Bunk Bed
If you have a kids' room to jazz up, choosing royal blue as the main color may also be a fantastic choice as it can create a playful and cheery ambiance. This is a space where the little ones can have fun and also rest.
The main colors used on the walls are Sherwin Williams' Loyal Blue, combined with bright red and white for the stripes. These hues are reminiscent of a sailor's colors and can be a fun element for your sea-loving kids!
Moreover, the bunk bed here is from Ikea. It's the Stora loft bed frame in black. The bedding and pillows are the "Oh Buoy" collection from Land of Nod.
To save space and keep the floors open for playing, you can put up floating shelves or drawers to act as bedside tables, where personal things, frames, and nightlamps can go.
5. Installing Wallpaper as an Accent Wall for a Royal Blue Bedroom with Bright Wood Flooring Can Evoke a Calming Beachside Vibe
Who says you can't elicit a beachfront vibe in your home, even if it's not located in a coastal setting?
Here, pairing royal blue with wood flooring can give you exactly that!
The royal blue accent wall here actually has a subtle pattern if you look closely. It is the Lamu Wallpaper by Serena & Lily in cobalt, which adds so much character and texture to the room.
The other walls are grey, and the floor itself is light wood.
Feel free to mix blue and grey items for the furnishing and accessories.
The Serena & Lily rug is bright blue with a beautiful diamond pattern, while the throw blanket on the bed is navy blue. Moreover, you can choose a light grey bed frame and armchairs to complete the look.
6. This Dark, Farmhouse Styled Royal Blue Bedroom Looks Striking with Various Exposed Materials and Vintage Thrifts
For those who want to create a farmhouse-style bedroom, this one could give you excellent inspiration. With a cozy and homey mood, it certainly is ideal for a bedroom!
To start with, this royal blue bedroom also includes a myriad of dark and earth-toned colors.
For example, the grey bedding with green throw, blue armchair, and classic gold frame. All of these helps evoke an eclectic vibe with quite a unique personality.
The flooring is wood planks painted in white, which establishes the quintessential farmhouse vibe without messing up the color palette. Meanwhile, using white trims will be a great way to highlight the structure if you have windows.
Finally, the chandeliers and pendant lamps also add more beautiful details. Remember to incorporate other touches, too: from photos and art frames to other decorative pieces.
7. Place an Espresso Andalusia Rug in Your Grey and Royal Blue Bedroom for a Contemporary and Masculine Ambiance
One of the ways that you can enhance your grey and royal blue bedroom is by placing an Espresso-colored Andalusia rug, which you can get from West Elm.
This contemporary bedroom has grey walls, but the alcove behind the bed is painted in royal blue color, Behr's Planetarium, which creates an attractive focal point. On one of the walls, you can hang a large painting to fill up the void.
Moreover, the grey CB2 bedside tables hold a couple of West Elm lamps in red color. They offer a fun pop that contrasts the rest of the color palette.
We also love how the brown floor adds a nice touch of earthy tone, which balances the darker shades here.
If there is a window in your room, using black-out curtains that drape down to the floor can also be a great idea. It matches the black rug and bedframe to further enhance the masculine vibe.
8. Jazz Up a Royal Blue Bedroom with a Built-in Desk for the Best Functionality and Space-Saving Trick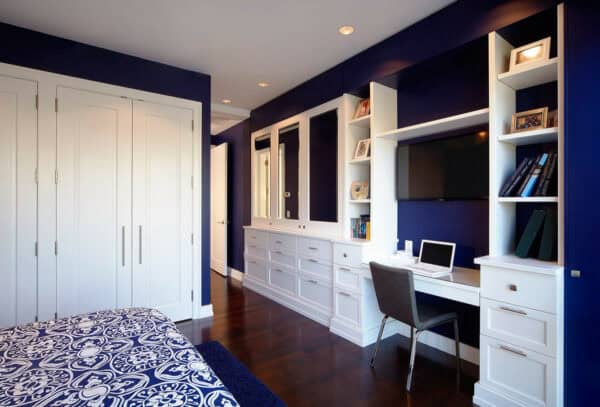 In the following example of a royal blue bedroom, you can combine functionality with aesthetics for a space-effective design, which can be especially perfect in a smaller home.
Here, the walls are Benjamin Moore's Bold Blue #2064-10 with an eggshell finish. It is a deep blue shade that evokes a soothing and peaceful atmosphere.
To offset the sheer amount of blue color, you can use a custom-built white desk and cabinet unit.
Making some of the cabinet doors into mirrors can also be a great idea as it helps extend the illusion of space, whereas a simple black chair for the desk will suffice.
Feel free to fill the open shelves with books and other collectibles too.
In the meantime, the floors are medium-toned wood flooring that has been coated with Duraseal stain. It is a mixture of Ebony and Royal Mahogany in a 3:1 ratio, which gives the floor a sleek and traditional sheen.
For this next bedroom, you can see a modern styled royal blue interior with a stunning accent wall that elevates the blue features and complements the other grey and white elements.
The accent wall behind the bed uses Sherwin Williams 6244 Naval, a pleasant shade that exudes a hint of opulence.
Painting one of the walls in a different color allows you to play with bolder choices and create a focal point in the room while also incorporating more variety.
On the side of the accent wall, you may want to add some more attractive pieces to further draw the eyes towards it. These modern touches can elevate the interior too.
For instance, the West Elm headboard in white has a striking geometric silhouette, and the set of four artworks creates a sense of elegance and personality.
In this first example, we have a coastal-inspired bedroom that feels both relaxing and inviting, which can be a great mood to set in a master bedroom.
Start with Benjamin Moore's Hale Navy as the main color for this royal navy bedroom, which is a dark and rich shade of blue.
Use Super White, also by Benjamin Moore, as the trim so you can highlight some of the architectural features for a crisp accent.
Moreover, the bed linens that you see come from Bellora and Garnet Hill. These are lighter shades of blue and white, so you can evoke that beachside resort vibe for a cooler and more exciting style.
Last but not least, finish the design with a vintage light that you can get from The Lamp Repair Shop. Feel free to also thrift an authentic chair to elevate the space even more and add more character.
11. Feature Striped Bedding and Benjamin Moore's Evening Blue with Massive Windows for a Nature-Centered Royal Blue Bedroom
If you are fortunate enough for your bedroom to face picturesque views, it can be worthwhile to have large windows that make the most of the natural surroundings.
This is also an excellent way to blend the indoors and outdoors for a more stunning ambiance.
The bedroom itself features Benjamin Moore's Evening Blue on its walls. This is a rich and evocative color that fits the seaside setting and enhances the ocean views.
Placing some greeneries on the bedside table can further enliven the space.
Additionally, we love that this royal blue bedroom also incorporates other shades of blue. The bedding has a striped pattern in light blue and white, which also evokes a coastal vibe.
12. Combine an Alcove Nook with Wall Paneling to Style a Classic and Timeless Royal Blue Bedroom
If your house naturally has an alcove, there's no need to worry! It is easy to transform this awkward feature into a cozy and appealing nook in your bedroom.
Just by using paneling and painting the alcove in an opulent royal blue color, you can create an impressive focal point that is guaranteed to enhance your bedroom by manifolds.
The wall paneling adds an intricate and brilliant detail, while the blue color itself contrasts with the white walls outside and light wood flooring.
You can choose a plush and elegant headboard for the furnishing to go with the classic and timeless feel.
Royal blue pillows and blankets will also help the space feel more cohesive, while hanging pendant lights from the alcove ceiling is a unique way to incorporate your lighting.
13. Accentuate Your Royal Blue Bedroom with Striking Gold Features for a Lavish and Plush Effect
Another color that goes really well with royal blue is gold. With that said, incorporating golden accents in your bedroom is sure to evoke a palatial and extravagant ambiance.
One of the most eye-catching features is the four-poster bed. The golden structure can reflect light nicely to produce a shiny and sleek appeal.
A more practical alternative is to place a table and a small settee in lieu of a bedroom bench, so this spot can double as a desk area.
You can see that this table also has gold legs with a fun and attractive silhouette.
In addition to the blue walls and black tile flooring, you may want to place a fuzzy blue carpet under the bed.
To balance out the heavy and rich colors, there is the white door that opens to the balcony, as well as the transom above. This will let in plenty of natural light while adding a countereffect.
14. Make A Royal Blue Bedroom Feel More Alive with Dark Wood Flooring, Art Pieces, and Fresh Greeneries
This last photo showcases an exquisite royal blue bedroom that pairs the lavish color with dark wood flooring, white accents, and a couple of live plants to freshen up the space.
While using a dark blue shade for the walls can help establish a soothing effect, we always recommend incorporating enough white surfaces to balance it out. For instance, the ceilings, trim, and windowsills here.
Choosing a variety of art pieces is also great for expressing your character, so they can be the perfect things to hang and embellish your blue walls!
Indeed, all of these small touches and details will work together to make your bedroom come alive.
Closing
All in all, a royal blue bedroom is a truly fantastic choice for homes of any style. Whether you are into a more modern and minimalist interior or a classic and timeless flair, we hope there has been something for you.
One of the most important things to note is that your bedroom should be a place for rest, so go for relaxing elements and decor. However, it can be worthwhile to convey your personal taste so that it will feel even more like home.
So, don't be afraid to try new things too. Good luck and happy decorating!