Having floating shelves next to the fireplace can be a great idea to enliven and revitalize the space. Whether in the living room or bedroom, the hearth is an excellent source of warmth and coziness.
Some elements to think about include the color and material of your shelves, as well as how those fit in with the theme of the room. We will be looking at various styles, from contemporary to rural.
In terms of what you can place on these shelves, the possibilities are practically endless! From real flowers or fake plants to books and personal mementos, they can offer both storage and decorative purposes.
As you go through the examples below, remember to let your creativity and self-expression speak for themselves. When it comes to interior design, these are the only things you need to ensure that you will end up with a beautiful home.
Without further ado, let's jump into some of the most inspiring floating shelves ideas to build next to a fireplace.
1. Use Quartz Stone to Complement Floating Glass Shelves Next to Fireplace for an Elegant Mediterranean Style Living Room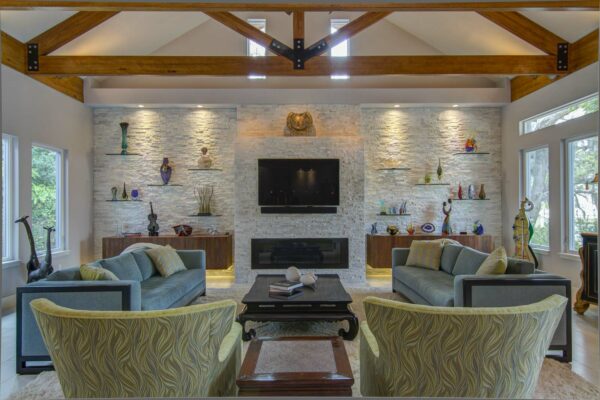 For this first photo, we have a Mediterranean-inspired contemporary living room with a modern fireplace and floating glass shelves, as well as porcelain tile flooring.
The stunning glass shelves are installed with stone to support the structure, around 4 1/2″ in depth, to secure them properly.
Choosing glass as the material is an excellent choice as they won't take away from the fireplace as the focal point, and arranging them somewhat haphazardly can add a fun and unique touch.
Meanwhile, the accent wall here is a ledge cut of 100% quartz stone for a classic feel and elegant look.
In addition to the glass shelves, you can also see brown floating cabinets underneath, which provide even more storage. Whereas the warm wood tone is perfect for establishing a warmer ambiance and ensuring a layered depth to the interior.
The living room also features a few more colors and furniture that help create an eclectic mood. This includes the blue sofas and green armchairs, which add more variety to the space.
Overall, we also love how the large beige rug accentuates the seating area.
2. Floating Doug Fir Shelves Next to the Dining Room Fireplace as a Displaying Unit Can Evoke an Elegant Contemporary Vibe
A dining room can also benefit from having a fireplace feature, especially if your home has an open plan that also combines the dining and living spaces.
For instance, look at this gorgeous and bright home with tall ceilings, an open plan, and lots of large windows.
One of the most striking things about this fireplace is that the floating wooden shelves are arranged symmetrically, which gives the illusion of going through the fireplace.
The shelves are made using rough sawn Doug Fir and stained in a natural medium tone, which goes really well with the wood flooring.
You can also place a brown rug to elevate the dining area and create a sense of separation from the rest of the space.
If you want to turn these floating shelves into a displaying unit, then do so! As you can see, these urns and ceramic pieces help tie in the elegant vibe of the home nicely.
3. Dark Gray Accent Wall Enhances Black Floating Shelves Next to Fireplace to Create a Modern Living Room with Ample Storage
Up next is a modern living room with a grey color scheme, which can be a suitable choice for evoking a contemporary yet neutral vibe.
The accent wall behind the floating shelves and fireplace is painted in Sherwin Williams Gray Matters SW7066, which is a deep shade that offers a gorgeous background for the black shelves. Meanwhile, the other walls can use a lighter tone, such as Sherwin Williams Passive SW7064.
The shelves themselves are a dark wood that complements the grey brick fireplace surround for an elegant and slightly masculine mood.
Install shelves all through the height of the fireplace and beyond so you can provide plenty of storage for books and decorations. You can also match this with the flooring, which is hand-scraped 6″ hickory wood in a sleek espresso finish.
Of course, it's important to balance out the dark features, so you can place a white rug in the center of the room and add a touch of color. The yellow throw blanket definitely provides a striking accent.
4. These Canadian Maple Floating Shelves Next to Fireplace with TV Above Make for a Cozy, Pastoral Family Room
In this family room, the homeowner has decided to go for a pastoral ambiance that can evoke a cozy and rustic feel. It's especially perfect for a countryside home!
If you want to recreate the fireplace surround, try using stones from Realstone Systems. The rugged brown color will match the beige walls for a calming and neutral touch.
Meanwhile, use Canadian Maple for the floating shelves and add a live edge detail. You can use the same wood material for the base cabinets, which will provide additional countertop and storage.
We also think that placing them next to the fireplace complements the wood-burning inside for a subtle nod at the rustic theme.
The windows in this family room also play a huge role, especially considering the low ceiling, so you may want to maximize the amount of natural light for a brighter ambiance. These models are Sierra Pacific windows.
Lastly, it can be a good idea to stick to an earthy color tone for the rest of the furnishing, like the white armchairs and moss green couch, as well as the white candles, brown and beige pillows, and brown decorative pieces.
5. Try Teak Floating Shelves Next to The Living Room Fireplace in an Interesting, Asymmetrical Shape to Create Artistic Intrigue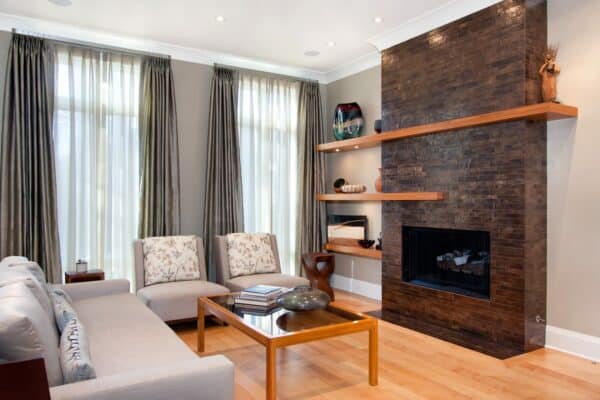 Moving on, here is an organic-feeling modern living room that features a fireplace and some asymmetrical shapes for a unique architectural appeal. This interior also feels full of character, thanks to the striking shelf design.
To start with, these floating shelves are teak with a natural finish, which has a warm and attractive grain pattern.
This is a nice contrast to the dark bronze ceramic tiles of the cozy fireplace, which is why placing them next to the hearth can be a smart interior choice. The uppermost shelf overhangs 10" to the right and 48" to the left.
The walls use Benjamin Moore's Bennington Gray, HC-82, in an eggshell finish. This medium-toned gray color is fitting for a living room as it evokes a calm and relaxing mood.
Furthermore, the flooring that you can see is clear maple, also with a natural finish. It has a much more muted grain pattern, but the different shades of natural wood color create a layered and deep effect.
6. Place a Cozy Sectional Sofa to Complement Stained Maple Floating Shelves Next to Fireplace for a Stunning Display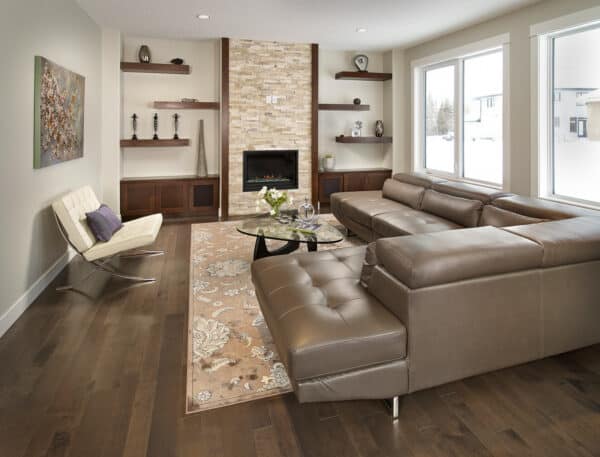 For this following example, let us look at another living room design with floating shelves next to the fireplace. The overall color scheme is brown and white, which is perfect for any contemporary home with a neutral and easygoing vibe.
The shelves featured here are stained maple, where the deep brown color also complements the rich shade of the wood flooring. You can also build some cabinets under these shelves to provide even more storage.
Another detail that we appreciate in this interior is the multiple elements of glass, which is subtle but manages to evoke a sense of continuity. This includes the rounded coffee table, glass decor on the shelves, and of course, large windows.
Not to mention the cozy sectional sofa, which becomes the focal point in addition to the fireplace. This is an extremely comfortable and snug place to hang out in, whereas the beige floral rug adds a touch of pattern.
7. Combine Floating Walnut Shelves with Cabinets Next to Fireplace for Added Storage and Depth in a Modern Living Room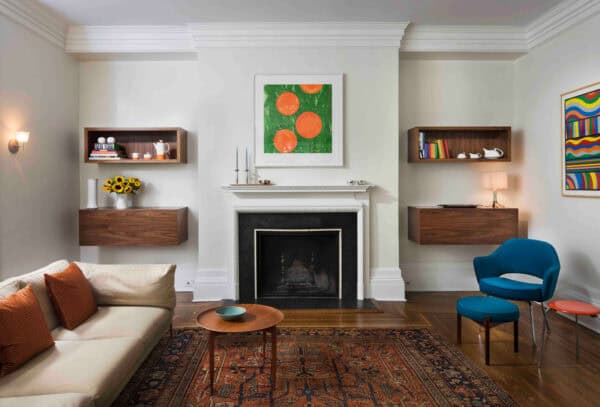 This modern living room uses floating shelves next to a traditional-styled fireplace, but it is a hollowed cabinet design that can spruce up the space with a little more pizzazz.
One thing that we love about these walnut shelves is that they add so much depth to this living room, thanks to their minimalist style with protruding sides.
The color also contrasts beautifully with the light walls and matches the wood flooring.
Speaking of the floor, placing a Moroccan-inspired rug can further elevate the living area as it creates a sense of division for the seats. It also ties in the whole look together.
There is also the opportunity to express your personal appreciation for art by choosing bold and colorful pieces. For example, the orange and green painting above the fireplace and the bright, multi-colored pieces to the side.
You can even have a few pops of color play throughout the space for a bit more life and character. This includes the bright blue chair on the side of the room.
8. This Open-concept Kitchen and Living Room Feature Floating Shelves Next to The Fireplace and a Built-In Desk for the Ultimate Functionality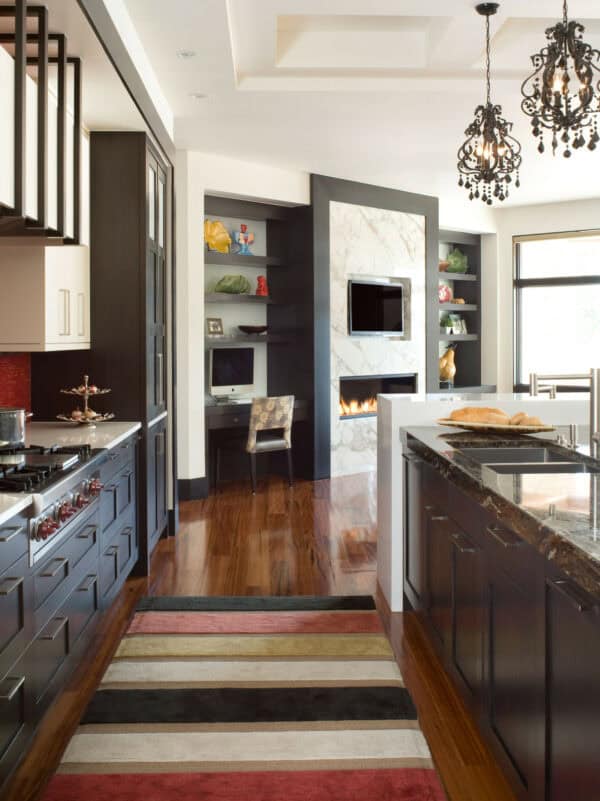 If you have an open concept kitchen and living room, you might even want to incorporate a built-in desk below the floating shelves. This can create a cozy and aesthetic working space.
The fireplace is part of the installation unit, which features Carrera marble and ebonized oak frames, while the shelves are back-painted glass panels.
For the desk, you can easily build it around 30" off the floor so you can place a standard chair for the ultimate comfort.
Back in the kitchen, you can see that the multi-colored rug adds a hint of color and brightness to the area, especially when laid against the wood flooring. This is Concepts International's Madras Stripe Rug in Rust Beige.
Finally, we always love using light fixtures to provide more flair to an interior. For instance, these mini chandeliers feature clear-cut crystals for a little elegance and style.
9. Create an Easy Storage and Complement Floating White Oak Shelves Unit Next to Fireplace with Contemporary Wood Paneling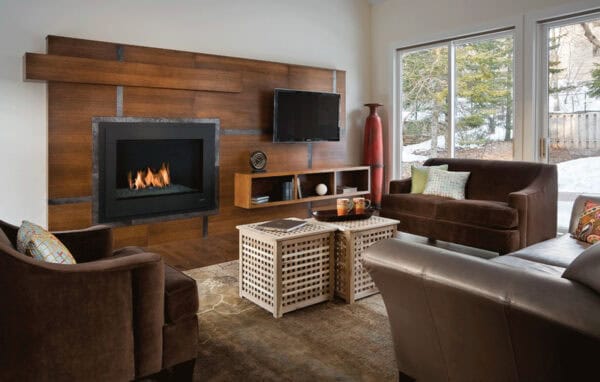 For this living room, you can try pairing your floating shelves with wood paneling to create a unique fireplace design that is contemporary, vogue, and striking to the eye. This fun shelf can be a great place to display some books and decor.
The unit itself has been custom-built using rift-cut white oak, so you might have to talk to a local woodworker or carpenter to recreate this design.
One thing to note is that you may want to keep the wood tone or color similar to your flooring, which will help produce seamlessness.
In terms of choosing the furniture, go for neutral brown colors and place some brighter pillows and cushions on the seats. Meanwhile, a textured rug will also look lovely here.
For the final touches, you could perhaps place a tall red vase in the corner of the room.
The red color is a beautiful addition and offers a fresh touch without being too out-of-place. It also adds another fun texture to the interior.
10. Paint Your Floating Wooden Shelves Next to Fireplace for a Simple White and Grey Dining Room with Sleek Displays
While wooden shelves are fabulous and gorgeous, sometimes it can be an excellent idea to paint the shelves white or a brighter color. The result is a minimalist yet stunning white and grey dining room.
Here, the walls use Farrow & Ball's Old White, whereas the woodwork is Farrow & Ball's All White. This combination of a crisp and clean white color with an off-white, greyish hue is a classic and timeless choice that works well in any space.
Keep the shelves bare and uncluttered by selecting only a few books and decorative pieces. This will help you maintain a fresh and clean look for a calming ambiance.
The easiest thing to do next to evoke a bright mood and contemporary vibe is to simply install light-toned wood floors. This interior is overall a budget-friendly inspiration that you can easily replicate!
11. Go for an Eclectic Family Room with Mahogany Ceiling Beams and Floating Shelves Next to The Fireplace for a Modern Decorative Piece
The appeal of an eclectic family room is the fusion of many styles and ideas to create a single look that is cohesive, cheerful, and bursting with character.
This is why it is always worth incorporating your personal taste into your interior design.
To illustrate, these floating shelves next to the fireplace add not only a striking display feature but also complements the horizontal beams on the ceiling.
The mahogany beams offer a fascinating visual accent as it highlights the architecture of the home.
Moreover, it also creates the illusion of a taller ceiling and thus a more spacious room! And the burning hearth also helps as it ties in the whole look together.
12. This Chic and Modern Living Room Features a Wood Ceiling with Track Lighting and Floating Shelves Next to The Fireplace for Convenient Storage
The first thing you may notice when looking at this chic living room is the staggering slanted wood ceiling, and if you look closely, you will see that the pendant lights are installed in track lighting.
This is basically a lighting system where you fit the lights on tracks to let them move around easily. What we love about this is its versatility, so you can create various lighting situations depending on your mood and time of day!
Moreover, the floating shelves or cabinets have been custom-made and painted in a sleek black color. This works really well with the black fireplace and other black furnishings, which together produce an almost industrial style.
The walls here also have that rugged, unfinished look, thanks to SW 7554 Steamed Milk in a flat finish. Whereas the floors are simply Eco-Timber Australian chestnut and the ceiling is T&G Cedar.
13. Install Floating Shelves and a Minibar Next to Motawi Tile Fireplace for a Gorgeous Craftsman Living Room with a Stylish Hang-Out Spot
Finally, take a closer look at this craftsman-inspired living room. It is rather small but makes use of an awkward corner of the house, which is perfect for smaller homes with limited space.
For the walls, you can try using Benjamin Moore's Montgomery White (HC-33). This is a soft, almost honeyed shade that creates a warm and elegant glow, perfect for a cozy nook with a fireplace like this one.
The floating shelves extend into a small countertop that makes for a great mini bar, while the addition of a few glass shelves enhances the overall look. This is the perfect spot for displaying different vases that you might have!
Not to forget one of the most eye-catching features of this example, which is the gorgeous green tiled fireplace. These are Motawi tiles with a combination of green and yellow shades.
Closing
That wraps up our version of the best designs for floating shelves next to a fireplace. We hope you were able to find some excitement that will inspire your own design.
One final tip we have is to try and keep the decor clutter-free, which will help you pull off a cohesive look that is stylish but still intentional.
The color option can be an important factor, too, so don't forget to keep in mind the ultimate vibe you are going for!
Overall, the best way you can adorn floating shelves and enhance your fireplace area is to allow your own personality to come through. This will help you create a lovely home that feels unique and likes your own.