Are you considering vertical cedar siding for your exterior?
The right type and siding material can elevate your curb appeal and make your home more attractive.
Vertical sidings aren't as common as horizontal sidings because they are more expensive and complex to install. However, they can make your exterior look much more elegant and unique.
Another benefit is that they are less susceptible to water damage and much easier to clean.
Cedar is known for its natural antibacterial property so that you don't have to treat the wood, and they still won't rot or crack. It can also change color over time, producing a more rugged and attractive look.
That said, if a vertical cedar siding sounds like your cup of tea, we have some inspiration for you!
1. Pair Vertical Cedar V-Groove Siding with Red Cedar Shakes Roof for an Elegant Wood Exterior
First up, this elegant wood home features some 1×6 cedar v-grooves in a vertical pattern for the siding. It has that quintessential traditional look that may fit most countryside homes.
The vertical cedar siding is pre-stained shingles in Maibec White 212, which is a beautiful and neutral color that will provide a gorgeous and elegant finish to your home.
Meanwhile, the roof of this house uses red cedar shakes that are 5/8″ thick with 5 1/2″ exposure. We love how the red color brings life to the overall look without being too flashy or out of place.
The bottom exterior also adds a new facet to the entire exterior. These are cut-ledge stones that have been chinked and stacked with mortar joints. Not only do they contrast the white siding, but they also enhance the textural aspect.
We'd recommend placing a simple mixture of outdoor chairs and tables for the patio space. This will be a great spot to enjoy the fresh air!
2. This Cottage-Inspired Black Vertical Clear-Cut Cedar Siding Evokes a Rural Farmhouse Vibe
This farmhouse exterior is the definition of a striking curb appeal, and one way you can emulate that is to use a bold siding color, which in this case is black.
More specifically, it uses Eco Wood with Black & Brown transparent stains, which evokes a modern and rustic ambiance with a lot of boldness!
In terms of landscaping around the house, you may see some greeneries here. They are White Tree Roses "Iceburg" and can also help improve the outdoor atmosphere.
The green color of the leaves provides a beautiful contrast to the black exterior while also offering shade.
The Cave Mesh Wire lattice that surrounds the property is a great touch. It adds a sense of separation and privacy without blocking the visual appeal. The mesh wire pattern also matches the black siding for a classy feel.
3. Combine Wood, Steel, and Glass with Vertical 1×4 V-groove Cedar Siding for a Modern Yet Natural Look
Next, take a look at this modern yet timeless farmhouse exterior as it combines different materials. From natural elements of wood to manmade resources like steel and glass, the result is something unique and breathtaking!
The white board and batten are comprised of1x2 battens at 16″ on center and 1×3 corner trim. These are then coated in a glossy layer of Benjamin Moore's White Heron OC-57. This chic and sleek shade is perfect for evoking a contemporary mood.
Meanwhile, the brown vertical cedar siding contrasts the white for a more traditional feel, whereas the horizontal siding is 1×8 cedar bevel siding with a smooth side out.
You can use Benjamin Moore's Black Panther 2125-10 for this, as well as a low-luster finish for a subtle sheen.
In addition to the black stain, this vertical 1×4 V-groove siding is tight knot cedar from T&G with the rough side out. Make sure to get a transparent finish for the stain so you can keep the natural grain and warmth of the cedar.
Not to forget the glass, which, as you can see, takes up a lot of the exterior too. The massive windows, sometimes floor to ceiling, are quintessential to this modern-inspired architecture and will make the interior feel brighter.
4. Use White Window Trims with Vertical Cedar Siding and Red Cedar Shingles for a Simple Detached Barn Exterior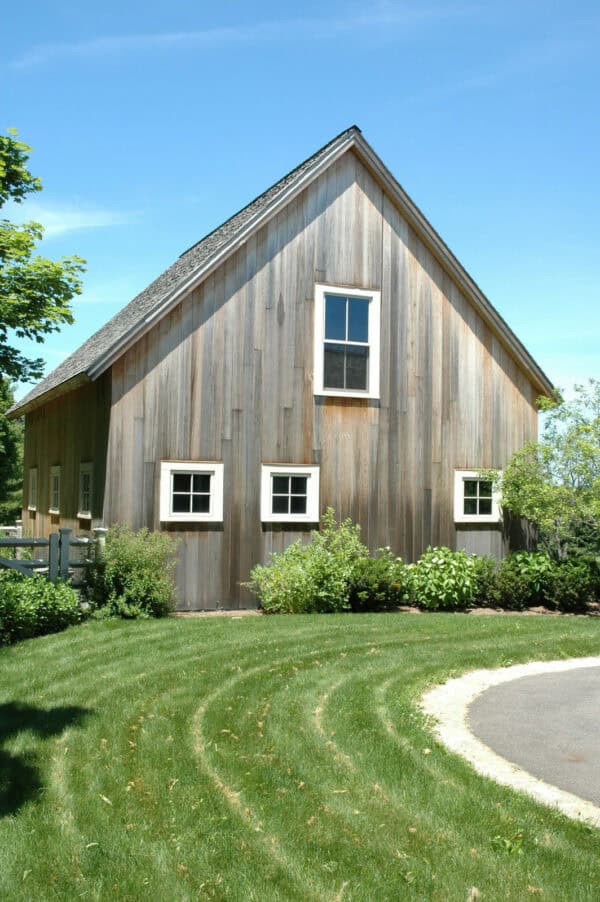 Another idea to elevate your vertical cedar siding is to use thick and bold white window trims to contrast the brown wood color and highlight the house's natural structure.
Here, the siding is 1×8 tongue and red groove cedar with a natural treatment. This means allowing the wood's natural color, texture, and pattern to come out and mature. It is a simple way to evoke a rustic and authentic look to your siding!
Of course, it will take around two to three years to fully gray out and for the cedar to age gracefully. But the end result can be well worth leaving the wood untreated.
You may notice that the house is in a detached barn house shape with its iconic A-frame. This means it can be a separate building from the rest or home in itself!
5. Stain Your Vertical Cedar Siding with Mountain Ash for a Trendy, Contemporary Home
This trendy and contemporary home features vertical cedar siding that has been pre-stained in mountain ash for a clean and modern finish.
The siding is tongue and groove B-Clear Cedar, where its sleek quality evokes a natural effect.
Combined with the unique and clean-cut shape of the house itself, it still feels very modern. You can see that one of the windows follows the slanted roofing for a more exciting feature.
To add some contrast to this exterior, you can choose a red double front door that will stand out against the brown wood. It adds a striking feature that is still very seamless with the overall look.
You can also plant some shrubs and vegetation in the front yard for even more color. These greeneries are also great at establishing a sense of calmness in your home, which greets you the moment you arrive!
Finally, installing some yellow lights will add a dramatic illumination.
6. Jazz Up a 1×4 Vertical T&G Cedar Siding with Concrete Patio and Retaining Walls
One of the most impressive aspects of this contemporary exterior is the use of warm natural materials to create an overall welcoming and homely effect.
From the cedar rain screen siding, Douglas fir beams, wood ceilings, and cabinetry, you are able to soften the hard edges and produce a more inviting ambiance.
Inside, these may be juxtaposed with modern materials such as quartz counters, porcelain floors, and steel railings.
The vertical T&G cedar siding is 1×4, while the horizontal cedar is 1×8 installed as an open rain screen.
We love how the combination of vertical and horizontal siding offers such a dynamic look while still sticking to the same material and color.
In terms of furnishing your outdoor space and the landscaping, it may be worth going simple. Moreover, some grasses and plants will look especially striking when placed amid the grey concrete flooring.
Don't forget to place a couple of chairs out here too!
7. Go for a Balanced Contemporary Architecture with Vertical Cedar Siding and Some Grey Variations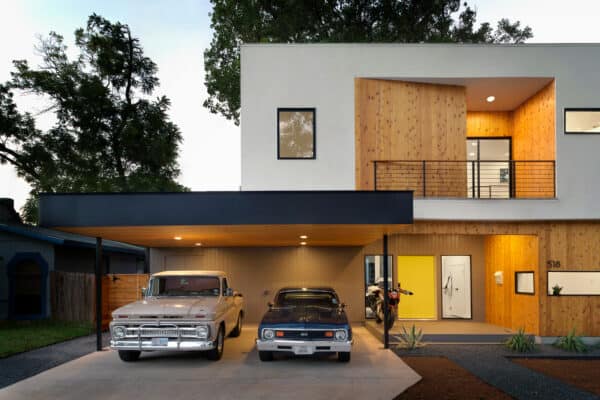 This two-story home embraces the contemporary style with a balanced architecture featuring some shade, tree canopy views, and a beautiful patio and carport.
It combines crisp details, intentional materials, sleek surfaces and finishes, and a balance between sophistication and restraint. The result is a simple but still breathtaking exterior, where the cedar siding offers the main focal point.
An interesting detail is that the grey siding you see here is actually the same knotty cedar used for the vertical siding on the rest of the house; it is simply painted.
This is an excellent way to incorporate different colors and variations of the same material. You get a more complex look that still blends well together!
The parking space or carport is also a great feature, which is 22′-0″ wide and 16-'6″ deep. The flat roof is built from TPO with painted brake metal fascia and the same tongue-and-groove cedar.
8. Create a Rustic Exterior Featuring Vertical Rough Sawn Cedar Siding in Dark Charcoal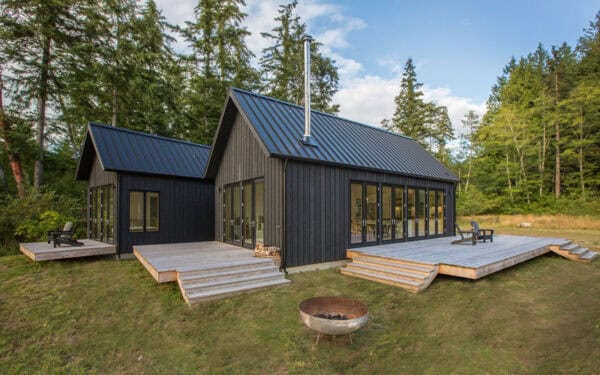 Up next, this is an example of a rustic cottage exterior featuring black cedar siding and a lot of patio spaces. The light brown flooring looks especially nice against the black siding and green grasses.
For the vertical cedar siding here, it is a dark charcoal color with a semi-transparent stain applied at the end.
The rough sawn cedar is a tough and durable material that appears beautifully rustic, while the black color provides a unique and attractive look.
To increase intrigue in the house, you can build foldable doors with glass panels that will help you blend the interior with the outside. This is also an excellent way to maximize natural light inside.
One of the best things about this exterior is undoubtedly the open patio or deck, where the large surface provides an excellent spot for hanging out. You can simply place some chairs or benches here to create a cozy outdoor space.
9. Try a Flat Roof with Mixed Vertical Cedar Siding and Glass Panels for the Ultimate Contemporary Charm
Here is a trendy contemporary home that uses a classic flat roof with mixed materials for the siding to produce the ultimate modern canvas and an eye-catching exterior.
The vertical wood siding is a 5/4″ finger jointed cedar that has been custom knifed, and this provides the warm foundation for the whole look.
Meanwhile, pair this with some white siding for a touch of modernness and crisp emphasis on the silhouette.
Moreover, the glass panels and floor-to-ceiling windows are also an important part of this architecture.
It adds a lot of character and contemporary charm while also balancing the solid blocks of wood and concrete for something more muted and elegant.
You may also notice that there is a balcony space on the second floor. It features steel railings for both safety and additional aesthetic decoration.
10. This Beautiful Mountain-Style Home Uses Vertical Cedar Siding and Weathered Wood Roof Shingles
For those who love the charm and appeal of a rustic mountain-style home, this next photo might be exactly what you've been looking for! It's large and grand while still appearing super simple and down-to-earth.
To start with, the exterior comprises 1×6 vertical cedar siding and red cedar clapboards with a stain to complete the look. The variation of vertical and horizontal siding is also a great idea to add more depth and complexity.
The roof is also a huge part of the design, and you can go for Fiberglass GAF® Timberline® Ultra HD™ textured shingles in Weathered Wood color. It's a natural and rugged look that matches the brown cedar siding.
For the landscaping, planting some bushes along the front side is a fantastic way to elevate the ambiance. The green color can add a lot of freshness and life to the area while improving the air quality.
11. Combine Vertical Cedar Siding with Smooth White Stucco and Metal Seam Roof for a Modern Cottage Aesthetic
This modern version of the cottage aesthetic combines vertical cedar siding with smooth wide stucco and metal roof for the ultimate contemporary appeal and a breathtaking curb appeal that will surely impress your guests!
On the second story, two balcony areas with chic glass railings showcase the decoration here while balancing the home's overall appeal. Here, you can see lots of sofas and outdoor furnishing too.
The vertical cedar siding takes up the center of this front façade and emphasizes the front door. It goes almost up the length of the two floors for a more dramatic and imposing presence, which we think fits really well with the ambiance.
In the meantime, the white stucco for the rest of the exterior provides a beautiful contrast and crisp highlights. It also looks great against the metal standing seam roof as the natural and manmade mix in style.
The windows and doors used in this house are all from Fleetwood, which can be a great option if you are looking for something simple and minimalist to use in a modern exterior like this one.
12. Use Clear Stain on Vertical Cedar Siding with Walnut Entry Door for a Luxury Wood Exterior
Using a clear stain made by Cabot's for the vertical cedar siding can be great when you want to enhance the luster of your exterior, as in the photo above.
Here, the walnut entry door is also really tall with large glass panels. The transparent glass adds an exciting break to all the wood surfaces, while the doorframe completes this home's subtly luxurious appeal.
Another detail that makes this design even more elegant is the metal roof and railings, as well as the yellow outdoor lighting to create a sense of drama and glow.
Don't forget that some trees and bushes can also make your yard feel more alive!
13. Vertical Cedar Siding and White Trim Can Complement a Modern Backyard with a Pool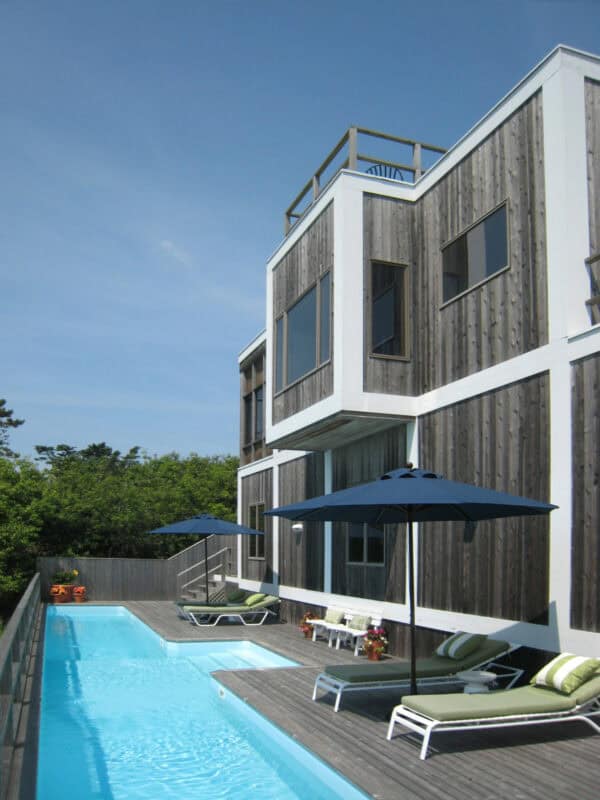 In this modern wood home, you can see how the mix of white trims and vertical cedar siding can work together for a seamless and modern exterior.
The highlight here is, of course, the backyard with a pool.
The classic light blue tiles inside the pool are a stunning pop of color that complements the brown and white facade of the building, which works well in a contemporary setting.
Here, the vertical cedar siding has a grayish tone that evokes a lot of class and sophistication. You can pair them with white trims on the edges of the structure for an artistic touch!
14. Use a Black-Stained Foundation with Clear Vertical Cedar Siding to Make Your House Look Like It's Floating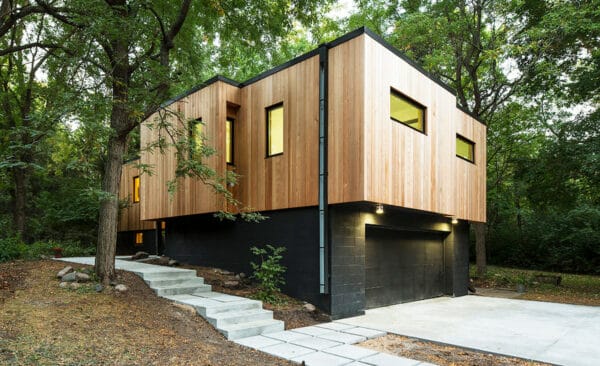 Finally, check out this stunning example of a home that looks like it is floating above the landscape.
One way to create this illusion is by using a black foundation that blends it with the surrounding earth.
Meanwhile, the clear cedar siding uses a vertical pattern that accentuates the black-stained foundation even more. This siding features a layer of Cabot's clear silicone sealer for more sheen and a cleaner finish.
You can see that this house also includes a lot of windows, which proves once again that these can be a crucial part of home!
Not only do windows add some variety and depth to the exterior, but they can also make the interior feel much larger and more uplifting.
Closing
Overall, vertical cedar siding can be the right choice, whatever your personal style is. From classic, traditional houses to more modern designs, you can get many benefits. This includes durability and visual aesthetic.
We have tried to cover a huge range of examples too. Hopefully, you were able to find a suitable inspiration for your own home.
Don't be afraid to experiment and explore out of your comfort zone, as you might discover something completely new and unique!