A built-in shower shelf, oftentimes called by interior designers and home builders as a shower niche, is a recessed shelf built into the cavity or wall of your shower.
There are plenty of benefits of having a built-in shelf in your shower. Among them is, of course, extra storage and an easy place to access products such as your shower gel, shampoo, or even conditioner.
Not only that, but these shelves can be great to save space as you don't have to install extra racks that bulge out of the wall and make your shower feel smaller. Instead, the shelves are literally built into the wall!
So, what kind of bathrooms can benefit from a built-in shower shelf? All kinds! It does not matter if your interior style is traditional or modern, monochromatic or colorful, as it is quite easy to adapt the design of a built-in shelf.
This is why we have decided to compile a list of the best built-in shower shelf that we can find. Hopefully, the following photos can provide some inspiration for you. Let's go!
1. Utilize Leftover Materials Like Caesarstone to Embellish a Small and Stylish Built-In Shower Shelf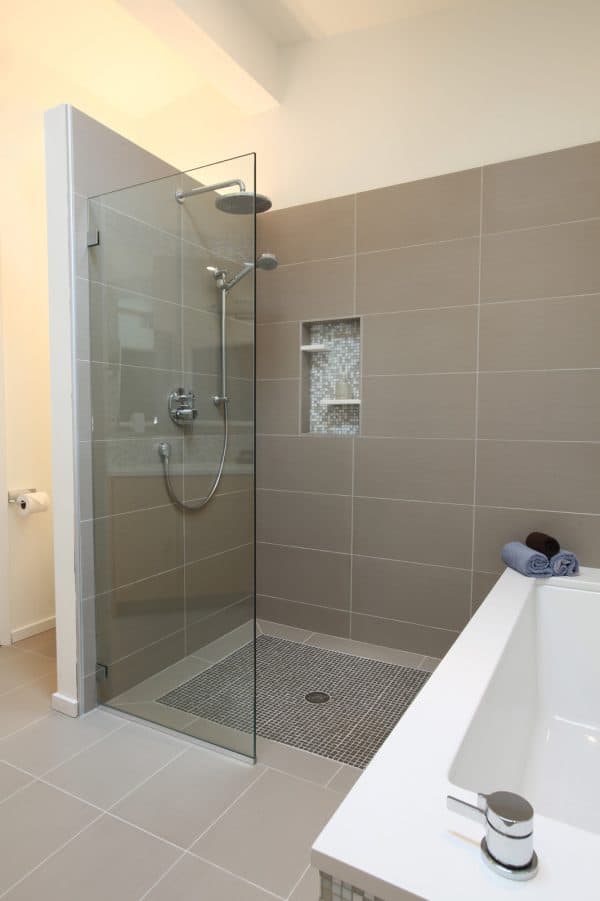 For the first example of a built-in shower shelf, we wanted to show you that it's possible to utilize leftover materials from your interior projects. This is a great way to not waste resources while cutting costs too!
Here, the recess of this shelf uses the Caesarstone that has been used for the countertop and bathtub surround (not pictured here). The mosaic effect creates a fun and jazzy accent that sets it apart from the rest of the shower.
These are actually 12×24 tiles by Tierra Sol with a porcelain glaze to finish for the shower walls. They are in West Coast Grey color, while the grout is Warm Grey from Keracolor.
You can recreate this combination for a timeless classic that can give off a modern and clean look.
The rest of this bathroom has an equally simple yet gorgeous style. From the white undermount sink and quartz countertop, to the white walls and grey tile flooring.
2. Try Creating a Built-In Shower Shelf Amidst Beige Matchstick Tiles for an Elegant Contemporary Bathroom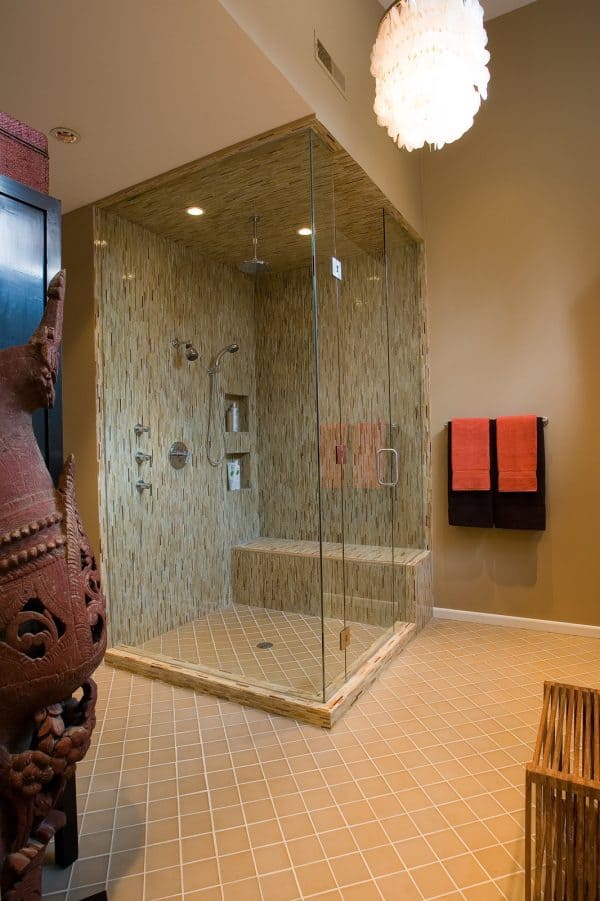 You can see an entire shower covered in beige matchstick tiles with the recessed shelf for this following example. This is also a two-part built-in shelf in the shower, which gives you more space to store bottles and other products.
The matchstick tile itself is a super unique look that gives your shower stall an elegant and refined style. It matches the rest of the brown walls of this contemporary bathroom and the stylish tile flooring, which you can get from Waterworks.
Meanwhile, one other tip we have is to make the shelf in the wall before laying out the tiles. This will help you get a cleaner and more precise result, which will in hand help your bathroom design look more put together and professional.
You may spot various wooden elements and accents throughout this space in terms of furnishing. From a rattan box stacked atop the cabinet to what looks like a laundry basket.
3. Go For a Simple, Modern Look with this Long and Sleek Built-In Shower Shelf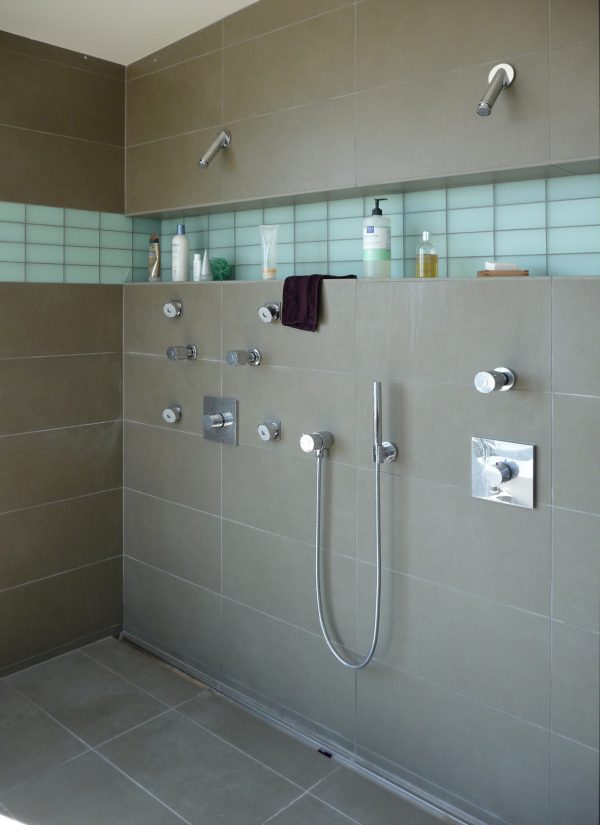 If you're all for modern interiors that are simple and sleek, then you will love this next photo. It illustrates a large shower that also features a large built-in shelf.
This can also be an excellent example if you want to create a shower niche that is much larger than the standard model. Here, the shelf runs the length of the shower and has tiles that match the side of it to create an even more elongated illusion.
The main tile for the walls is 12″ x 24″ Grey Ground from Euro West. Moreover, the shelf itself measures around 5 feet off the floor of this shower, which is a comfortable height for adults and older children to access easily.
If you have a double shower and want a design that matches the sheer size of it, then this idea can also be a good one to try out!
4. This Traditional Bathroom with Calacatta Tilework Features a Built-In Shower Shelf and Toe Ledge
One of the best but underrated ways to complement a built-in shower shelf is to add a toe ledge right underneath it.
A toe ledge has a similar function to a foot stool, which may sound like a luxury to have but can be an absolute gamechanger. You can use this ledge to rest your foot when showering and applying soap, making it so much easier to do.
If you want to recreate the calming sensation of this traditional bathroom, try going for Calacatta tiles from the Ann Sacks series in mosaics with V3138 color.
Overall, the beige color palette with mosaic tiling evokes a sophisticated and zen ambiance.
When decorating a bathroom like this, we also love putting up yellow lights that can add a warm atmosphere. Meanwhile, the white vanity and countertop maintain bright air and lightens the space.
Speaking of light, it's also always a great idea to place your furniture and fixtures to make the most of any natural light and windows. Like this sink, for instance.
5. Add Wood Accessories to Decorate a Wide Shower Bench and Built-In Shower Shelf
Next, we have a contemporary-inspired shower design that features both a built-in shelf and shower bench, which make sense to include in any modern bathroom.
The main benefit of having a shower bench is that you can sit while bathing. This is a non-negotiable feature for some homeowners and can be useful when you are feeling extra unwell or nursing an injury.
With that said, the shelf is also a super large and long one that runs the whole length of one wall. You may want to have something like this to provide a spacious shelf to display all your shower products.
The walls and floors themselves are made of Cararra Marble in various sizes, which you can customize to add some variety and a sense of depth to the space.
Plus, we adore the wood-colored mat on the shower floor as it adds a lovely accent while offering a non-slip surface you can stand on. This one is from Waterworks, whereas the baskets you can see are a thrifted find from a local shop.
6. A Contemporary Zen Bathroom with a Built-In Shower Shelf, Bathtub, and Warm Wood Ceiling
Bathtubs can be a real luxury. But they are a no-brainer if you have a larger space for the bathroom. The tub here is placed directly next to the shower and makes it easy for you to move without wetting the entire bathroom.
You may notice that the shower has slightly different flooring, which is actually pebble tiles known as Timor Tan. You can get this from Zen Paradise or browse through their myriad selection for the best pebble tile and stone tile for your home.
For the built-in shower shelf, there are actually two exact niches on the wall so have more space for storing stuff.
Moving on to the wood ceiling, which no doubt you have noticed as it adds so much warmth and coziness to the atmosphere. You can balance this by placing some subtle elements of wood throughout, like a mat or bathtub tray.
Furthermore, we also love the idea of placing a touch of greenery in the contemporary bathroom. This can help evoke some life and vibrance into the room.
7. Consider a Country Style Bathroom Featuring a Built-In Shower Shelf with Grey Mosaic Tiles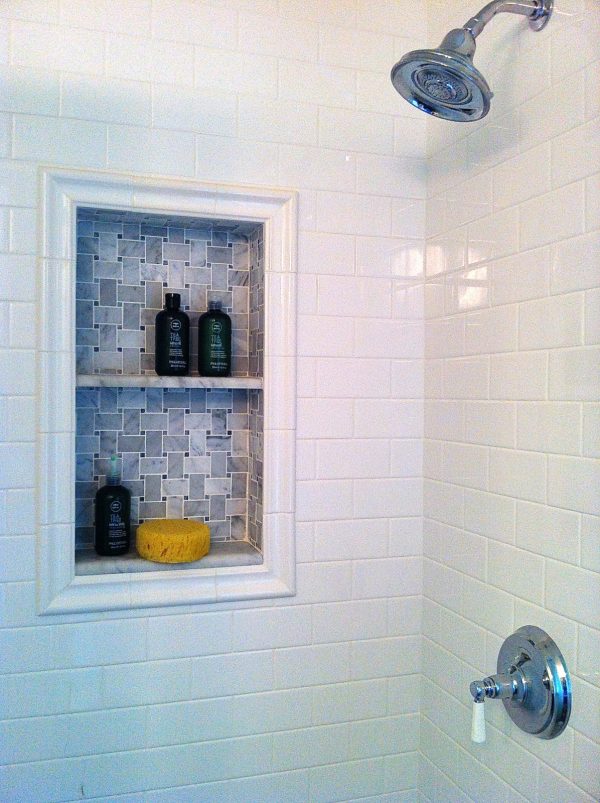 You can try styling your bathroom in a country vibe by building a shelf into the shower wall and using grey mosaic tiles for the inside.
The shelf that you see in the photo above is around 12″ wide by 24″ tall, which is the perfect size to add an additional shelf so you can fit more stuff on here.
In terms of the color choice, we think grey is a great one that matches the white tile of the shower wall for a classic and clean look.
At the same time, the mosaic and variety of grey shades provide some depth and fun to the feature.
8. Tree Bark Tilework Makes for a Lavish and Stylish Shower with a Built-In Shelf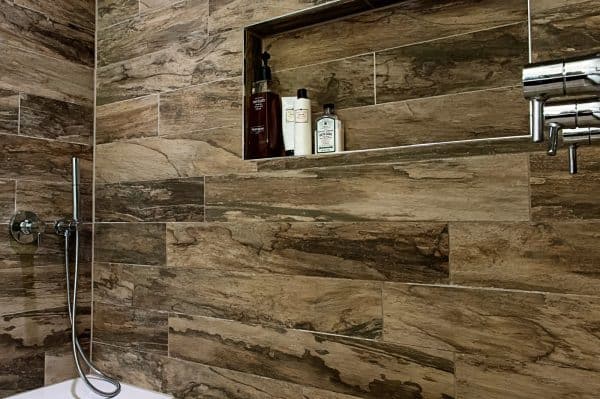 This next photo showcases a stylish shower that feels both sophisticated and lavish. Here, you may also notice that the built-in shelf has the same tile and color as the rest of the shower walls.
Yes, you can try to deliberately keep the same color and tiling throughout for a seamless look. You may not even be able to spot the recess from afar, which also creates a certain appeal to the shower.
This can be a great idea to try if you have a smaller bathroom and want to maximize the illusion of space.
The tiles used here are 6″ x 36″ porcelain planks from Architectural Ceramics. The style is in "Tree Bark" with "Beige" as the color.
What we love the most is that these tiles mimic the appearance of petrified wood, which gives it a natural and authentic sort of feel.
9. Choose Glass and Stone Mosaic for Your Built-In Shower Shelf to Evoke a Jazzy Vibe
Here is another example of a shower that features a built-in shelf and bench. This time, the use of glass and stone mosaic provides a jazzy atmosphere that you might love, especially because it runs through multiple walls.
The main tile is porcelain (17″ x 27″), whereas the accent tile is glass and stone mosaic (12″ x 12″ sheet) from Arizona Tile. The accent tile is most definitely the star of the show, as it invokes a fun flair to the entire design.
For the shelf, don't be afraid to go big and create multiple shelves that allow you to freely stack objects. You can even place decorative shells to infuse your personality into it!
10. This Carrara Marble Shower Has a Tall Built-In Shelf that Complements the Chic White Color Palette
It's no secret that Carrara marble is a hit amongst interior designers, especially for projects that are modern and classy. This type of marble is warm, elegant, and extremely stylish.
This is why they look good even in the bathroom, which you can see depicted in this particular example. The entire bathroom uses Carrara marble in 16″x16″ honed tile.
Go for a tall built-in shelf that can provide the illusion of height and space in your shower. Coupled with a chic and bright white color palette, you can easily make your bathroom feel so much larger. Simultaneously, the grey floor provides some warmth to the space.
Moreover, the free-standing shelf outside of the shower is "Baum" in white lacquer by the famous Italian brand PORADA. Not to mention that the walls are Pittsburgh's Pure White in a matte finish.
11. Use a Built-In Shower Shelf to Maximize Space Amongst Carrera Marble Tiles in this Classic Bathroom
The following example also illustrates a bathroom using Carrera marble, which will show you that the same material can evoke wildly different ambiances and effects.
In this bathroom, the style is undoubtedly classic and traditional, which is why using different-sized marble tiles proves to be an excellent idea. The floor is in a basketweave pattern and offers a timeless appeal.
For the built-in shower shelf, there's no need to go big every time.
Perhaps a smaller alternative will suit your space the best, like this one here, and there is no fault in that at all! In fact, it may even elevate your design.
12. Use a Wood Bench to Complement the Small Built-In Shelf in a Blue Mosaic Shower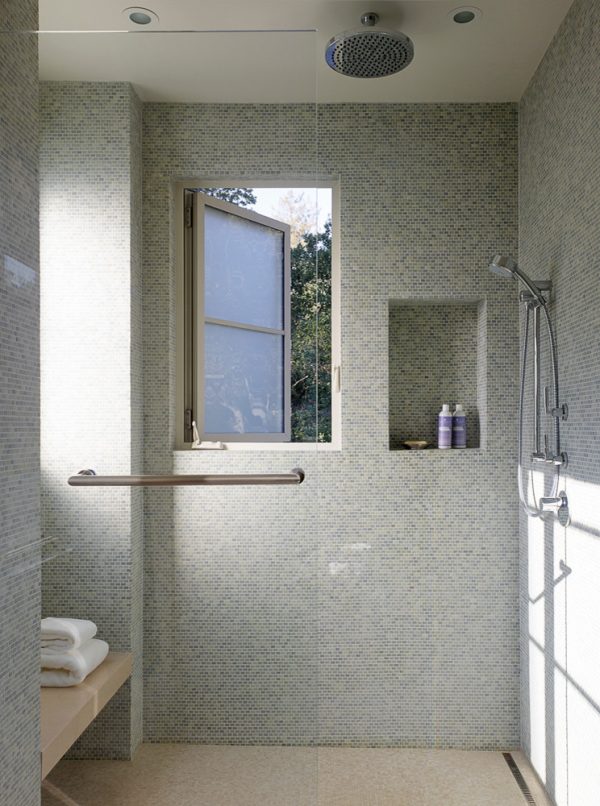 For this next photo, you can see how a light wood bench complements the bright and airy vibe of this blue mosaic shower and bathroom.
The shower walls are finished with Waterworks Laguna Tumbled Staggered tile. This shows you how using smaller tiles can create this textured look that may work well for a modern bathroom like this one.
On top of that, the bench here is actually a custom floating pressure treated wood with galvanized steel supports. This is a great trick to try so you can create that floating look while keeping the vibe very light.
The built-in shelf itself is quite straightforward here. It is simply a rectangular recess built into the shower wall, so you can easily place any soap and shampoo bottles for convenient access.
Another main feature of this shower is the window that opens all the way. This can be a rare but welcomed addition, especially if your bathroom doesn't face the street or other houses, is on the upper level, or face your own private yard.
The window can definitely add so much to your interior, including natural light and air circulation.
13. This Urban and Lavish Shower Features a Four-Part Built-In Shelf and Fold-Down Bench
And now, here is an urban shower that has a unique four-part shelf design. You can experiment with your recess to come up with the best style for your own home.
Just to illustrate, you may notice that the built-in shelf here is not a simple rectangle or box. Instead, it has four different compartments, which make it appear quite distinctive and attractive.
Beyond the visual appeal, this can actually be a great help for organizing the products you have!
The exposed edge of the niche uses a Quirk Miter finish for a super polished look. This also provides a fun little architectural detail that will make your bathroom feel so much more upscale.
Not to forget the fold-down bench, which in itself is a one-of-a-kind feature that you won't see in most other shower designs. This is an excellent alternative to the traditional built-in bench, as it can save you tons of space.
In addition to that, we also love that the wood material of this bench adds a natural vibe to contrast with the rest of the white and grey surfaces in this bathroom.
Closing
When it comes to building a recess into the wall of your shower, there are many approaches you can try. From a small and tiny shelf to a large one that runs across two of the walls, the possibilities are numerous.
Today, we have shown you lots of different examples of contemporary-styled showers and more classic interior styles. Whichever is your cup of tea, the most important thing is to remember that this is your home.
In other words, you are the only one who knows the best way to decorate the space. So, don't be afraid to try out new colors or styles that you think can express yourself the best. Good luck, and happy decorating!