A false wall is one of the most popular ways to add screening for privacy in your room or change its layout without altering the construction.
Not only that, it can actually enhance the architectural intrigue of your interior.
From bedrooms to living rooms, there are so many designs you can take inspiration from. This includes incorporating shelves to the wall for added storage and displaying pieces. It's also easy to adjust the material and color so that it matches the overall vibe of your room.
If you are looking for the best false wall ideas, then here they are!
1. Try a White False Wall in a Grey Master Bedroom to Separate the Bathroom in a Stylish Way
In this first example, you can see how the false wall is used to separate the bathroom from the rest of the master bedroom.
It's located directly behind the headboard of your bed, which is an excellent idea as it becomes a sort of extension of the headboard. The false wall also features some panels and openings at the top to allow light and air to filter through.
Meanwhile, going with white color for this false wall helps maintain a bright and airy vibe, which is ideal for ensuring an open feel. It can also make your bedroom feel even more spacious than it actually is.
Furnishing this space can be a fun way to enhance the false wall feature.
You can use some wood-inspired accents like the side tables for a hint of traditional design. Whereas placing some more contemporary pieces, including the table lamps, will keep the whole room modern.
2. Incorporate Built-in Shelves on Your False Bedroom Wall for Elegant Storage and Display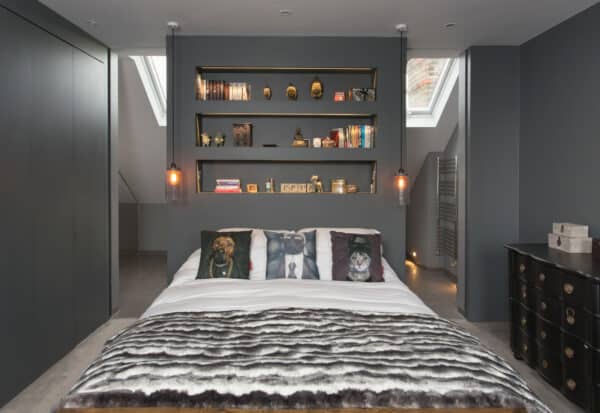 This is another contemporary bedroom that features a false wall as part of the interior design, which offers so much more depth and elegance to the room.
The paint color here is Downpipe from Farrow & Ball, which is a dark grey shade with some bluish hues. It evokes such a calming and serene vibe in this room that it makes it much easier to relax and unwind.
There are also some built-in shelves on the wall with subtle golden trimmings. You can use these to store your books and display trinkets, while the placement behind the bed also makes it an attractive accent wall.
So, what is behind the false wall? This actually can depend on the layout of your room and what you need. It's easy to turn it into a walk-in closet, a private office area, or even a landing for the bathroom or entrance door.
Another small but thoughtful detail that will work well is the pendant light. Their yellow glow adds a cozying effect and also matches the brown colors on the bedding and pillows.
3. Combine False Wall Drywall with Quarter-sawn White Oak to Evoke a Modern Farmhouse Vibe
Moving on to other parts of the house, this is a fun idea to integrate your false wall into the architecture. Combining it with the staircase can evoke a beautiful contemporary mood.
The stairs themselves are a quarter-sawn white Oak, while the drywall also uses this for a more seamless and elegant feel.
You can see how each of the steps melds together with the shelving, and this is a great way to create an illusion that the staircase and shelves are one.
It's then up to you how to utilize the shelves!
Here, the owner has combined some books with other collections to display, including decorative pieces that may be a great way to showcase your travels or experiences from around the world. These items really are perfect for making your home feel more personalized.
Moreover, the light wood is paired with a classic white color for the walls and ceiling to create a bright atmosphere. The grey floors provide a little more warmth and color without changing the overall tone.
4. This Trendy White Bathroom Features a False Mirror Wall and Light Wood Flooring
The following example features a false mirror wall in the bathroom, which has a stunning contemporary ambiance with some light wood accents for a homey effect.
You can see that the back side of the false wall also has some mirrors, and this is a popular way to make any room appear much larger. This is because the reflection can bounce off natural light to create a bright mood.
On the other side or in front of the wall, you can have a built-in double sink with another large mirror. Combining the vanity and false wall can be a unique way to jazz up your bathroom.
You can make this interior trendy by installing some light wood flooring with a rugged texture. This incorporates a natural and rustic feel without contrasting the modern vibe too much and creating a mismatch of styles.
Plus, adding a freestanding bathtub here is also a fun way to make use of the empty space. You may also notice that there is a skylight above, which is always great for maximizing the natural light!
5. Create a Mini Laundry Room in Your Bathroom with a Wood Toned False Wall and Shelves
Next up, this contemporary bathroom and laundry room may give you the perfect inspiration for a hidden laundry area with enough countertop space for ironing and folding.
The best thing about this mini laundry is that you can easily slide the doors to hide the mess and clutter. It will make your powder room or bathroom feel cleaner and tidier wherever you choose to install this feature.
For the flooring, you can go with a neutral but still non-plain choice, like these hexagonal tiles with a few shades of black and grey.
They can establish a lively atmosphere without being too bold or colorful, and are perfect for a simple interior like this one!
Additionally, you may notice that the wood cabinet, false wall, and door match the wooden vanity on the other side. This allows you to create a natural feel while still maintaining a light atmosphere.
You can even place some flowers on the sink to brighten up the space.
6. Embrace the Stunning Mid-century Living Room Vibe with a Simple False Wall to Separate the Staircase
For our next inspiration, take a look at this mid-century living room featuring some quintessential traditional charms and accessories. It uses a false wall to separate the seating area and the staircase.
The couch is by the Danish company Finn Juhl, which we think is a pretty dramatic and eye-catching piece that complements the space well.
You can pair this with the Copenhagen Lounge Chair from AFB, as well as a couple of mismatched coffee tables for a more eccentric look.
Of course, you must also notice the red Moroccan-inspired rug under the couch. This not only adds a pop of color and texture to the room but also provides excellent separation for the seating space.
Not to mention the various framed paintings of old scenes and landscapes. The gold frames can be a brilliant way to enhance the colors in the paintings while also livening up the white walls.
Moreover, the false wall itself is just a simple white frame to ensure more privacy as this living room is located right in front of the entryway.
7. Pair Limestone Walls and a False Wood Wall with a Dramatic Artwork for a Contemporary Living Room
In the photo above, you can see the ultimate contemporary living room that features a dramatic wood false wall where you can hang abstract art for a gallery-like vibe.
This false wall is a great way to layer the rooms and ensure seclusion without making the interior feel too separated and cramped. For instance, you can see that both areas have large windows that look out to a beautiful view outside.
The living room section features some armchairs and a grey rug. There are actually two false walls for more distinction between the spaces, which can help a larger home feel much cozier and more welcoming.
Here, you can add a few touches of color through the choice of cushion and smaller decorations.
We also love the limestone walls with their brick-like arrangement, as they create a unique and rustic look. They also seem especially modern when set against the warm wood walls and grey flooring.
8. This Bright Yellow Laundry and Powder Room Use a False Wall to Keep it Clutter-Free
Perhaps the most striking thing about this laundry and powder room is its bright yellow walls, which, contrasted with the white appliances and trimming, make for an eye-catching feature.
However, a closer look will show you that there is a small false wall here that keeps the laundry area separate from the toilet and sink!
This is an adorable way to segregate the different functions of this room so that it looks clutter-free and clean.
The false wall also features the same yellow paint for more seamlessness, but one thing you can do to enhance it is by hanging a contemporary piece of art or painting. This is great to ensure that it isn't too plain or empty.
We love how the white elements provide a nice contrast but still airy ambiance here, which includes the floating vanity, mirror, toilet, and door.
The medium toned wood flooring can be a great idea to add a sense of warmth too.
9. Get Creative with Various Log Wood Features and a Rustic False Wall for a Charming Dining Room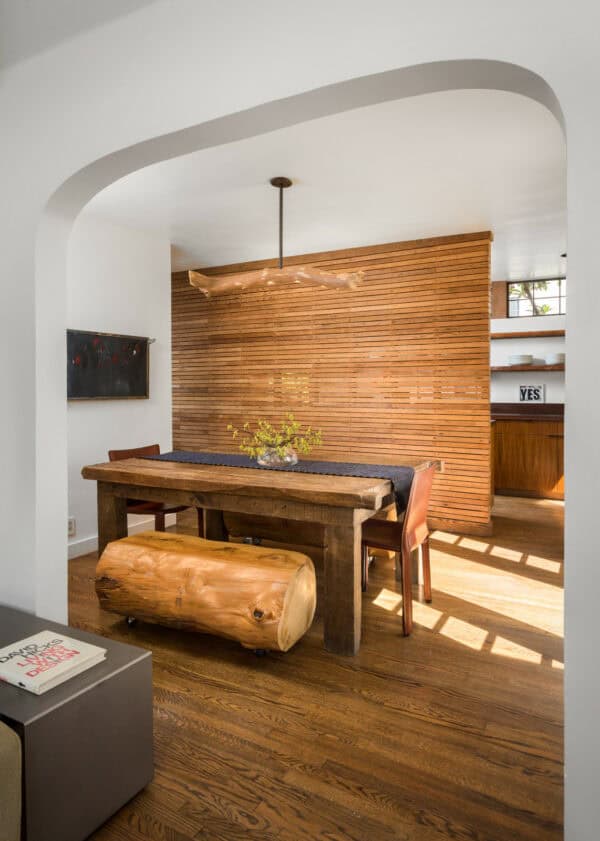 In this next photo, we have chosen a beautiful contemporary dining room that uses a mix of wood elements and log furniture in a refreshingly modern way. The result is an unexpected fusion of the traditional and the modern.
To start with, the walls and ceiling are kept in a simple crisp white so that they won't take away from the other elements of the design.
This simple color helps maintain a spacious and bright feel to the room while allowing the other features to shine.
These are ICI paints, specifically the Swiss Coffee-eggshell sheen at walls with semi-gloss at the base and door trims.
You may also notice that the entryway is arched for a softer look that is flowing and contemporary. It goes especially well with the medium toned wood flooring here.
The false wall that you see is made of layered wooden strips, which we love because they provide a more fun pattern to the space.
At the same time, this also allows light and air to flow through the small gaps for a more open feeling in the entire room.
Some of the various wooden features here include the branch pendant light, rustic wooden dining table, chair set, and logwood bench.
10. Use a False Wall and Glass to Separate Two Room Functions, Like this Modern Living Room and Exercise Studio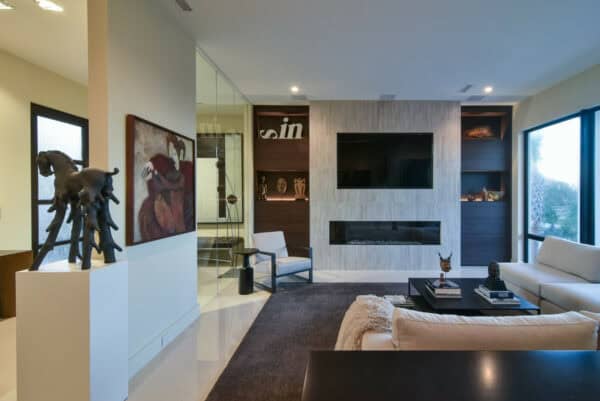 Another way to use a false wall is to separate two different room functions, such as this modern living room and the exercise studio next to it.
The false wall is combined with a glass wall for a contemporary feel while keeping the space more open. Using glass also prevents the rooms feel too confined and tight.
Meanwhile, you can further extend this separating wall by building a small block to display your favorite sculpture!
The living room itself shows that it embraces a modern style and features a linear fireplace in the center.
There are also some built-in shelves that are lit in subtle yellow lights for an elegant feel. This is where you can showcase some more decorative pieces and art.
Moreover, it can be a good idea to highlight the seating area by placing a dark-colored rug underneath.
It will juxtapose the light beige flooring and L-shaped couch while still balancing the dark wood elements from the shelving and coffee table.
11. Decorate Your Bedroom in an Asian-inspired Ambiance with False Wall and Gold Accents
Next, we wanted to show you a beautiful Asian-inspired bedroom that incorporates some oriental interior features and color scheme, including the false screening wall and multiple gold accents.
You will notice that the false wall is more than just a single framing structure. It also has a section in the middle with geometric patterns, which is enough to provide a sense of privacy from the entryway while still allowing light to stream through.
The gold accents that you see here include the pendant lights and bedsheets. The latter also has this silky texture that complements this room's cool and relaxing mood.
Meanwhile, the red headboard is actually a charming addition that stands out from the rest of the space.
One way you can keep all these gold and bronze colors from being too overwhelming is by painting the ceiling and walls a basic white. Meantime, the dark-toned wooden flooring will establish that cozy aspect.
12. This Beautiful Open Concept Living Room Uses a False Wall and Plaster Fireplace for the Quintessential Modern Atmosphere
Last but not least, take a look at this stunning open concept living room that features a plaster fireplace and false wall. It is excellent for an open-plan home while still maintaining a sense of separation between room functions.
For instance, the living room features black couches and armchairs for that quintessential modern interior. This also matches the black dining chairs just behind the area, whereas the dining table is made from sleek wood.
You can ensure that the false wall is in a crisp white color that connects directly to the balcony doors. These can open to blend the indoors with the outdoors, therefore making the interior feel even larger.
Another nice touch that you can try is a light silver chandelier. You can hang this rather lower from the ceiling so that it ties with the overall homey mood much more beautifully.
The flooring here is oak wood with oil finishing, which gives the entire surface a glossy shine. We love how the rustic shade complements the dining table and ensures the contemporary vibe of the space.
Closing
All in all, a false wall can be an excellent feature to have in your home.
Not only is it a fun way to add more architectural intrigue to the interior, but it can also help you create more privacy in certain areas by sectioning it off from the rest of the room.
Some of the ideas we have included today range from stylish bedrooms to sprawling, contemporary living rooms, and modern bathrooms. Feel free to take inspiration from different examples and create something that resonates with you.
Remember that interior design can be a way to express your personality and turn a house into the most relaxing sanctuary for you. Good luck, and happy decorating!