If you are scouring the internet for retaining wall cap ideas, then you're in luck. We understand that wall caps can be an overlooked feature of a patio that still has a huge role in your home appeal.
In essence, a cap is made to protect the surface of your retaining wall and can be made of a variety of different materials.
But did you know that this simple thing does more than just provide an extra layer of protection and durability to your retaining walls?
A well-built and well-chosen retaining wall cap can actually elevate your outdoor space in ways you may not even think of. It offers an attractive split face on the top edges of the wall, and the colors that come in can be adapted to the design of your patio.
Well, it's time to talk about some of the best retaining wall cap ideas that you can incorporate at home!
1. A Stunning Retaining Wall Cap Idea Filled with Purple Geraniums for a Sophisticated Garden
For the first example of retaining wall caps, we wanted to show you a sophisticated garden that exudes a classic and traditional charm. It's perfect for anyone with a spacious backyard.
Purple Geraniums on the retaining wall add a colorful and feminine pop. It's an attractive feature to have amidst the green grasses. The wall cap is made of local Carderock stone and capped with Pennsylvania flagstone.
The huge White Pine tree above the grill adds a lovely shade to the space and a sense of natural richness. It definitely fits with the overarching theme of a lush and verdant garden.
Meanwhile, the outdoor lights along the way offer a nice touch of illumination and a modern vibe.
Finally, you may also notice how the inviting fire at the edge of this garden draws you through the entire space. The stone fireplace provides an ending point to the journey and something to look forward to.
2. Using Basalt for the Retaining Wall Cap is a Brilliant Idea for a Contemporary Patio Vibe
If you want to maintain a contemporary vibe in your outdoor area, it can be crucial to ensure that you choose the suitable material for your retaining wall cap.
The wall cap here is made of basalt, which is the same material as the band in the paving.
This natural river stone is great because it easily matches other materials like concrete and timber, while its extensive range and type are also much welcomed.
Not only that, using it as the cap for your retaining wall is a brilliant choice as it's super durable and weather resistant.
We do love how this stone's natural and calming color complements the cooling tones of this entire patio.
The space also incorporates elements of the traditional and the modern. Both of these are unified by the luscious plantings and steel fences, as well as the black granite stones in the barbecue spot.
3. Go with Pennsylvania Bluestone for Your Retaining Wall Cap and Flooring Makes for a Traditional Patio Idea
Next up, we have an example of Pennsylvania Bluestone used to build a stylish retaining wall cap.
In terms of actual measurements, the fire pit is 16-inch in height, while the seat wall against the foundation of the home is 18 inches and the curved seat wall is 20-inch tall.
You can always adjust these according to your space and what you need, but this could be a helpful reference for the proportions.
We love the curved retaining wall because of the lovely grey cap that turns this into a seat wall. However, we also love its curved shape that circles the fire pit and chair arrangement. This helps set up a cozy and inviting space for hanging out.
The Adirondack chairs are made of teak or recycled plastic, while its sleek white color perfectly complements this traditional patio. Moreover, we would recommend having some colorful plants and flowers to really liven up the area.
4. This Idea of Using River Pebbles to Enhance the Bluestone Retaining Wall Cap is Perfect for a Contemporary Backyard
This next backyard has a contemporary atmosphere and embraces super modern features to evoke a cool and contemporary ambiance.
To start with, the patio is poured concrete and matches the bluestone wall cap that has been mortared down.
We love the rugged look of this stone and the retaining wall, which gives the entire wall an authentic and rural look.
Meanwhile, the Mexican pebbles at the base of this wall are loose. They look visually appealing and also act as a drainage area for the pool deck, which may not be visible from this specific photo. But they also add a very cooling atmosphere.
Feel free to place some seating with a contemporary side or coffee table in terms of furnishing.
You can even add some colorful accessories, such as these pink pillows. They actually match the purple flowers in the planters too!
5. Pennsylvania Bluestone Retaining Wall Cap Idea that Rounds off this Stunning Traditional Exterior
It may be difficult not to notice the stunning retaining wall that surrounds this large and elegant three-story house, especially as the rugged stone arrangement makes it feel all the more rustic and old-school.
The retaining wall cap is Pennsylvania Bluestone, which yet again proves as a popular favorite for many homeowners. It is a solid and durable material that will last you a lifetime. More importantly, it looks right at home in this traditional-inspired exterior.
The house itself, just like the wall, was built using serpentine stone. This is a greenish rock quarried locally in southeastern Pennsylvania. For those building the home of your dreams, it can be worth sourcing local materials to make your house come alive.
Another detail that we love about this patio is the choice of furnishing. You can see that there are two different colors for the outdoor seats, which provide variety while still adhering to the neutral and natural color scheme.
6. Try a Mediterranean Idea for a Retaining Wall Featuring Scaevola Flowers and a Cameron Stone Cap
Are you drawn by the timeless appeal of Mediterranean home designs and exteriors?
If so, you will love this photo!
It is a low and simple retaining wall that features colorful Scaevola flowers that definitely catch the attention.
This is an example of how you can use flowers and different plant species to evoke lots of cheerfulness and life in an outdoor space.
The stone patio itself has a beige color, which matches the Cameron stone cap for the retaining wall.
We also would recommend incorporating natural curves and arches to the wall shape, so you can avoid monotony and help your patio feel so much more animated.
7. Choose Stone Mountain Granite for Your Retaining Wall Cap Ideas that Match the Grey Cedar Shingles
Next up is this traditional patio, which undoubtedly invokes an elegant and classical charm. It's complete with a lovely garden and pathway leading to the main house, as well as multiple spots on the patio for sitting and hanging out.
The low stone wall is Stone Mountain Granite, a durable material that looks quite charming in this context.
One great way to sweeten its look is to plant greeneries along the retaining wall, which will jazz up the stone cap and make them appear more colorful.
You may also notice the roof extension above the patio. This provides a shaded area where you could hang out with friends and family during the hotter days in summer while still enjoying the fresh air.
8. Go for a 2-inch Bluestone Cap on a Timeless Retaining Wall Design Idea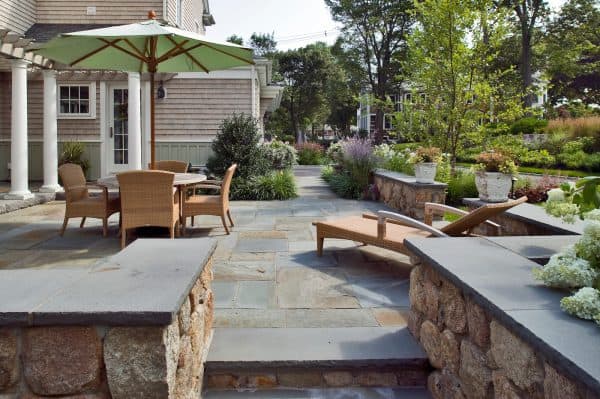 This next photo shows another beautiful patio that features a retaining wall, where the cap uses a 2-inch Bluestone cap that is smooth and sleek on the surface.
In terms of furnishing, we love that there is a variety of outdoor chairs and sun loungers, so you have multiple choices. It can be worth keeping a more neutral and earthy color palette. This will help balance the natural atmosphere that is going on here.
Of course, plants and greeneries are also other great things that you can't overlook. It is part of any good outdoor space as it can transform your patio into something much livelier.
9. Use a Bright Red Upholstery Idea that Pops Against Bluestone Retaining Wall Cap and Colonial Stone
One great way to create an attractive and eye-catching element in your patio is by using a bright color. In this case, it is this appealing bright red upholstery.
From the outdoor umbrella shade to the cushion and multiple pillows spread throughout this space, the red color contrasts nicely against the brown furniture and grey stones around the area.
The main stone material used in this space is colonial wall stone, which is featured for the fireplace and retaining seat walls.
Meanwhile, the cap is natural Bluestone with a smooth finish. This is great because it contrasts the jagged arrangement of the stone on the walls.
10. Try the Idea to Mix House Brick Retaining Wall and Bluestone Cap for a Gorgeous Contrast
Next, we have an elegant house exterior that evokes a charming appeal between the sleek red brick structure and luscious plants and trees.
You can use the same brick material as the house for the retaining wall to create a sense of seamlessness and continuity. It will also match the white Adirondack chairs and arch on the patio.
Of course, not to ignore the Bluestone material used for the cap on this retaining wall, which allows for a flattering visual contrast. And again, it's also super long-lasting!
The traditional house brick offers a beautiful contrast to the custom Arbor and the lush green landscape surrounding the area. You can also ensure that the verdant ambiance is maintained by placing lots of potted plants and flowers.
11. An Elegant Retaining Wall Cap that Incorporates Stylish Furnishing and a Fire Pit
We have a super stylish traditional patio with elegant furnishing and a lovely fire pit that really rounds up the entire space for this next one.
The patio stone is a concrete tumbled paver by Belgard. Meanwhile, the brand for the beautiful furnishing is "Summer Classics".
The chairs and cushion are in a subtle pastel color, which complements the natural shades of the plants and the grey tones of the stones.
The retaining wall itself has an elegant wall cap that provides a sleek contrast against the stone wall. Moreover, you may notice that the fire pit acts as an appealing centerpiece.
This is especially great to create an outdoor hang-out spot that is still cozy even during winter.
12. This Retaining Wall Design Can Create a Timeless Courtyard with a Natural Bluestone Cap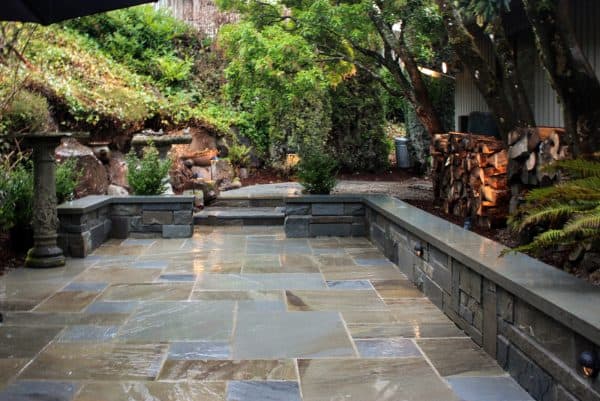 Another great part of the house that may use a retaining wall is the courtyard, which is the traditional structure used to connect different outdoor spots around the house.
Here, you can see that the timeless design of this courtyard comes with natural stone paving, stone retaining walls, as well as a beautiful gas fireplace.
The dark-toned stones evoke a warm and sophisticated sense that may suit your taste.
One more key aspect to this evocative mood is to choose warm, yellow lightings.
For example, the small lights built into the retaining wall provide a lovely ambiance of illumination. These go well with the natural Bluestone cap of the retaining wall too.
13. Obsidian Retaining Wall Cap is a Beautiful Idea to Evoke a Modern Landscaping Atmosphere
For our following example, let us take a look at a modern patio that incorporates an obsidian retaining wall cap with lots of different plants and flowers for the landscaping.
The retaining wall that you see here actually uses obsidian, a rich black granite with a uniform and consistent appearance. This is perfect to be used for the wall cap, too, as it is durable, stylish, and has a unique appearance.
You can complete the modern landscaping of the patio by placing a couple of outdoor chairs with a plush blue cushion and sleek wiry frame.
The incredible light blue color is a great way to juxtapose the verdant gardens and various textures of the plants.
14. This Traditional Retaining Wall Cap Idea has a Charming and Rustic Appeal with Stone Floors and Antique Furnishing
There is nothing quite more charming than the rustic appeal of a classically traditional home with a stone patio, complete with retaining walls and antique outdoor furnishing.
To start with, you may notice that the retaining wall and cap pictured here use flagstone and have preserved the rugged texture of the natural stone cuts. This can be an excellent way to encapsulate the authenticity of the home and create a very appealing look.
Meanwhile, the stone used for the flooring is slate that has been purchased locally. This is again another reminder to make the most of locally sourced materials, as they will add so much unique characteristic and personality to your home.
Regarding choosing the furniture, we love that the chairs have an ornate frame that reflects their traditional charm. Meanwhile, this thin frame also contrasts the sleek and glossy finish of the large outdoor dining table.
Of course, you can always complete the look by adding some finishing touches. This includes the small wooden bench on the side and the various pots of flowers around the patio.
15. Consider Tumbled Connecticut Bluestone with Retaining Wall Cap for a Craftsman Inspired Landscape Idea
Lastly, a craftsman-inspired landscape uses concrete paver and Bluestone as the retaining wall cap. It is a relatively simple and straightforward look, but still utterly breathtaking and in-style.
This partial sun backyard actually has a wide and open courtyard concept, which can be great if you like the effect of space in an outdoor area.
You can actually complement the retaining wall with stone benches and seat walls, which will provide plenty of outdoor seats.
The stone cap here is Tumbled Connecticut Bluestone, while the choice of greeneries is also not something you should overlook. It will provide a rich and lush backdrop for the patio, so that you can feel cool and invigorated whenever you pass through.
Closing
At the end of the day, your retaining wall cap is part of the overall appeal of your patio or outdoor space. We hope that these different ideas can provide you with some inspiration to decorate your home.
You may notice that bluestone is the most popular choice to use for a wall cap. That's because it is affordable and easy to install while still being super strong and durable. Its naturally high density also makes it an ideal option that can withstand harsh weather conditions.
Of course, as always, it won't hurt to try other alternatives if you think they might suit your needs.
After all, it's all about knowing what can make your home an apt extension of your personality. Good luck!