Are you looking for new backyard wall ideas?
Perhaps your current outdoor space feels small and constricted, looks outdated, or doesn't fit with the rest of your backyard.
Or maybe you want to create a more private and intimate backyard, so that you can have some separation from the neighbors?
Whatever your reason, building the right backyard wall might be just what you need to revamp your space!
There are tons of unique ways you can jazz up a backyard with some walls. From something simple to more elaborate, the style varies depending on your personal preference and how you want your home to feel.
For example, you can use colored bricks and a lot of plantings to evoke a lush and calming ambiance. It's also possible to attach built-in benches and water features to your wall. Really, the options are endless.
Without further ado, let's look at some fantastic backyard wall inspirations.
1. This Backyard Wall Uses Slate-Colored Bricks from England and a Variety of Greeneries to Create a Secret Garden Atmosphere
The backyard features a slate-colored brick wall in this traditional Georgian garden with a classic silhouette. Imported from England, these bricks evoke a timeless ambiance in this outdoor space.
Building this wall higher is ideal if you want full privacy from neighboring properties.
One way to pair this wall structure is to use York Stones, also from England, as the walkway stone. Then, the fountain is also an important focal point that adds a bit of water feature.
It's also a great idea to focus on the plants as these will transform your backyard into something like a secret garden! For instance, the potted evergreen plants are boxwood, while the blue flowers are hydrangeas.
They add a fun color and exciting look amidst the greeneries.
You can also furnish the space with some mahogany benches, which can be an excellent spot for enjoying the calm atmosphere here.
2. Plant Bougainvillea Vines on Your Backyard Wall and Hang an Overhead Canvas for a Cozy Contemporary Space
The following example depicts a gorgeous contemporary patio with some vines decorating the beige backyard wall. It also features an overhead canvas with some Edison bulbs to create a more playful atmosphere.
The backyard wall is also complemented by some wooden fences, and this is a great way to mix different materials and colors for a more eclectic and colorful ambiance. The vines are Bougainvillea, whereas the shrubs are Silver Sheen.
There is a raised deck to the right, which can be a cozy sitting spot. You are even able to use this as a mini stage for when you're hosting events or gatherings in your own home.
Install a sound system and add more decorations, and you've turned this backyard into a beautiful concert space!
Additionally, the pavers here have been installed on the road base, and then gravel is added all around it. This creates a separated and stylish area for the dining table, which is always lovely, so you have a table for outdoor meals!
3. This Spacious Full Sun Backyard Incorporates Wood and Metal Walls for a Gorgeous Way to Add Privacy
From this picture, you can see that it is mostly a simple and empty backyard. One of the benefits of keeping your outdoor space stripped back is that you will have more open space for playing and setting up temporary items.
The backyard wall here uses a mix of wood and metal materials to create a contemporary and country vibe all in one.
You may notice that the wood walls have horizontal siding, while the corrugated metal walls have vertical patterns. This is great for introducing a fun crisscross pattern to the space.
Moreover, a small patio is attached to the house, where you can place a couple of sun loungers.
The backyard itself is kept to a minimum of lush grasses. But you can still plant some flowers and bushes in the retaining wall planters arranged in a U shape along the walls!
4. A Backyard Featuring Belgard Catalina with Weston Wall in Victorian with Toscana Splash for a Timeless Look
This is Belgard Catalina with Weston wall border in Victorian with some Toscana splash that has been set in concrete, and each layer is glued with Loctite Stone adhesive. The result is a timeless look that is still simple and classic.
The wall itself has a multi-colored paneling of different shades of brown. This is an excellent method to evoke a sense of depth and layer while still sticking to a mainly earthy color palette.
Moreover, the brown colors work really well with the grey stones and green turf.
In terms of the flooring, this backyard has been divided into two: a beautiful section of synthetic turf and a concrete paver for the rest. Overall, this helps the backyard feel less uniform and plain!
We love how despite the lack of furnishing and other accessories, the space still looks very much alive.
5. The Perfect Space for Hosting Highlights a White Backyard Wall and Cedar Posts with a Stone Countertop
Why not create your own perfect backyard for hosting guests? This one features a white backyard wall with cedar posts to mix the old and new for a more contemporary feel.
The countertop is made of concrete with a smooth trowel finish in Silversmoke color from the Davies color chart.
This is a specialized color for concrete that definitely feels natural and earthy. It also matches the flooring patio, creating a seamless look!
Meanwhile, the BBQ sides are veneer stone from El Dorado Coastal Pearl white coastal reef. We love the texture of these stones as it adds more layer to an otherwise modern feature.
For the finishing touch, you can always hang some string lights and use a colorful cushion to enliven the space.
The lights here are actually commercial-grade Edison bulbs from Brightech. With some flame in the fire pit, you can immediately evoke a cozy and trendy atmosphere.
6. This Backyard Wall Comprises Multi-colored Slate Tiles Against a Striking Bromeliad Tree
In this backyard wall, you can try using slate tiles in different colors for a simple and plain backdrop for some creative plantings and landscaping. This contemporary backyard is a great way to complement any modern home.
To start with, you can plant a large Crepe myrtle tree as the center point here. It has gorgeous blooms and an eye-catching bark and can provide a different look and vibe to your garden as the year progresses.
Not to mention that this year-round plant is relatively easy to care for.
The spiky plant featured in this small backyard is a Bromeliad, or 'Candy Apple' specifically, but they come in many shapes, colors and varieties. So, it is all about choosing the right one for your personal space!
7. Try Terraced Concrete Planters and a Living Backyard Wall with Bonsais, Ivies, Mosses, and Many More
The following example shows you how using terraced concrete planters in a walled backyard can be a unique and dramatic way to decorate the space.
The walls here are painted concrete, but the main highlight has to be the "living wall", which is bursting with all sorts of flowers and greeneries. This includes bonsai, ivy, moss, fern, orchid, fuchsia, daphne, juniper, cypress, as well as a range of succulents and grasses.
Feel free to explore your creativity and make this into your own canvas of plants!
On the left and right walls, you can also spot a metal trellis where you plant even more vines and climbers.
There is no need to fill the entire wall with plants, and the white concrete surface can provide a nice break from all the green, but it is still nice to add a splash of life.
The backyard also has a large outdoor dining table. Keep this simple and straightforward, but you can place a couple of pots to add more color. These are Crete Lily ensconced in some mosses.
8. Hang Artwork on Your Backyard Wall Along with a Fire Pit and Resin Panels for the Ultimate Contemporary Patio
This contemporary backyard is definitely teeming with style and character. With a fire pit, lots of cozy furniture, and beautiful art, the walls here are also used to complement the theme of the space.
The backyard wall features a beautiful piece of art made by Jim Sudal in Scottsdale, AZ. Of course, you should always pick an artist or art that speaks to you personally!
Here, the wall has a special yellow part made with 8x8x16 concrete blocks, which is finished with sand stucco and painted.
The resin panels flanking the patio deck are from 3-form.com, and we think that they can provide more depth to the design without overwhelming the overall vibe. Moreover, the deck is made of Trex decking, a composite wood material.
We love how the brown Adirondack chairs from Loll Design surround the fire pit for seating options. You can see that there is also a secondary spot on the concrete patio with some outdoor sofas.
9. Build a Cozy Rooftop Deck with White Backyard Walls, Green Planters, and Chic Outdoor Furnishing
One of the most exciting parts of this backyard is that it is actually a rooftop deck. The white walls provide privacy and a beautiful backdrop for the space and visually lighten the space.
You can see a glass panel on the floor, and this is a sunroof that allows natural light to enter the house. It's also an exciting feature that can make your home even more intriguing and unique!
The green planter boxes are an excellent way to keep some plants and greeneries, so the space can feel more refreshing and calming.
All you need to do is place some chic furniture to make this backyard the definition of a modern oasis.
10. Place Smith and Hawkins Couch and a Full Outdoor Kitchen Inside Backyard Walls for a Spacious Patio
This large contemporary backyard is an excellent example of using wood panel walls that can evoke a modern vibe.
In addition, there is a layer of concrete walls in an L shape that compliments the full outdoor kitchen. This is also how the fire pit is integrated into the space.
The furnishing here plays a huge part in the overall look, including the Smith and Hawkins couch that you can see in the main lounge area. We would recommend sticking with neutrals and earthy tones to maintain a cohesive theme.
With that said, don't be afraid to add some colors too! For example, you can place a red throw or cushion with bright flowers and vibrant patterns that will help make the space feel homey.
11. This Beautiful Wooden Backyard Wall Contrasts the Concrete Walls and Pavers to Evoke a Modern Vibe
Here is another modern backyard with beautiful wall features that add both style and privacy.
This one includes concrete walls, pavers, and a mix of river stones and wood for an eclectic contemporary mood.
First, the custom-colored concrete walls make a striking contrast against the wood fences and walls above, as well as the greeneries.
This is also a two-tiered backyard, as you can see.
The top level houses an outdoor dining set as well as a luscious turf, whereas the bottom level has a built-in bench surrounding a fire table and lit-up wooden steps. This is the Topanga Rectangular fire table by Restoration Hardware.
12. Use Cedar Screens as a Backyard Wall to Ensure Privacy and Style While Adding a Concrete Fire Table and Floating Bench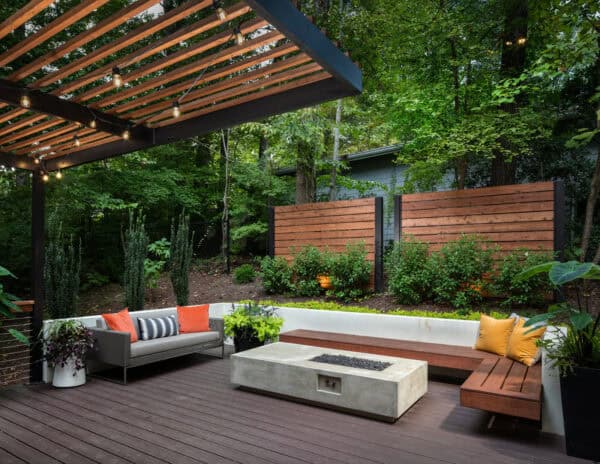 Next, check out this backyard retreat that uses cedar screens and a black backyard wall for a warm ambiance while instilling privacy in your outdoor area.
The Trex deck here is used as a center for entertaining, and it features a gorgeous concrete fire table with a custom floating cedar bench.
The floating effect is an excellent way to keep the area feeling open and spacious too, and you can always place a regular sofa here to complement it with some softness.
Meanwhile, the light brown cedar screens are a great way to provide contrast against the vibrant greens on the terrace while complimenting the deck's brown hues. These are actually painted in Sherwin Williams English Walnut.
Don't forget to finish up the space with some clean light fixtures, which you can see hanging above the wooden pergola. There are also some modern lightings on the steps and throughout the deck!
13. Build an Idyllic Backyard Stone Wall for a Lush Garden Featuring Crape Myrtles and Other Plantings
In this idyllic backyard, using stone walls with generous landscaping will help you create the most beautiful and timeless outdoor space.
The idea is to create a gorgeous secret garden with different plants and grasses, but in a way that makes them all flow together.
It's probably a good idea to enlist the help of a professional landscaper, so that you can choose the right plants that are suitable to grow in your home's climate and conditions.
Furthermore, you may also want to plant two Crape Myrtles in the northern corners of the old barn foundation. This is a great way to frame the backyard and add even more garden presence.
14. Paint Your Backyard Wall Over Smooth Troweled Stucco and Plant Spiky Furcraea Macdougalii for a Dramatic Effect
Last but not least, take a look at this simple curved white wall enclosing a contemporary backyard. The wall is tall and sleek, while its curved silhouette adds a touch of architectural intrigue.
It is a smoother troweled stucco that has been painted over, and we have found that keeping any backyard wall simple is an excellent way for those who prefer to go all out with the plants and trees.
For instance, the tall spiky background plants along the wall are actually Furcraea macdougalii.
It looks beautiful amid the blue-tinged plants in this garden, which are Festuca glauca 'Elijah Blue', a beautiful grass species that will provide an intriguing character to your landscape.
You may also notice some wire structures on the yellow side wall. This is a custom lattice, which you can use to grow some vines and climbers!
Closing
That wraps up some of the best ways to liven up the borders of your backyard. From contemporary outdoor installations to Zen gardens, we have covered a range of different ideas.
Whether you have a large or small backyard, adding these walls help ensure privacy and adds more pizzazz to the area. Retaining walls can hold back earth in your planters, while simple screens can be easy to put up.
The most important thing is to look for styles that suit your personal preference and can make your home feel like your own. Good luck!