Are you wondering what the best colors are to use in your bathroom? After all, the options are endless, and revamping your home can indeed be a challenging task. One idea is to use green and brown as the main color palette for your bathroom.
Green can bring a clean and natural vibe to your space while providing a calming effect. It's always nice to feel relaxed in the bathroom, especially if you're looking to unwind after a long day.
Meanwhile, the color brown is a fantastic complement as it is quite neutral while giving you room to express your personality. You can go for any shade of brown, including light beige to the warm tones of natural wood.
The best thing about a green and brown bathroom is that you can adapt it in any way to fit a range of different styles. From simple and modern designs for a contemporary look to more traditional and classic elements for a charming interior, you name it!
To help you out, we have compiled some of the most beautiful green and brown bathroom designs that might inspire you. Without further ado, here they are…
1. Elevate a Traditional Bathroom with Deep Green Walls and Brown Porcelain Tile Flooring
In this first example, you can see the use of green and brown for a traditional master bathroom. Choose the darker tones so you can evoke the sense of classic decor and timelessness.
The dominating color is brown, which you can use for the porcelain tile flooring, granite countertops, and medium-tone wood cabinets. It is also a calming tone that evokes both royalty and maturity.
For the walls, you can choose a muted dark green that will be the foundation of the entire space. It is important to go for a darker shade that goes well with the brown features in this bathroom.
We also think adding some live plants and hanging a painting on the wall can be a great way to embellish the interior even more.
To offset all the deep colors in this bathroom, make sure to have white ceilings and enough light, preferably windows. Choose a white toilet, bathtub, and baseboard to also balance it out.
2. Evoke Rustic Vibes in this Mountain Style Bathroom Featuring Green Walls and Brown Furniture
For those who enjoy the atmosphere of a mountain-style cabin, this rustic bathroom might be the one for you. It uses brown furniture to complement the beautiful green walls and create an extremely cozy space.
Here, opt for the darker shade of green that can induce a sense of calmness and serenity. Complete with dim lighting, you can then create a nook for you to bathe and relax after a tiring day.
Wood is also an essential element in this bathroom as it aims to recreate the natural vibes of a cabin in the woods. From the windowsill and recessed-panel cabinets to the door frame, the dark brown texture can be an excellent addition.
Moreover, stone tile flooring and bathtub also add to that wilderness feeling. Hang some stylish lamps on the wall and an antique mirror frame to complete the look!
3. A Craftsman Inspired Master Bathroom with Green Mosaic Walls and Antique Brown Cabinets
This master bathroom is inspired by craftsman design and an excellent idea for those who enjoy the look of a traditional interior complete with its old-world charms.
Wood is an essential element in this design as it features heavily for the cabinets and drop-in sink, while the dark green granite countertops compliment the dark wood. There are also wood doors and trimming on the ceiling.
You may also notice the antique pendant lighting, which has a very intricate design, while the yellow glow enhances the warm feeling of this room. The additional lamps on the mirror also add even more lighting for when you're getting ready.
For the green aspect, you can use mosaic tiles for the walls to create an eclectic and fun look. Moreover, the red tile flooring can be a great choice that goes well with the dark and classic vibes of this bathroom.
4. Try Using Light Green Walls to Complement Light Brown Cabinet for a Modern Bathroom
If you prefer a lighter undertone for your bathroom, this more modern design could be the right inspiration for you.
It features light green walls that are embellished by a horizontal green mosaic wallpaper running across the room and shower. The shower itself has tiles in the same green color for added seamlessness.
You can then place a light brown cabinet with a white countertop and sink to match the light ambiance of the space. Maybe even add some live plants here to make the room feel even livelier!
In addition, having the wood frame mirror is also an excellent way to further evoke the natural element here. Don't forget to balance the green and brown colors by introducing some white too.
This could be the white windowsills, white mosaic tile flooring, white baseboard, and white ceiling. Overall, having this neutral palette to tie the entire look together works well.
5. Pair Alcove Shower with Brown Ceramic Tiles and Green Walls to Induce Traditional Charm
For this next green and brown bathroom design, take a look at this combination of alcove shower and bathtub. It's perfect for those who have the space and want the luxury to choose between showers and baths each time.
Start with the green walls to establish a neutral yet gorgeous foundation for the interior. Go for a lighter shade so you can pair it with dark browns and golds, but let the ceiling remain white.
For the flooring, try brown tiles and then place some brown rugs to complete the look. You can then use brown ceramic tiles for the shower and bathtub. This will create a quintessentially traditional look that is both classy and charming.
Moreover, the medium-toned recessed-panel wood cabinets are the perfect home for a drop-in sink as well as the gold emblazoned faucets. Of course, this will match a gold-framed mirror too.
6. Build a Bright Beach Style Master Bathroom with Brown Tiles and Beautiful Green Walls
This beach-style master bathroom is a beautiful space that utilizes brown tiles and green walls for a bright and refreshing look. With plenty of artificial or natural lights, this can be the perfect bathroom for any modern home.
The centerpiece of this room is doubtless the walk-in shower, which features stone flooring and brown tiled walls for a rugged and vintage look.
Meanwhile, the walls for the rest of the bathroom are in a cool mint green which adds that calming and fresh atmosphere – perfect for a master bathroom. You can see how the white cabinets with brown granite countertops further elevate the interior.
We also love the dark wood flooring and huge mirror above the sink. The latter can help create the illusion that the bathroom is even much brighter and more spacious than it is. Not to mention that the toilet actually has its own door for extra privacy.
7. Install Brown Cabinetry to Complete this Gorgeous Bathroom with Patterned Green Walls
In this gorgeous vintage bathroom, the brown color from the natural wood cabinets and pattern on the green wallpaper complement each other well.
For the walls, why not try using green wallpapers that have beautiful white patterns on them? It is a light and refreshing look that will immediately make your bathroom feel modish and bright. Make sure to balance the white color here with a white baseboard and door. You can also see how the white settee on the side looks great against the wall.
The brown raised-panel cabinets also have a vintage look to them, thanks to the rugged finish that mimics the feel of natural wood. We love how they look under the wood-framed mirrors, which can open to reveal a hidden cabinet!
In addition, you can use some antique faucets to maintain that old-world vibe. Using medium-toned wood flooring will also complement this interior style.
8. A Dark and Cozy Craftsman Bathroom Pairs Brown Walls with Multi-Shaded Green Mosaic Tiles
This is another example of a craftsman-style bathroom with the characteristic customized woodwork and elegant feel, as well as several other striking details.
The green mosaic tiles make up most of the walls and feature different shades of green for a truly eclectic look. It is set against the wood trimming, brown walls, and white ceiling to create a beautiful contrast.
In addition to all the woodwork on the windowsills and mirrors, you can also find the undermount sink and light wood cabinet. This introduces a lighter tone of brown for some variation, while the beige marble countertop adds something elegant.
In terms of lighting, don't be afraid to mix things up and have several mismatched lamps. From the antique pendant lamps to ceiling lights, this is your opportunity to express some style.
Finally, you can use the red tile flooring to complement the medieval-esque ambiance while tying the look together.
9. Mid-Century Bathroom that Feels Natural Features Green Floor Alcove Tub and Brown Stone Tiles
This mid-century bathroom takes inspiration from interior trends in the 1960s, which includes the large tiles and green floor alcove bathtub.
The brown color in this room comes in not only the wood door and cabinet but also the natural stone tiles near the bathtub. This rugged element can bring the outdoors inside and create a homey bathroom.
As you can see, the green tiles from the bathtub overflow to the countertop for unique and appealing furniture. This countertop contains the white drop-in sink and dark wood cabinets, which is actually a gorgeous complement to the color.
For the final touch, we recommend adding sweet details such as a piece of coral art, which you can get from Regina Andrew. You can also place some fake plants and hang a painting on the wall. These things will help make your bathroom feel cozier.
10. Go for a Spacious Contemporary Bathroom with Brown Wood Flooring and Pastel Green Paint
Perhaps you are more of a contemporary and modern person. This spacious bathroom is a brilliant example of how you can combine green and brown to create a classic interior.
The large bathtub takes up one side of the bathroom, which provides a large and comfy space for you to relax. There is even a small shelf surrounding it where you can place some candles or soap.
For the flooring, choose medium-tone wood that will make the space feel cozy and rustic. You can ensure that the overall feel is modern and contemporary by having white shaker cabinets with a quartzite countertop. Meanwhile, the light green walls add a calm, refreshing vibe.
11. Use Mosaic Tiles for Fun Green Walls that Complement the Simple Brown Flooring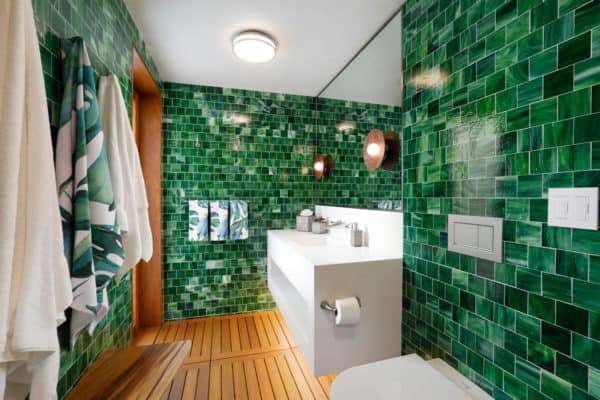 It shouldn't be a surprise now that mosaic tiles can be a truly spectacular addition to a bathroom, especially if you use them for the walls.
Try going all out and cover the entire walls of your bathroom with green mosaic tiles. Make sure the color and pattern vary so you can create an eclectic surface that is fun and stylish.
The best thing to balance the deep and clustered colors from the tiles is with something neutral. For example, the large white countertop and cabinet unit with an integrated sink, which help add some lightness to the decor.
You can also use simple wood flooring to evoke a semblance of minimalism. This light brown color is a lovely natural tone that will make the bathroom feel more modern. Having a wall-mounted toilet can be a great idea too.
12. Minimalistic Brown Bathroom with Plants and Muted Green Walls for a Calm Ambiance
For our next design inspiration, we have a minimalistic brown bathroom with muted green walls. Choosing muted colors can help create a calming atmosphere, which is perfect if you want to evoke some zen in the room.
First, you can start with a base of green paint for the walls. Try to go for a muted dark green that is both calming and soothing while still appearing trendy.
You can then add the brown color through various wood elements throughout the bathroom. For instance, the light wood cabinets with an undermount sink and quartzite countertops. You can also provide two wood-framed mirrors above this.
The medium-tone wood vinyl flooring will be a beautiful addition to the bathroom. There is also a simple ladder next to the shower room, which you can use to hang towels and other accessories.
As a finishing touch, don't forget about the small details, too, from a vase of green plants to the green rug on the ground, as well as a pair of wall lamps to illuminate the space.
13. Maximize a Slanted Bathroom with Alcove Shower by Mixing Green and Brown Walls
Having a non-uniform room shape may sound like a tricky thing when designing interiors, but it is great to maximize space by making the right styling choices.
For example, this mid-century modern bathroom has a slanted ceiling. You can use an alcove shower that follows this slant and create a separate toilet area for added privacy.
For the shower, try to use bright colors like white or beige. It will help establish a clean space that allows you to enjoy a shower in peace. Maybe even make some built-in shelves to store your soap and shampoo.
Go for medium-toned wood flooring and walls for the rest of the bathroom, as this will evoke a soothing sense. Meanwhile, installing an accent wall with green mosaic tills can add an element of fun to it too. The tower hangers are an excellent addition too!
You can also see the limestone countertops around the undermount sink with a light wood cabinet. Here, you can put some decor like a glass vase for a more personal touch, while keeping it mostly empty can help to avoid clutter.
Closing
Styling your bathroom is just like decorating any other room in the house. If you want a cool and refreshing space that can help you feel calm and relaxed, you cannot go wrong with the combination of green and brown in a bathroom.
Today, we have shown you a lot of different ways to incorporate these colors in a bathroom, from the wall paint and flooring to mosaic tiles and shaker cabinets. Try to identify what you like or don't like with each picture so you can find the right style for yourself.
Whether you prefer the clean and modern look of a contemporary home or the old-school charms of a traditional house, we do think that a green and brown bathroom will fit in either style.
The most important thing is to know what you like and need, as well as what works in your personal space. Good luck!