There can be endless possibilities when it comes to choosing the right carpet and wall color combinations for your home interior.
Some might think it's best to just match them both, but what is the best way to determine your carpet and wall colors?
Indeed, picking out colors for carpet flooring and the walls can be a tough choice, especially if you don't know where to start. But don't let this overwhelm you, as the process can also be fun!
So, we have compiled some of the best carpet and wall combo that inspire your own design.
The carpet and walls in a room should always be complementary and bring out the best of each other while still allowing the other furniture in the space to shine and flaunt their presence.
This seemingly simple choice can also determine the mood of your room.
Well, let's not dally anymore and get right into it!
1. Masland Preswick and Benjamin Moore's 1606 Cobble Stone Path Make a Bright Beige Carpet and Light Gray Wall Color Combination for the Bedroom
For our first inspiration, let us start in the bedroom and consider a classic combination of beige carpet and light gray, which is fitting for a master bedroom where you want to feel tranquil.
The carpet flooring is Masland Prestwick 9443-507, which is a light beige color with a subtle texture to give some depth to the space.
In addition to complementing the bright ambiance of this room, the carpet is also cozy and helps establish a welcoming atmosphere.
Meanwhile, the walls are Benjamin Moore's 1606 Cobblestone Path with White Dove for the trim. This light gray tone elevates the sophistication of this timeless style while also adding a touch of warmth.
In terms of the furnishing, most of the stuff you can see here are from Martha O'Hara Interiors.
Pick out items with a neutral color to fit in with the tone of this room, but at the same time, don't shy away from patterns like the pillows and curtains here!
2. This Warm Carpet and Wall Color Combination Uses Silver Chain by Benjamin Moore and Soft Gray Carpeting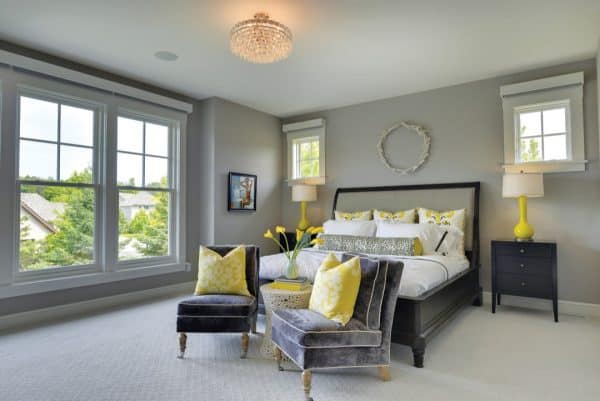 This next bedroom also uses gray for its wall color but goes for a darker and deeper shade that can be suitable if you want a much calmer and more peaceful ambiance.
The gray color you can see is Silver Chain by Benjamin Moore. It is a gorgeous cool-toned gray that is not too dark nor too light, so that it evokes a "silvery" feel that can really make the walls in your bedroom pop.
To complement this color, go for a gray carpet that is a few shades lighter that can balance the tone.
We love the black accents throughout this room that also elicits a hint of boldness and masculine charm. For instance, you can see that the black bedframe matches the black side tables, while a black picture frame on the sidewall also adds to this.
Another detail that we think is a great idea is the yellow colors on the various ornaments and pieces. From the cushion on the armchairs to the lampstand, these touches of yellow help brighten up the space.
3. Try a Striking Combination with Audubon Russet from Benjamin Moore Orange Wall Color and Oyster Carpet for the Bedroom
A bedroom can also look super striking when you pair Benjamin Moore's Audubon Russet with oyster carpet, as this produces a gorgeous effect.
The wall color in this bedroom is Audubon Russet by Benjamin Moore, which is a classic hue that is evocative of historical architecture and traditional spaces.
This is also such an elegant color that works well in a contemporary home such as this.
But because this is quite a dark tone, it is important to balance it by choosing a lighter and more muted carpet color. This oyster shag carpeting is a lovely choice that can also hide any dirty stain on the floor.
You can stick with more reddish-brown colors for the furniture to further enhance the look while hanging an art installation can tie the entire space together. It also adds a captivating contemporary aspect to the room.
4. Gray Carpet and Sweet Bluette by Benjamin Moore Blue Wall Color Combination for Cozy Kids' Room
A kid's room can also look much more put together and snug if you choose the right color combinations for the walls and carpet.
To start with, Sweet Bluette by Benjamin Moore is a nice light blue color to use for the walls. This is a fairly neutral color, so you can easily place colorful toys and play mats and still have the space look cohesive.
The carpet is from Masland. Go for a gray color that is also quite neutral and can offer a warm and comfortable surface for your kids to play on!
It is then super simple to finish the room by placing white shelves and a beige sofa there.
Finally, the chandelier you can see is from Ikea, and this is another detail that you can try including in your design to elevate the interior.
5. Use Stanton's Willow Carpet with a Dark Wall Color Combination for a Snug Family Room
For the following example, we have a slightly different mood going on that is much darker and cozy, which can be perfect for a family room or even a mancave!
We recommend using a dark color to maintain that deep look for the walls.
The homeowner and designer have chosen a dark green that matches the plaid carpet flooring. It also suits the dark ceilings and other green-accented furnishings.
For the carpet itself, you can get it from Stanton, Trafalgar Square, in the color #90544 Willow. This plaid pattern is also a fun touch that adds so much personality into the space, as well as a unique, subtly old-school appeal.
You can even turn this into a media room by placing leather-bound theater seats with a raised platform. Then, add some pool and poker tables for entertainment, a large TV, and other fun elements like a pinball machine!
6. This Modern Family Room Features a Fun Pattern Multi-colored Carpet and Dark Gray Wall Color Combination
Here is another example of a family room. This time the mood is much more colorful, fun, and playful, which can be more suitable if you have little ones in the house!
One of the most eye-catching parts of this room is undoubtedly the carpet. It is multi-colored and has an interesting, curved pattern that evokes so much life and joy.
You can see that this dynamic arch continues in the coffee table, which has an asymmetric rounded glass top with a unique leg.
For the wall color, you can go for a dark gray color that has a concrete-like texture to add more depth and sense into the room. This is a warm feature that can also make the area feel much cozier, especially if you have a fireplace.
Meanwhile, the wooden shelves take up the entire length of one wall. This can be the perfect spot for storing books and other toys, as well as displaying décor and art pieces.
7. Consider a Timeless Dark Purple Carpet and Light Purple Wall Color Combination for a Girl's Bedroom
If you have a little girl and want to give her the ultimate feminine and classic-feeling bedroom, this photo can provide some inspiration for you.
While we like to combine different colors to create the most stylish look, using one color tone can sometimes be a great idea, like in this case.
The purple color evokes a regal and rich effect and adds so much flair and drama that can be exciting for a girl.
The wall color is a light purple, while the carpet floor is a dark purple. These two form the foundation of this cute and lovely space.
For the rest of the furnishing and accessories, play with different shades of purple and patterns to create some layers and variety.
Finally, don't forget to incorporate a few light accents to balance all the richness. This includes the white trim and cream furniture, such as the bed frame, desk, and bedside tables.
8. This Beige Carpet and Dark Blue Wall Color Combination Make for a Modern but Comfy Kids' Room
For those with two boys or kids sharing a single bedroom, don't worry, as you can also make their space feel cozy and stylish.
The combination of dark blue walls and beige carpet can be perfect for evoking a modern but comfy vibe.
For the wall color, a navy blue like this one is great for establishing a sense of warmth and coziness. It is a dark color that feels safe but still light enough without making the room seem too constricted.
Contrast this with white ceilings and beige carpet, which you can then match with soft gray quilts and bedding.
To add a pop of color, you can even add a small rug in the center of the room like this colorful red one.
9. This Artistic Gray Wool Carpet from Stark and Beige Wall Color Combination Creates a Trendy Bedroom Vibe
This is an elegant and upscale bedroom with stunning contemporary elements and a classic charm that you cannot go wrong with.
The beige walls have brown undertones with a rugged texture for that slightly rustic vibe.
It works especially well in a smaller room, so you can really get a sense of coziness in the space. Still, having large floor-to-ceiling windows is nice to keep the room feeling spacious.
Furthermore, the wool carpet is from Stark and sports a striking floral pattern. The gray and beige color fits perfectly with the overall mood of the bedroom.
At the same time, it adds a hint of artistic character that can make this room feels like yours.
While you can stick with white and beige for all the large furniture here, it can be a fun idea to add a few pops of colors too.
For instance, the orange pillows and throw blanket on the bed, as well as flowers on the bedside table.
10. Evoke a Traditional Charm in the Living Room with a Classic Gray Carpet and Green Wall Color Combination
You can decorate your living room to appear traditional and charming with a classic carpet and wall color combination, such as this fetching gray and green look.
It is an elegant formal living room with an open concept that embraces various old-school elements of traditional interior style.
The bright green walls are a bold choice that immediately transforms this room into a traditional oasis.
You can complement this color with similar-toned sofas and armchairs while also interspersing them with some brown chairs.
Choosing glass for the coffee table's material is also a great choice to avoid the sensation of restriction.
For the floor, we like the look of the gray carpet as it juxtaposes the cheery and bright color. It introduces a sense of calm and seriousness, which can further enhance the room.
11. Go for an Old-School Dark Green Carpet with Dark and Beige Tone Wall Color Combination for a Timeless Bedroom Remodel
The photo above depicts another way that you can try traditional interiors for a bedroom to create a timeless space that looks charming and quintessentially captivating. It incorporates lots of dark tones and muted patterns.
The walls here use an intricate wallpaper with a dark and beige tone, whereas the carpet is a dark green color with a cozy texture.
For the rest of the furnishing, incorporate some traditional elements by using gold highlights and wood accents. Like the bedside tables with a rattan basket underneath!
Moreover, the bedding is customized with minimalist gold accents to further evoke the classic style.
We also love the blue accents on the bed, which add an effortless pop of color without appearing too jarring and out-of-place.
12. Try a Contrasting Combination of Colorful Carpet and White Wall Color for an Eclectic Kid's Room
One of the easiest ways to be playful and exciting while still remaining cohesive is to combine a colorful carpet with white walls. This will allow you to create an eclectic kid's room that feels both stylish and fun.
You can get similar carpet tiles from Flor's "Made You Look" collection and request them to cut them into these shapes.
This geometric triangular pattern that incorporates so many colors will be the perfect foundation for a cheery space.
In terms of the furnishing, feel free to place seemingly mismatched colors and elements. From the blue dresser and multi-colored chairs to the bright orange shelf, all of these will come together to produce a happy vibe.
Of course, the white walls help to keep everything feeling toned down and deliberate, which is important in interior design.
We also love that despite having slanted ceilings that follow the house's natural contours, there are still enough windows with natural light to help this room feel bright and airy.
13. This Teen Cave Uses a Trendy yet Neutral Carpet and White Wall Color Combination
For this photo, we wanted to show you how using a simple color combination of the carpet and wall can still be effective when decorating your house's interior.
This teen cave starts with a multi-colored blue and gray carpet, which provides a neutral canvas that you can build from.
The blue sofa and black leather chairs definitely fit well with this color, but don't be afraid to incorporate bolder elements! Such as the neon bar stools and a colorful accent wall.
For the rest of the walls, you can simply use a simple white color that will complement all the playful features of this room.
From the fun and jazzy pillows to the bright blue knitted pouf, let this be a space that dares to experiment and explore.
14. Embrace the Luxury Ambiance with a Classic Beige Carpet and Gray Wall Color Combination
Last of all, this is a contemporary and luxurious bedroom featuring a beige carpet and gray walls that feel super timeless and modern.
The walls here use a classic dark gray, but we recommend going for a textured or patterned wallpaper so you can make elicit more life into the space. This helps your bedroom appear more lived-in and also expensive.
Meanwhile, the floors are simply beige carpet that is comfortable to step on and lovely to look at. Its soft texture is a nice complement to the gray armchairs.
There are also side tables with reflective mirror surfaces to add a unique touch.
You can see that this bedroom also features one wall that is made up of glass doors and windows to let in natural light and a refreshing view.
Use white for the trims to keep the mood bright and airy.
Closing
That's all from our part about the best color combinations for your carpet and wall at home.
Whether you are revamping your living room, bedroom, or even kids' room, we hope some of these photos can inspire you!
It can be worthwhile to consider the ambiance that you want to create, which will help you decide the right colors to choose. For example, gray and beige can be a beautiful pairing to evoke a calming yet luxurious mood.
All in all, the secret is to not be afraid to explore new combinations and paint colors. This will help you discover fresh ways to express your character and give life to your home.