Are you looking for some second-story deck ideas to complete your house? We have you covered! From the shape and size to railing material and seating, you might face a series of tricky choices when designing it.
Why should you include a second-story deck? Not only is it great to add in houses set in a sloped land, but it also adds a lot of architectural character to the exterior. There are a lot of ways to style the deck, depending on your preferred style and decor.
Moreover, a second-story deck can be the perfect way for you to access the outdoors from the kitchen, bedroom, or even living room. The additional estate provides extra space to enjoy the view and natural breeze within the comfort of your own home.
Today we will look at some of the most beautiful second-story deck ideas that could inspire your own home design. As always, feel free to pick elements from different photos that speak to you.
1. A Stylish Second-Story Deck with Spiral Staircase and Cozy Setup for BBQ and Outdoor Dinners
This stylish second-story deck happens to provide a dramatic patio cover so you can create an overall eye-catching architecture to your home.
The gable roof covering the deck means you can enjoy this outdoor space even when it is raining. It has a ceiling fan and recessed lighting that is perfect for both hot summer days and dark afternoons.
You can use this deck area for hosting year-round BBQ and family dinners. Just make sure to provide enough seating and table space, as well as a barbecue grill to prepare all the foods.
In addition, the Trex Spiral Stairs connects the second-story deck with a sheltered play area, which you can allow kids to play in! This also adds more access points to the deck so guests can come straight up instead of having to walk through the house.
2. Use Bifold Doors to Blend Second-Story Deck and Indoor Living Space in This Beach-Style Home
This is a marvelous evening view of an expansive second-story deck. If you have a large house such as this, creating a cozy and beautiful deck area can elevate your home even more.
It features bi-fold doors that can open all the way, thus blurring the separation between the indoors and outdoors. During warm summer days, these doors will be your best friend for sure! They will also make hosting parties and dinners much more fun.
Remember to place some seating on the second-story deck, which can make it a nice place to hang out during clear days and breezy nights. Installing yellow outdoor lights is a great idea, too, as they will create a warm ambiance.
Moreover, this large beach-style home uses grey concrete fibreboard for the exterior and a shingle roof. The white picket fence surrounding the house is another beautiful touch that adds that classic suburban feel.
3. Set Up a Comfy Second-Story Deck Over Warm Patio Complete with Glass Railings
For the next second-story deck idea, take a look at this traditional home design that also features a warm patio underneath the deck.
For the second-story deck, you can use glass railings to not only ensure the safety aspect but also make the space look more elegant. This transparent feature helps extend the deck with the greater outdoors and therefore makes it feel bigger.
You can place different-colored chairs for some variety, including black rattan chairs and white ones. This rather neutral color palette suits the earthy tone of the house itself.
Furthermore, the deck creates a roof for the patio underneath, which means you can create a second semi-outdoor hang-out spot in the house. Here, you can see that a set of cozy armchairs are complemented by an outdoor dining table. This means more seats to host more guests during parties!
4. Create an Extended Hosting Space on Your Second-Story Deck Featuring an Outdoor Grill
Here is an example of a large backyard that connects to the second-story deck, which means you can provide multiple spaces for entertaining.
A second-story deck is an excellent place for grilling and eating, which you can see has an entire set of an outdoor dining tables. The steps allow guests to access this deck without having to enter the house.
We personally adore the railing of this deck with the white stairs and metal railings. They add a timeless yet still contemporary touch that can fit in a home of any style, especially a country-inspired one.
Meanwhile, the ground-level space in the backyard is the main area for dinner parties or BBQs. It has two seating areas: a sheltered one below the second-floor deck and an uncovered one that surrounds a cozy fire pit.
5. Go For a Wrap-Around Second-Story Deck with Vinyl Railing for a Spacious Entertainment Area
Another idea is to create a wrap-around second-story deck. This is always a great way to add more space to your house while providing plenty of different spots for hosting and relaxing.
For example, this deck remodel involves connecting two existing decks into a single extensive one. As the deck now wraps around the house, there are actually now multiple points of entry into it. This includes three doors into the inner house and a staircase that leads right to the backyard.
To make the most of this wrap-around style, you can set up multiple seating around the deck. This house features three separate spots where different members of the family can enjoy the outdoors while still maintaining some privacy.
The vinyl railing is the perfect choice to complement the Timbertec decking, both of which are in an earthy tone that goes well with the white siding and grey roof. Overall, this makes for a neutral exterior.
6. Embrace the Outdoors in This Second-Story Deck with Fun Pergola Roof and Cedar Wood
For those of you who love the outdoors and want to make your home feel like an extension of the surrounding landscape, this photo can offer the best inspiration.
This second-story deck embraces nature as it incorporates beautiful materials into the design and architecture. For instance, it lets cedar wood become the spotlight in this space. From the fun pergola roof all the way to the railing structure and pillars!
Also, chances are you would like to maintain the stunning views and not block them with unnecessary railings. The solution is to use a cable railing system that is still safe and can prevent accidents. At the same time, it maximizes the landscape and lets you enjoy the view.
Not to mention that this deck has an all-wood staircase leading from the front steps. This means you can enjoy easy access between the second-story deck to the ground-level backyard without going through the main house.
7. Try a Stunning Yet Rustic Wrap Around Second-Story Deck that Connects with the Main Entryway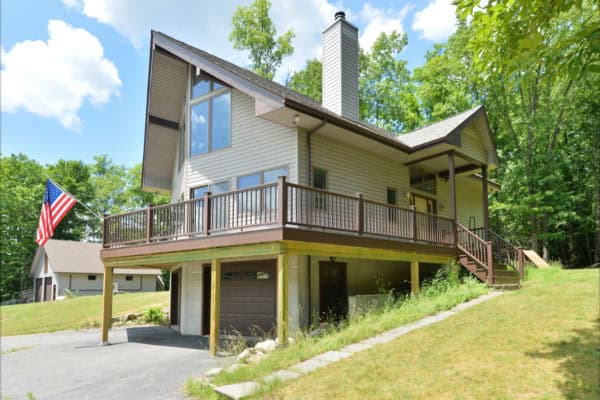 This is another example of a wrap-around second-story deck if this type of design suits your interest. It also connects to the main entryway, which means the deck serves as both an outdoor patio and main porch.
It uses helical pilings to ensure that the deck is sturdy and TimberTech decking materials for a durable space. The mixed material railing also comes in an appealing brown color that matches the surroundings too.
Meanwhile, the garage door and a second door leading into the house from below. We love the multiple options so that older family members who can't climb the stairs can still get inside the house!
This is also an excellent design to try out if your house is set on an uneven plot like this. Instead of restricting the architecture, you can embrace and make the most out of the landscaping too!
8. Turn Roof Extension into an Attractive Second-Story Deck with Traditional Features and Intricate Railing
Did you know you can turn the roof extension into a beautiful second-story deck while also covering the patio below it? It is a 2-in-1 solution that lets you provide multiple spaces for hosting.
For the second-story deck, you can install intricate metal railings with floral details and patterns. This will be an enchanting feature to highlight the deck area. This railing also extends to the spiral staircase that leads directly to the ground-floor patio.
This traditional backyard is an excellent inspiration for almost all styles of homes, especially those in a rural or suburban setting. As you can see, the classic features like the wood pillars, red brick siding, and white shutter windows enhance that old-school charm.
Meanwhile, you can add other modern elements like the gravel and manicured lawn, as well as a BBQ grill and ceiling fan, and light combo. Remember that it's all about creating a space that works for you!
9. Customize Your Craftsman Home with a Spacious Second-Story Deck Made for Countryside Living
The best deck remodel one that considers your personal style and preference. In this example, the goal is to create something that is more than just a second-floor deck.
Instead, this large deck provides an outdoor living space that is especially suitable for a countryside lifestyle. It is a craftsman backyard that combines a mixed material railing with a natural stone retaining wall.
The result is a beautiful house exterior that will make anyone, even the busiest worker, feel calm and serene. Moreover, the deck also acts as a covering for the patio. This can be an excellent place for kids to run around and play.
In addition to the stunning pool area and a hardscape that separates different spaces, this home is a true extension of the surrounding landscape. You can include certain plant species, bushes, and flowers to create a relaxed and refreshing atmosphere.
10. Opt for Rustic Elm to Create the Perfect Second-Story Deck Featuring Outdoor BBQ and Seating
This photo depicts a pastoral backyard with a second-story deck and patio. You can use the empty space and build planters here to cultivate a small garden.
The rustic ambiance is lovely when set in a rural setting, where the neighboring houses are not too close together, and the distant landscape provides a picturesque view.
As you can see, the second-story deck has beautiful medium-toned wood flooring. This is elm wood that provides a rustic vibe and matches the traditional sense of the house.
One way to populate the deck itself is to turn it into a mini garden by placing a lot of potted plants. You can use it as a hobby place where you can enjoy the cool breeze while watering these plants.
11. Redesign a Modern Second-Story Deck in a Gorgeous Brown Palette and Charcoal Black Trex Signature® Aluminium Deck Railing
For our next inspiration, this is a natural rustic deck that still looks modern. You can use a brown color palette for an earthy atmosphere and current furniture for a contemporary style.
In terms of railing, the charcoal black Trex Signature® Aluminum Deck Railing can be a perfect choice as it complements the wood color beautifully. Meanwhile, the Vintage Lantern composite posts will elevate the look too.
If you want to mix up the design, you can also introduce a few pops of colors, like the turquoise window and door frames. This adds some fun to the design!
You can use some Trex® Outdoor Furniture™ from the Yacht Club collection for the ultimate combination of modern and traditional. This includes the black rocking chairs, white outdoor sofas, and a wooden dining table.
Finally, decorate this spacious deck with some pretty details to tie up the look, from the colorful potted flowers and antique lanterns to the candle centerpiece on the table.
12. An Eclectic Second-Story Deck Embodies the Best of Outdoor Living with Mixed Material Railing
This eclectic backyard features a second-story deck with a mixed material railing that embodies the most graceful of outdoor design.
It can be a great idea to furnish the deck with an outdoor grill and plenty of seating. Considering this space is outdoors and has no roofing, you can also provide an umbrella for added cover, which can be useful during hot summer days.
Additionally, the area under this deck is actually a sheltered patio. Use concrete overlay for the flooring and white limestone for the posts and walls. You can use this as an outdoor kitchen to prepare foods during BBQ dinners or lunches.
The fact that a compact staircase connects this ground-level space and the upper deck also means you can entertain more guests while staying comfortable. Perfect especially for a nice summer evening!
13. Build a Beautiful Home Featuring a Rustic Second-Story Deck with Metal Railing and Siding
For those living in the covers of a lush forest or with refreshing greeneries as the landscape, this rustic second-story deck will complement your home beautifully.
It features white siding for a charming house exterior, which you can pair with the metal deck railing for a seamless look. The deck itself is build using composite wood from Trex for the quintessential country vibe. Meanwhile, the Wild Hog Panels Railing completes the outdoor space!
This rustic backyard also features a ground-level space that is covered by the second-story deck. You can use this nook for a cozy spot to hang out and enjoy the shade.
If you want to express even more style in this deck, you can use some picnic benches and place rocking chairs around the area. It is a fun way to ensure plenty of seating without being mainstream!
14. Play with Colors and Bold Design to Build a Trendy Second-Story Deck
There can be nothing more attractive than a colorful house with bold design elements, and using fun features can make your home stand out.
For example, this trendy house features a dramatic spiral staircase that leads to the second-story deck. Here, you can place some outdoor chairs and tables to make space for relaxing during quiet afternoons.
In terms of color, you can see how bright red and green complement each other. While it may not be the most popular combination, it actually works well in this case. The pop of red provides a sense of fun, while the toned-down green color balances it out.
Not to forget the space below, where you can have a second patio with rattan chairs and a wood table. This is the place to go to escape from the blazing summer sun!
Closing
Having a beautifully designed second-story deck can be a great way to improve your home appeal. It also provides a semi-outdoor area for you to host BBQ parties or simply enjoy the view around your neighborhood.
Also, if you are thinking of adding stairs to your second-story deck, consider which room it is attached to. You can add steps if it is a family room just to make it more convenient for everyone to come and go. However, if it connects to your bedroom, you might want to reserve some privacy.
At the end of the day, designing a second-floor deck is just like decorating any other room in the house. Choose furniture and materials that will not only look pretty but also suit your personal taste. Good luck!