A log cabin living room can be such a magical and inviting space for family and friends to gather. It is especially cozy during wintertime and colder nights as the rugged style and interior can exude a sense of warmth.
One of our favorite ways to decorate a living room in a log cabin is to keep the color scheme as warm as you can. This means lots of dim lighting, wooden textures, and eclectic furniture in colors like orange, mustard, and brown.
We will also look at whitewashing the logs as a more contemporary take on the cabin style. However, you might prefer to preserve the rustic finish of the woods as the natural color and texture can be quite charming.
Below are some of the most beautiful ways to design your log cabin living room into a warm and cozy lounge. Hopefully, they can provide some inspiration for you. Let's go!
1. Try an Open Concept Log Cabin Living Room Connected with the Family Dining Area
One foolproof way to decorate your log cabin living room is by going for an open concept that combines the space with the dining room. This will make it feel more spacious.
You can use cut grey limestone slabs for the floors, which goes well with the natural shape and color of the log walls. Meanwhile, the beautiful fireplace is made from steel with a patina.
In addition to a fabric couch, you can get some metal and leather chairs from MOE'S Home Collection for a more vintage look. Next to the wooden coffee table and on a massive pattern rug, it will complete the space as a cozy nook!
Lighting can also be a huge part of the living room as it helps convey a sense of uniqueness and character. For instance, the charming chandelier here is a custom piece from studiofrank.com.
In terms of the family dining area, try to stick to the log cabin style by using a large and tall island table for the dining table. The metal bar stools will also help the rustic vibe in this corner.
2. Use Floor-to-ceiling Moss Rock Fireplaces in a Rustic Handcrafted Log Cabin Living Room
In this beautiful rustic living room, one of the main centerpieces has to be the floor-to-ceiling moss rock fireplace, which is a must-have in a log cabin.
It uses Black Walnut flooring with its dark and glossy finish that fits nicely among the log wall and ceilings, as well as other wood elements in this room.
To complete this stone wall, you can also hang some decorations. Here is a moose head sculpted from elk wood that is reminiscent of charming old cabins in the wood.
In terms of furniture, we love the choice to go with leather, especially because the black color stands out against the brown tones throughout this space. You can even choose an armchair with patterns on it for some variation. The glass coffee table provides a touch of contemporary design without looking out of place.
Of course, not to overlook the gorgeous antler chandelier. There are many places you can get this from, but one we would recommend is CDN Antler Designs.
3. Elevate Your Log Cabin Living Room with Printed Rug and Green Leather Couch
This log cabin veers towards a lighter wood tone that feels much brighter and more modern but still charming in its own way.
If you want to elevate any living room, including a cabin style one, the secret is to choose a large and dramatic rug. As you can see, the printed rug in this photo shows some unique tribal patterns and forest animals. The green and brown colors also complement the interior well.
Similarly, the green leather couch also has globular wood legs and interesting detailing. For the other armchairs, you can go for something brown and neutral but still has a fun design! When styling a log cabin living room, going for an eclectic look will never go wrong.
Another beautiful feature here is the coffee table, the top of which is a cross-section of a real tree! This can be a great way to add a lot of character and personality to your living room.
4. Beautiful Living Room in a Log Cabin Featuring Dramatic Stone Fireplace and Wood Furniture
A log cabin is not complete without a lovely fireplace, and what better spot to put it in than in the living room? After all, this is where most people often spend time with their loved ones and family.
In this example, you can see a dramatic stone fireplace that highlights the rugged natural shape of nature and extends towards the ceiling. It even has a wooden shelf where you can display some photos, wine bottles, candles, or other decor.
The fireplace itself can be a stunning centerpiece of the house, but it is not overwhelmingly so that it takes away from the quintessential charm of the logs.
In fact, the beautiful log and wood staircase plus beams throughout the space are equally appealing to look at! This is part of the characteristic of a log cabin, and it is best to simply let them shine!
5. Use Bifold Windows to Blend Log Cabin Living Room with the Stunning Landscape Outside
Here is the perfect design for a living room with a spectacular view. In that case, you will want to make the most out of it and design your room to accommodate the landscape.
That means lots of massive windows or bifold windows in this photo. You can see how the stark black windowsills are simple yet stunning, while the windows themselves open wide.
Just like previous examples, this living room chooses to highlight the natural log texture and shape by using similar colors. This includes the medium-toned wood flooring.
For the furniture, you can never go wrong with the classics like these brown leather sofa and chairs. It has a neutral color and versatile style that is perfect for most interiors. Besides, you can maintain the earthy color scheme of this space to draw attention towards the view.
Don't forget to provide some finishing touches, such as the multi-colored pillows, books on the tables, and fresh flowers for a lively ambiance. You can even place a bronze ottoman for added seating and storage.
6. Use White Log and Wood Furniture for a Modern and Bright Cabin Living Room
Who says that a log cabin has to be all brown and earthy-toned? If you want a more modern vibe, you can always paint the logs with white paint and create a brighter environment.
This living room feels cozy and modern without removing the quintessential charms of a log cabin. You can see that the log shapes on the wall are still apparent, while the wooden beams and roof are also visible.
To still maintain a sense of natural elements being an essential part of the house, you can incorporate the medium-toned wood flooring, woven chairs, and other wood furniture. This will establish the cabin vibes without making it too monotonous.
The black doors connecting this space to the balcony are the Vista Grande Full Lite 4-Lite GBG Craftsman Low-E Flush Glazed, which introduces a fresh color into the interior and offers a beautiful portal to the outdoors.
7. Create a Rustic yet Elegant Vibe with Bright Colors in this Charming Log Cabin Living Room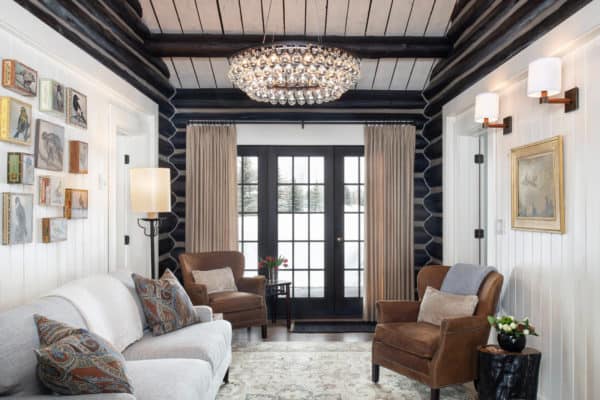 For another modern log cabin living room inspiration, check out this gorgeous interior which combines rustic with contemporary elements for the ultimate luxury. It is an inviting living room that feels cozy and bright – perfect if you like to blend modern fixtures with traditional charms.
For the base of this room, it's important to not cover up the logs on the wall entirely. Feel free to finish it in black paint for a more unique look, but make sure that its impression is still there. You can then have white-painted wood walls to achieve that cabin vibe.
In terms of furniture, go for simple yet attractive choices like these brown armchairs and grey couches. You can place a huge off-white rug on the wood flooring to make the space feel much cozier.
Add some color and personality to this living room by creating a mini gallery on the wall. You can hang some vintage paintings or even family photos in antique frames, depending on what you like. Plus, having a pretty chandelier can make for a fabulous statement piece too.
8. Mountain Style Formal Log Cabin Living Room with Massive Patterned Rug Flooring
Even if you wanted to go for a more formal living room, it is easy to make it work in a log cabin home! This photo shows a large space with plenty of seating and a lot of charming touches.
While you may be tempted to go for a uniform type of chair, it can be a great idea to mix and match various styles. You can see everything from the brown leather couch and grey reclining chair to the turquoise seat and textured armchair.
This will make the space look more lived-in and personalized. At the end of the day, the best way to decorate your cabin is by introducing elements of yourself and your own style.
Moreover, the beautiful rug that covers most of the floor has an exciting pattern too. It is very mountain styled with a tribal and colorful design, which works perfectly well in this living room.
9. Trendy Log Cabin Living Room Features Contemporary Wall Art and Champagne Armchairs
To introduce a touch of modern design to your cabin home, you can install some contemporary wall art on the wood walls. The result is a charming look that is uniquely yours!
For example, this stylish living room has all the trademark characteristics of a log cabin: log-shaped wall and decor, warm color tones, and an exquisite forest view. The British flag on the wall has a toned-down color that works well here.
The mid-century sofa chairs are from Dwellist and have a Champagne Wood finish with dark grey fabric. We love the simple and exquisite detailing on it, which is neutral yet manages to elevate the space even more.
Finally, you can add some more color and decorative touches to make the living room feel homey, from the colorful throw and pillows white fur settees to the enjoined room with a dominating white color.
Remember that interior design is all about moderation and variation! It helps if you know what sorts of style make you feel happiest too.
10. Choose Dark Colors for a Cozy and Masculine Vibe in this Log Cabin Living Room
This living room has a masculine vibe and embraces a darker color scheme, including dark woods and stones. It is the perfect style for those who like an incredibly cozy space with a strong personality.
In terms of the overall palette, stick to the darker shades of brown and earthy tones. The dark wood flooring is an excellent complement to the medium-toned log wood walls, while the grey fireplace establishes how much nature has influenced the design.
Furthermore, the rug is also a huge part of this interior, which is a hand-tufted rug imported from Jaipur. You can find fantastic rug designs fit for a rustic room like this from thrift shops across the globe.
We also adore the deep blue curtains here, which is an excellent addition as it introduces a fresh color but still manages to blend seamlessly. Finally, you can hang some nature photographs or paintings to complete the room.
11. Mix Red Leather with Natural Wood in Log Cabin Living Room Tones for a Rustic Feel
This next living room boasts a very rustic and charming look as it combines red leather with natural wood. Again, this is a failproof trick to introduce some semblance of modern design to your traditional home.
There is a charming stone fireplace that fits well with the cabin style of this home. The natural stone structure even features a shelf unit where you can display some personal mementos or place candles.
Imagine huddling over the fireplace with loved ones, so make sure to place some cozy seating too. This includes the mountain-style chairs and sofa with red leather upholstery, as well as a brown coffee table to complete the set.
It can also be worth it to choose the best light fixture you can find. For example, the ceiling light here offers more than simple illumination, but also a very unique and antique appeal too.
12. Maximize Natural Light to Enhance the Light Wood Elements in this Modern Log Cabin Living Room
Another crucial design tip is to maximize natural light as much as you can. If possible, try to build as many and as large windows as possible. This will make your living room very bright and homey.
Here is a modern log cabin living room featuring the quintessential charm of log structures but doesn't shy away from modern elements and decor too. From the black leather couches to the mounted TV, you can still have modern comforts in a log cabin!
Choose light wood flooring that matches the shade of your logs to make the living room feel more spacious. Meanwhile, having a brick stone fireplace can be a great way to incorporate more natural materials too.
You can get the Tangled Antlers Chandelier pictured here from the infamous Arte De Mexico, while a similar vintage wall clock is also available at Crystal Art. You can introduce other details like the white wreath, a woven basket to store pillows, and candles on the coffee table.
13. A Huge Two-Level Log Cabin Living Room with Lots of Decorative Pieces and Art
When you are building a dream home or retreat cabin, you can never go wrong with a magnificent two-level log cabin living room. Especially if it contains a lot of decorative pieces and art which let you express your personal style.
As you can see here, this open concept living room has an attractive dark wood floor with brown walls, a standard stone fireplace, and various seat styles. The fabric armchairs and leather sofa each contribute to the overall eclectic ambiance of this space.
A log cabin home will also benefit from plenty of warm lighting, so try to opt for yellow lights that can exude a cozy glow. From wall-mounted lamps to standing lamps, don't be afraid to mix it up.
You can also incorporate stereotypical décor that would look right at home in a cabin living room like this. For instance, the deer head on the wall to the colorful tapestry on the stone wall.
14. Try a Scenery-Centred Log Cabin Living Room Using Light Toned Wood Flooring and Walls
Finally, we wanted to highlight how you can use light-toned wood to still create a rugged and charming log cabin home.
This living room is a scenery-centered room with a massive brown leather L-shaped couch facing the windows. You can see how the entire space is designed towards the landscape, which is perfect if you want to make the most out of it.
Making the space feel cozy and homey is all about the thoughtful details, such as the pillows and throw blanket on the couch. You can also place a vase of fresh flowers, hang some personal photos on the wall, and place other personal mementos too.
Closing
Decorating a log cabin living room is not a difficult task if you know what you want and have the right resources. We do hope these photos today could provide you with some much-needed inspiration for your own home.
The main thing when it comes to maintaining a rugged and rustic look to your cabin-style home is using warm colors, yellow lighting, and infusing as much of your personal style as you can.
It is always worth it to mix various elements from different examples so you can create the perfect living room for you, filled with all your favorite pieces and interior features.