Whether you are looking to jazz up the master bedroom at home or decorate your new living room for the first time, having a teal accent wall might be exactly what you need.
So, what is an accent wall?
For those of you who aren't sure, an accent wall simply refers to a wall with a color or design that is different from the other walls in the room. This can be for both exterior and interior spaces.
There are many benefits to adding an accent wall, from creating a striking and vibrant focal point to the room to introducing a bold color without making the room appear too overwhelming.
In addition, we also love the creative effect that it brings as it adds more character to a space.
Teal itself is a stunning color synonymous with relaxation and balance, which can be perfect for helping you unwind. That makes it a great wall color to use in the bedroom, living room, or even kids' room.
We have compiled some of our favorite designs of teal accent walls, so let's get started!
1. This Teal Accent Wall Uses Benjamin Moore's Venezuelan Sea #2054-30 and Wood Ceiling Beams for a Cozy Bathroom
First up, take a look at this beautiful bathroom in a contemporary style which also incorporates some wood elements to evoke a cozy vibe.
The teal color for the accent wall is Benjamin Moore's Venezuelan Sea #2054-30, which is used for the wall behind the main sink and countertop as the main focus of the space. We love that this deep shade reflects such a bold and saturated statement.
Meanwhile, the rest of the walls are in simple white to maintain a bright atmosphere.
You can see how the ceilings and counters are also white. They work well in a small bathroom to make it feel much more spacious while also balancing the darker tone of the teal wall.
The wood details here are very striking, especially the ceiling beams that accentuate the architecture of the house. They also add a touch of a rustic element that can invoke a calming atmosphere.
Finally, you can choose a small but dramatic pendant lamp for the lighting. This one is from Northern Exposure lights and has a subtle yet elegant silhouette to add even more style.
2. Behr's Aspen Aura Teal Accent Wall Offer Contrasting Temperatures for a Vibrant and Striking Living Room
If you are wondering about the best way to choose the right color for your accent wall, then one trick is to mix opposing temperatures.
This example shows how the teal accent wall evokes a mostly cool tone and vibe. The paint itself is Behr's Aspen Aura. So, complement this by incorporating warmer tones and colors for the other walls and furnishing, like yellow and orange.
That includes the light brown, almost off-white walls as well as the arched wooden ceiling. The ceiling adds not only a charming architectural feature but also a sense of warmth that contrasts the teal wall quite nicely.
One of the main effects of juxtaposing color temperatures is a striking mood, which makes this living room look aesthetically exciting and compelling.
We also adore the orange chairs and colorful rug in the center of the room.
3. Try Valspar's Moonlit Surf Teal Accent Wall in an Open Concept Living Space for a Modern and Snug Ambiance
This next photo shows an open concept living space that combines the living room and dining room for a cozy and modern area. It's a great idea to try for smaller homes.
Its most eye-catching element is no doubt the teal accent wall, which is Valspar's Moonlit Surf.
You can choose the smaller wall for the bold and dark accent color as this will help create a sense of balance and avoid overwhelming the interior feel.
For the other walls in this room, you can go to Valspar's High Society. This is a warm beige color that is perfect for creating a soothing and homely mood. Complement it with some antique pieces like a rustic mirror piece.
If you have plenty of window features, it's important not to block them so you can maximize the natural light and allow the space to feel bigger.
We love that the windowsills are painted in white to further highlight the natural structure of the house.
4. Go for a Bright and Trendy Style with a SW 6937 Tantalizing Teal Accent Wall and Various Wood Elements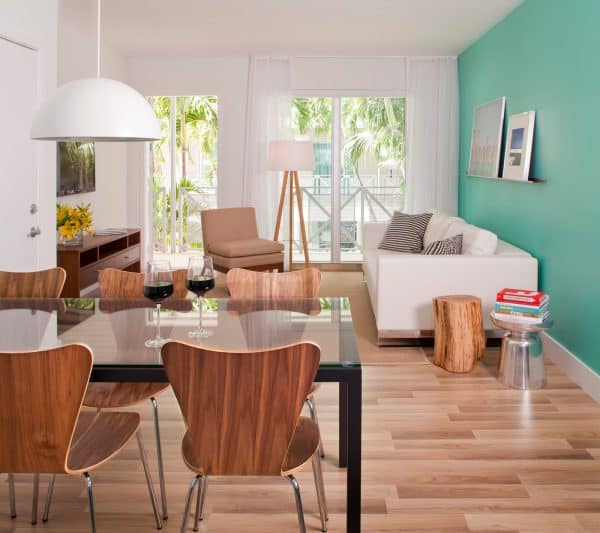 There is something quite trendy about pairing wood with a teal accent wall as they create a bright vibe that is still somehow comforting and warm. The result is the ultimate fusion of modern and traditional styles.
To start with is the teal accent wall, which is SW 6937 Tantalizing Teal. As its name suggests, it is tantalizing and makes for a vibrant focal point that can liven up any living room.
Moreover, go with SW 6154 Nacre for the other walls in this room. Many designers refer to this shade as a very light brown, so you know that it complements the brown flooring and furniture nicely and subtly.
Overall, the undertone of brown helps tie in the cozy mood of the space.
In addition to the wood-inspired pieces like the dining chair, side table, and console table, you can then add some brighter, urban-style furniture. For instance, the white sofa and multiple white pendant lights.
5. A Teal Silk Accent Wall Can Evoke Cool, Waterfront Vibes in Your Grey and White Bedroom
Now, it is time to move on to some bedroom designs featuring teal accent walls.
This example shows you how playing with texture and material is also an excellent way to set your accent wall apart.
The teal wall that you see here is a vibrant silk wallpaper, which you can install on the side of the room with the bed for a striking focus that will immediately draw your attention.
The color works well with the white walls and ceiling, as well as the railing on the side.
Whereas the silk texture itself creates more depth and separation to the accent wall while providing a deeper sense of layer, which makes this room feel both alive and full of character.
When it comes to choosing a color for your floor, we recommend going with grey carpet as this helps introduce that cozy ambiance that you will want in a bedroom.
6. Stick Wall Decals on a Teal Accent Wall for an Eclectic and Creative Kids' Room
One of the main points we wanted to raise with this kids' room design is the use of wall decals to evoke a playful and cheery tone. But this is also a great example of how you can use two different colors for a single accent wall.
The main color is Benjamin Moore's Split Pea, which is a lovely green color that can be fitting for a kid's space.
Yet you can see how there is a small or recess cove in the wall. You can paint this in a darker teal color as you place the bed inside it for a fun highlight.
Of course, this is the perfect spot to experiment with wall decals.
This part of the wall is low enough that a young child can stand up and look at the different designs and characters. You can even involve the kid and let them choose which ones they want and stick the decals themselves!
7. Complement Sherwin Williams Really Teal Accent Wall with Wood Ceiling and Dramatic Fan
This bedroom is small but certainly feels cozy and spacious.
The trick is to come up with a design that feels compact and seamless, and incorporating an accent wall can help you out.
The teal accent wall that you see here is Sherwin Williams' Really Teal. It is relatively dark and can usually feel too overwhelming for a small room, but the reason it works well here is because there are three white walls to balance out its heavy tone.
Installing a wood ceiling and fuzzy carpet flooring are also great ways to further enhance the calming and peaceful atmosphere.
Last but not least, we love the idea of using a fan as an added feature to elevate the interior. This fan is from Minka Aire. Its wood base is a lovely detail that matches the wood ceiling in this bedroom.
8. Benjamin Moore's Aruba Blue is the Perfect Teal Accent Wall in this Small but Cozy Guest Bedroom
Maybe you are planning to revamp your guest bedroom and transform it from something boring into a fantastic sanctuary that your friends or family will love.
For the accent wall itself, you can use Benjamin Moore's Aruba Blue. This bright and striking color is perfect for evoking a hint of playfulness and an upbeat mood, which can be much welcomed in a guest bedroom.
To enhance the dramatic sense of this space, you may want to hang an art piece or installation on the accent wall.
For example, check out this Resin Deer Head Antler Art from Wall Charmers. This faux taxidermy has a matte finish that is just lovely and subtle.
Meanwhile, the other walls here use 50 Percent Thunder by Benjamin Moore.
For the bedsheets, you can experiment with monochromatic geometry to add some variety without making the room feel like a mishmash of colors and patterns.
9. Place a Dramatic Wool Rug and Vintage Sconce to Enhance the Playfulness of a Teal Accent Wall in the Living Room
Up next is this eclectic and playful living room. It features a teal accent wall with vintage sconces and a dramatic wool rug that embraces the contemporary style.
The accent wall itself is a charming teal color with strong green undertones.
This can be a great option to experiment with if you want to have a refreshing mood that is reminiscent of nature and greeneries. Adding some indoor plants can also be a beautiful touch!
Additionally, you can see that there is a flokati-style rug in the center of this room. They are handmade from 100% wool and add even more texture and sophistication to the space, which enhances the teal accent wall.
Don't be afraid to mix different styles of furniture, too, as this can help you create a unique and authentic look. For instance, try out different upholstery for your wooden chairs and choose a plush brown color for the main couch.
10. Use Valspar's Night Scape Teal Accent Wall for a Hip Living Room with Stylish and Unique Accessories
Sometimes, you may want to evoke an eclectic vibe that is hip and colorful for a unique and distinctive living room. This example could be the perfect inspiration for you!
In terms of the accent wall, try using Valspar's Night Scape Teal for a bold and vibrant effect. This trendy shade also provides a stunning backdrop for the brick fireplace and contrasts the white walls in an appealing way.
Furthermore, the end tables here have been thrifted from a prop house called Modern Props in Los Angeles. This is a great trick for those who enjoy a thrifted and vintage vibe in their home.
The fun red sofa is like the Modernica Cloud sofa, so feel free to try it yourself.
11. Create a Striking Teal Accent Wall with Spa by Sherwin Williams in a Tranquil White Bedroom
It can be tempting to try and create a mostly white bedroom as the color is a sleek and modern one that is reflective of a tranquil and crisp look.
However, adding an accent wall can elevate that space even more.
To illustrate, this bedroom features a teal accent wall using Spa by Sherwin Williams. This is a light enough tone that will not be too striking but still quite bright to introduce a sense of color and life.
Don't forget that sticking to one color scheme doesn't mean that your furniture pieces have to be all boring!
This Mendocino bed from Pottery Barn adds a unique detail to the space while remaining stripped back and simple.
12. Captivating Teal 649 by Benjamin Moore Accent Wall Looks Cheery for a Kids Room with Warm Wood Details
Look at this idea for a beautiful and modern kids' room featuring a teal accent wall and plenty of wood details. This combination can help you evoke a cheery mood that is also sleek and elegant.
One of our favorite things about a style like this one is that it can adapt with the child as they turn from a young kid to a teenager!
The color choice here is fun but can also be mature, so that you can easily make a few changes to suit your kid's growing taste.
The accent wall is Captivating Teal 649 by Benjamin Moore, which is a deep color that fits well with the various shades of brown.
You can keep the overall vibe balanced by painting the rest of the walls white and having a huge floor-to-ceiling window on one side.
Moreover, the wood highlights include the medium-toned flooring and bed frame, as well as the round shelves on the wall.
These shelves add a unique feature with soft edges and offer a place to display some toys and plushies.
13. Create a Timeless Kitchen Featuring Sherwin Williams SW-7619 Labradorite Teal Accent Wall and Classic Pieces
If you are looking for some kitchen design inspiration, don't worry, as we have you covered too. This last photo showcases a timeless interior with a teal accent wall.
The accent wall here takes up the side of the kitchen and uses Sherwin Williams SW-7619 Labradorite Teal to add a striking pop of color in an otherwise white kitchen. For the backsplash, try using subway tiles for a glossy finish and more texture.
The various furniture and pieces here are quite classic, so you can create an overall traditional mood that feels familiar and comforting. This includes the white island cabinets, as well as simple black bar stools and a farmhouse sink.
Finally, you can choose a medium toned wood flooring to finish off this lovely kitchen space. This classic beige color is the perfect way to keep the mood airy and bright while introducing some warmth!
Closing
Decorating your home can definitely be a tough challenge, especially if it's your first time and you don't know where to start.
We hope that these photos can inspire your interior design and help you decide the best way to incorporate a teal accent wall.
From the bathroom to the kitchen, these accent walls all reflect the individual characters of their owners. As such, we strongly recommend you identify exactly what kind of style suits you the most.
Choosing how to add a teal accent wall can be a much easier thing. Then, you can have the perfect interior that expresses your personality and feels like home!