Mowing a lawn is a laborious chore, and sometimes the best way to decorate a small backyard is to use no grass at all.
Unlike popular belief, it's very much possible to have a gorgeous no-grass backyard.
While having a lush lawn can make your backyard feel fresh, there are also several disadvantages that you should consider.
Grass has to be cut constantly and needs regular feeding, not to mention the harmful pesticides and insects that might be involved.
The truth is that you can still do a backyard makeover even with no grass, so that you won't have to spend much time upkeeping it.
For example, there are tons of deck options that will elevate the space and greeneries that are easy and effortless to keep alive.
Below, we have done some research and gathered the best ideas for a small backyard with no grass. We hope these could inspire you for your own home design or renovation!
1. This Small Backyard with No Grass Uses Bluestone Pavers and Wood Walls for a Trendy City Garden
This first photo shows a small backyard with no grass but uses bluestone pavers and multiple wood surfaces to evoke a trendy urban vibe, which is great for those living in the city and has a walled area.
It is a typical Brooklyn brownstone yard that measures 18′ x 50′, which can be a surprising among of space if you know how to style it.
Starting with the wood walls that you can install for a contemporary ambiance, followed by the wooden benches that can also double as storage.
In terms of the greeneries, we love the idea of interspersing the paver with a tiny plot of soil so you can plant some trees. This includes the Japanese Zelkova tree that you can see, which is a tough urban species ideal for shade and ornamental purposes.
The pavers are bluestone, a popular choice for use in outdoor residential areas like a backyard. They are easy to get and super durable.
Additionally, the rugged grey color that it provides also looks pretty cool in this space!
2. Add a Sandbox to a Small Backyard with No Grass for a Fun, Kid-Friendly Space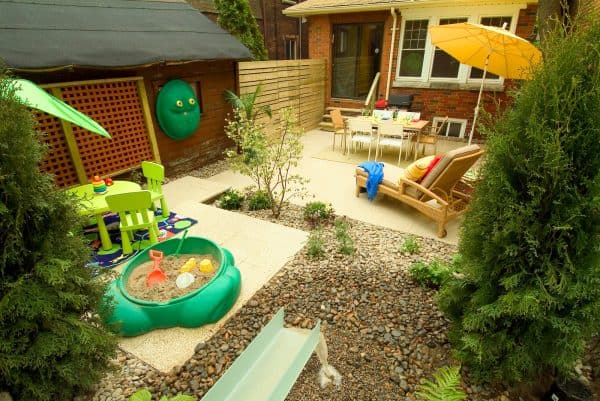 For the following example, check out this fantastic idea of creating a backyard with no grass that the kids will love, even if it's small. The trick is to install a sandbox where they can play and unleash their creativity.
The sandbox that you see here is bought from Ikea, but there is no limit to how you can express your own style! Moreover, the sand is packing sand from Home Depot. Don't forget to place some sandcastle kits and toys inside.
To make this backyard even more kids-friendly, you can place some play tables and chairs, along with a colorful mat that separates the area from the rest of the space while adding more life to it.
For the other furnishing choice, it is a great idea to add a sun lounger and an outdoor umbrella.
This makes for an excellent choice to read a book or simply relax, even if your home is located in an urban setting far from any actual beach!
3. Try Small BLU 60 Slabs and Lattice Fencing with Trellis Top in Your Small Backyard for a Rustic, No Grass Patio
Next up, we have a small backyard with a charming rustic vibe with no grass. But the decor and lattice fencing help make this area appear green, calming, and very much a cozy place.
The main pavers used for the flooring are BLU 60 slabs from Techo-Bloc. This is in Champlain Grey with several pieces in Chestnut Brown.
Mixing different colors of slabs is a handy trick to add some contrast and depth to your design. Meanwhile, the border is Villagio pavers in the same combination of color.
Another element that we adore about this paver is that they form a rounded shape. This allows for a unique silhouette in the garden while making room for some earth on the corners. Take this chance to plant some bushes and hardy species.
Meanwhile, there is also the lattice fencing with a trellis top that surrounds the backyard patio. Go for a natural brown color with an earthy tone that fits with the outdoor context.
4. Use Pami Pebbles, Wood Deck, and a Fire Pit in a Small Backyard with No Grass for the Ultimate Modern Comfort
When you are revamping a small backyard with no grass, you can also try to create a multi-leveled wooden deck to add a sense of layer and complexity to the design.
In the photo above, look at how there are steps separating the seating area from the gravel and fire pit. This creates a charming atmosphere that also helps make the yard look much larger than it is.
The gravel used here is called Pami Pebbles and adds a rugged look to the modern backyard, while also providing a protective layer from the fire pit.
You can even place some wood stumps or tree trunks around the fire pit to act as additional seats.
On the upper level, where the medium-toned wood slats form the deck, you can place a cozy outdoor sofa in the corner.
Not to forget the various plants spread throughout the space to improve aesthetics.
5. Zen Bathworks Hot Tub Can Complete the Contemporary Appeal of a Small Backyard with No Grass
Have you ever thought about building a hot tub in your backyard?
Even if it is small, this is a great no-grass alternative to implement for a contemporary and lovely outdoor space.
For instance, you can see that any small backyard can transform into a modern outdoor veranda.
In addition to the cedar soaking tub, there is also an outdoor shower. Not to mention a dining area and fire pit, even though you may not be able to see them in this photo.
The deck itself uses Ipe hardwood, while the fence is stained cedar. Zen Bathworks is a reputable cedar hot tub company we recommend.
Mixing different wood materials for an outdoor space is an excellent choice as it evokes the rustic vibe for a relaxing and authentic mood.
Furthermore, we love that the design also includes a small pop of color through the bright yellow planter on the side. This adds a bright and cheery ambiance without overwhelming the muted tone of this area.
6. Plant Redbud Trees in a Small Backyard to Evoke a Lush and Lively Mood Even with No Grass
Up next is this lush backyard with redbud trees, which have a long lifespan and can transform your yard into a gorgeous area, even without using any grass or turf.
The tree that is used here is a multi-stemmed redbud, which we love because it is not invasive and looks super lovely in any backyard, even a small one.
Planting trees is one of the best ways to evoke a lush and refreshing feeling in your outdoor space, which is great to help you relax at home.
When creating a mini garden like this, our favorite furniture to add is a dining table with some chairs. This provides a beautiful space for dining outdoors or simply chilling with a book.
Meanwhile, the white color and modern chair silhouette also enhance the overall atmosphere!
7. This Timeless Landscaping Makes a Small Backyard with No Grass Feel Calming and Peaceful
In this following example, we wanted to show you another way of making a small backyard feel spacious and elegant even without planting any grass. The quick answer is to try and use Golden Goddess bamboos!
This plant species is small and non-invasive, so its slow growth makes it easy to take care of but perfect for a privacy screen.
Here, the trees provide a soothing and calming effect as they line up the steppingstones in a clean and neat way.
The path itself is a simple but lovely addition. This edging is 2X4 pressure-treated lumber and is a nice contrast against the grey color of the gravel and stones.
To finish up the space, don't forget to install some outdoor lights.
8. Build a Gorgeous Small Backyard with No Grass But Plenty of Plants and Elegant Ipe Wood Slats
This contemporary patio features lots of plants and greeneries, as well as Ipe wooden slats and natural grey stucco for a quintessential modern vibe. There is also the gravel-covered ground that evokes the urban style.
While most of the backyard has a grey and beige color palette, we love the contrast that the warm wood provides.
This slat fence is made of Ipe, a commonly used hardwood for architecture and interiors. Meanwhile, the lower walls are masonry with smooth wall stucco.
What about the bowl in front of the concrete bench?
This contains clean white sand and is actually a natural gas fire pit in disguise!
Indeed, having a fire pit is the ultimate trick to revamping your backyard. The fact that there is no grass also makes it much safer to light the fire pit.
9. A Geometric Rug and Pouf on a Wood Deck Can Elevate Your Small Urban Backyard with No Grass
We have seen plenty of no-grass backyard examples, but this time let us take it up a notch and consider a backyard patio with a full wood deck! The effect is undoubtedly a modern and urban ambiance.
To start with, this outdoor deck does not feature the most plants but still feels very green and natural.
That is because of the stunning section of the wall with plants, which gives the illusion of a space filled with greeneries without having the ground covered in earth.
In terms of the furnishing, we do love that the brown chairs and benches match the brown color of the wood. But going for woven furniture is also a clever choice as it adds some depth to the design.
As the final touch, you can get a bright-colored rug with a fun design, such as this blue and white geometric rug. This one is from Horchow, although you can always find other designs that may reflect your personality more.
We also love that the pouf here has the same colors!
10. The Glass-Walled Fire Pit Creates a Lovely Focal Point for a Small Backyard and No Grass
Next up is another small backyard design featuring a beautiful fire pit that serves as a focal point for this area. Just add some chairs around it, and you have the perfect outdoor space, even with no grass!
The fire pit itself has glass walls around it, which is essentially the wind guard. It adds not only visual aesthetic and elegance to the look but also functions to protect the fire from wind and contain any sparks.
To establish the trendy style of your backyard, you can also install some wood fencing with gaps.
This will give you enough privacy without making the yard feel blocked off from the surrounding environment.
11. A Redwood Pergola and Screen Wall Will Transform Any Small Backyard Into a Nifty Space with No Grass
One of the best ways to style your backyard is to pay attention to the pergola that you use.
A pergola is basically a garden feature with an open lattice that provides some shade and added aesthetic appeal.
The pergola you see here is hands-down a show-stealer. It is custom designed from redwood and features pre-made panels for the side.
The result is a truly stunning and one-of-a-kind look, and we particularly adore how the slats cast a unique shadow on the ground.
If you are not a huge green thumb, then there is no reason to completely fill your backyard with trees and bushes. But having a few pots of plants like these ones can really make a difference in the ambiance of your space!
12. Install Bluestone Pavers and a U-Shaped Sofa for a Cozy Small Backyard Even with No Grass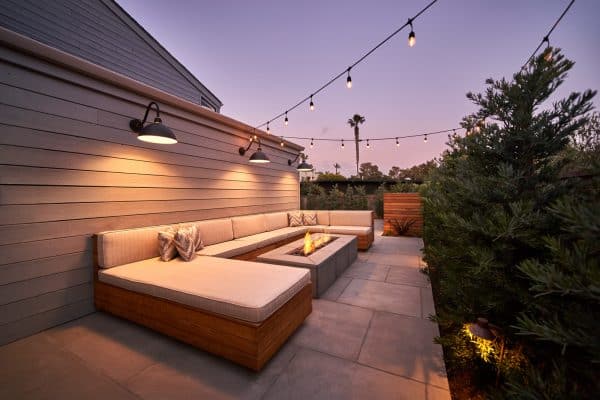 We love bluestone pavers because of their fantastic durability and hard-wearing characteristics. You can find bluestone in various sizes and shapes, and they are pretty affordable and simple to install.
Like in this backyard, the bluestone pavers provide a stylish canvas that you can then fill with a u-shaped sofa. This creates a cozy atmosphere, which you can further enhance with some fairy lights or warm yellow lighting.
Note that even without grass, there is still a very natural and verdant feel to the space. This is because of the generous number of trees planted where the ground isn't covered in pavers.
Plus, adding a fire pit here can also provide a stunning point of convergence for guests and family members!
13. This Small Backyard with No Grass Features a Dining Table atop Cameron Flagstone and Pea Gravel
Now, it's time to highlight a gorgeous backyard inspired by Mediterranean vibes, which you can see through the landscaping and furnishing in this example.
Start with asymmetric, jagged Cameron flagstones to provide the ground with some stepping stones and pathways.
The ground itself can be bird's eye pea gravel, which is easy to get from any hardware store and is a popular choice for landscaping surfaces.
You can use any simple wooden dining table and chairs for this space, which evokes a rustic cottage atmosphere and fits the outdoorsy element really well.
However, to jazz up the beige and brown colors, you can easily place a colorful tablecloth!
And, of course, not to ignore the various potted plants and trees that round up the landscape and provide the ultimate Tuscan mood.
14. Consider Rustic Furnishing and Vines for an Eclectic, Victorian-inspired Small Backyard with No Grass
This is an eclectic, Victorian-style backyard with no grass, for our last example. You can see how the thrifted furniture and rustic furnishing provide the ultimate vintage look.
This is because the home itself had been transformed from an old YMCA summer camp, and the owner wanted to retain the core essence of the original site.
It is actually a great tip you can try, so that you can allow your interior and exterior to exude their soul.
One of the most striking elements in this small backyard is the coffee table, which is simply a vintage trunk treated with some new finish for protective coating.
Meanwhile, the seating is a mix of different outdoor chairs tied together with the same floral green upholstery.
Closing
Ultimately, a backyard can be a valuable space in your home, especially for those living in suburban or urban areas.
This small area at the back of the house offers a slice of the outdoor world where you can enjoy the fresh air and natural light.
That is why you should invest some time and money to decorate your backyard as best as you can!
Turn the yard into a cozy space for relaxing, entertaining guests, or even dining and barbecuing.
We have included ideas to use wooden decks or elaborate fences and place rustic furniture and various plants.
Don't be afraid to experiment and try out new things that you may never have thought of before. Good luck!