A navy blue office is a great idea to try in your workspace, especially if you're looking for the right color scheme that can enhance the ambiance and help you feel and be more productive.
Blue is an excellent choice if you want more than just monochrome space without being too bright and overwhelming. At the same time, this color is easily compatible with many other colors to evoke various kinds of effects.
Despite being quite dark, navy is a cool tone and, therefore, can convey calmness and peace, which is ideal for an office. This will help you feel collected and less stressed when working.
Navy blue is also very sophisticated and elegant – perfect for a modern home.
In terms of decor style, there are endless options to furnish your navy blue office. From a modern and classic vibe to minimalist, your creativity is the only limit. Plus, you can vary the amount of blue that you display: whether it's the entire walls, just an accent wall, or some key furniture.
We've compiled a list of the best navy blue offices that may spark some inspiration for you!
First up is this stunning and classy office which features deep navy walls with plenty of white to balance the color, as well as brown accents and furniture pieces.
The paint color here is ICI-Glidden Mystery Sound, which is a dark navy that can evoke a serene feeling in the room. This color is excellent at helping you feel focused so you can concentrate on your work.
Balance the darkness of this color with some whites, including the ceilings, trim, door, sofa, and desk chair.
You can also incorporate patterns, such as the geometric lines on the door, in these pieces to add even more complexity to the aesthetic.
We absolutely love the brown accents for added warmth, which includes the simple but spacious desk and coffee tables.
Not to mention the gorgeous rug under the seating area to create some separation from the working space. This multi-colored brown rug is from Kyle Bunting Rugs.
Finally, the light fixture that you see is from Troy Lighting. It's the "Amsterdam / F2149BZ" in BZ Federal Bronze finish. Its see-through silhouette is the perfect way to round up the interior.
One thing to try is white wainscoting for those who don't want office walls in full navy. This wall paneling is an easy way to add a layer over the bottom portion of your walls and add a decorative element.
Moreover, you can cover one side of the wall with built-in white floor-to-ceiling bookshelves that match the wainscoting color.
As more white color takes up the interior, this can easily balance the navy walls, which use Benjamin Moore's Old Navy.
The woodworking that you see here is customized to this house and project, which means you should talk to your contractor or builder so they can adjust the bookshelves to the specific room.
This is also great because you can personalize the number of shelves and how many closed cabinets you need.
Wood flooring also goes well in this space as it can add some warmth and a rustic touch. Don't forget to add a rug that can make the blue color pop even more, which in this case is the Heirloom By Dynamic Rugs.
Up next is another modern office that uses a combination of navy blue and white for a sleek and charming look. This time, it takes on some coastal inspiration and maintains a lighter, brighter vibe.
With Hale Navy by Benjamin Moore, the walls here become a reflection of rich maritime styles that are reminiscent of the deep sea. It's a truly timeless choice that will look even bolder if you pair it with white.
For instance, the white window trims help accentuate the window structure and highlight the natural that comes in. This will help the office feel bright and spacious despite using a dark color for its walls.
For the desk itself, you can go for a thin and simple, lighter frame. The one in the picture is from Bludot.
Finish up by placing some indoor plants, including a small one on the desk that will brighten up the space and make you feel refreshed.
This example showcases a beautiful craftsman style that is characteristic of rich wood tones, simple and functional furniture pieces, and natural light, all of which you get in this design.
One thing that many love about craftsman decor is that it always feels warming and comforting as it combines beautiful woodwork with a personalized and rugged style.
This is great for an office as it makes it feel much more homely to be in.
The walls here are Sherwin Williams' Georgian Bay 6509, a pretty shade that is still bright to provide pop to the visuals. You can contrast this with white ceilings, window trims, and doors to ensure a modern and productive feel.
Meanwhile, the furniture here is mainly walnut. It is a durable and attractive variety with beautiful wood grains. Most importantly is that it's resistant to wear and stains really well for a gorgeous finish.
Going for an eclectic mood in your office is also a brilliant idea, as shown here.
You can see how Benjamin Moore's Admiral Blue makes for a beautiful canvas as it envelopes the walls in this office room.
This is an intense shade of dark navy blue with velvety violet undertones, which produces an elegance that is timeless and old-school.
Moreover, the chairs are vintage pieces from The Muddy Boot in Summit, New Jersey. This is a reminder to browse through your local vintage stores to look for pieces that could potentially star in your home interior!
In addition to navy walls and brown wood flooring, various elements like the flower painting and zebra-patterned rug elevate the style even more. You can even install a subtly colorful curtain for a playful touch.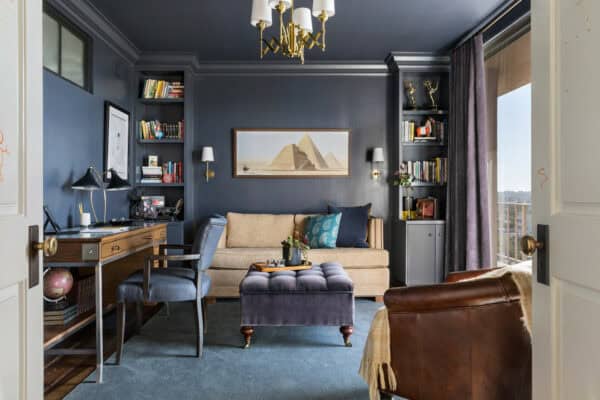 One idea you can try is to build a bookshelf alcove as a striking focal point. Here, two narrow built-in bookshelves flank the back wall while a light brown sofa sits between them for a snug resting area.
The desk itself can face the other wall, where you can then hang some paintings and artwork to liven it up. We also love the added transom window that allows more natural light to stream through.
For the wall color, you can try Benjamin Moore's Mysterious AF565 in a Semi-Gloss finish.
Paint the ceiling in this color, too, and you will produce a rich interior that feels both cozy and classy. Then, a large navy rug on top of dark wood flooring is the perfect final touch!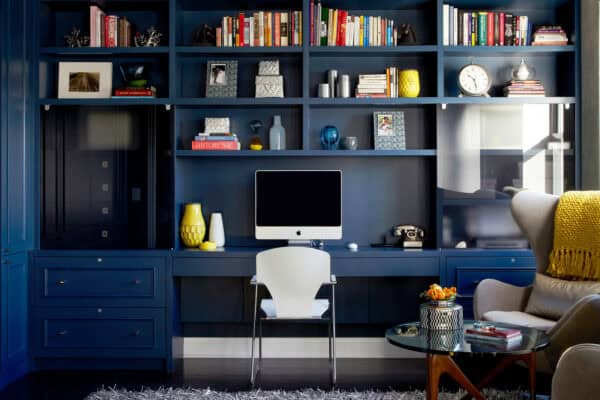 For those who enjoy the look of modern modular furniture and multifunction pieces, you will love this custom-built desk and bookshelf unit, which covers an entire wall and sports an opulent navy blue color.
Here, the homeowner has hired Great Wall Construction, Inc to draw up and build this unit. It comes with two sliding gray tinted glass doors to conceal any clutter or knickknacks. This is a brilliant idea for keeping your office clean, which will help your focus.
In terms of paint color, these cabinets are coated in Benjamin Moore Gentleman's Gray, a lovely shade that suits the calm and Zen mood the space is going for.
Using small but bright pieces is a beautiful idea to bring color and life into an area like this. For example, through the various decorative pieces, you see on the shelves or the yellow throw blanket on the armchair.
You can see a spacious and cozy office featuring plenty of seating areas and floor-to-ceiling bookshelves in the photo above.
This is indeed the perfect inspiration for any book lover out there. The shelves offer ample space for you to collect tons of books, and we suggest installing some lights above each shelf for added illumination at night.
The drapery used here is Zak & Fox, #ZFTH-05 "Tail of Heaven-Kalo" for the face fabric, and Pindler, #P6167 "Duffy" for the lining. Together, the combination of these colors and materials makes for a gorgeous frame to accentuate the huge bay window.
The designer of this office has custom upholstered the chaise from Jonathan Adler. If you're doing something similar, go for a similar shade of navy blue so you can further enhance the overall theme of this room.
Who says that an office has to always be serious, boring, and mainstream?
The following example will show you exactly how to jazz up your office interior and create a striking room.
To start with, the main walls use Sherwin Williams "Cyberspace" 7076, a hardcore navy blue with some grey undertones, so that it can come alive with the right lighting. This dark shade evokes a rich and velvety effect that is, quite literally, almost space-like.
But our favorite feature about this design is the rustic wooden wine cabinet. Hidden inside is also a small wine fridge, which allows this office to double as an intimate place to hang out with close friends or just chill.
The desk itself is a freestanding and classic wood piece. You can also see that there is a small keyboard behind the desk in a light brown color to suit the mood.
Finally, add some personal touches by hanging your favorite photos or portraits. Sticking with monochromatic pieces can be great too.
Creating a cozy atmosphere is important not only in the living room or bedroom but also in a home office. This is because the ambiance can help set you in a positive mood, which might impact your work.
For the main color scheme here, you can try using Sherwin Williams' Gale Force 7605.
This is a popular shade and gorgeous take on the classic dark navy blue, which can evoke a timeless feel with lots of class. Coating the ceiling with this can also provide a cozy and more intimate ambiance.
The beige floor is also a beautiful complement to the interior.
Another design trick you can experiment with is layering rugs. While the grey geometric rug that covers nearly the entire floor provides a lovely background, you can still add another soft fur-inspired rug for the seating area.
Besides, we adore the built-in shelving unit covering one side of the wall. It balances the open floor-to-ceiling windows on another side while still providing lots of storage space. Not to mention the decorations you can display here.
In this next photo, you can see a close-up of a seating corner in an office. This highlights the gorgeous bead detail in the armchairs that make for a stylish and frisky touch.
The walls are Sherwin Williams' Naval SW 6244, while the wainscoting uses Snowbound SW7004, also by Sherwin Williams. It is yet another classic navy and white combo that you can never go wrong with.
Remember that your office's interior should always reflect your unique personality. As you can see from this design, art pieces can be one way to express that.
For example, the Persian-styled mosaic piece in the center evokes a vibrant character, whereas the fun yellow painting to its right features some bird figures as a nod to nature and wildlife.
It's overall a fun design with seamless yellow accents that accentuate the navy blue color of this space. Moreover, these details also help evoke the warm feeling you get when you walk into this room!
This navy blue office is a perfect inspiration if you don't want anything complex and would rather keep things stripped back and simple. With just a desk and some decorative pieces, this design works well even in a smaller home.
You can use the wood desk as the main focal point of your office, as this is probably where you will spend the most time at. Place a small settee here that can act as both additional seating or a footrest!
For the wall color, we really love how Downpipe by Farrow and Ball looks here. It veers more towards the dark, almost black color for a rich and smooth effect. But because this office has lots of windows and natural light, it doesn't feel cramped at all.
As always, it is a great idea to add accentuating details that will bring the interior to life. For example is the colorful contemporary art on the wall and the dramatic sunburst chandelier, which is from Jonathan Adler.
Lastly, we wanted to highlight an example of office space for kids or teenagers. This could be a separate room in the house or simply one section of their bedroom.
Begin with Benjamin Moore's Adriatic Sea for the wall, which will evoke a stunning coastal vibe with its evocative teal blue tones. It looks especially lovely against a white ceiling and grey carpet flooring.
Now, there is a key to transforming this space into a personalized safe haven where the child can be truly creative and express themselves. And that is to build a wall of fame where you hang and showcase various personal mementos and achievements.
You can even install some shelf units to place photo frames, decorations, and trophies. Meanwhile, allow the rest of the wall to be a blank canvas for displaying quotes, photos, art, or even sports memorabilia.
You may want to add a small mirror to balance the eclectic collection and bounce off the natural light.
Closing
In the end, we can only provide so many examples for you. The final design lies in your hand as you are the one who knows exactly what you need in an office and the style that suits your taste.
Perhaps you want something more dramatic and one-of-a-kind, or maybe you prefer a simple design that feels cozy and intimate. With that said, don't be afraid to experiment with new things and combine ideas from different photos.
So, what do you think?
Did you find enough inspiration from our list?
Remember: your home office should be a place where you can feel focused but also at ease. Good luck!