Do you think subway tiles are outdated and boring? Well, think again. While these tiles may seem too simple and basic, they are actually a classic feature that can fit into any style space.
Especially if you combine white subway tile with black grout for crisp and stark contrast, you can use it as a base for any surface in a room. From the walls to the flooring, these tiles will jazz up your home and give it a fun design that is both classic and unique.
Of course, it's all about knowing how to style your space and choosing different materials and textures that go together. If you are trying to find great ideas to incorporate subway tile with black grout inside your home, you have come to the right place!
Today, we will look at some of the most clever and beautiful ways to use subway tiles and black ground. Let's dive right in.
1. Pair Subway Tile with Black Grout Walls and Black Honeycomb Tile Floors for a Modern Bathroom
First up, we have a modern bathroom with white tiles and black grout for the shower walls. The highlight creates separation between the shower and the rest of the bathroom.
The white subway tiles on the walls also contrast nicely with the black honeycomb tile flooring and white grout. You can see how the contrasting colors and swap here create a beautiful and modern aesthetic.
There are black bathroom fixtures that further accentuate the modern aspect of this interior design, including the black shower head and door handles. In a small bathroom like this, it can be a great idea to use glass doors too. This will open up the space instead of making it feel crammed and small.
Moreover, you can complete this bathroom by having a wooden counter with a white sink and surface. Adding this extra texture and material will help bring the look together.
2. Complete a Contemporary Bathroom with Subway Tile and Black Grout for Shower Walls with a Wood Floating Vanity
This next bathroom design has a lot of similar aspects compared to our first example, especially in terms of the white subway tile walls with black grout and black honeycomb tiles with white grout.
Both of these bathrooms have a bright and contemporary feel, which is perfect for any modern home. However, this one is also a bit larger and has a more mature look to it, especially with the white walls above the shower tiles. This can create multiple vertical levels in the room and make the ceiling appear even taller.
You can also include a black frame for the glass half wall separating the shower area, which can provide more accent to the visual side of this space.
In addition, the floating vanity has a sleek wooden surface top and a glossy black backsplash. This connects it to the black flooring and shower seat for a seamless look overall.
3. Use Black Accents and Medium Tone Wood to Complement Subway Tile with Black Grout Walls
Up next is another beautiful bathroom with a subtly luxurious touch. It's an excellent design for those who want an elegant style without being overly opulent.
For the walls, the white subway tiles and black grout provide a neutral and refreshing base to build the rest of the bathroom around. This bright and modern surface covers all the walls in this room for excellent continuity.
Meanwhile, the large black tiles provide an excellent complement for the smaller-tiled walls. You can further enhance the black color in this bathroom by providing bold accents like the shower stall frame, mirror, and pendant wall lamps.
You can see how the small touches like the gold-colored faucet and showerhead truly transform the room in a subdued way.
Likewise, mixing materials, including the wooden sink stand and ceiling, also provide some variety, but in moderation. This will help you achieve an eclectic interior style fit for any contemporary home.
4. Create an Eclectic Kitchen Using Subway Tile with Black Grout for the Stylish Backsplash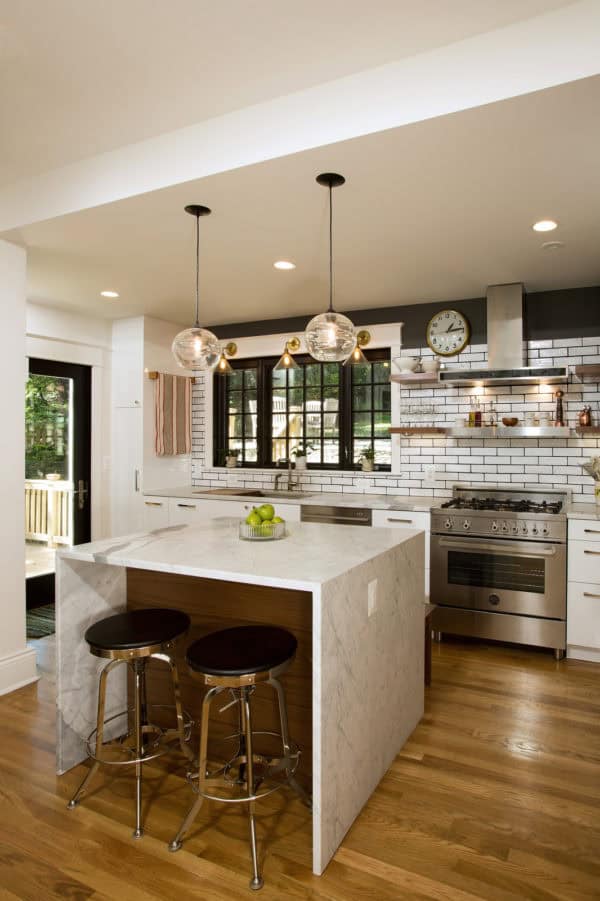 The subway tile and black grout combination can also shine in the kitchen, especially if you use them for the backsplash in a fun and eclectic kitchen design.
In this photo, you can see that the kitchen walls are mainly white, with the exception of the black and white tiled backsplash. These subway tiles add an authentic and quintessential farmhouse look to the space, which is excellent for anyone wanting to blend the modern with the traditional.
The tile here is Grove Brickworks, which is a crisp white color that looks great with the black grout. We love how it pairs up with the white kitchen cabinets, stainless steel appliances, and ultimately, light-toned wood flooring.
For the countertops, you can go for calacatta marble in a honed finish, which will provide a classy ambiance that certainly goes well in this kitchen. Get some pendant lights from Room & Board to elevate the interior even more, while using warm lighting can also make it feel cozy.
5. Try an Industrial Bathroom Featuring Subway Tile with Black Grout Shower Walls and Marble Countertops
Revisiting the idea of using white subway tiles and black grout in the bathroom, take a look at this epic industrial style that combines tile work with wood and marble surfaces for an elegant finish.
The shower room is a massive, enclosed space with its own marbled granite seat, black tile flooring, and white subway tiles with black grout for the walls. The glass door also features a black framing for further enhancement.
In terms of the double sink countertop, the wood cabinets with rattan baskets provide a bit of ruggedness to the interior. Meanwhile, the smooth marble countertops tie in the luxurious aspect of the design too.
Even in a large space like this, you can never go wrong with a large mirror. As you can see, the mirror covers pretty much an entire wall and helps make the bathroom look spacious and clean.
6. Subway Tile with Black Grout Makes a Dynamic Bathroom Backsplash Against Black Faucets
In this modern bathroom interior, there is a stunning dynamic effect thanks to the stylish backsplash that looks perfect behind the contemporary black faucets.
The countertop features a beautiful veining of Calacatta marble countertop, while the backsplash is herringbone subway tiles. These two work together to form a sense of depth and complexity, which can be something to elevate your bathroom.
The tiling itself is an excellent choice for a backsplash as it protects your bathroom walls from getting wet all the time and ruining its paint. Plus, this classic black and white color will work well for any style of interior that you like.
Moreover, you can also place a small pot of indoor plants next to the sink. Not only will it look good and make the space feel more refreshing, but the plants can also absorb any excess moisture and prevent bacteria from growing!
7. Wood Flooring and Grey Walls to Contrast Subway Tile with Black Grout in a Cozy Bathroom
This mid-sized bathroom features a shower with different walls and flooring to give it some panache. The white subway tiles and black grout also make the shower pop out.
Meanwhile, the shower floor uses hexagon mosaic matte black porcelain with charcoal grout, which complements the brighter walls nicely. You can even place a small waterproof stool here to place a decorative plant or more toiletries.
Outside the shower stall, you can combine dark grey walls with medium-toned wood flooring to produce a warm effect. Installing some shelves above the toilet can provide a great spot to place some décor too.
But it's also important to maintain a balance between the dark shades and light tones to avoid cramming the room and making it feel small. This is where the white porcelain toilet, white door, and white sink come into place.
8. Hang an Antique Pot Rack in this Contemporary Kitchen with Subway Tile and Black Grout Walls
In this contemporary kitchen, the modern subway tile and black grout walls offer a very cheerful and brightening atmosphere that can improve the mood whenever you're here.
This backsplash covers the entire wall and also acts as a sort of accent wall, which can easily elevate the interior of any room. Including a kitchen!
You can see how the white color scheme works well here, especially with the tall white cabinets and open shelves that further reinforce the airiness of the kitchen. Here, you can store some glassware, pots, and even glass jars.
Moreover, you can even install a bronze or metal rod where you can hang pots and pans. This will even add a touch of rustic vibes to evoke some degree of farmhouse style in your kitchen.
In terms of lighting, it can be great if you have lots of windows for natural lighting. Yet you can also hang some antique pendant lights for additional illumination during the night or winter evenings.
9. Build a Charming Farmhouse Kitchen Using Subway Tile with Black Grout Walls and Stainless-Steel Appliances
Here's another kitchen inspiration for those of you looking to incorporate a charming farmhouse style in your kitchen, mainly by using stainless-steel appliances and a tiled wall.
Speaking of the walls, these are white subway tiles with black grout covering all the kitchen walls and doubling as a backsplash for the cooking area. Coupled with the white ceiling and bright lighting your kitchen will feel spacious and modern.
Additionally, you can always have wooden shelves up on this wall to provide extra storage and easy access to things you use a lot, including spices and plates. These wood textures also go well with the light wood floor, as they evoke some warmth and intimacy to the space.
You can further enhance the farmhouse style by using a farmhouse sink. Don't forget to add knickknacks and small décor to create that lived-in ambiance. You can see this through the manual scale, bowl of fruits, and kettle on the hob.
10. This Farmhouse Bathroom Has a Modern Subway Tile with Black Grout Backsplash and Rustic Wood Elements
Another part of the house that will always look charming with a farmhouse style is the bathroom, which is here established through the tiled backsplash and wood cabinets.
Straight away, you would notice the double sink design of this bathroom, which is excellent for any couple living together or even if you just like the extra space. Above each sink is a black-framed oval mirror hanging from a leather strap. This adds to that rugged, individual look even more.
Moving on to the backsplash wall, you can use white subway tiles and black grout to create a classic yet timeless feature wall. It complements the white on the rest of the walls here beautifully and adds some depth to the interior.
Moreover, this bathroom also makes use of multiple textures and materials. The large wood cabinet complete with rattan baskets underneath is the perfect piece to make this bathroom feel quintessentially country.
11. Introduce Wooden Ceiling Beams to Enhance a Cottage Bathroom Featuring Subway Tile with Black Grout Walls
We have seen quite a lot of bathroom designs using subway tile and black grout today, and this stylish trend is popular for a reason! This example features another twist to jazz up the classic combo.
Here, you can see that the shower comes with white subway tile walls to complement while also standing out from the rest of the white walls in the bathroom.
To add a touch of modern cottage vibe, you can install some wooden beams on the ceiling that will really tie in the look together. It is a nice contrast to the sleek black frames of the shower and white furnishing and also evokes a deeper personality to the space.
12. Add a Glass Table Vanity in addition to the Subway Tile with Black Grout Shower Walls and Honeycomb Tile Bathroom Floors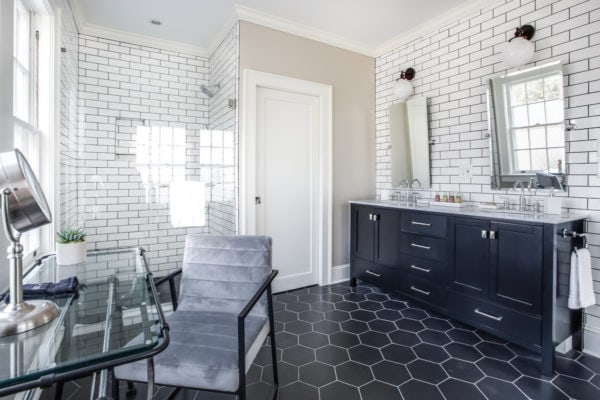 Next up is a large bathroom featuring a glass table vanity and honeycomb tile flooring, which contrasts with the white subway tiles and black grout on the walls.
The walls in this bathroom actually combine the white tiling with beige paint. This allows for some more depth and variety in the interior while making it feel welcoming and homey.
For the vanity area, you can place a glass table to make it look modern and contemporary while maintaining the sense of space here. Use a fabric chair and add some accessories like plants and a make-up mirror too.
Finally, it can be a good idea to have some wall lamps above the sink mirrors. Not only does the unique bulb design add an aesthetic value to the space, but it can also provide much-needed illumination for when you're getting ready!
13. Bring Together Custom Blue Cabinets and Subway Tile with Black Grout Walls in a Modern L-Shaped Kitchen
In this modern L-shaped kitchen, you can see how the white subway tiles and black grout on the walls bring out a really clean and organized look to the space. This is definitely something you'd want in a kitchen.
The black and white color palette of the walls is a great base that you can easily build from. This includes the beautiful light wood flooring!
For the cabinets, you can try using Dunn Edwards "Blue Steel" with a matte finish, which is perfect if you want to evoke an elegant feel that is classic, retro, and stylish at the same time.
Of course, your kitchen won't be complete with some finishing touches to make it feel more personal and customized. For instance, you can place some flowers on the windowsill and countertop, as well as bowls of fruits and a filled shelving unit.
14. Use Subway Tile with Black Grout as Bathtub Surround in an Eclectic Bathroom Fusing Modern and Traditional Features
Lastly, this bathroom uses white subway tiles in a more unique way, which is for the bathtub surround.
This is an excellent alternative if you want to incorporate some tile work in your bathroom without actually using them for the main flooring or walls. Here, the subway tile with black grout accentuates the large bathtub and helps create a cozy nook where you can unwind.
Moreover, you can use a dark wood cabinet for the sink and countertop area, while antique detailing like the lamps and faucets will elevate the ambiance even more.
For the flooring here, using mosaic tiles like this black and white pattern can be an excellent idea too. It's still a monochromatic palette but allows you to add some more depth to the space.
Closing
The best thing about black grout is that it fits easily with tiles of any color, including black and white subway tiles. This means you can create the style that you want, whether it is dark and chic or bright and contemporary.
One thing to note is that if you are using black ground in the bathroom and shower, make sure that the grout is sealed so you can maintain the deep black color for longer. This means it will still look rich and fresh as new, even as it comes in frequent contact with water.
As always, you can mix and match ideas from these different examples to come up with your own perfect interior. Subway tile with black grout works excellently in various spaces throughout a house, whether it is the bathroom or kitchen.
Good luck!