There are tons of small wet bar ideas out there. We're talking about creating a compact yet elegant area where you can quickly prepare drinks and wash glasses.
In contrast to a dry bar, a wet bar features a sink with running water that lets you clean glasses or fills up water in the same area. It's much more convenient for serving drinks and snacks all at once.
When you're hosting a party or gathering, there's no need to run back and forth to the kitchen.
Wet bars typically include a sink, icemaker, wine fridge, some shelves for glasses, wine bottles, and other beverages. Not only that, but you can also use mirrors and various tilework to add more depth to your wet bar.
If you are struggling to come up with ideas to decorate a wet bar in a small space, you've come to the right place! We have compiled a list of some of the most beautiful small wet bar ideas that you can try out in your own home.
Let's get right into it!
1. Use a Mirror Backsplash Behind Your Hidden Small Wet Bar as a Unique Idea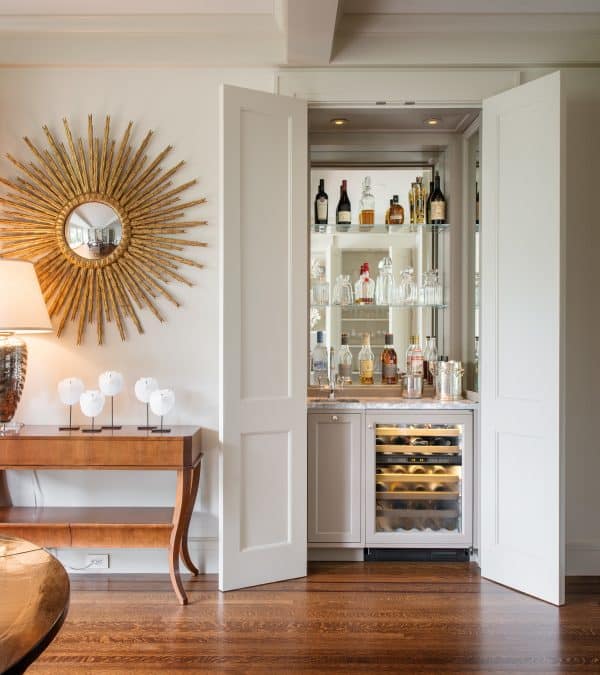 For this first example of a small wet bar, we wanted to show you how using a mirror backsplash can add an illusion of space and depth.
As you can see, the mirror reflects lots of light and make this tiny wet bar look much larger and brighter. The glass shelves also create an elegant display without creating a cluttered effect in this corner.
The sink itself is quite small and just large enough for one person to clean or refill glasses. But you can make sure that the sink is deep to avoid any splashes. Meanwhile, you can use the empty countertop space to put an ice bucket.
You may also notice that this wet bar has cabinet doors that can shut, allowing you to close it and when not in use. The result is a clean-looking living space that is free of clutter. Plus, this will help protect your glasses and wine collection from exposure to dust.
2. Perfect Idea to Complement a Small Dark Wood Wet Bar with Black Backsplash
For our next idea, why not try to use dark wood as the main color scheme and material of your wet bar, then use a black backsplash to create a sense of luxury and class?
Here, you can see a small wet bar with dark wood cabinetry that matches the brown wood flooring, while the black shutters can also be shut to keep away any dust when the bar is not in use. This will also help the area look much cleaner and neater too.
For the backsplash, you can combine a mirror and a sleek black surface with adding both pizzazz and illusion of space. Make sure to also complement the mirror part with glass shelves for an airy effect.
Consider using black soapstone for the countertops too. This high-quality natural stone is among one of the best out there, which makes it perfect if you want to evoke luxury in your wet bar. It's heat and acid resistant, while the non-porous characteristic means it's super durable!
3. This Simple and Small Wet Bar with Beach Vibes Near the Stairs Will Help You Save Space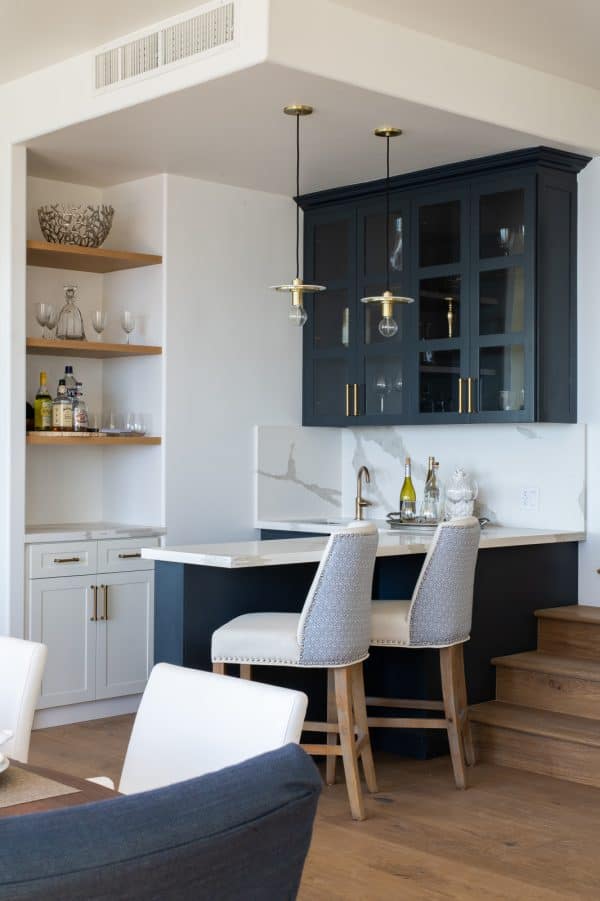 Are you into beach-style interiors that feel both timeless and modern, as well as being super clean and bright? If so, this wet bar idea can be the perfect one for you.
Starting with the L-shaped countertop setup, this means you can utilize corner spaces and make the most out of them. Evoking a beach style can be as easy as using sleek furnishing with colors like white, blue, and some wood textures.
The blue shaker cabinets match the island structure, while you can see how the quartz countertops extend to the white marble backsplash and create a contemporary feeling to the entire space.
If you have any awkward nooks, you can even transform them into lovely shelves by installing some wood panels. After this, it is all a matter of placing your most aesthetic glasses, decor, and wine bottles.
4. An Elegant Yet Small Wet Bar Features a Mahogany Countertop and White Cabinets
Up next, we have a small yet elegant wet bar featuring a classic mahogany countertop and antique mirror backsplash.
Unlike the clear mirrors we have shown before, you may notice how this one is textured and deliberately unclear. The intention is to introduce an element of rusticity that can make your wet bar much more appealing and unique.
Meanwhile, you can place the wine cooler and sink on opposite sides to create a visual balance. For example, with the sink on the right side and the wine chiller on the left side. It can also be a great idea to place an ice bucket on the counter.
The wall cabinets have translucent doors, which let you see a little bit of the glass collection inside. With the wood countertops and white color, it's a truly stunning addition to any room in the house.
You may also notice that this entire wet bar is actually a self-contained cabinet unit. It can be great for those who want to have a more temporary-feeling wet bar.
5. Try a Fun Idea with Bright Wallpaper as the Backsplash for a Captivating Small Wet Bar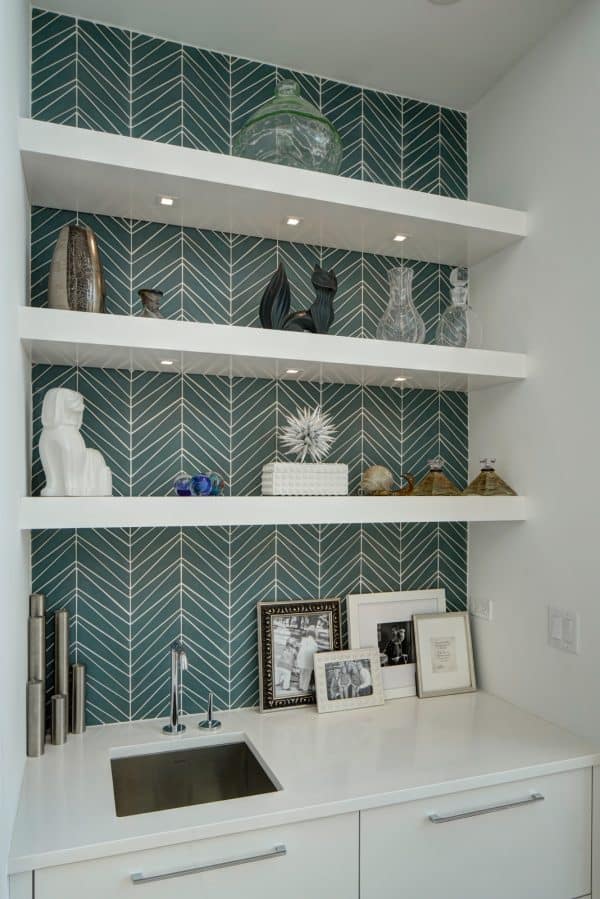 One of the ways to add a fun personality to your wet bar is by using a bright patterned wallpaper, as you can see on this image.
This contemporary wet bar features a small sink, white flat-panel cabinets, three shelves, and a solid-surface countertop.
You can use this latter feature to place some personal photos to really show your individual self and commemorate your favorite memories.
Even if you are not a huge fan of wine or alcoholic drinks, this wet bar is an example of how you can still display some of your other interests. Here, you can see all sorts of decor pieces like glass sculptures and jars.
Of course, it's always a great idea to have a built-in chiller underneath, where you can keep some of your beverages and ensure they stay cool for when you want to serve them!
6. Go for Modern Minimalist Ideas for Your Small Wet Bar with an Open Bar Concept
If you're all about minimalist interior and design, then you will love the following picture. It shows a small wet bar that comes with bar seating and a contemporary art installation that helps brighten up the space.
The bar stools can turn a small corner of your home into a cozy and stunning hang-out spot.
Here, the wooden structure of the stools is paired with grey upholstery to create a seamless look that also matches the design of the bar.
You may notice that the walnut wood shelves above the sink and countertops take an asymmetric shape that evokes a very modern vibe. If you want to further create a lavish feel, try installing some LED lighting on the recessed edges.
Meanwhile, the white marble stone tile backsplash adds more depth to the wet bar. We also adore how the quartzite countertops offer a sleek and gorgeous finish.
7. Use Dramatic Light Bulbs to Dress Up a Small Wet Bar and Turn It into a Jazzy Spot in the House
When it comes to lighting, the right shades and style can truly transform any mood. For instance, these dramatic bulbs create a jazzy vibe for a unique wet bar.
This single-wall wet bar with grey backsplash and white flooring is an easy way to utilize any empty space or corner and make it into something functional.
You just need a small area to install an undermount sink, while the rest of the marble countertops can be home to some decorative plants and wine glasses.
Furthermore, the metal backsplash is a unique way to introduce some more texture and dimension to the space. Don't be afraid to showcase your drinks and fanciest glasses here!
For the lightbulbs, we totally adore how these warm yellow lights create a cozy and atmospheric feel to the wet bar. The gold chains also add an even more stylistic sense that shows a fun characteristic of your home.
8. Embrace the Farmhouse Style with this Small Wet Bar, its Exposed Brick Wall, and Classic Ideas
Our next inspiration is a classic farmhouse style perfect for those wanting a rustic look that is reminiscent of old mountain homes and countryside bars.
This small wet bar features an exposed brick wall that also doubles as a backsplash. You can see how the fake window shutters add a super charming touch, as do the short wooden shelves and cabinets.
Meanwhile, the grey countertops balance the brown color that dominates this bar. This concrete material is a gorgeous and sleek surface, and you can make the most out of it by placing some quintessential bar items.
If you are custom building your wet bar, it can be a great idea to include a wine chiller in the cabinet. This can be the place where you keep your wine and other beverages so that they are always cool.
9. Onyx Countertop Idea Can Transform Your Small Wet Bar into a Striking Piece of Art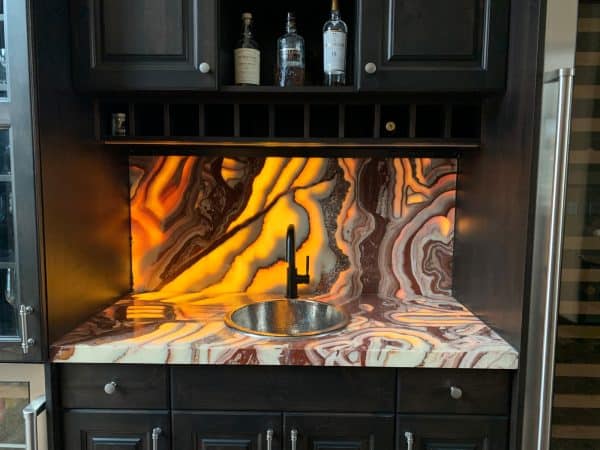 This stunning wet bar will grab your attention whenever you see it, thanks to the backlit onyx backsplash and countertop that illuminates with LED mesh.
The glowing bar makes it look quite charming and attractive, especially during the evening and night. Plus, the multicolored pattern here also lets it convey some characteristic that is unique and appealing.
Unlike some of the designs we have shown you today, the sink here is featured in the center and actually takes up quite a chunky bit of the entire counter space.
Of course, you can still place some knickknacks or decor on the side, but there's nothing wrong with letting the design of this bar speak for itself too!
10. This All-Black Small Wet Bar Works Well Amidst Similar Contemporary and Modern Interior Ideas
This small wet bar is glamorous and luxurious despite its relatively compact size. If you have any small corners or walls in your home, consider turning them into a functional and lovely spot like this.
It features black shaker cabinets fixed on the wall, as well as a set of countertops complete with running water and a chilled wine rack. You may even want to include a built-in fridge where you can store some snacks or other beverages.
That is exactly why wet bars are great – you can have everything in one place and serve drinks and snacks for guests without having to go to the kitchen at all!
Meanwhile, there is the textured glass tile backsplash that adds some more depth to the wet bar. We also love how the black countertops contrast the golden hue of the backsplash and yellow lighting nicely.
11. Create a Beachside Sanctuary Featuring this Small Wet Bar Idea with Wine Rack and Mosaic Backsplash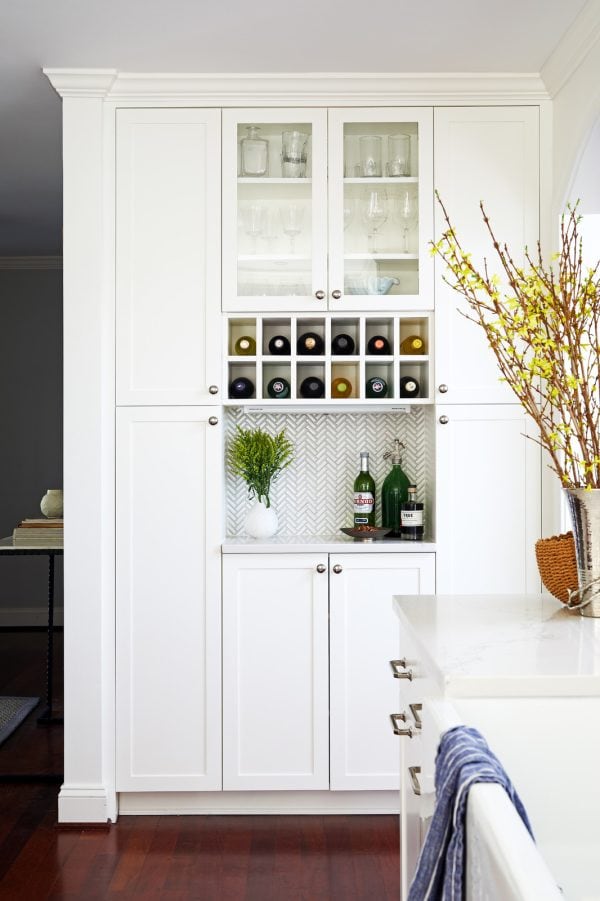 Up next is another beachside-inspired wet bar. As you can see, this design also features plenty of white wood, simple patterns, and decorative plants or vases.
You can start building your wet bar with a self-contained cabinet piece. Here, the cabinet comes with a built-in wine rack, lots of storage, as well as a pair of glass doors to showcase the glass collection inside.
On the countertop, you may want to place some wine bottles and decorative plants to brighten up the space and make it feel lively.
The black and white mosaic backsplash is also a great way to add some fun patterns to the bar while sticking to a monochromatic color palette.
12. Consider this Small Wet Bar Idea in an Open Concept Living Room for an Easy-Access Bar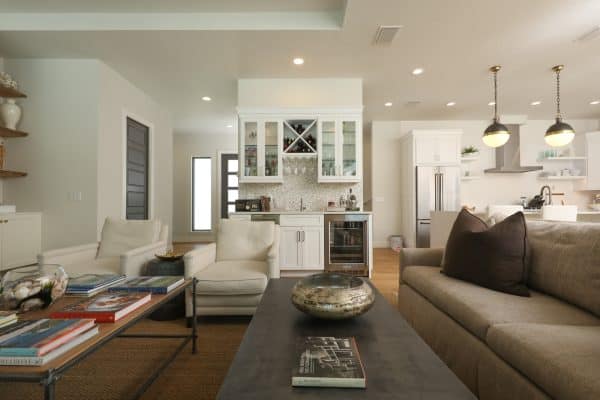 The best thing about a wet bar is that you can build one in virtually any spot at home, as long as there is access to plumbing for the sink with running water.
This small wet bar shows just how splendid it can be to have it in the middle of an open concept living room.
Not only does this create an easy-access hub where you can be serving guests and joining the activities, but it also utilizes the empty space.
It is a single-wall bar with white as the main color palette. As you can see, the white cabinets and multicolored tiled backsplash look super chic against the light-toned wood flooring.
There is also a wine rack and chiller where you can keep your wine collection!
Moreover, the simple design of this wet bar is a perfect choice, especially considering that it should fit right in this modern and contemporary living space.
13. A Small Wet Bar in the Master Bedroom Idea Can Utilize Dead Spaces and Awkward Room Shapes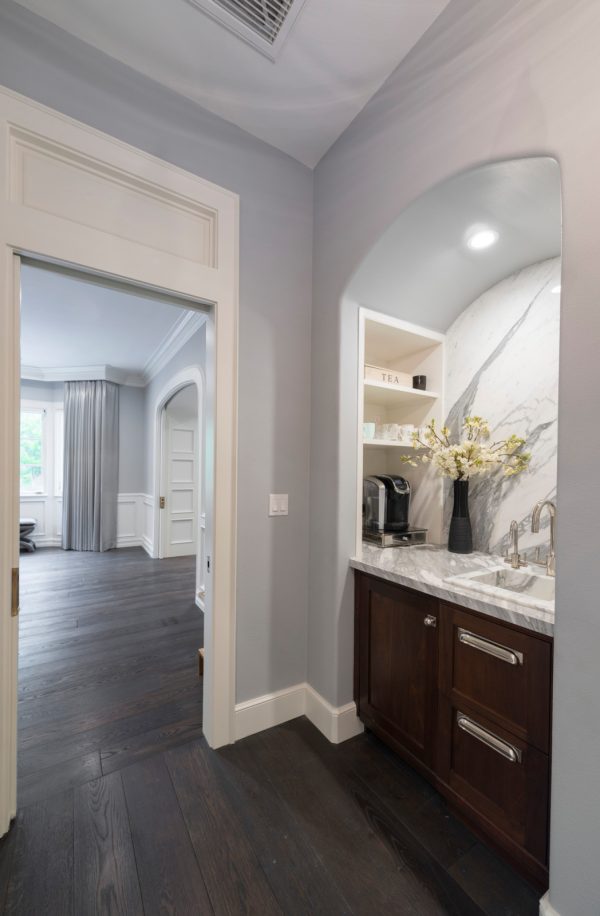 For our final suggestion, we wanted to look at a lovely wet bar that makes the most of a small space in the bedroom. Yes, you can build a wet bar even in your bedroom!
To start with, it can be a brilliant way to use up any dead space or awkward nooks and crannies in the master bedroom. Like this alcove that would have otherwise gone to waste.
The trick to building according to the house shape is to use customized furnishing as much as you can and follow the natural contour of the architecture.
You can see how this wet bar features shelves and cabinets that fit right into the arched opening in the wall.
Here, the dark wood cabinets match the brown wood flooring so that they both blend seamlessly together. We also love that the marble countertops look like an extension of the white backsplash.
As always, our number one tip to decorating any space and making it feel like yours is to embellish with some of your favorite decorative elements. That can be anything from DIY vases filled with flowers to your prized mug collection!
Closing
There you have it! Some inspiring ideas of how to build a small wet bar in your home. What do you think of our handpicked list?
We hope you can use these examples to start thinking about how you want to decorate your wet bar. Remember that even a small space can turn into an epic bar area if you know what to do!
Another great thing about wet bars is that you can place them anywhere in the house! From the bathroom to the living room, or even a semi-outdoor space, the built-in sink with running water means it can't be easier to enjoy a good drink.
For now, feel free to pick elements that you like from different photos and consider what makes them appeal to you. This will help you understand what interior style and features suit you the most.
Good luck, and happy decorating!