Are you trying to find the perfect inspiration for a living room with a bay window? This classic feature can be a great way to make your space much more beautiful and appealing.
Bay windows are a huge part of the interior style in the San Francisco area. It is a charming element that can add some character and even square footage to the room. Even more important, it ensures that you have plenty of natural light inside.
Unfortunately, some people struggle with decorating their bay windows and wonder about ways to enhance the look. The fact is that poorly designed bay windows may feel more like a cumbersome nook instead of an attractive architectural facet.
Don't worry! Bay windows do not have to be awkward; you just need to know the right way to jazz up the area and make them look beautiful. From creating a seating nook to placing a cozy sofa right in front, we have plenty of tricks to share with you.
So, we've compiled a list of stunning examples so you can make the most of the bay window in your living room. Here we go!
1. Use Pin Legs and a Cozy Seat in the Bay Window for an Inviting Mid-century Living Room
This first photo shows an alluring mid-century living room with a massive bay window complete with a cozy seating area. It's one of the go-to ways to style a bay window, and for a good reason.
The idea is to take what would otherwise be an awkwardly shaped corner and turn it into a customized seating area. Here, you can see that the custom wood with pin legs and upholstery form a comfortable nook to relax on.
For the window seat itself, you can use plywood with veneer edging tape to create a sturdy yet still sleek-looking base. The hairpin legs are around 7 inches, which can provide a touch of a minimalist vibe.
You can keep the overall ambiance here quite simple by not overdecorating. Just place a couple of bright-colored pillows and a rattan side table near the seat. It can even be a good idea to forego a curtain to keep the look light and airy.
2. Try a White Sheer Curtain to Add Some Privacy in a Living Room with Bay Window
For this following picture, you can see an example of a contemporary living room with a gorgeous bay window feature. Despite having quite low ceilings and no other window, this actually helps establish an airy and fresh perspective to the space.
When you have a space like this, it can be essential to choose wall and furniture colors that will brighten up the space. Mirrors are a great feature too, which you can see here reflect the natural light and make the living room feel larger.
In terms of the bay window, it has a similar concept with the custom seating and foam to provide a cozy space for chilling and hanging out.
Moreover, you can try using white sheer curtains to add some privacy to your living room. At the same time, the sheerness and lightness of these curtains mean they will not evoke a constricted feeling.
3. Complete an Elegant Formal Living Room with Bay Window Seating and Multicolored Pillows
This formal living room exudes a very enticing and elegant vibe, which can be ideal for those wanting a modern home that is both visually attractive yet still classy and timeless.
It feels spacious without being too large while still maintaining a homey and intimate atmosphere, which is definitely a good thing for a living room.
Go for a more neutral and earthy color palette, such as beige as the foundation. The light beige curtains, walls, couch, and armchairs offer a solid and sophisticated base. You can then choose beige carpeting with a subtle pattern to add some depth to the interior.
If you want to add even more pops of colors without disturbing the calm ambiance of the space, you can do so through the pillowcases. Moreover, the dark brown wooden coffee table is also a gorgeous addition.
To make the living room even cozier and appear more lived-in, it's a good idea to place some throw blankets, a stack of books on the table, and another personal decor.
4. A Beautiful Bay Window Design in an Eclectic Living Room with Brown Walls and a Contemporary Chandelier
This modern open concept living room is a truly stunning example of how a bay window can be a seamless part of a large, open space. Combining the living room with multiple seating spots and open access to the kitchen and bar area, the eclectic atmosphere here is also charming.
To enhance the large, floor-to-ceiling bay window, you can even hang a tall chandelier to add some drama. The vertical height will also draw the eyes upward and create more illusion of space.
The brown walls and furniture also help evoke a very cozy and down-to-earth vibe. These warm shades can make any space feel inviting, which is always something to aim for in a living room.
As always, it's important to make sure that you have enough personal touches throughout the room to make it feel more personal. For instance, look at the colored glasses, books, flowers, and other pieces here.
5. Charming Bay Window in a Living Room with Dramatic Brown Curtains to Evoke Lavishness
This photo depicts a beautiful living room with light-toned wood flooring and dramatic brown curtains across the bay window seating. The deep color contrasts nicely with the bright walls and atmosphere for a more dynamic interior.
If your style is a simple and modern one, but you would like to incorporate a subtle element that is more eye-catching, then this can be the perfect inspiration for you!
For the bay window itself, you can build a custom seating area complete with a foam mattress, lots of pillows, and a throw blanket to help cozy up the space. Go with a complementary color like blue for some more depth.
Meanwhile, the deep brown curtains provide not only privacy to the living room, but they are also a gorgeous touch. The heavy material drapes down to the floor for an elegant vibe.
6. Mix Different Textiles and Patterns to Create a Unique Contemporary Living Room with Bay Window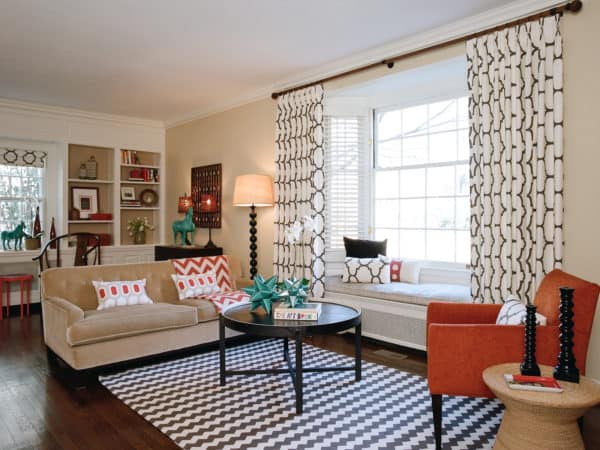 This unique living room has a humble and suburban decoration style that is perfect for those who prefer simplicity over anything too opulent.
It also feels extremely cozy and lived-in, thanks to the eclectic mix of different colors, patterns, and textures. This is a great way to allow your individual personality to shine in the space.
For the wall color, you can achieve a very similar look with Benjamin Moore's Jicama. This is a rich and creamy shade that can provide warmth and comfort to any space, especially a living room. It's also very versatile and looks beautiful even with seemingly clashing colors.
You can also get the stunning floor lamp from Jamie Young. This is the Luna Floor Lamp with Lg Cone shade in Raffia with a metal base. As always, pendant lamps are excellent to infuse more style into your home.
7. Place an Ornate Grey Sofa and Coffee Table in Front of the Bay Window for a Comfy Living Room
In this following example, we wanted to highlight a slightly different approach to the bay window. Instead of building customized seating with built-in frames and mattresses, you can opt for a simpler solution.
Try to find a sofa or couch that perfectly fits u shape of your bay window to create a less permanent structure that you can easily change around anytime you like. Our top tip is to get the exact measurements of the space and source the furniture accordingly.
This spot can be a great place to hang out after a long day at work or outside, as well as for entertaining guests. You can even see the dining area to the right of this photo.
In addition, the coffee table here is an antique model with a rugged pattern and authentic style. It's a great idea to browse through your local vintage shop for something like this! You can also place an armchair on the side to provide more seating.
8. Go with a Warm Orange Tone for a Welcoming Living Room with Bay Window
This inviting living room has a gorgeous orange color palette, which is a perfect way to complement the bright bay window.
For the wall colors, why not try pairing two complementary tones for a dynamic effect? The darker shade is Benjamin Moore's Falcon Brown, while the lighter one is Moccasin, also from Benjamin Moore. This helps create more depth and character in the interior.
The simple yet elegant armchair is by Lillian August and upholstered with a Jim Thompson silk. Meanwhile, you can go for a glass-topped coffee table where you can place a table lamp and other decorations.
Another trip is to use stationary drapes that do not really open or close. Instead, these act as a framing feature for the windows to accentuate their silhouettes. This will also prevent the curtains from blocking the view and making the room feel constricted.
9. Pair a White and Grey Living Room with Bright Purple Accents and Bay Window Seat to Invoke Vogue Style
The following example illustrates an impressive white and grey-centric living room that also incorporates colorful accents and an exquisite bay window seat.
The lavish style with neutral, uniform colors is great for any contemporary home. From the grey furniture and walls to the white ceiling, it is easy to feel at home in this room.
There is nothing prettier than a well-lit space, so letting your bay window and other windows let in as much natural light as possible can be great.
Additionally, the coffee table is made entirely out of glass, which reflects the warm lights really nicely while also helping the space feel open and bright. You can also use various lamps to further enhance the interior and mood.
To add some more flair to this living room, you can use deep purple pillows and a woven purple settee too. This will provide an appealing touch that is also interesting.
10. Create an Eclectic Nook in a Living Room with a Bay Window Through Rustic Carpet and Traditional Chandelier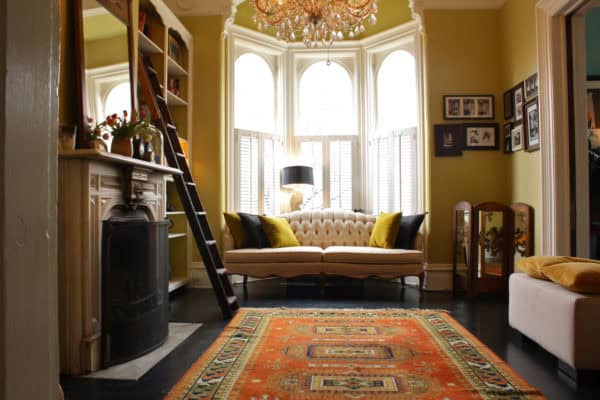 The bay window offers a brilliant opportunity to create a cozy nook, which you can establish using deep colors and different rustic features.
This design can also be inspiring for the book lovers out there! The ceiling-length bookshelf that covers the left wall in this photo will also enhance that authentic vibe here. You can even place a black ladder.
Furnish the living room with a traditional chandelier that adds flickering illumination and a visual flair. Meanwhile, the rustic carpet with a colorful pattern also looks gorgeous against the dark wood flooring.
For the bay window itself, you can go for a classic sofa that is roughly the size of the window, creating a snug spot to enjoy the warm ambiance of this space.
11. Complement a Bay Window with Built-In Shelves for the Ultimate Bibliophile's Living Room
Speaking of bookshelves, we have up next a truly magical interior that is perfect for any bibliophile. It features gorgeous built-in shelves and a beautiful bay window.
This trendy living room features built-in bookshelves on either side of the bay window, where under it is a cabinet that you can use for extra storage.
And instead of making the top another seating, you can actually keep it as a countertop for more decoration. This will open up the bay window and truly emphasize the beautiful scenery you have outside.
In terms of the furniture, you can try using neutral colors that can complement the white shelves and walls and grey flooring. This includes a dark grey armchair and black leather coffee table-slash-settee.
12. Embrace a Green and Brown Color Palette in Your Living Room with a Bay Window for a Natural, Earthy Feel
Another color palette you can try incorporating for a living room with a bay window feature is green and brown. This evokes a natural and earthy ambiance that may suit homes in a rural area.
The light wood flooring provides a neutral base that looks exquisite when hit by the sunlight. It also matches the wood window frames and coffee table to further connect it to the natural elements.
You can then choose a mossy green shade for the wall paint to establish a calming and country ambiance. Of course, it would be nice to use a complementary color for the upholstery in your bay window seat and couch!
When it comes to a nature-inspired living room, our tip is to keep the style quite simple and straightforward. Go with more earthy-colored pillows and fabrics, as well as basic decoration pieces.
13. Evoke Modern Elegance in this Living Room with a Bay Window Using Leather Upholstery and Glass Tables
There is nothing more impressive than the elegant vibe of a modern living room, especially if you manage to make the design feel intimate yet still striking.
Here, you can see how the bay window is a crucial part of the atmosphere in this living room, which is elegant and sophisticated, and undoubtedly contemporary.
The bay window itself is not large or wide enough that you can turn it into a cozy nook, but you can make use of the windowsill to place some indoor plants. Greens can be a great way to immediately elevate a room and make it feel lively and refreshing.
For the furniture, aim for something modern like these leather sofas and chairs. Paired with the glass side tables, you can create an exclusive air that is also timeless.
Moreover, you may also notice the unique coffee table design, which is another centerpiece that makes this living room feel even more opulent. Remember, it's okay to be bold with your design choices too.
14. Woven Wood Shades is the Perfect Accessory for a Bay Window in Contemporary Living Room
For our last example, we are looking at a rather smaller bay window that doesn't extend outwards too much. This means you can't exactly use the space as extra seating.
However, narrow bay windows like these are still excellent to improve the curb appeal and add an extra flair to the interior. One idea is to use woven wooden shades that can provide some privacy when you need them. It also looks excellent here.
Plus, the wooden texture also complements the neutral style of the living room. You can see through the orange flowers and accents, including the pillow and table vase. For the walls themselves, try going for a warm yet still bright shade.
Closing
All in all, a bay window is essentially a window structure that protrudes from the main walls of your house. This exciting feature can be a great way to enhance any exterior.
Meanwhile, bay windows provide an additional opportunity for you to create a charming nook inside. We've seen a lot of ways that a bay window can elevate your living room, whether that is in a visual or functional sense.
Don't be afraid to mix and match as you identify different elements or styles that you adore. This will help you design the perfect living room featuring a stunning bay window area. Good luck!