A portico, or the roof over a front door entry, is a traditional architectural feature that dates back to ancient Greece. It can be a great way to enhance your curb appeal and make your home look extra lovely.
There are a lot of ways to incorporate a roof over the front door, from having a small overhanging roof to a large one supported by columns. The good news is that you can use this feature in almost any style of home.
From traditional and classic cottage exteriors to more modern homes with contemporary design, you can't go wrong with a charming roof over the door. It serves not only an aesthetic purpose but also as a shelter for when you enter or leave the house.
As always, the secret to building your dream home and creating a house that is quintessentially you is to know your personal style. Check out these photos below and try to identify what you like or don't like about each one.
1. Complement a Cute Roof over Door Entry with Wreath and James Hardie's Timberbark for the Siding
For the first example, look at this gorgeous and elegant house front featuring concrete steps, a classic red mailbox, and a roof over the entry.
The siding of this house is a beautiful shade of grey from James Hardie called Timberbark. Meanwhile, the trim is in Navajo Beige to provide some contrast and light. You can see how this white shade matches the door from Thermatru, a simple and timeless design.
The roof itself uses the same grey and white colors for a seamless continuation of the house. You can hang a light fixture here for added illumination and decoration, which is from Home Depot.
Finally, it is always lovely to sweeten the look with a wreath on the door. It's an especially great addition during the holidays, but there is no reason you can't have a wreath here all year round!
2. Traditional Roof over Door Entry with Tuscan Columns for a Strong Suburban Curb Appeal
This next photo shows a stunning suburban home with a classic and traditional entryway. The traditional roof over the door is supported by Tuscan columns, detailed trim work, and grey flooring.
You can choose excellent white paint for the siding of the house, which is perfect to create a clean and bright look. The multitude of windows also boosts the curb appeal while ensuring enough natural light can enter the interior.
The door itself is in a pure black color that contrasts nicely with the white, while the bronze door knocker is a beautiful detail that also adds some character to the house.
In terms of the landscaping, you can have some greeneries overhanging from the windowsills, bushes around the front of the house, and well-trimmed grass to cover the front lawn. We also love the touch of pink flowers flanking the entryway that provides a pop of color.
3. Go for a Charming Exterior Featuring a Roof over Door Entry, Gray Clapboards, and White Fence
This traditional exterior has a beautiful little slanted roof that genuinely sets the house apart, especially when you pair them with the beautiful window shutters.
This example shows that you can incorporate a small roof over the door in many shapes and styles. Let your creativity run wild, and who knows, you might discover a spectacular design!
Moreover, you can use Benjamin Moore's Coventry Gray for the clapboards, Amhert Gray for the shutters, and Stuart Gold for the front doors. The trimming also uses paint from Benjamin Moore, which is the classic white color.
You can completely recreate this look by placing some lanterns from Cape Cod Lantern, or Model #1105 specifically. They can flank the windows for attractive embellishment.
Finally, it may be a great idea to create a small porch area by enclosing it with white fences. Place a couple of rocking chairs here, and you have a cute spot to hang out in the morning and afternoon!
4. Use Real Copper for Roof over Door Entry in this Victorian-Inspired Cottage Home
For the next inspiration, here is a photo of a Victorian-style cottage home that features some classic as well as modern elements at the same time.
One idea is to use real copper as the roof material, which, as you can see, adds a completely fresh and unique look to the house. Not only does it add a lot of character, but the pop of copper and shine also provides a nice contrast to the rest of the exterior.
We also adore the uniform columns architecture, which creates a nook of sorts with the entryway. You can use white railings for the staircase that matches the columns and window trims.
The main rooftop uses western red cedar shingles that have that classic and timeless appeal. This complements the siding from Maibec, which are eastern white cedar shingles along with a bleaching oil finish.
For the landscaping of the lawn, why not try planting some grasses, flowers, and small trees? Having lush greenery around your home can make it feel much more refreshing and soothing.
5. Embrace the Minimalist Style with a Wooden Roof over Door Entry in a Contemporary White Home Exterior
If you prefer contemporary architecture that uses bold structures, unique designs, and bright colors, this house might be right up your alley.
Here, the white home exterior is an exhibit of modern design, especially with the white concrete siding, massive floor-to-ceiling windows, and block shapes.
You can see how the grey concrete steps lead to the front door, where a square roof connects with the exterior structure. There is also a wooden lining under the roof that introduces a touch of the contemporary.
This small roof provides a shaded or sheltered spot for when you're closing the umbrella on your way inside the house. Plus, the double glass doors are a gorgeous addition too.
Moreover, there is also an emphasis on the outdoors here. The landscaping plays a huge part in boosting curb appeal. With a mix of palm trees, bushes, and other plants, you can create a forest-like ambiance in your own home!
6. Pair a Traditional Roof over Door Entry with Colourful Vinyl Siding for a Quirky Vintage Look
Maybe you're not a fan of conventional homes with classic colors and boring designs. No problem, there is still a place for a roof over the door, even in a stylish house!
This cottages-style home has a colorful vinyl siding of red, grey, and white, while the door and roof structure use light-toned wood. The vinyl is from Plygem and has a matte finish for a classy look.
Overall, the combination of these colors and textures creates a fun and eclectic look that will no doubt impress onlookers.
Not to mention the fun cedar front door with the glass windows and double door design, which lets in plenty of natural light without being completely see-through.
We also adore how the roof is small enough that it needs no columns for support but still has a dramatic presence that will not be overlooked. Finally, you can complete the exterior by placing a pot of bright flowers in front of the door too.
7. Opt for All Wood in this Classic Barn Style Entry with a Slanted Roof over the Front Door
Consider going for an all-wood exterior for a classically barn-styled home. Here, you can see how the slanted roof adapts to the door that is placed to the side of the house.
It can pay off to go for an unconventional twist of traditional home designs, as this will allow you to explore new styles that might turn out unexpected.
For the wood door, most contractors would be able to build a similar one for you. We specifically recommend Therma Tru as they make excellent and high-quality doors.
You can also place a wooden pot filled with pink flowers to provide a pop of colors. Meanwhile, a patterned welcome rug could also elevate this entryway even more. With the concrete steps, just keep it simple and let the rawness of it shine through.
8. Try a Modern Entry with Roof over the Door to Embody Beachside Contemporary Home Design
This is another modern home design with a modern entryway that feels both classic and luxurious. It features a flat roof over the front door and an asymmetrical design.
You can play with asymmetry to come up with unique designs, such as this roof structure that has only one supporting column to the right. This creates a dynamic look that is both attractive and unique.
The front door itself uses a double door style with a wooden door on one side and full-framed glass on the other. Again, large windows are crucial if you want to maintain a contemporary and bright look to your home.
Don't forget to add some outdoor lighting that can illuminate the house during the night. In this case, the owner has gone for a standard globular bulb that glows a warm yellow color.
9. Choose Classical Architecture Style with a Traditional Roof over Door Entry and Domestica Mandena Evergreens
Another classic architecture style you can try out is this large three-story wood exterior home that comes with a grand portico.
The roof over the door has a Greek-style structure complete with columns and detailing. You can also hang a black pendant lamp on the roof ceiling with yellow light. The lampshade also casts attractive shadows on the walls.
For the siding, you can go for a neutral pale yellow color like the Benjamin Moore Aura #305. Then choose a neutral shade for the trim, which is the exterior White #01, that can tie the entire look together.
Finally, you may want to plant some evergreens on the front lawn to create a homey and refreshing environment. One idea is to use Domestica Mandena as they can bloom all year long and grow beautiful red berries.
10. Build Handcrafted Roof over Door Entry with Wood and Period Detailing for the Ultimate Craftsman Home
One of the trademarks of a craftsman-style house is a covered front porch, which you can see in this picture.
The handcrafted roof over the door entry uses a mix of wood and concrete, while the steps themselves are made from the stamped concrete. The door is one of the Simpson doors from their iconic Craftsman collection.
In terms of paint color, you can recreate the look here using several shades from Benjamin Moore, including Hampshire Gray HC101 for the siding, Gray Mirage 2142-50 for the trim, and Cinnamon 2174-20 for the accent brackets.
For the main roof, you can use a mix of Shakertown cedar shingles and semi-transparent Cabot New Cedar. This will complete the look and establish an extremely charming exterior.
11. Create a Cozy Corner Entryway Featuring Extended Roof over Door with Antique Shoe Cabinet
The roof over this front porch is a simple yet stunning feature. It uses standing seam copper for the extension from the main roof.
You can create a cozy corner to greet you when coming home by placing some antique furniture and decor. For example, this vintage cabinet or shelf adds a lot of character to the house. You can also have a piece of statement chair on the side, as well as a basket of flowers.
For the front door, you can get this exact replica from Simpson Door Company, and it has been painted in a very dark green that almost resembles black. Don't forget to place a welcome mat in front of it.
We would recommend going for a very light color for the siding, or even white. Try Benjamin Moore's Capitol White for a clean finish that is bright and modern while still seeming effortlessly timeless.
12. Try a Curved Roof over Door Entry in this Gorgeous Black and White Home for a Timeless Look
Up next is a gorgeous black and white home that evokes both a modern appeal and traditional charm, thanks to the graceful combination of both features.
If you want to incorporate a roof design over your front door but do not want anything mainstream and commonplace, consider using a unique design like this curved shape. It is large enough to provide cover from the rain without obstructing the view.
To achieve that timeless look, you can use stamped concrete for the porch itself with a classic welcome mat. Maybe place a tall vase with a trimmed plant that can add a touch of sophistication too, which will balance the rest of the house really well.
It can also be a great idea to emphasize the plantings around the lawn as this will help set up a chill and fresh ambiance. Go for large trees or tall plants that can provide shade and cool air.
13. Go Large with the Roof over Front Door and Use Picket Fence for a Private Entryway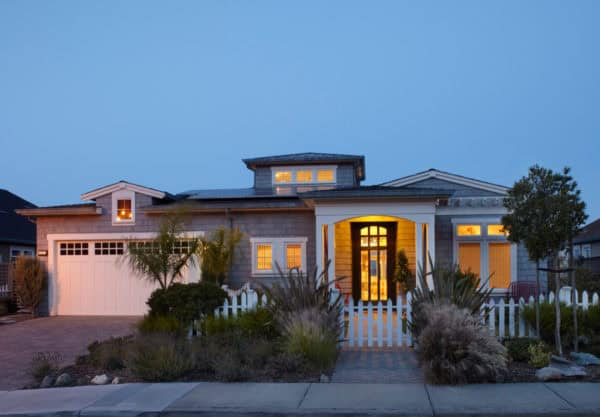 Another idea to complement a portico or roof over the door entry is to use a picket fence that can establish some sense of privacy in your front porch area.
For example, this house is a traditional grey house with plenty of white accents, a large, attached garage, and a spacious front porch. The white picket fence feels quintessentially suburban and is very charming.
Moreover, you can build even more plants around it to enforce the privacy of the space while still making it look appealing. The roof itself can be large enough that you have enough room to move around under the cover.
You can also get this front door from almost any contractor or builder you know. It is a craftsman style with stain grade, arched top with beveled glazing. Perhaps check out IWP Exterior Wood Door by Jeld Wen.
14. Build a Classic Contemporary Drive Featuring Minimalist Roof over Door Entry for a Fresh and Clean Exterior
Finally, we have one more example of a contemporary driveway that features a minimalist roof over the front door. Its simplicity might drive some people to consider this a canopy.
It is made of a steel plate using a drip edge, whereas the massive frame around the door uses Milestone, which is a cementitious plaster. You can have integrated infused light for illumination that is quite classy.
As you can see, building small roofs over the door does not have to be a huge and overly dramatic thing. This one is extremely small and unobstructed, yet it can still do the job of providing some shelter and improving curb appeal.
Closing
Ultimately, including a roof over the door entry will always help you get a charming look. You can incorporate a traditional or more modern design depending on the style of your home, although it's important to think about what would work well for the exterior.
Choose a smaller roof to elevate your curb appeal and provide a little bit of shelter. Or go for a bigger one complete with columns and a porch area if you prefer a more dramatic presence.
When it comes down to it, designing your home is all about knowing what your personal style is and how to express that through architecture. We recommend looking at different home inspirations and see what style speaks to you the most. Good luck!