Your living room is one of the most important parts of your house. It is where the household can sit together and spend a quiet evening, have fun with guests, or get cozy over a box office film. Oftentimes, this is where most people have their fireplace too.
Although fireplace designs vary from the traditional to the modern, or from gas to wood, one way to style it is to install some tiles in front of the fireplace. You can use this concept to create a contemporary or classic look, depending on your preference.
Using tiles in front of a fireplace can help elevate it as a focal point of the room. It is an excellent way to add more depth to the fireplace. Meanwhile, different colors, patterns, and materials can evoke dramatically different effects too.
Perhaps you are looking for new design inspiration to renovate your fireplace. If so, we have gathered 12 amazing photos of tile in front of a fireplace. Don't be afraid to get creative and make these designs your own!
1. Elegant Living Room with Tile Fireplace and Matching Tile Floors in Front of It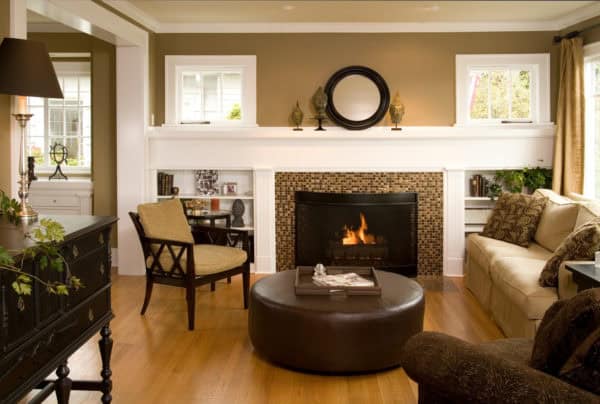 It is always nice to have an elegant living room that exudes a sophisticated appeal while still appearing cozy and warm. For example, this one features a black fireplace with a mosaic tile surround and matching tile floors in front of it.
The custom color mix consists of 1×1 tiles from Pratt & Larson, which are in randomized black, brown, and beige shades. This fits the color scheme of the rest of the living room with the beige upholstery, light brown couch, and dark brown furniture. It includes a leather ottoman which the owner got from Berhardt.
If you want to recreate this look, you can paint the walls in Bridgewater Tan 1096 by Benjamin Moore or Hazelnut from Devine. This dark shade helps establish a sense of comfort and security, which you definitely want at home.
Meanwhile, the oak wood flooring is a vintage from the 1920s. It can be great to preserve as many antique elements in your house if you can, as it creates some character to the overall design. However, if you're building or renovating a new house, just use regular oak flooring.
2. Contemporary White Tile in Front of Fireplace with Modern Walker Zanger Studio Moderne Hollywood Mosaic Surround
Our next inspiration comes from a brighter and more modern living room design, which features a fireplace with a light grey surround and white tiles. The mosaic surrounding itself is from Walker Zanger Studio Moderne Hollywood.
In addition, the stone tiles around the fireplace come from New Revenna. You can have some white tiles to match the white color, but the material of ceramic tiles makes this area easier to clean, unlike the natural wood flooring on the rest of the room, which can be stained by the soot.
To complete the look, utilize the fireplace shelf to showcase some vases or fine china. Try to choose white decor so you can create a monochromatic area. Match this with a white picture frame above, and you can capture the essence of contemporary style!
For the wall color, you can use Mindful Gray (SW7016) from Sherwin Williams. It's easy to choose matching furniture in neutral colors. Moreover, you can build a cozy reading nook beside the fireplace too.
3. Elevated Marble Tile in Front of Fireplace in a Bright and Airy Living Room
A contemporary living room makes use of bright colors and a variety of textures and materials. In this example, note how the textured wall complements the marbled coffee table, while the cozy rug and smooth stone pebbles add even more depth to the interior.
This interior paneling is a great way to incorporate an accent wall in your living room, whereas having this around your fireplace also draws the eyes towards this heat source. The fireplace itself features a modern take, where you can place different-sized candles instead. It works well if you don't have a functional fireplace.
Meanwhile, an elevated marble tile floor in front of the fireplace provides an added highlight to the feature. You can use this as a stage for your potted plants and other decorations.
While the living room embraces a mostly white and beige color palette, you can add some pop of colors too—for example, the orange upholstery on the unique chair.
4. Go Classic and Trendy with Travertine and Beige Tile Floors in Front of Luxurious Fireplace
A two-sided fireplace can be a great way to separate two different areas in your house, for example, the living space from the dining room. At the same time, it opens up space and makes it feel bigger as you are not closing off the rooms.
For the tiles in front of the fireplace, you can use chiseled travertine marbles while using beige tiles for the rest of the room to make it more seamless. Plus, the natural stone elements match the granite fireplace. It's a luxurious interior for a classic and trendy home.
You can hang a lavish chandelier, too, for the added opulence. The one pictured here is from Fuse Lighting. In addition, the chairs are from Christian Liaigre. The dark wood structure and light upholstery are examples of when modern and traditional designs meet.
5. Artistic Ceramic Tiles in Front of Red Brick Fireplace Surround in a Cozy Living Room in Benjamin Moore's Bennington Gray Paint
For our next design inspiration, we are looking for a cozy living room featuring a traditional red brick fireplace.
To uphold this old-school charm without giving up the appeal of modern architecture, you can install asymmetric wooden shelving that goes right across the fireplace. It provides an interesting detail to your home, and the wood material looks great next to the bricks too!
The floor in front of the fireplace uses artistic tiles. It also comes in a similar shade to the dark red brick surround, which creates the illusion of a seamless unit from the wall to the floor.
In terms of the wall color, check out Benjamin Moore's paint in Bennington Gray (HC-82) and Eggshell finish. It is a neutral and warm color to maintain the coziness of this living space.
Finally, as the finishing details, you can mix up the neutral tone by using flora upholstery on your armchairs, fun pillow patterns, and a translucent coffee tabletop.
6. Limestone Tile Floors in Front of Natural Rock Fireplace for a Breezy, Mediterranean-Inspired Home
Are you entranced by Mediterranean architecture and interior design? This photo will captivate you! The high-ceiling living room here features a gorgeous fireplace made from natural rock.
It has limestone tile flooring for the area right in front of the fireplace, while the tiles also run through the entire room. There is something very rugged and raw about this style, which is perfect for those who like connecting with nature.
For the walls here, they are coated in authentic Venetian plaster. The natural beige color fits the neutral and earthy tone. Meanwhile, if you have access to floor-to-ceiling windows, try to make the most out of them!
You can see a mirror above the fireplace, and the frame is actually a real antique piece. The glass on the mirror has been distressed, while the reflective surface is given a matte or faded finish to create an aged look.
Furthermore, you can get these chairs from Studiolo by Richard Shapiro. They are armchairs disguising as a regular long couch to add some pizzaz. The beautiful fabric drapes gently and fits the Mediterranean interior, while the white color enhances the airy vibe of the space.
7. Country Estate Living Room Featuring Stone Wall Fireplace and Indiana Limestone Tile Floor
It's time to show you how a stone wall fireplace can look absolutely stunning in a country-style house. This lakefront living room features plenty of open spaces, natural elements, and colors, as well as an attractive fireplace surround.
The stone used here is Hooper's Creek, which is a type of granite. You can use Indiana Limestone (full-color blend) from the Indiana Limestone Company for the flooring in front of the fireplace and all around. Combined with the granite wall, exposed pillars, and rattan couches, the room becomes an amalgamation of nature's gifts and modern aesthetics.
Moreover, the ceiling is painted in Sherwin Williams's "Fruitwood" Semi-Solid, so that the translucent effect allows the natural wood material to still shine. Meanwhile, the French Quarter with Yoke light fixtures is from Bevolo.
8. Clean White Tiles in Front of Cement Mosaic Fireplace, Featuring Beige Walls and Wood Flooring
There is something charming and cute about a beachside-inspired living room. Even if your home is not located by the beach, you can still enjoy the laidback vibes and bright mood of a contemporary beach house.
For instance, you can surround your fireplace with a cement mosaic in a classic pattern to evoke that playful ambiance. There is a similar design on offer from Rock Mill Tile and Stone (French Encaustic Demeter #3).
More importantly, the small area of white tiles in front of it comes plain, which contrasts well with the surrounding dark wood flooring and complements the beige walls and white paneling.
To complete the oceanic theme, you can install a wood fireplace shelf and have some exposed beams on the ceiling. This is an excellent way to bring in more of the outdoors inside.
9. Brown Tiles in Front of Classic Fireplace for a Rustic Chic Vibe Mixed with Modern Elements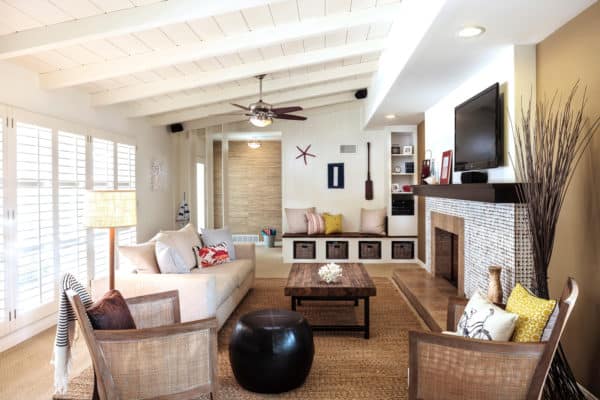 One thing we cannot get enough of is a rustic interior! In this beach-style living room with a rustic-chic vibe, the classic fireplace features some brown tiles to go with all the natural elements around the room.
These brown tiles can be elevated to provide a little separation between the fireplace and the rest of the floor. Moreover, we love how the natural brown blends with other wood furniture, including the coffee table and various woven decor.
The wood-woven chairs are the star of the show. Although we can't say where to get these exact models, it seems that Palecek or Crate and Barrel may have something similar. You can always check with your local furniture store too.
In a space like this, the finishing details are equally important as they can tie the room together, from having a ceiling fan and light combo, a massive woven rug, to colorful pillows that will add the right pop of style. In other words, just add a few touches of your personality in here!
10. Emerald Green Tile Front of Fun Mosaic Fireplace in a Historic-Style Homey Living Room
One of the keys to creating a homey living room is to incorporate warm colors and lights. The photo above encapsulates this well, especially with its brown-toned floor, walls, and furniture.
However, be careful not to be too monotonous, or you may end up with a flat interior that feels sparse instead of cozy. This is where adding a few pops of color may help, like with this emerald green fireplace.
You can see how the fireplace surround has a beautiful mosaic pattern, which complements the plain emerald green tile floors in front of it. It is not a bright color but vibrant enough to provide a dash of variety.
Meanwhile, the row of books on the built-in shelving unit flanking the fireplace can also be the perfect way to express your personal interests.
If you want to recreate the look and colors of this room, try painting the walls in Benjamin Moore's shade Oatstraw. It is a warm and light tone that can open up space. Plus, don't forget the light wood flooring and exposed beams on the ceiling.
11. Tuscan Wood Floor as Backdrop for Earth-Tone Tiles in Front of Corner Fireplace
Sometimes, a corner fireplace can be the right choice for your home. It can actually maximize your space as it makes the most of an otherwise useless corner area of the room. Not only that, it can create quite a cozy nook too.
In this photo, you can see how the colorful design around the fireplace is balanced out by the earth-toned tiles in front. Here, you can place some antique pots or an ancient urn to evoke that Bohemian design aesthetic.
This is another example of how you can build a room around a fireplace even when it is not fully functional. Just add some candles on pretty holders and light them up. Rest assured, they look just as beautiful as a real fire!
While this design can fit in the most traditional-styled living room, it is best paired with white walls and Tuscan wood flooring. This way, you can bring together the clean look from the white walls with the antique vibes from the wood, earth, and metal elements.
12. Gray Tile Accent in Front of Stunning Natural Fireplace in a Contemporary Living Room Design
Lastly, we are featuring a contemporary living room design that embraces modern aesthetics but still embraces some elements from the natural outdoors. It also appears like the owner here is inspired by international heritage.
The natural fireplace here has a stone wall surround, while the gray tile accent floor contrasts the dark wood flooring on the rest of the living room. You can also see a metal structure connecting the fireplace with the chimney, which adds a nice touch of industrial element too.
You can get a Moroccan-inspired rug to enhance the coziness of the space while ensuring natural lights can be a great way to make it feel open.
For the wall colors, check out Devine's "Whip" as the base and "Chopped Dill" for the greenish accent section. This green provides some added depth to the interior and works well with the trees you can see outside the window.
Finally, complete the space by placing a massive and cozy gray leather sectional sofa. In this case, "Script" is from Roche Bobois, a popular French brand designing high-end luxury furniture.
Closing
When it comes to decorating your living room, and specifically the fireplace, it is important to keep your personal style in mind. After all, the fireplace symbolizes warmth, comfort, and safety, the three essential things to have in your home. This is where your family can gather, and where you can spend time with your friends.
Not only that, installing tile floors in front of the fireplace makes it much easier to clean. It is because the material of most tiles, like ceramic, can be cleaned with a simple spray of water. Carpets can absorb the soot from the fireplace, while wood can stain.
Now that you have looked at these 12 varying photos and inspirations for tile in front of a fireplace, we hope some of them have inspired you. It's okay to combine elements from the different examples to create the perfect design for yourself!