The entryway for a log cabin can set the tone for the rest of the building. It evokes a sense of what waits inside, especially for those who come to visit for the first time.
Are you looking for the best log cabin front doors that you can use to implement in your own home?
Well, our favorite thing is to ensure that the front door reflects a welcoming vibe that can make your home feel like an inviting and cozy place.
Log cabins originate from the ancient architecture style in old-time Europe, referring to a less finished structure that is made of wood.
These houses are usually small and secluded, but modern trends have adapted this style to fit with a more contemporary application.
Whether you are decorating the entryway of your vacation house or full-time home, a log cabin-styled front door can evoke the ultimate rustic feel and give so much character to the space.
Without further ado, here are some of the most beautiful examples of log cabin front doors. Let's get started!
1. This Log Cabin Looks Quintessentially Rustic with a Medium Wood Front Door
First up, here is a photo showing a beautiful and rustic log cabin entryway that features a medium-toned wood front door. It has that quintessential rural look that provides such a cozy welcome.
The door itself is made of pine that has been stripped and re-stained in a natural finish. In fact, it is actually an old door dating back to the 1860s, which is an excellent example of how you can reclaim any old door and repurpose them.
Not only does this recycling allows you to be more sustainable, but the antiquated look also actually gives this front door a very authentic and rugged look. This is not something you can get with a new door, even when it's styled to look original.
To complete this rustic entryway, you can get some wall lights from Bevelo. These are a variant of the iconic "French Quarter" fixture and produce a warm glow that is quite fetching.
2. Incorporate Tree Trunk Columns that Add Drama to Your Log Cabin's Double Front Doors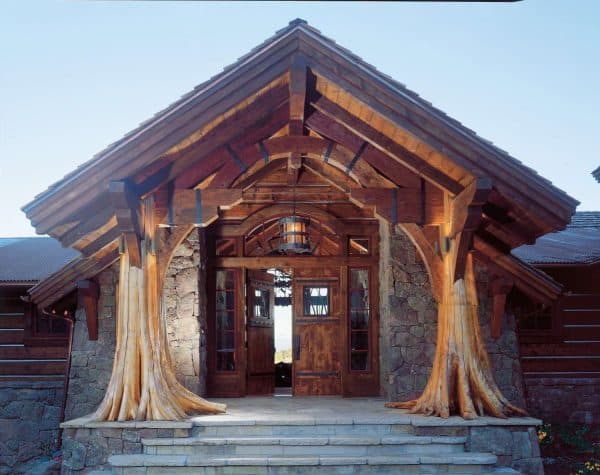 This next entryway doesn't take its architectural charm lightly. You can see how using real tree trunk columns as the pillars and foundation for this log cabin's porch adds drama and a showstopping factor.
This shows that there is no limit to creativity when it comes to styling your home. Be bold and be experimental, and your efforts will pay off. The door here is a double front door with a rugged wood surface and glass panels.
Designed by RMT Architects, the entire door system also incorporates the timber truss design for the countryside and medieval feel. It's upholstered by the authentic stone walls and flooring too.
In terms of the old-school lantern hanging above the front door, this is from the one and only hammerton.com. It has a simple and Gothic vibe, especially with the metal accents that you can see.
We also love that the roof extension plays on the dramatic ambiance of this entryway. Not only that, but it also provides a comfortable shelter from the rain and heat.
3. Use Salvaged Wood for the Front Door of a Traditional Stone Exterior Log Cabin
Our next design inspiration also features salvaged wood to create a stunning and traditional front door. It's a great way to be sustainable while still creating a chic log cabin exterior.
The door that you see here is from a salvage yard. It has been stripped and restored to maintain that authentic and old-school look. At the same time, it also gives the home a unique and one-of-a-kind vibe that can never be replicated by anyone.
This is another appeal of restoring old wood and furniture!
The house itself has a traditional stone exterior and exudes an attractive log cabin charm. With the gravel driveway, stone steps, and beautiful landscaping, you may notice that this house blends really well with its surrounding.
In addition to the front door, the garage door to the right of this photo is also quite stunning. It is a simple wooden door with green trimming, which is perfect for adding a subtle yet unmistakable pizzazz to the whole design.
4. Make a Rustic Entry for Your Log Cabin with Arched Double Front Doors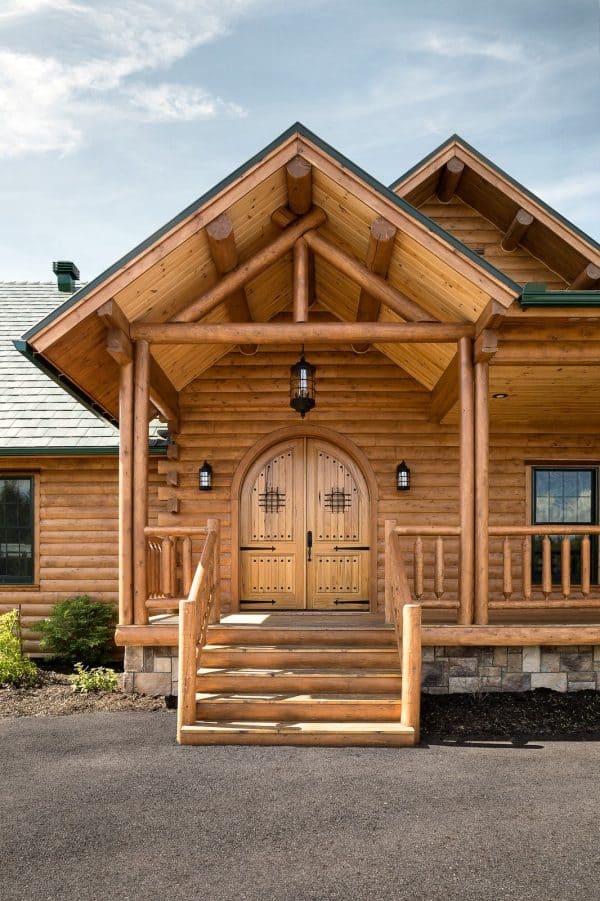 Next, we have a rustic entry that is perfect for any log cabin, including yours! This one features an arched double front door, where the soft and rounded corners infuse a hint of modern design.
When it comes to the details of your entryway, using lights is always a great idea.
For example, this light pendant is a gorgeous piece with a Spanish Iron finish that captures the smooth grace of intricate craftsmanship. You can get the same model from Minka Aire.
You may notice that the roof here is asymmetrical. It can be great if your patio extends one way, and you have an extra space for placing outdoor seating. Breaking the symmetry can sometimes be the right choice!
5. Jazz Up a Light Wood Log Cabin Front Door with Plants and a Simple Chair
Are you wondering about the best way to furnish your log cabin patio so that the front door looks stunning while creating a welcoming and aesthetic ambiance?
Our number one tip would be to place a simple chair or seating area where you can sit down and enjoy the fresh air. For instance, this light green chair fits well with the mountain style of this front porch.
Not to ignore that the front door is a centerpiece in itself!
As you can see, there is an intricate carving that has turned the simple door not a work of art. It features portrayals of the mountains and wildlife, which reflect the overarching theme nicely.
Plants can also be a great addition to the space. This is because something as simple as potted greeneries can elevate any area to the next level and add a touch of life to it.
We love that the brown pots here also contrast the light wood color of the door and siding while still adhering to an earthy tone.
6. This Antique Log Cabin Front Door Looks Cozy and Rustic with Additional Seating
One of the first things that may catch your eye about this cabin entry is its unconventional shape. Yes, you can always go for a more rounded patio instead of the standard rectangular porch.
This adds some fresh interest to your architecture while evoking a cozy and homey atmosphere. The antique front door itself is a simple wooden door that matches the overall tone of the log cabin, whereas a few lanterns provide warm illumination.
But what has truly set this patio apart is the various seating available. It turns the entry into a comfy space where guests can wait, or you can enjoy the outdoor environment. This includes the outdoor chairs and bench placed under both windows.
If you want to brighten up the space even more and add a hint of color to an otherwise brown and grey exterior, you can place some flowers too! Use a vintage bucket or pot to jazz up the scene even more.
7. Choose Sinker Cypress as the Log Cabin Siding that Enhances the Single Front Door Design
This single front door design depicts a charming entryway where a rocking chair nestles cozily next to the front door. It provides a nice spot to relax and chill.
It truly is a perfect mountain-style home that will help you feel invigorated and one with nature. Brilliant for those of you who live in or near the countryside.
Moreover, you can also notice that using driftwood timbers and warm lighting can help establish an inviting ambiance. They evoke a welcoming vibe that will immediately make your home feel so much more grounded.
The home itself uses sinker cypress clapboards that have not been stained. Instead, natural weathering can give them an authentic silvery and greyish look, which is so much more rugged and rustic.
What's more is that the sinker cypress is used not only for the siding in this log cabin, but also the trims and furniture, and even the spiral staircase that you can see inside!
8. Don't Skimp on Flowers and Greeneries to Brighten a Log Cabin with Green Front Doors
We have mentioned that greeneries and flowers can elevate any entryway and make them come to life. The vibrance of natural plants is truly irreplaceable, and this log cabin shows exactly that.
This craftsman cabin home has a stunning front door in the most gorgeous shade of green, which goes well with the brown siding and turquoise rooftop.
We love this combination of earthy colors that induces a relaxing environment.
To bring attention back to the gorgeous flowers here, you can see that the variety of plants around the patio and yard area produces a thriving atmosphere.
From hanging pots to bushes and garden landscaping, don't be afraid to plant as many greeneries to decorate your home.
9. Complete a Lovely Brown Log Cabin with Green French Front Doors
There is something very special and attractive about French doors, especially because the glass panels form a huge proportion of the door structure.
If you are building a log cabin, these doors can be great as they help you blend the indoors and the outdoors while letting natural light flow freely into the home. It's an easy way to make the space inside feel so much larger and more open.
The front door itself has a toned-down green color that complements the brown logs beautifully for an authentic and relaxed feel.
This is a small and simple log cabin, so you would want to embrace natural colors that can easily blend with the surrounding nature.
10. Embrace the Mountain Inspired Log Cabin Using a Rustic Wood Front Door
When building the ultimate mountain-style home, you should almost always go for stone and wood facades, which include wood paneling and log accents.
For instance, this log cabin features a medieval-esque wood front door with metal strips. It fits nicely with the rustic theme that is created by the combination of different natural materials.
We love the simple pendant light that hangs from the ceiling of the patio, as its small glow provides a subtle but impressive warmth.
Meanwhile, you can use stone slabs for the flooring and complement that by placing large boulders on the side of the entryway.
Another reason why you might want to use a mix of materials and let their natural textures and finish shine is to produce an authentic pastoral look.
11. Go Rustic with This Teak-Stained Log Cabin Front Door and Warm Pendant Lights
Next, take a look at this unique wood cabin front door, where the yellow pendant lighting really brings out the warmth of the logs and wooden door. The vibe is super welcoming and maybe what you are looking for.
The door is finished with PPG ProLuxe Cetol Log & Siding wood stain in Teak, as are the trim and logs in this patio area. You can then place the classic brown welcome rug below the door for a quintessential appeal.
The logs used for this home are quite large and bold, which evokes a modern and rural vibe at the same time.
Plus, we adore how the brown wooden flooring looks very fitting for the design. It matches the brown front door that is also complemented with geometric glass panels.
12. Place Rocking Chairs on the Patio for a Humble Log Cabin with Double Front Doors
We love rocking chairs, and this photo will show you why.
Not only are they fun to sit in and comfy to relax on, but the rounded silhouette of these chairs often makes for a homely and cozy countrified ambiance.
You can see that this simple log cabin has a stunning patio, where it becomes an excellent spot for resting and enjoying the view.
The double front doors have a transom above, which is great for letting in natural light.
This mountain-style cabin is excellent for a simple retreat or even your home, especially if the setting is lush and mountainous. Indeed, the rugged wooden color and stone facade of the building can look right at home in such environments.
13. Build a Striking Log Cabin Featuring Glass-Paneled Front Doors and a Stunning Raised Patio
We have seen plenty of one-story cabins and homes so far, but we have here is a two-story rustic house exterior that features massive logs and homely yellow lighting.
From the get-go, you can see that this home features a striking front door with large glass panels. This can help you create a home that fuses the indoors and outdoors as it allows you to see inside while also allowing natural light to flow freely.
Meanwhile, you can see that there is a sliding door on the balcony of the second floor, which goes well with the theme of glass-covered doors and windows. Another feature you might love to have includes the stone steps leading up to the raised patio.
And, of course, not to ignore the yellow lights throughout the exterior! From the roof to the walls, these pendant lights can help establish a warm glow that will make your log cabin feel so much more inviting.
14. Consider Using Log Accents to Flank Your Log Cabin Front Door for a Timeless Patio Appeal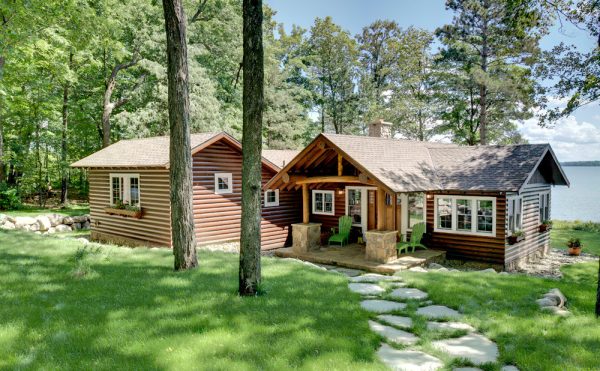 Last but not least, here is a one-story log cabin with a rustic exterior and beautiful brown floor and door. It has the humble appeal of a simple home which will look perfect for a riverside or mountainside abode.
The windows are Pella Proline, and we love the thick white trims that juxtapose the darker tone of the logs used for the siding. It is a classic way to highlight the architectural structure of your home and create crisp lines throughout.
Another feature that we adore from this exterior is the log columns flanking the front door.
Known as log accents, you can get them from your local lumber supplier and use them to create a timeless frame for your entryway.
Closing
In short, choosing the right front door for your log cabin does not have to be a complicated task. It can even be fun and an excellent way for you to create the best first impression for guests and passers-by.
We have tried to include a wide array of design styles and alternatives, so that hopefully, you could find the perfect inspiration for yourself!
As always, we encourage experimenting with new colors, materials, and textures. Don't be afraid to try styles that you have never tried before, and you might just discover a new way of decorating exteriors that work for you.
Best of luck!