It is always great to have a white house with black windows. It is because the combination of neutral colors is never out of style.
Those colors can be applied in any design, especially black windows. Black windows can enhance the luxury of the house because black is often associated with glamor, opulence, and grandeur.
No wonder black windows are more expensive than white ones, and other colors too. They give a great upgrade to any house.
There are several ways to achieve black windows. You can install the dark bronze windows, or you can even paint the wooden frame windows in black.
Actually, painting the window frames black is a trend now. Though black windows aren't a new trend, it is timeless.
There are many ways to dress black windows as well.
You can pick any decoration based on your house's architectural style. It depends on the purpose of the windows too. Selecting the right windows for the amount of ventilation needed is also important.
If you want some inspiration to remodel your house in white and black windows, here are some ideas you may want to look at.
1. Two-Story Wood Exterior White House Equipped with Metal Black Windows
This mid-sized traditional white two-story house looks elegant in metal windows.
Look at those stylish windows. They are double-hung windows from Marvin Integrity Windows, ultrex-wood version.
The frames are bronze. The metal frames windows combined with huge glasses are really stylish. They provide a large amount of ventilation to the rooms.
Now, look at the white siding of this house.
If you think the siding is vinyl, think again. The type of this siding is actually Hardie and cedar shakes. They are considered more expensive but more durable than vinyl siding.
The color is Benjamin Moore White Dove. It is a semi-transparent stain on the shaker town shingles.
The black metal windows are quite similar to the color of the asphalt shingle. It is from GAF Timberline HD in charcoal color. This charcoal color is the closest to black color.
The front door is also black to match the window frames and shingle. The front door is from Simpson doors. It is Fir with a dark walnut stain. The lumberyard is in Minneapolis.
And for the stone, it is a Chilton Blend of Limestone. The stone is also hand laid. It is traditionally set on a foundation brick ledge.
2. Modern Colonial White House and Huge Elegant Black Windows
Black windows are also great in a modern colonial elegant house like this. These windows are from Marvin Integrity Windows. They are mainly double-hung type in this house. The color is black-clad, ebony.
Unfortunately, there is no detailed information about the color of this house's exterior. However, if you want a similar color and type, you can choose Hardie and cedar shakes siding, painted in Benjamin Moore – White Dove OC-17.
The roof is also matched with the window frames. It is Tamko 30-year asphalt shingle in black color. The flat roof over the porch is a rubber EPDM roofing material with a black metal scupper.
The front door's color is also well mixed with the windows' and roof's color. The front door is a swing door. Similar to the windows, all doors (swing patio door, sidelight, and front door) are also from Marvin Windows.
All of the exterior look is enhanced by the beautiful pendants. The front porch pendant lights are radiating warm and inviting light. They are Chart House "Elsinore" Hanging Lantern in black color.
3. Classy Aluminium Black Windows in an Elegant Transitional White House
This house is a perfect example of a mid-sized transitional wood house. The exterior paint color is Dunn Edwards Whisper White 3115. This color is perfectly matched with the window frames and the door. The windows and door are black aluminum.
The standing seam roof is also beautiful. The color blends seamlessly with the overall exterior of this house. Those roof panels are Kynar painted aluminum.
Actually, installing the roof of this house was quite a job. The sheet metal contractor bought a large coil and bent all of the material all by himself. It really took a long time, but the result was remarkable.
The exterior of this house is accentuated with the beautiful plants in the front gate. They are from Senecio, while the succulents in the self-watering pots on the stone columns are Echeveria and Graptopetalum.
4. Contemporary Classic White House Finished with Modern Black Windows
A transitional white house like this is quite common to be painted in white. It has a contemporary classic look, with a nice combination of black and white. The white color of the exterior is Sherwin Williams Pure White.
The window frames are metal. They are dark bronze. Accentuated with blinds, these windows look classic and timeless with black metal frames and white blinds. The black windows are matched with the hip roof.
This house actually has two types of roof; a hip roof and a shingle roof.
Stunned by the front door?
Unluckily, it is readily available. The front door was custom-made by Doors and Accessories in Houston, Texas.
The front door, like the standing lantern, is a beautiful decoration in this house exterior. No information about the lantern, but you can purchase a similar product. It is Sea Gull Lighting 1-Light Outdoor Post Lantern, A19/100W.
5. A Large Tudor House Painted in White and Decorative Black Wood Windows
The exterior of this house is beautified by Hardie board siding and MiraTEC trim. Its decorative metal railing on the porch, its landscaping, and the concrete paver driveway complete the beauty of this Tudor house. The brick, siding, and trim seen in this picture are all Sherwin Williams Gossamer Veil.
Gossamer Veil is actually a light grey color. However, under the sunlight, the color turns to be a creamy white. This choice is perfect if you don't want to have a standard white color, like Sherwin Williams Extra White or Benjamin Moore White Dove.
The windows, unlike the other pictures above, are not metal and dark bronze. These windows are wood and were painted in Tricorn Black by Sherwin Williams. It provides a great contrast with the all-white siding exterior.
6. Victorian Dark Wood Windows in a Lovely White Cedar House
This victorian-style house looks classy and elegant, especially in a combination of neutral colors.
The exterior paint on the main part of this house is white. To be precise, the shingles are plain Eastern White Cedar Shingles from Maibec, treated with Cabot Bleaching Oil. For an alternative, you can use a similar trim color in Domino 6989 by Sherwin Williams.
The black trim is wood. It is painted with Sherwin Williams "Duration" exterior latex paint (Black) semi-gloss. The soffit and facia are also painted black to match the window frames.
And for the decoration, there is a sitting space with an umbrella. The umbrella is a 9' Bronze Auto-tilt Crank Aluminum Umbrella in Beige Pacifica. And the sitting set is from GDF Studio Spanish Teak Finish Acacia Wood Dining Table.
7. Inspiration for a Country White Wood House and Stylish Black Windows
Need inspiration for a country house painted in white?
You can check this house out. This house has a wood, board, and batten exterior completed with a metal roof.
There is no exact color paint for this house because the exterior paint colors were custom mixed. But the white-white exterior, a silver-toned standing seam metal roof, and a bright red door are totally a classic combination.
The metal roof is not painted, but it is a galvalume clear-coated roof.
Did you see the little circles on each of the roof's standing seams?
They are actually snow guards, another term for snow cleats. Snow boards are helpful to keep snow and ice from falling. They help protect passer-byes from having snow fall on them, and also keeps the snow from building up.
8. A Small Cozy White Siding House with Modern-look Black Windows as the Accent
Need inspiration for a country white two-story wood house?
This house surely can inspire you on so many levels.
The exterior of this house is wood siding and painted white. The color is Farrow and Ball All White. The white look looks perfectly fine with the black trim, especially on the window's frames. The black color is Sherwin Williams Iron Ore. The windows are made by Pella.
The shingle roof is also black to match the windows. It provides great contrast with the white siding. Those shingles are GAF Timberline HD in Charcoal color.
The front porch ceiling is not painted though. It is stained cedar. It may not look so visible because the header is hiding it all though.
The combination of black and white in this house is harmonious. The amount of each color is perfectly balanced.
There is no added accent color or no slight of bold color in this house exterior. It makes the overall look of this house is classic and contemporary at the same time.
9. A Simple and Crisp Look with Contrasting Color of White House and Black Windows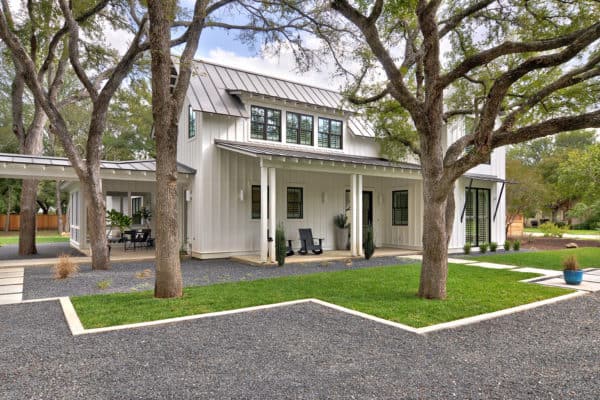 This simple design does not only look crisp, but it is also eco-friendly. It has a great contrasting color that really accentuates the existing trees.
The owner of this house had no interest in any sort of gardening, so the landscape architecture only planted mowed grass and trees in the garden area. But it turns out that the landscape looks more modern because of its simplicity.
If you like the landscaping here, you should see that the edging here between grass and rock combined with the rock itself look simple, modern, and clean. The edging here was concrete with Tejas Black gravel.
The metal roof combined with white concrete fiberboard, board, and batten exterior may look pale at first. But combined with the black accent from the windows, the house exterior looks classy and elegant.
The main exterior of this house is painted in Sherwin Williams SW 7005 – Pure White.
10. Glass Windows with Aluminium Black Trim Contrasted with White Painted Brick House
This large contemporary house has a stylish stone exterior finished with a metal roof. The stone used in this exterior is painted brick.
However, the brick was painted in a custom color. It was purchased from Packer Brick, Rockwall, Texas. The crisp white of the stone looks beautifully contrasted with the trim of the door and windows.
The windows and doors were purchased through National Window and Doors.
The windows are Dark Bronze Quaker Thermal Break Aluminum windows. The doors are also aluminum-clad. The aluminum doors and windows are the perfect choices if you want something strong and durable.
Compared with vinyl, an aluminum window is stronger and more durable. It also offers structural benefits because of its build strength.
If you want a window that has much protection against the weather through its bigger glass, aluminum windows are highly recommended.
The roof in this house is a standing seam roof with standard paint grip steel. It is not painted. However, its natural pale color looks pleasant combined with the white-painted bricks. It looks even more cozy and homey due to its warm pendant lights.
11. Old Town White Farm House with Black Clad Wood Windows
This mid-sized two-story cottage has a white painted wood exterior that makes it fall perfectly into the category of a classic farmhouse.
There is no information about the paint color used for this house's exterior. However, you can always rely on Benjamin Moore – White Dove or Sherwin Williams – Shell White.
You may think that the windows were painted black. Actually, they were not painted at all. They are aluminum-wood windows by Semco. It adds some extra elegance to this traditional farmhouse-style home.
Now about the deck, the patio is a concrete system over a sloped waterproof barrier. It is a paver system and the water slopes to a drain that brings water down internally. It is equipped with a sloped EPDM roof under tapered sleepers and decking. This deck is also a 4" concrete slab over drain mat, over a sloped TPO roof, over dens deck over tapered rigid insulation on plywood.
The garage door looks classic too. It is an off-the-shelf door sided and glazed locally in Steamboat. This door blends harmoniously with the white painted wood exterior.
12. Painted Brick House in Shell White and Black Bronze Color Windows
What an elegant beige three-story brick house!
The exterior of this house was painted in Sherwin Williams – Shell White. So it means bricks and mortar were painted. The weeping mortar has to be done when the brick is installed. Otherwise, it would probably just fall off because of weather conditions. The brackets were custom-made by a local metal shop. They were not painted black. They are all bronze.
The door and the windows are contrastingly black. The door is a very dark ebony stain. The gutters and windows are bronze in color. Keep in mind that they were not painted. The trim is a satin finish that looks glossy enough to reflect the sunlight.
The type of these windows is Jeldwen double-hung and casement, the sightline EX series in Bronze finish cladding. The muntins are simulated divided light and are 5/8" with a spaced bar between the glass.
The roof is GAF shingle in dark charcoal color. But you need to remember that that color will fade over time. So it is highly recommended to go darker when it comes to the black roof.
13. A Classy Traditional White House Exterior Accentuated with Dark Black Windows
This timeless traditional house looks clean and polished, thanks to its white exterior color. Unlike the other traditional black and white houses, this building does not only have black and white but also gray as the accent.
The siding of this house is Hardiplank. It is painted in a beautiful white color. Here is the detail of the color used in this house exterior. For the siding, the color is Benjamin Moore – Chantilly Lace OC-65. The louvers and front door were also painted too. The color for both is Sherwin Williams – Hitching Post Black DCR 108. FYI, the door is custom-made by a local craftsman. The foundation and window trim color is Sherwin Williams – Ellie Gray 7650. The windows are Ply-Gem aluminum clad, while the iron railings were custom-built locally.
The black metal roof also plays a big part in this house's color combination. If you think the black, white, and gray combination is too ordinary and pale, think again.
The all-white siding, combined with black window and railings, plus grey foundation and window trims, delivers a harmonious design for a classic traditional house. Each part of this house exterior is also made extraordinary by the beautiful lighting fixtures. They are Hinkley Lighting – Atlantis, and can be ordered through Ferguson.
Closing
From the examples above, we can conclude that the combination of black and white house exterior is perfect if you want to achieve a simple modern minimalist look.
You can make the combination look extra with a touch of accent color or a glossy finish. When combined with shiny black color, the crisp and polished white look will add some luxury to the house exterior, no matter what style you prefer.
However, you should be careful with paint colors. Most of the examples above stated the paint colors used in the house. But even if you have the exact similar paint color with one of the house inspirations above, the result may be different from the picture. It is because the specific lot and the specific lighting will change the color sometimes dramatically.
Tips:
Paint a large sample in an area that will receive direct light and shadow.
Look at it at different times of the day.
Don't be afraid to try different colors that are subtly different.
A little color goes a long way, and this is a decision that hopefully, you will live with for quite some time! So, take your time to choose the right paint color. It may or may not be the same as the paint color stated in the picture. Good luck with redesigning your house.