Those wanting to renovate their outdoor space could benefit from building an irregular bluestone patio.
The main benefit of using bluestone is that it's extremely durable. If you seal and maintain the stones properly, they may last you up to a decade! Not to mention that they're resistant to sudden temperature changes, especially the cold.
When creating your own bluestone patio, the irregular shapes and sizes are perfect for evoking a sense of variety and natural ruggedness. You can use this for the patio flooring for a charming landscape.
Don't know where to start when decorating your patio? Worry not because we have compiled 13 of the best inspirations that may be just what you need.
1. Create a Traditional and Tranquil Mood Using Irregular Bluestone on the Patio and a Fire Pit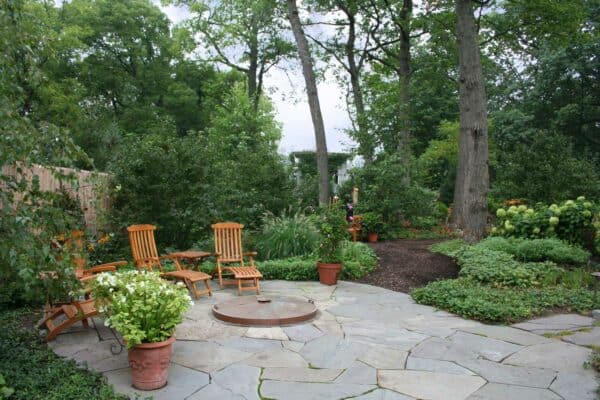 For the first example, here's an idea for how you may be able to create a peaceful and traditional mood in your irregular bluestone patio.
The 2¼-inch irregular bluestone surrounds a recessed fire pit, providing an even more cozy atmosphere. You can see that there's a custom-made copper cover for the fire pit, which offers protection when you're not using it.
Meanwhile, there's also a seating area with some wooden reclining chairs from Teak Deals, as well as some flower containers.
These add more color and life to the space, especially when there is already such a lush landscape from the surrounding trees and plants.
In this home, the woodland mulch path forms the perfect transition between the house's areas.
And while there is no cover for the patio itself, the verdant trees provide enough shade from the harsh sun. This also means you can easily enjoy the cool outdoor breeze.
2. This Irregular New York Bluestone Patio Features an Outdoor BBQ and Dining Set for a Scenic Area
Up next, we have a scenic patio overlooking a beautiful lake. One way you can make the most of this landscape is by placing an outdoor dining area with a BBQ grill.
We love how the irregular New York bluestone creates such a rugged and authentic feel for the flooring. In between these flagstones, you can use a material known as GatorDust, which is a unique mixture used to bond stones on a patio.
The furnishing itself can be something simple and neutral, so that you will not take the focus away from the environment. Instead, your patio is just a beautiful complement to the area's natural charms.
Another detail that we love about this design is how the BBQ grill is built with some cupboards and a storage area. These provide the perfect place for storing cutlery and plates, so that you can easily throw an outdoor meal.
3. Try an Irregular Bluestone Patio with Clay Brick Insets and a Wall Stone Retaining Wall for a Natural Vibe
Sometimes, all you want is to have a relaxing outdoor spot where you can invite some friends over. This classic patio design features irregular bluestone and a small arbor.
The irregular bluestone patio has clay brick insets and patterned bluestone borders, which form a colorful base that is still neutral and timeless.
We love that these colors match the wall stone retaining wall, which is a natural 8-inch dry laid limestones capped with mortared Indiana limestone.
Moreover, the arbor here is still empty, but the homeowner's plan is to plant some fast-growing Blue Moon Wisteria. They are a super hardy cultivar that will make your patio feel even more Zen and visually aesthetic.
In terms of the furnishing, you can simply place some dining tables and chairs, like these outdoor bronze ones. Go for a more muted and neutral color that can easily match the rest of the design.
4. Use Various Colors of Irregular Natural Cleft Bluestone and a Pergola for a Craftsman-inspired Patio
There is nothing more exciting than having an outdoor pizza oven on your patio. We recommend complementing it with some irregular bluestone and a pergola, so you can evoke a craftsman vibe.
Here, the patio uses irregular natural cleft bluestone in its full natural range of colors. These include blue, gray, rust, green, and brown, all of which come together for a subtle yet deep appeal.
The stones may not come fitted when installing your own irregular bluestone for the patio. This means you have to chisel and saw cut each piece so that they will fit tightly to a sporadic or random pattern.
Moreover, to complete the space, you can add multiple tables and seating so that it will be easy to host parties and gatherings.
There are enough seats here for a large group of people to be comfortable. Not to mention the pergola that adds character and shade!
5. Combine Irregular Bluestone Patio with Lush Landscaping for an Elegant Pool Deck
This next photo can provide the perfect inspiration for those who want simple and elegant patio decking. The deck is stripped back with minimal furnishing and features a lush landscape.
The patio itself uses blue grade irregular bluestone, which is hand cut directly to create consistent grout joints while still maintaining an irregular pattern.
We love how the white grout offers a charming contrast and introduces a sense of crispness too.
Keeping the furniture to a minimum is a great way to highlight the plants that you've chosen and the pool.
Here, all you need is a couple of wooden loungers with a white cushion. They are there if you want to use them but won't disrupt the visuals of this patio.
Of course, the highlight is the colorful and vibrant landscaping. Your best bet is to hire an experienced landscaper so you can create the ultimate combination of flowers, bushes, grasses, and trees for an enchanting little garden.
6. Set Irregular Bluestone on Stone Dust for a Traditional and Classic Patio Design
It's difficult to screw up a traditional and classic patio design, which means it can be the perfect way to complement any outdoor space, no matter what style your house is in.
The patio here is made from irregular bluestone set on stone dust. The stone dust is also set on 1 foot of crushed stone for drainage. You can see how the overall look of the bluestone makes for a lovely surface in this open space.
There are some steps and pathways leading up to this area, and the grey color is a beautiful contrast to the brown from the earth and green shrubs.
You may notice that the patio here doesn't have any furniture and seating because it serves more as a nice clearing, but you can easily place some foldable chairs if you ever decide to host an event!
7. Lay Out Irregular Bluestone with Plants for a Dreamy Patio Next to a Cozy Wooden Deck
Here's another really great idea for an irregular bluestone patio.
Lay out your stones with plants to fill in the gaps so you can create a dreamy look as if it is plucked out of a fairy tale! This elegant visual is perfect for all sorts of exterior styles, including a traditional one like this.
Furthermore, to juxtapose the natural vibe of this patio with its natural stone and verdant greens, you can see that the manmade deck in an L shape looks quite striking next to them.
But it is also made of wood to further keep that nature-centric inspiration.
Feel free to place some outdoor furnishing here if you want, such as a rocking chair or small bench. Or you can simply leave it empty to highlight the patio's appeal even more.
8. White Adirondack Chairs Look Stylish on an Irregular Bluestone Patio with a Round Open Fire Pit
While traditional patios can be great, it also doesn't mean they have to be boring. In fact, the following example shows you a classic design that is still chic and stylish but will not go out of style.
The patio uses large irregular bluestone laid out in a random but neat pattern, while the bigger size of these stones means you can evoke a cleaner and crisper look overall.
The focal point here, of course, is the open rounded fire pit, which provides a lovely decoration as well as function.
There are also the white Adirondack chairs placed near the fire pit. This can be an excellent spot for enjoying the air outdoors.
You can make it appear even more elegant by planting the right greeneries, such as these striking red flowers!
9. Build a Timeless Patio with Irregular Bluestone and an Industrial Steel Fire Pit for a Homey and Comfortable Atmosphere
In this new patio, you can see how a steel fire pit on irregular bluestone can evoke a charming industrial ambiance which might be what you need to elevate your private outdoor space.
The fire pit measured 40 inches in diameter and was created by an artist.
This is an excellent way for anyone who would like to showcase something unique on their patio. You can then place some chairs around the fire pit for a quick and cozy spot for hanging out.
In addition to these two wooden chairs, it can be worth creating a second seating area so that you can invite even more people over. Plus, placing an outdoor grill can also be a huge benefit as it gives you a fun way to enjoy your new patio.
Meanwhile, the patio itself has been raised with fieldstone boulders while using irregular bluestone for the surface. This creates the ultimate homey and comfortable feel, which you definitely want to have in a home!
10. Use Warm Lighting and Plants to Make the Ultimate Cozy Ambiance on an Irregular Bluestone Patio
One easy way to transform any outdoor space like a backyard patio is to use warm lighting, which will immediately create a cozy ambiance once it gets dark out.
As you can see, the lighting here provides a gorgeous and dramatic illumination that also evokes a luxurious feel.
In terms of the bluestone element, this beautiful patio uses irregular bluestone to give the garden patio a natural organic feel. It looks great for an urban lawn and smaller spaces because they have a light visual vibe that helps your patio seem more sizable.
We also love that the two wooden sun loungers fit really well in this small, enclosed space.
This is because their brown color looks great against the grey stones. And the simplicity of their design is also a way to tie in the whole atmosphere together.
Finally, it is an excellent idea to frame it in the back with a curved retaining seat wall, which will provide more seating while also adding fun and dynamic style.
You can also use different plants and flowers to ensure a vibrant and lively environment.
11. Go for a Large and Spacious Feel Using an Irregular Bluestone Patio and a Copper Fire Table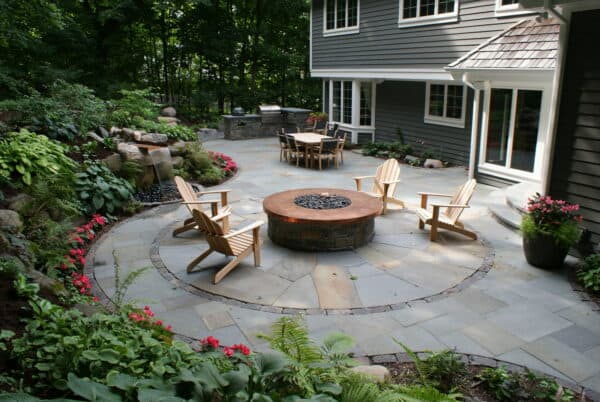 This is a slightly bird's eye view from on top of a fieldstone wall looking upon this lovely patio in the backyard of a craftsman-inspired house.
The first feature that may have caught your eye must be the copper fire table, which looks quite eye-catching amidst the other furniture and plants here.
The copper color is also a stark contrast against the grey stone and light brown chairs.
In the meantime, the irregular bluestone patio is arranged so that the lines radiate from the heart of the fire table, creating a stunning pattern that is subtle but still adds so much depth to this space.
Another thing that we adore about this design is that it has a soft and rounded appeal, thanks to the curved outline of the patio.
Surround the main area with some pebbles and large river stones as well as ample greeneries. This will easily turn your yard into a magical garden!
12. Build a Freeform Pool to Create an Outdoor Oasis Amidst the Irregular Bluestone Patio and Luscious Plantings
If you have enough space in your yard, it may be a fantastic idea to build a freeform pool that will allow you to create your own outdoor oasis, while the round, curving shape can evoke a funky vibe.
The patio here is constructed out of irregular cut bluestone and Grey Tennessee Crab Orchard to match the curves of the pool design. What you get is a truly stunning area where the manmade elements enhance the beauty of the natural features.
For example, there are multiple seats across this space, including two outdoor dining tables and chairs. There is also a white pillar as part of the house's structure, creating a crisp contrast with the rest of the color scheme.
You can definitely feel the tranquil sensation from the moment you step into this space. That is one of our favorite things about letting the surrounding nature take over, so you don't really have to do much to evoke a relaxing vibe.
Although, it's also possible to hire a landscaper and buy trees to create a lush landscape like this.
13. This Serene Patio Features Irregular Bluestone Flooring with an Attractive Water Feature and Perennial Borders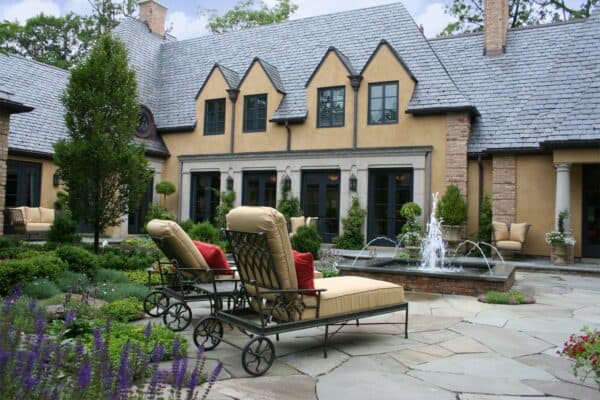 For our last inspiration of the day, check out this serene patio that utilizes irregular bluestone for a calming and classic look. This is the main terrace of a traditional house with yellow walls and brick siding.
We love how the irregular patterned bluestone offers a neutral base for the rest of the elements here. From the unique sun loungers with thick yellow cushions to the different plantings throughout the space.
Not to mention the outstanding water feature, which we think makes for the perfect focal point. It is quite low so that it doesn't block the view or make the patio feel constricted.
We also love how there are four smaller fountains spurting water to the main fountain in the center.
Meanwhile, you can also add some perennial borders that will soften the house's presence.
From the purple flowers you see on the side to the evergreen bushes and potted plants along with the main house, all of these bring a beautiful sense of life to the place.
Closing
That wraps up our summary today. What do you think? Did any of these patios intrigue you?
All in all, there are tons of different ways to decorate an irregular bluestone patio. From a more traditional and timeless approach to something that is more modern and unique, we have covered it all.
But the most important thing is knowing how to make it your own. Decorating any part of the house, from the interior to the outdoor spaces, can be a great opportunity for you to encapsulate your character.
The furniture and plantings are also essential parts of a patio. Choosing the right ones can help you create the right atmosphere too.