Are you looking for the perfect inspiration to build your own stamped concrete patio with a fire pit? If so, you've come to the right place!
We love using stamped concrete in an outdoor space as it comes with plenty of benefits. From the varying color options and patterns, excellent longevity, easy installation, and simple maintenance.
Moreover, placing a fire pit on concrete can be a great way to enhance the aesthetic appeal of your outdoor yard or patio. But we do recommend placing a fire pit mat or heat shield that will help protect the concrete from the heat.
We have tried to compile different examples to help you with your home-building journey, from contemporary trends to more traditional charms.
Without further ado, here are some of our favorite designs of stamped concrete patios with fire pits…
1. Furnish a Stamped Concrete Patio with a Custom Fire Pit and Crushed Granite and Rustic Rock Table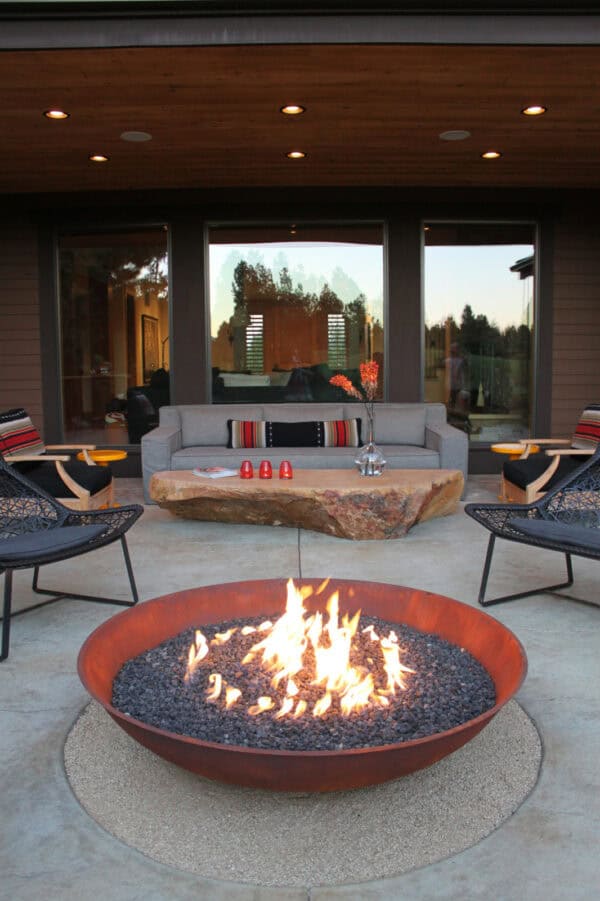 For this first patio example, we have a modern backyard featuring stamped concrete flooring and a custom fire pit. Together with eclectic furnishing, they create a modern yet cozy vibe.
The fire pit is a custom model by MODERNFAB using crushed granite. They are not only durable and heatproof, but they also look nice. We do love how the black color contrasts with the rustic red shade of the fire pit.
Moreover, there is a roof extension that turns this outdoor space into a covered patio, which means you can still chill outside even when it's raining!
When it comes to adding details, you can always incorporate bright and jazzy colors for a more fun atmosphere. For instance, the red and white stripes on the pillows here.
You can also place a rustic rock table in the middle, whereas the additional relaxed armchairs are from the Kettal Maia collection by Patricia Urquiola.
2. Place Wooden Adirondack Chairs on a Stamped Concrete Patio with a Fire Pit for a Traditional and Timeless Appeal
Next is an example of a traditional patio using stamped concrete and a fire pit. It is a great inspiration if you are looking to create something that is timeless so that it will never go out of style.
First up is the fire pit, which is round in shape to provide a minimalist look. The stone brick siding is another touch to heighten the classic appeal.
The stamped concrete has a fluid rounded silhouette that adds some style to the flooring. Meanwhile, keeping some of the exposed earth is a great way to plant some grasses and add rugged landscaping.
When choosing the exterior colors for the main house, go for neutral colors like this gray and white pairing that is simple and modest. Not to mention the white doors and windows, which provide a more exciting curb appeal.
In terms of furnishing, wooden Adirondack chairs are a perfect fit for the space. The wood enhances the natural and stripped-back vibe, whereas the chairs themselves are made for lounging.
They have flat and comfy armrests that will make your patio feel like the ultimate relaxation spot.
3. Combine Hand-Hewn Doug Fir and Western Red Cedar to Complement a Stamped Concrete Patio with a Fire Pit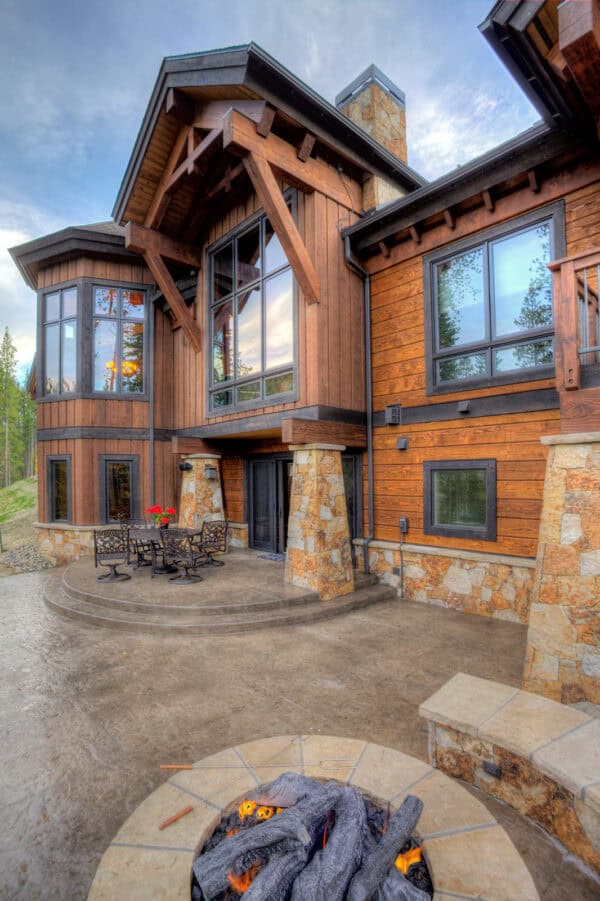 There is nothing quite like the traditional charm of a cottage-inspired exterior. This patio is a fantastic example of this approach.
For those wanting to recreate this chic look, the Stamped Concrete is Brick Form Brand Skins, specifically "Rough Stone Texture with Saw Cut Joints". You can then use the "Nutmeg" Hardener and "Crème Beige" Release before sealing them with Satin Diamond Clear Sealer.
The overall result is an attractive pastoral and mountain-styled look. Enhance this by using hand-hewn Doug fir for the wood siding and Western Red Cedar for the trims. Complementing the reddish wood with a darker brown is indeed an elegant choice.
Plus, you can install massive floor-to-ceiling windows to make sure that the interiors are well-lit and bright.
These also add a stunning architectural detail, while going for a rounded fire pit is also suitable for the mood.
4. This Flagstone Stamped Concrete Patio Looks Striking Under a Fire Pit with Fire Glass and a Belgard Weston Seat Wall
We have a contemporary patio for our following example that you might love. It features flagstone stamped concrete for the flooring and a fire pit with fire glass.
If you have a small patio and want something simple, installing a seat wall can be a great idea.
This Belgard Weston wall seat provides additional seating while also creating a semi-circle border to shape the space. It also incorporates undermount low voltage lighting, which can light up in the dark for a cozy ambiance.
In terms of the fire pit, you can use fire glass as it's low maintenance and durable while providing an attractive glassy look when the fire is lit.
Don't forget to furnish your patio with some outdoor chairs. You may even want to place some cushions to make them more comfortable!
5. A Limestone White Stamped Concrete Patio with a Fire Pit Can be a Perfect Outdoor Spot with an Underlit Seat Wall
Next, here is a brilliant patio design that makes the most of its beautiful view or landscape. This can be a great inspiration if your surrounding scenery is striking and green.
The stamped concrete is white limestone, which is a bright and minimalist color that looks really nice when contrasted against the verdant greenery of the patio. It also provides a modern vibe that you might be going for.
The fire pit itself is from Concrete Creations and has a shallow, rounded bowl shape. This gives an appealing contemporary design, and you can match it with undermount lighting on your short seat wall for a warm and mellow ambiance.
Overall, this backyard has an exciting design that blends the modern with the traditional. Meanwhile, as a transitional patio, it can be the perfect spot for enjoying the outdoor air and environment.
6. Create a Charming and Cozy Patio Using Stamped Concrete Patio with a Fire Pit and Colorful Flowers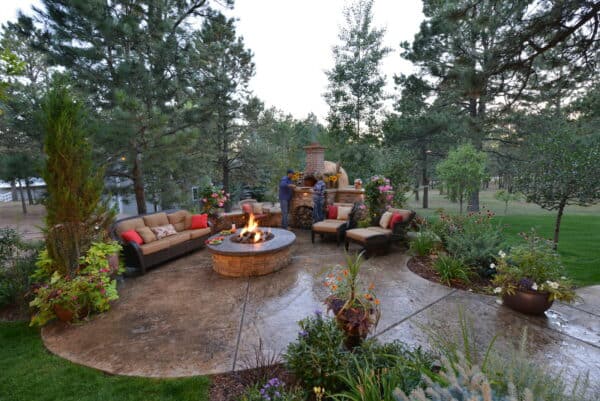 Do you want to combine stamped concrete patio with a fire pit to build a charming outdoor space that feels cozy and homey? If so, you will love the photo above!
This patio uses tan concrete with mocha, slate, and java release colors. The result is a rustic and authentic effect that helps create a unique vibe. We love how it looks with the lush greeneries and colorful flowers.
The stamped concrete patio also looks even more elegant with the fire pit in the middle. Its round shape is excellent for a simple focal point, and you can then place some outdoor sofas and seating around here to create a cozy hang-out area.
You may also notice that this patio features a traditional pizza oven, which is a really great feature to have! It's nice to bake some fresh pizzas and have your friends over.
7. Combine Flagstone Border with Stamped Concrete Patio to Complement a Traditional Round Fire Pit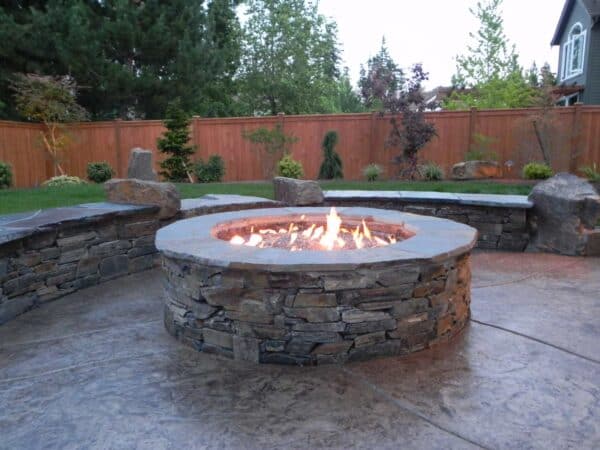 There is nothing wrong with a simple stamped concrete patio and a standard round fire pit to decorate your lawn. In fact, its simplicity may be exactly what your home needs.
To start with, the flagstone border is the ideal complement to the stamped concrete patio as it evokes a lot of stunning grey colors. The border can also easily be a seat wall, which means there is no need to add more seating.
Meanwhile, the stamped concrete is light brown with a darker, almost black release. We love how it looks quite fetching and distinctive, so that your patio will have a personality of its own.
Finally, the fire pit itself is quite a large feature here. It becomes a focal point where the rest of the patio is centered around. This is the perfect feature to have if you want to make the most of your outdoor space.
8. Go for a Contemporary Patio with Stamped Concrete and a Fire Pit to Enhance the White Seat Wall
If you like a more contemporary approach, maybe you will love the following example. It's bright and modern while still incorporating aspects of a classic patio design.
The stamped concrete patio has a light stone mat finish with Black from Davis and a lacquer base high gloss sealer. We love how the multicolored stones look, especially when installing a fire pit.
Additionally, you may notice that this patio also has several other features. That includes the bench seat, fire pit cap, and BBQ countertop.
All of these have the same color with a smooth steel trowel finish and the same Lacquer base sealer, resulting in a sleek and chic look.
Not to mention the seat wall with white concrete as the back support. You can choose white for this color as it can help balance the dark concrete and brick wall, creating an overall balanced and stylish design.
9. Use Red Accents in a Stamped Concrete Patio with a Fire Pit for a Modern Minimalist Vibe
For a modern patio with minimalist features, we would recommend using red accents or other bright and eye-catching colors. This is a fantastic way to add more character to your space without overwhelming it.
The red accents can be as small as flowers in a vase or glasses on a countertop, but they can create a cohesive look overall that will make your patio seem more dynamic and fun.
In addition to the gorgeous, stamped concrete for the patio flooring, the fire pit also plays a huge role here. It is a cast iron fire bowl that offers a warm and cozy focal point for the seating area.
Another one of our favorite things about this modern patio is the KETTAL MAIA Relax armchairs, which have a sleek and simple silhouette.
Whereas the black color itself is another minimalist touch that we think fits really well in this outdoor area.
10. Build a Stamped Concrete Patio with a Fire Pit and Pergola in the Yard for a Lovely Outdoor Lounge
Using a pergola can also be a fantastic idea, especially if you build it above a stamped concrete patio with a huge fire pit.
The pergola can protect you from weather elements such as light rain or snow, while still allowing you to enjoy the cool breeze and fresh air. And on hot summer days, the pergola offers the perfect shade from the blazing sun.
This craftsman-inspired patio incorporates plenty of wood and other natural materials, which give a rugged look that evokes a very cozy mood.
We love how the seat wall provides a U-shaped seating that reflects the curving fire pit, whereas the sofa and armchairs can be comfortable places to chill.
11. Try Stamped Concrete on a Covered Patio with a Fire Pit and Cedar Pergola for a Gorgeous Traditional Space
When you are building your home, it can be important to pay as much attention to the outdoor spaces and exterior as much as the interior. Especially if you live in a suburban area where the air is fresh and the breeze is pleasant.
The photo above illustrates a stunning house featuring stamped concrete floors on a covered patio. This simply means that there is a roof extension with empty walls above the patio to provide a shield from rain and snow.
Choosing a cedar pergola to complete the space is also a great option. You can mix the wood and modern white siding for a classic and timeless style that will never die.
In the meantime, you can place the stone-round fire pit on the outdoor patio, so you can add even more seating options and different spots to relax.
These rocking chairs around the fire pit provide an excellent spot for enjoying the view.
12. Use Azek Decking and Warm Lighting for a Comfy Stamped Concrete Patio with Fire Pit and Stone Walls
Look at this photo and try not to think about how cozy and moody it is with the ambient lighting, especially during the evenings and at nighttime!
The best option for the flooring is to use the Azek deck. It creates the look of a modern stamped concrete patio with a fun and classic brick pattern. Try a fluid and asymmetric shape for the deck to add even more variety to the design.
Moreover, we love the fire pit with real wood burning on top, which fits with the natural theme of this space. Not to mention that it also creates an excellent complement for the stone retaining wall and seat wall.
As the final touch, you might want to install some outdoor lighting.
You can choose a brighter yellow light for better illumination. But if your goal is to set a cozy and inviting mood, we would suggest more orange colors, as they are great at evoking a snug and pleasant vibe.
13. Build a Relaxing Stamped Concrete Patio with a Fire Pit and Various Outdoor Seating
Finally, we have a relaxing contemporary patio with stamped concrete and a fire pit, although our favorite thing about it is the multiple seating options and small touches.
The stamped concrete patio establishes a warm and cozy mood that can be perfect for an intimate gathering with friends and family. There is also a pergola attached to the roof of the house, so that you can enjoy some shade when needed.
When we talk about details and personalized touches, these are exactly what will bring your design to life. For example, the colorful flowers decoration close to the fire pit, which adds some color and vibrancy to the area.
We also love how the red folding chairs with light wood frames look next to the solid black fire pit, which is made of poured concrete.
The two elements create an interesting visual juxtaposition that combines heavy features with light and bold details.
Don't be afraid to play around with the furnishing as well. For instance, the brown outdoor couch with beige upholstery and cushion, and the rattan rocking chair that you can see on the raised patio.
Closing
All in all, using stamped concrete for your patio is an excellent choice, while placing a fire pit on it is a sure way to boost the ambiance and make it feel much more comfortable.
Not only is stamped concrete a durable and long-lasting paving material, but it also comes with a huge variety of patterns and colors.
This means that no matter what style of home you prefer, you can find the perfect design to suit the atmosphere you want to create.
As always, don't be afraid to experiment with new things. You might find a fun way to express your personality and create the home of your dreams. Good luck!