If you're looking for the best small backyard deck ideas, don't go anywhere else because we have just the list for you.
Today, we'll be looking at some fantastic designs that can help you maximize a small backyard into a beautiful outdoor oasis.
When it comes to decorating your backyard deck, it can be worth considering the overall vibe of your house exterior. This includes the color and material of the siding so that you can choose the right match for a coherent look.
Moreover, having a small backyard doesn't mean that you can't create a comfortable outdoor spot that looks stylish and feels homey. Using features like translucent glass panels and raised decking can all enhance the illusion of space.
Let's jump right into the 14 best small backyard decks without further ado!
1. Use Ipe Hardwood for a Small Backyard Deck with Colorful Flowers and a Composite Railing
To start our list today, here's a small and classic backyard design featuring a hardwood deck with some attractive flowers and a white composite railing.
You can use Ipe for the hardwood, which is very hard and looks especially stunning with a natural stain. This is a great way to make your deck appear more lavish and polished while still maintaining that natural wooden color.
Meanwhile, the decking is finished in Penofin. It's a penetrating oil designed to use with exotic hardwood species like Ipe.
In terms of the railing, you can use composite material for a system like this one by Azek. It will provide a simple and clean effect to elevate the style of your backyard.
In the meantime, the step risers are white AZEC composite boards. They're a great alternative to simply painting real wood as it makes them more durable without sacrificing the overall design.
2. This Lavish and Contemporary Small Backyard Deck Features Mangarus Wood and a Steel Tubing Pergola
Next up, we wanted to show you how adding a pergola to a small backyard deck can make a huge difference. It's great for evoking a luxurious feel and introducing an architectural intrigue.
The pergola that you see here is made of painted steel tubing, which is highly durable and creates perfectly straight lines that cannot sag, even over time.
We love pergolas because they can give you more living space outdoors and provide comfortable shade from the sun.
Additionally, the deck in this backyard is Mangarus wood with an Australian timber oil finish. The lustrous sheen offers the quintessential contemporary touch without taking away from the real, earthy color of the wood.
On the deck itself, you may want to install a hot tub or jacuzzi that can further boost the appeal of the space.
Don't forget to place some furnishing like sun loungers, outdoor seating, and even coffee tables!
3. Create a Romantic Mountain Vibe in Your Small Backyard with a Menards Composite Deck and a Wooden Pergola
This small backyard with a composite deck can offer the perfect inspiration for those more attracted by rustic styles and who love the charm of a mountain-inspired home.
The Menards composite decking is a simple and timeless choice to give your backyard a classic look. It has that natural color of standard wood and helps tie the home's exterior area to the surrounding nature.
Another way to evoke that romantic vibe is to add a wooden pergola above the deck area.
Use authentic wood material for a pastoral feel, while adding some planters and climbing vines here can ensure even more shade as well as a vibrant touch.
Don't be afraid to incorporate even more plants and greeneries here. We think that the fresh green color from these pots and grasses pop even more against the brown and beige of this house. The result is a lively and pleasant visual effect.
4. Combine Galvanized Steel Grating and Wall Vines for a Cozy Urban Small Backyard Deck
You can also combine galvanized steel grating with wall vines to create a unique contrast between manmade and natural elements, which can be suitable for a small backyard deck in an urban setting.
The deck here is galvanized steel grating, which may be uncomfortable to walk on but is necessary for the building codes in Brooklyn, where this home is located. But the good news is that the steel makes for a fun feature that's full of character.
One way to complement this cold and industrial aspect of the design is to juxtapose it with the most living of things: plants.
For example, these wall vines covering the wall of this enclosed backyard are perfect for establishing a cozy vibe.
Complete the look by adding some outdoor furniture like this dining table set. Additionally, a small open fire pit can also be a fun way to include even more personality here.
5. Incorporate a Roof Extension and Ample Greeneries in a Small Backyard with a Wooden Deck
If you have a small backyard but are willing to make some changes to the structure of your house, using a roof extension is a creative and space-saving way to provide some shade to your outdoor space.
The main advantage of a roof extension is that it creates more space in your backyard that is protected by a roof. In other words, you'll get more shade from both the sun and rain!
Here, you can see how the wooden deck has a light brown color that beautifully rounds off the beige siding. They evoke a traditional and mellow ambiance that may fit a countryside home.
One way to enhance the wooden deck and the rest of this backyard is to place a generous number of greeneries. They can be potted plants, bushes, or flowers, and they are an excellent way for you to express some of your styles.
6. This Small Backyard Deck Idea Uses Salvaged Wood and Stones for a Unique and Eclectic Floating Effect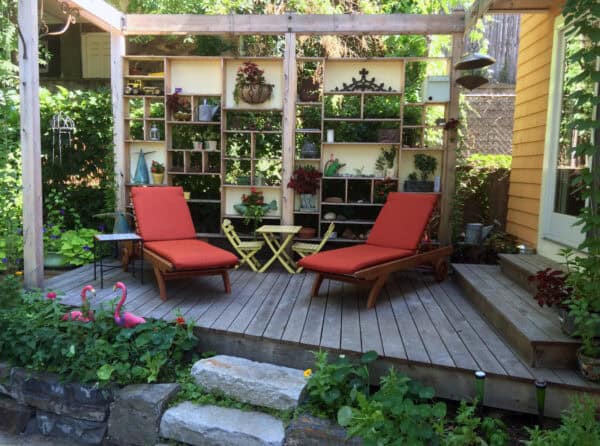 Sometimes, backyards can be a fantastic way to convey your unique style or personality, like in this photo where the raised deck creates a floating effect that seems ethereal and almost fairytale-esque.
The position of this deck offers an open flow from the kitchen, blending the indoors with the outdoors for a continuous and seamless effect.
We love the positioning of this deck as it feels like a life raft floating above the beautiful greenery and garden.
The deck is made from salvaged black locust wood and cedar, whereas the steps are upcycled granite curb stones from an old highway.
Overall, these materials are not only sustainable and eco-friendly; they are also great at evoking a unique and eclectic look.
Meanwhile, you can build some shelves as the background of this deck to provide even more privacy from neighbors. It can help create a cozy and intimate feel in a small space like this.
7. Try an Elegant Vibe in Your Small Backyard by Combining a Wood Deck with Metal Poles and Glass Panel Railings
For this next small backyard deck idea, you can create an elegant ambiance by fusing a wood deck with modern elements like metal poles and glass railings.
The result is an effortless contemporary style that is classic and luxurious at the same time.
For example, the tall metal poles and glass panels allow the pool and surrounding nature to blend. This helps make the small backyard appear wider and more spacious.
You can also see how the pool takes up one side of the deck, while a small garden or open yard occupies the other side. This is a great way to represent how the house and environment are able to intermingle to create a homogenous space.
We would recommend going for modern seating like these sofas and loungers in terms of furnishing. Choose a bright and neutral color like white so you can easily balance the wooden deck and the earthy colors of nature here.
8. Plant Trees on a Small Backyard Deck with Slatted Cedar Fencing to Evoke a Cozy and Refreshing Contemporary Mood
This is another instance where you can see that combining greeneries with wood decking and fences can evoke such a lovely and refreshing atmosphere. Even if you have a small backyard, it can still feel large and comfortable.
To begin with, the slatted fencing here is made of cedar, which looks great with its multicolored slats.
The deck here is made of yellow balau, a type of tropical hardwood that has a timeless feel. Finish them with deck oil to bring out the charming warmth and richness of the wood's tones.
For the greeneries, you can plant some Cordyline australis and Phyllostachys aurea or golden bamboo trees.
These are light yet verdant species that will quickly transform your small backyard into a hidden oasis, where you can feel relaxed and at ease…
In addition to the brown colors from the wood and green from the tress, you can cut into these earthy tones with some crisp elements of white. Like with the built-in seating that offers a stark yet still flattering balance for the visuals.
9. Combine Grey and White in a Small Backyard Deck for a Traditional Craftsman-inspired Space
The photo above depicts a small backyard with a traditional craftsman style, where the exterior of grey and white looks even more fetching with some wooden decking and furnishing.
First off, the simple and minimalist siding of this home is a safe option for those wanting to evoke modern architecture without fully abandoning the charms of a countryside home.
You can simply choose standard wood material for the deck, which creates a rustic feel that you can't go wrong with. Provide enough seating in this cozy outdoor nook with a picnic bench and table set.
For the front door, using Valspar's Brioche can be a great way to add a fun pop of color without clashing with the authentic wood decking too much!
10. Tall Timber Bamboos and Plexi Glasses can Create Privacy in a Small Backyard with a Wood Deck
For our next inspiration, here's an outdoor backyard with some Asian-inspired features, such as the bamboos and wood deck.
The wood deck is an excellent foundation for this area as it evokes a calming and soothing vibe. You can place a large wood slab table in the center for the main furniture piece, as well as bench-like seats on both sides.
As always, you can incorporate lots of plants to enliven the space even more.
We love how Timber bamboos look here, especially when they're against the various wooden elements in this backyard. They also provide additional privacy from your neighbors.
Oh, installing some translucent plexi glass here can be especially useful if you want to ensure even more privacy without adding any bulk.
11. Black Trex Deck and White Accents can Turn a Small Backyard into a Charming Modern Oasis
If you thought that a small backyard cannot look like a stylish contemporary hang-out space, we hope this next photo might change your mind!
Featuring a Trex deck painted in a bold black color, this backyard definitely looks the part of an upscale home.
The asymmetrical steps up the deck are a great touch of playfulness, while its large size can be a dramatic contrast to the size of the yard itself.
Meanwhile, adding a small pergola and decorative screen on the side is useful for instilling more privacy. And in terms of the color palette, you can stick with a classic monochromatic theme of black, white, and grey.
The white accents in the pergola and chairs are especially good at elevating the modern look, as their bright colors bring out the darker and bolder features of the architecture.
Moreover, this gives the landscape an overall more sophisticated look while enhancing the landscape and green plants even more.
12. Combine Concrete and Modwood for a Modern Small Backyard Deck with a Cozy Seating Area
You may notice that we always encourage homeowners to mix and match different materials, as it can be a great way to evoke a unique look in your space.
For example, look at how the Modwood deck here provides beautiful flooring for the backyard. But adding a small section of concrete for the seating area is a nice touch as it highlights the sofa and creates an eclectic style and more coziness.
The couch itself is from Cosh Living in Sydney, although you can choose any other outdoor furniture that you think may fit in your own space.
Remember to embellish with some colorful details like the throw blanket and cushion so that there's a pop of life here!
Not to mention that there is a slight midcentury feel in this whole backyard. And if your space is limited, don't worry! Installing a mirror on one side is an ingenious trick to enhance the illusion of space.
13. Install an Outdoor Kitchen in a Small Backyard Deck for a Charming Alfresco Dining Experience
One of our favorite ways to turn any small backyard into an outdoor area that feels cozy and functional is to fit it with a full kitchen, including a grill, stovetop, cabinetry, and generous countertop space.
This backyard features that as well as a gorgeous alfresco table set to create the ultimate outdoor dining experience. Combined with the wood deck and grey siding, you can build the epitome of a modern deck.
You may see that the kitchen area also has some wall sconces, which you may be able to get from Kitchler. Whereas the backsplash is made of wood framed with cement board and a 1-inch limestone veneer.
Once the foundation has been set, it's time to add details to personalize the space even more! For instance, a few pots of colorful flowers and cooking and dining utensils that you may need.
14. Go for a Beach Style in Your Small Backyard Deck with a Teak Dining Set and Wood Elements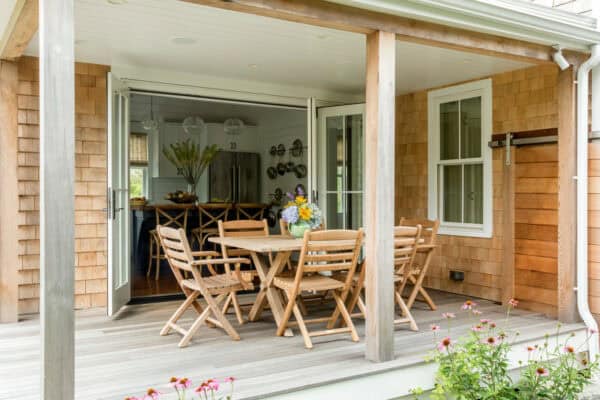 Lastly, here's an idea to incorporate a beach house style for your small backyard.
The first step is to use a wooden deck that matches the siding and pillars of the house. These wood elements recreate the soothing holiday vibe of a coastal home.
For the furniture, a teak dining set can look quite striking here as they are simple and rustic, therefore fitting in the overall theme really well.
And one final tip is to install folding doors that can open all the way, which is an easy trick to blend the indoors with the outdoors. Plus, this will make your small backyard feel even larger as it uses the interior space.
Closing
On the whole, there are tons of small backyard deck ideas you can find on the internet. These are just some of our favorites, and we have tried to compile a range of styles and designs so that everyone can find something they like.
From traditional and timeless backyards to beach style and contemporary decks, we hope you can find the perfect inspiration here. Remember: a small space doesn't have to feel cramped and uncomfortable.
Our main tip is to not be afraid of experimenting and trying new things.
When it comes to home design, exploring out of your comfort zone can often give fruitful results. You might discover new ways to express a personality that you've never known before.
Good luck!