There are many front porch tile designs that can elevate your outdoor space like never before.
The front porch is an important feature not only because it's one of the first things that guests can see when they arrive at your home but also because it can be a great spot for hanging out. Enjoy the fresh air as you relax in this outdoor space.
With that said, installing tiles on your front porch is a great and time-tested way to enhance the look and durability of the area. It is an architectural trend that has been here for centuries and isn't going anywhere anytime soon.
With various designs and textures, the options are endless in terms of how you can style your porch tiles. It will transform your porch into a charming feature that can also withstand years of wear and tear.
Without further ado, these are our favorite front porch tile ideas!
1. This Rustic Country Estate Features Indiana Limestone Front Porch Tile and Dark Bronze French Doors
To start with, check out this rustic country estate that uses Indiana Limestone in a full color blend for its front porch tile.
Here, the floors use 18×36 and 18×18 pieces to create a subtle sense of depth and variety while also adding a dynamic flow.
You can complement the brown and earthy color palette by using Hooper's Creek stone on the exterior itself, which is a type of granite.
The trim color here is Sherwin Williams 7546 "Prairie Grass". It's a medium-light shade of brown that is neutral and bright but is also still toned down to evoke an elegant vibe.
You can then hang a pendant light under the wood ceiling for an additional warming effect.
Another detail that we think brings the design together is the aluminum-clad French doors in SW Urbane Bronze. It's a truly captivating dark bronze color that matches the rustic country mood really well.
2. Try a Screened-In Front Porch with Silver Sands Slate Tile and a Dramatic Pine Wood Ceiling
Next is an idea for a screened-in porch that uses silver sands slate tiles for a charming front porch area. It's a great alternative to an open-air porch as you can enjoy the view even when the weather is bad or cold.
The tiles that you see here are a 16×16 Silver Sands Slate tile. Although you can probably find a similar design in your local tile shop or contractor, these are Halsey Tile from Elkhart, Indiana.
We love the custom-blended stain on the pine ceiling, which gives a warm and deep shade that helps evoke a cozy and inviting mood. This also works well with the unique domed look of the ceiling.
Furnish the space with some outdoor tables and seating. You can even incorporate a few accent colors that will enhance the look and give it a bolder pizzazz. For instance, the red upholstery on the chairs and sofas.
3. Consider a Classic Front Porch Tile with Blue Cedar Shake Siding and Beige Stone Pillars for a Traditional Charm
If you prefer a more classic and timeless appeal, you will love this front porch featuring a variety of colors and natural materials.
That includes the beautiful grey tile flooring for a versatile foundation.
The porch ceiling is Fir 1 x 6 tongue and groove edge with center bead exposed and a Tung Oil finish. It gives an earthy vibe that is still classy while exuding a grand presence.
Not to mention the beige stone pillars, which provide a dramatic appeal and interesting architectural feature.
The beige stone is from a quarry in NH, while the black stone is from a quarry in ME.
Another detail that we love is the siding of the house, which is cedar shake in Van Deusen Blue by Benjamin Moore. It's a lovely neutral shade that complements the eclectic combination of stone and wood.
4. New York Bluestone Pavers for Your Front Porch Tile Can Create a Cozy Cottage Vibe
For those who want to recreate a cozy cottage vibe on their front porch, you may want to try using New York bluestone pavers for the tile flooring.
The porch pavers that you can see are full range New York bluestone, which is available in most building stone and landscape suppliers. It can evoke an overall rustic atmosphere for a relaxing and soothing mood.
Moreover, the traditional charm of this porch is heightened by the lovely black structures and pillars. It can be worth highlighting the natural architecture of your house instead of camouflaging it, as this will add a unique character to your home.
In terms of furnishing, simplicity is the way to go. Choose neutral colors and basic models so you can let the raw stones and materials work with their natural appeal.
Installing wood planks as the ceiling of this front porch is also a gorgeous touch, as it enhances the warmth and welcoming aspect.
5. Place Rustic Benches on Cobbled Edge Front Porch Travertine Stone Tile for a Mediterranean Style
This beautiful villa porch can be a stunning inspiration for countryside homes. This architecture has nuances of Mediterranean style, which evokes even more elegance.
The front porch tiles here use cobbled edge Travertine stone, which also carries throughout the first floor. We have not found it to be slippery, as the surface is somewhat textured.
Add some pattern and texture here with a couple of pillows, which will add a subtle vibrancy without being too overwhelming. Finally, try placing a potted plant to provide a splash of greenery.
Of course, we can't miss the rustic benches either. These can be a great spot for sitting in the mornings and afternoons, while the natural wood color itself complements the beige undertones of this area.
You may also notice the ceilings here, which use dark wood for extra warmth and coziness. This is an excellent way to add more depth to your design while still adhering to the earthy color palette.
6. This Front Porch Uses Limestone Tile and Arched Glass Windows to Evoke a Mediterranean Vibe in a Modern Way
In this Mediterranean-inspired front porch, you can try combining limestone tiles with lots of glass windows to fuse traditional styles with more contemporary appeals.
For the flooring, go for limestone tiles in a very light grey color. This will enhance the spacious feel of the area and allow natural light to bounce of the surface for a very light and airy ambiance, which can be fitting for a porch.
You'll notice that the real highlight of this design is the glass. Multiple arched glass windows grace the walls and complement the arches right in front of it. The result is a beautiful synchronization between the two features.
Keeping the entire front porch empty of furniture may be a great idea, especially as gorgeous shadows will be cast on the floor throughout the day. It highlights the size of the home, while hanging a few pendant lights may add exquisite detail.
7. Add Classic Rocking Chairs on a Front Porch with Bluestone Tile and Wood Ceilings
This traditional porch embodies all that is attractive about a classic home: lovely white sidings, lots of plants and flowers, and a rural charm.
Placing a couple of rocking chairs is a great way to start! You can see that the white color matches the entire vibe of this front porch, from the siding to the railing and pillars.
It can be worth adding some pops of colors, which will bring a great sense of life and excitement. For example, the pink flowers in the hanging pots, the green upholstery on the chairs, and the red flowers on the front door.
While the grey bluestone tile makes for gorgeous and neutral flooring, we adore the wood ceilings adding so much persona and flair to the porch.
You can also use a mix of wall lamps and planted ceiling lights for lighting and decoration.
8. Brown Front Porch Quarry Tile Offers a Midcentury Charm Against The Red Front Door and Wood Siding
There is something striking about midcentury interior design, which uses sleek likes, muted tones, and a mix of natural and manmade elements.
To start with, you can use Daltile's brown 4×8 quarry tiles for the front porch, as it evokes a beautiful earthy color that complements the rest of this area. You can use white grout to add some contrasting effect too. They look great against the dark wood siding and medium-toned wood ceiling.
Meanwhile, the front door is a lovely red color with a huge glass in the middle. This is not only a great way to let in more natural light into your home, but it also helps balance all the heavy wood features here.
You can also place a simple welcome mat, which is an excellent way to tie in the design in a subtle way. The brown color and rugged texture also complement the tiling beautifully.
9. Go for a Natural Stone Slab for Your Front Porch Tile and Install a Trendy Roof Extension for a Contemporary Charm
It's always a great idea to invoke contemporary charm in your front porch by installing tiles and a captivating roof extension, which provides shelter from the sun while allowing you to enjoy the fresh air.
You can use natural stone slabs with a flamed finish and white grout for the floor. The grey color creates a gorgeous and elegant surface, while the white lines evoke a strong and bold presence for a more stylish look.
The roof extension is another brilliant feature of this front porch. It has generous slats to maximize airflow and light and can cast enchanting on the ground, too, during certain hours of the day.
For the furniture, go for light wood that complements the roof material, but you can choose black upholstery and cushion for a darker and bolder vibe.
Not to forget that some plants can make a huge difference to the atmosphere.
10. CasaRoma's Stonecrete Sabled Cement 24×48″ Makes for a Gorgeous Front Porch Tile in a Timeless Home
You can try using sabled cement tiles for this timeless home design for a fantastic and classic look.
The front porch is mid-sized with an overall traditional style and features a roof extension for more protection from the sun. Whereas the black doors with glass panels make for an inviting element.
When it comes to the tilework, these are CasaRoma's Stonecrete Sabled Cement 24×48″ tile with capped edges using Schluter's Quadec Stainless moldings.
You can keep a porch like this free from furnishing, and other accessories as the natural colors of the tiles and siding are already charming!
11. Build a Classic and Attractive Front Porch Featuring Slate Tiles, Stone Walls, and Deep Wood Surfaces
You can never go wrong with a classic design that is attractive and timeless, which means no matter what style your home is, this front porch can provide the perfect inspiration.
The first main highlight is the flooring that features slate tiles, where the multicolored surface creates an eclectic vibe that you might just love. It combines beige and grey for a raw and natural appeal.
We love that the stone walls also share this gorgeous color palette. It's simple, earthy, and will never go out of style.
The walls evoke a further sense of old-school architecture and interior design, whereas the outdoor wall light adds an extra vintage pull.
Meanwhile, there are also various dark wood elements throughout the space. The most obvious one would be the ceilings, but there is also the large front door with some glass windows.
12. Contrast a Simple Pergola with a Minimalist Front Porch Tile with Brick Siding for a Dynamic Look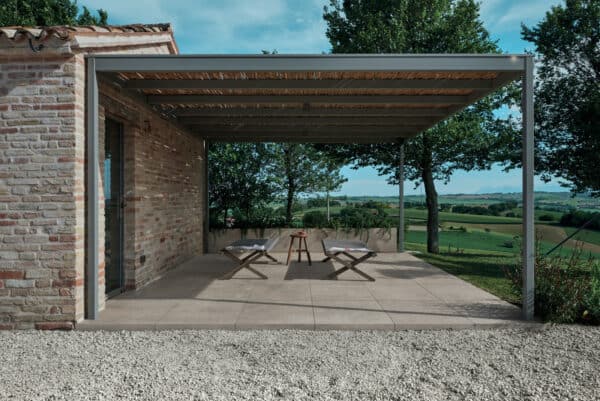 One design trick that always works is to pair two seemingly contrasting features or styles, such as the old with the new or modern minimalist with traditional vibes.
For instance, you can see how the sleek pergola design and minimalist front porch tiles look like magnificent elements when set against the rugged brick siding. The contrasting effect creates a dynamic and unique style.
It can be a great idea to place a large picnic-style bench here, while a small wooden stool can act as both seating and a coffee table.
This front porch is an especially lovely design for the countryside or a roomy neighborhood where you have access to a sprawling landscape.
13. This Mediterranean Front Porch Rocks Saltillo Tile Flooring and a Small Canopy
Next up, look at this Mediterranean front porch with subtle contemporary elements as it pairs saltillo tiles with a small canopy to create a humble yet still attractive exterior.
The canopy itself is quite substantial and features a standing seam metal roof, which provides sufficient shade during hot days. We love that the green color of the roof pops out against the brown siding and floors.
Furthermore, the saltillo tile patio makes for a quintessentially Mediterranean main entrance. You can place a small mat here and a pair of identical plants to evoke a sense of symmetry while adding more color to the space.
This front porch is also a great example of why you don't need the largest space to create a cozy and welcoming vibe. It is small and simple, but you can feel the homey atmosphere exuding from this little area!
14. A Long and Narrow Front Porch Looks Elegant with Wood Tile and Painted Brick Walls
Last but not least, this is a unique front porch with a long and narrow shape, which highlights the sheer size and dimensions of this house without appearing too hollow.
You can evoke an elegant mood by using wood tiles and painted brick walls.
Here, the main color scheme is white, including the siding, ceilings, and pillars. This is where a dark and multicolored wood tile flooring can really elevate the porch.
You can paint the brick in Benjamin Moore Revere Pewter for the siding. This is an excellent way to keep the natural texture of the brick while still maintaining a bright and modern color palette.
Meanwhile, the shutters and farmhouse door use Benjamin Moore Iron Mountain.
There is no need to place any heavy furniture here, but you can always arrange some potted plants and a brightly colored welcome mat for a more cheery atmosphere.
Closing
Ultimately, there is no limit to how you can style your front porch tile. From varying colors and textures to designs and materials, don't be afraid to let your creativity run wild!
As long as you know how to tone back and incorporate balance in your design, this will allow you to express your personality.
We have tried to cover a huge range of front porch examples, from rustic and timeless appeals to more modern and striking ideas.
Hopefully, you were able to find the right inspiration for your own home design.