A breezeway is a charming architectural feature often used to connect a detached garage with the main house. If you need some inspiration for your own home, this is the right post for you.
Meanwhile, a detached garage design means it is fully separate from your house. This is a brilliant option for older-style architecture as the presence of multiple structures can provide some old-school charm.
But even if your home embraces a more contemporary exterior, you still can't go wrong with a modern breezeway design. It can add a touch of elegance, class, and lavishness to the overall curb appeal too.
Most people think breezeways are simply a connecting element, but it can be so much more than that. You can use it for storage, like a mudroom, semi-outdoor spot for hanging out, or even a dining area. It's all a matter of how you want to transform the space into something that you like and enjoy.
Without further ado, these are some of the most stunning designs of a detached garage with a breezeway.
1. Use Traditional Barn Doors to Complete a Large Country-Styled Detached Garage with Breezeway
Our first photo depicts a custom country home remodel featuring a detached garage and a simple breezeway connecting it to the main house.
As you can see, the garage uses a classic barn-style door with a large cross design. The wood material further enhances the farmhouse feel of this exterior, while the large window openings on the top ensure that your garage is well-lit.
We also adore the unique lantern hanging from the small canopy. It acts not only as outdoor lighting but also adds some more style to the overall design. You can see the same lantern on both garage doors and also in the breezeway.
For the exterior paint, you can go for SW 7009 – Pearly White from Sherwin Williams. This off-white color is a classic and gorgeous choice that doesn't take away from the brick details and architecture of the garage.
2. Beach Style House Featuring a Detached Garage and Breezeway with Classic Wood Exterior
If you like a beach-style home, this would be a great inspiration for you. This beige two-story wood house exudes the quintessential beachside vibe but will still fit right in amongst a mountainous or countryside setting.
What is quite eye-catching is that the detached garage is almost the size of the main house itself. You can probably fit multiple cars or create a comfortable-sized workshop or gym in here! Plus, the second floor provides even more space for you to work with.
Meanwhile, the breezeway that connects both structures is a simple roof with modest pillars holding it up. Surrounded by the garden, you can easily imagine this being a cool and shaded path once all the greeneries have grown.
You can use Casa Blanca by Sherwin Williams (SW 7571) for the trim of the garage and house. The main base color itself is a warm beige color, so feel free to choose the exact shade that you like. The metal roof is a standing seam roof in medium bronze.
3. Build a Cottage-Inspired Home with a Detached Garage, Breezeway, and Charming Cupola
This two-car garage is fully detached from the main house and is a stunning example of a cottage house with simple colors and design.
In terms of the breezeway, it is a simple roof structure to connect the garage and staircase leading into the main house. You can choose a light and timeless color like white for the columns.
The roof is also an essential feature of this exterior, which is natural galvanized steel with a powder finish in silver. This is a tribute to the local architectural style and an easy way to embrace the farmhouse look.
Not only that, but you may also notice the little cupola on the peak of the garage roof. It becomes a gorgeous focal point to enhance the architecture of your home. At the same time, you can build a cupola to improve air circulation in the garage while preventing mildew and rotting wood.
4. Try a Beachside Exterior with White Cedar Shingle and a Detached Garage with Simple Breezeway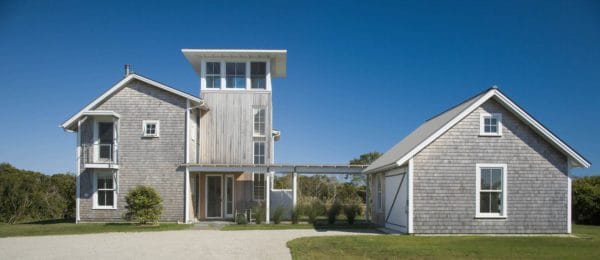 Here is another beach-style home exterior that incorporates a breezeway and detached garage design.
One of the most attractive features of this home is no doubt the siding and roofing material, which are the beautiful white cedar shingles. These are not only rustic and offer a unique visual appeal, but they are also very rugged and durable!
The breezeway itself opts for a flat roof instead of the traditional roof design. This can add a more modern and contemporary aspect to the overall design, which is fittingly matched by the block-like build of the house.
You will also notice the courtyard-style barn door in the garage. It's simply proof that you can always combine multiple styles into one! In this case, it is the cool and refreshing elements of a beachside home with the rural charms of the farmhouse style.
5. Embrace Country Living with this Detached Garage Design in "Sandbar" and a Gorgeous Breezeway
In this next example, we wanted to show you a traditional garage design that is detached from the main house and has a breezeway.
You can see how the breezeway is used as a porch or seating area while also doubling as an entryway into the house. Simply place a couple of outdoor seats and potted plants to liven up the area. With some railings and steps, you can make this into a veranda too!
For the exterior paint, this house uses Sherwin Williams's "Sandbar" and white color for the trimming. Again, this beige color combination is a conventional yet gorgeous one that will not go out of style.
While the garage doors are the standard model that opens upwards, you can paint them to recreate the look of a courtyard-style barn door. This will evoke the vibe of a charming countryside house to make your home appear cozy.
6. Use Breezeway as Semi-Outdoor Nook in a Craftsman Mountain Home with Detached Garage
This is another example showing how a breezeway can become an exciting spot for relaxing and entertaining. It is a semi-outdoor nook with plenty of chairs and a round table!
One tip when using your breezeway as a fully functional space is to decorate it according to your needs and personal style. For instance, using the rattan or wooden chairs here is fitting, considering the Craftsman-inspired architecture. You can also add other elements like lantern lights, stone flooring, and an outdoor table.
Meanwhile, the detached two-door garage uses two main colors for the exterior paint. The dark beige is a warm yet neutral tone to help the house blend with the surrounding landscape. Whereas the white trimming creates a clean look to tie it up.
For the garage doors, you can opt for a modern all-white design with small windows and metal accents. And although this photo shows a mountain home with a classic design, you can adopt the style for your own home!
7. Cover the Breezeway and Use Grand Pillars for a Victorian Style Home Exterior
Do you have a taste for grandeur and lavishness and want to make your home appear like a castle of your own making? Try using massive pillars and intricate railings for your breezeway design.
This is doubtless a design you can build only if you have the space to do so. With towering columns, a tall staircase leading to the side of the house, and a relatively long breezeway, you will for sure feel like royalty here!
But even if you can't completely replicate this detached garage with a breezeway for your own home, it is always nice to adopt just your favorite elements. For instance, you can build a smaller version of the column and railing combo.
The garage doors are courtyard style and painted in the stunning Charleston Green. For the rest of the house, you can use Cabot's semi-transparent Beechwood Gray on Western Red Cedar Shingles for the siding. Meanwhile, the trim will look exquisite in a lighter color, such as Sailcloth by Benjamin Moore.
8. Combine Stone with Concrete in this Trendy Stucco Home Featuring a Detached Garage and Narrow Breezeway
For our next photo, we have chosen a trendy stucco home with a unique and expressive design. If you love a showstopping house that will attract the attention of neighbors and onlookers, this is for you.
The asymmetrical flat roof is one of the main focal points here. Despite the breezeway being quite narrow and plain, adding a fun roof like this will make it appear more stylish and modern.
Moreover, the breezeway is lined with a half-stone wall on one side and the garage on the other side. You can see this slanted roof mirrored in the garage shape too.
To connect the posts and beams, this house uses custom metal plates that have been professionally kerfed into the structure. It is a recommended technique to solidify the build and make it tougher and more durable.
9. Create a Charming Rustic Vibe for Your Detached Garage and Breezeway with Wood Exterior and Metal Roof
There are many benefits of using an all-wood exterior. It is simple, charming, and timeless. But more than that, wood is also a reliable material which you can be assured will last a long time.
For instance, this three-story home epitomizes the rustic quality of home design. The bricked and fenced breezeway is a stunning take on the traditional element, which helps protect the area against rain and other weather elements.
The garage doors take inspiration from a courtyard-style barn door but still uses the same wood as the rest of the house. Thanks to the natural textures and varieties of the material, it will not make the design appear flat.
There is also a little cupola in this garage, which you can see adds even more character to it! Moreover, having a cupola helps circulate the air inside the building and maintain a cool temperature.
10. Cozy Breezeway Design and Detached Garage for a More Rustic Feel in this Mountain House
One of the biggest appeals of a mountain, or mountain-style, home is how cozy and warm it feels. Featuring a lot of wood elements, yellow lights, and a connection to the outdoors, it is easy to understand why many love this exterior style.
In this mountain home, rustic is not only the way to go but also the style embraced by the very foundation of the structure. You can see how the house and detached garage are built to resemble a cozy cabin in the wood.
To dissect the breezeway design, it serves more than just to connect both parts of the house: the breezeway is also the main porch and entryway. Another unique feature is that it has glass-covered sides, which you might want if you live in colder climates. Otherwise, leaving them open could be good too.
11. Go Back in Time with a Stunning Stone Build Featuring a Detached Garage and Breezeway with Fairy Lights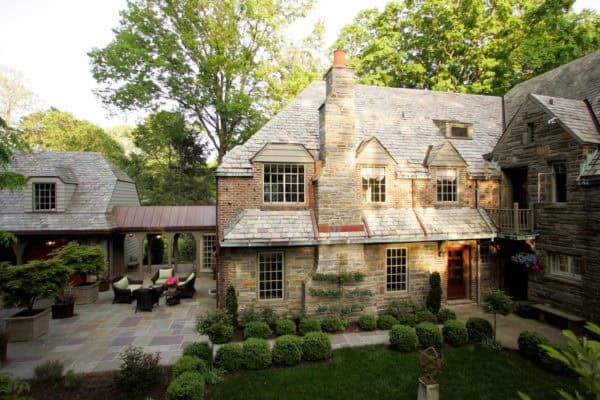 The craftsman style is an American domestic architecture originating in the 19th century, which is a beautiful design featuring eaves, tapered columns, low-pitched roofs, and natural colors.
This house exemplifies that style well with its muted earthy shades of brown, taupe, and red brick. The stunning stone build emanates an old-school charm that is almost reminiscent of Medieval times. Your detached garage and breezeway will look right at home!
Despite being a new addition to the original house plan, both garage and breezeway are designed to incorporate these craftsman-inspired elements. For instance, you can see the dramatic arches of the breezeway and white-framed windows.
An easy way to elevate the ambiance here is by installing fairy lights or antique lanterns, which you can light up once the day gets dark for a warm and cozy atmosphere. Meanwhile, the steppingstone chimney has a quaint yet equally attractive shape.
12. Try a Classic Farmhouse Style with this Stunning Detached Garage Idea and Private Breezeway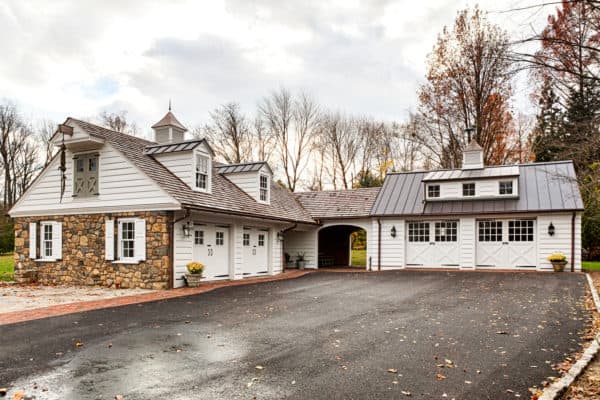 When designing a breezeway to connect your detached garage to the main house, an interesting idea is to make it more private by having deep arches and full-length walls.
This picture illustrates a classic farmhouse-style home with a 2-car garage that is separate from the house, but you can still travel to and from during rain via the breezeway. While the garage doors are inspired by courtyard-style barn doors, the main entrance door also has a similar design too.
For the house itself, we love how the contemporary white siding is paired with the rustic and quintessential country vibes of the stone wall. Combining natural elements with manmade is a failproof way to evoke a modern charm to your home.
Moreover, there are two cupolas in this house plan, with one in the main building and another in the garage. As we have mentioned, a cupola can help with air circulation and temperature. The aesthetic visual of the silhouette also goes well with the breezeway!
13. Play with Bold Colors to Create an Eclectic Craftsman House, Complete with a Detached Garage and Breezeway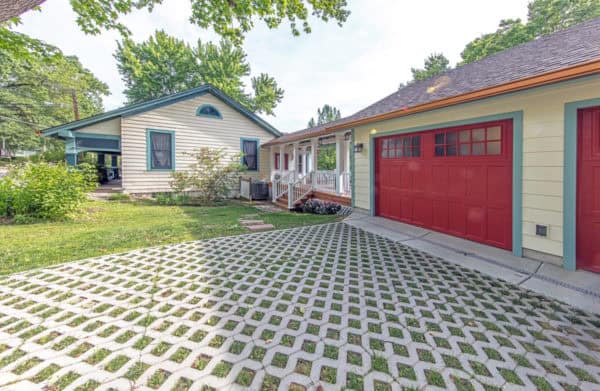 Color plays a huge role in home design, including the exterior. This eclectic craftsman house shows how you can use bold colors to create appealing architecture.
The breezeway is a classic design connecting the detached garage with the main house. You can see the short staircase and white railing to enter straight into the middle of the breezeway, as well as the steppingstones leading from the graveled path in front of the garage.
In terms of color choice, the best thing to do is go with your instinct and choose what you think expresses your personality the best. In this case, the garage has a muted yellow color with a blazing red door and light green trimming.
The columns and railings along the breezeway are painted in a crisp white shade, the perfect tone to balance out the other colorful elements of this home.
14. Incorporate Contemporary Architecture for an Exquisite-Looking Breezeway and Detached Garage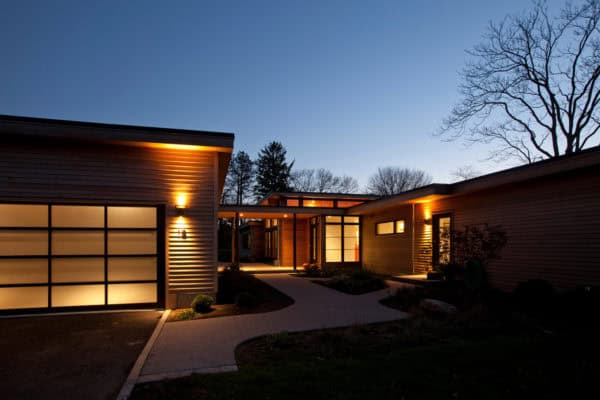 Sometimes, contemporary architecture is the secret to building an elegant home that exudes luxury, modernity, and simplicity. If you want something like that, look no further than this photo.
It is a beautiful sprawling home that features clean lines, bold shapes, and square structures. While the simple breezeway connects the detached garage to the rest of the house, the semi-outdoor style of this house plan actually makes the entire property feel like one seamless building.
You can blend the indoors and outdoors by using large windows, ensuring a well-manicured yard, and design elements that match. Here, you can see how the warm lighting evokes a very welcoming atmosphere too.
Closing
Overall, building a breezeway between your detached garage and the main house can be a simple way to make your home appear more seamless and connected. But breezeways do not have to be boring!
We have shown you some of our favorite designs involving a breezeway. Some have utilized the space as an additional porch, others as an entertaining area, while some are plain and simple but no less gorgeous.
The next step now is to think about which parts of these photos interest you the most and try to identify your favorite elements. After that, feel free to mix and match to create your own dream home featuring a detached garage with a breezeway.