A carport in a home can be great as it will help protect your car and other vehicles from the weather. Generally, the carport in front of the house can be either a free-standing structure or attached to the wall.
Besides, not all homes have a garage to keep your car! The best thing about carports is that they are quite easy to build and upgrade periodically. This means you can quickly refresh the design if you ever get bored of it.
In addition, a carport can be a great way to enhance the front exterior of your home. From wood and metal to concrete, there is a variety of materials you can opt for when building your carport. Regardless of the style that you prefer, be it contemporary or a more traditional vibe, there is the right carport look you can try.
So, we have compiled for you some of the best carport ideas for the front of your house!
1. Support Wide Carport with Tiny Posts for a Contemporary Front of House Appeal
A carport is a perfect complement for a contemporary home. As you can see in this photo, the wide structure lets you park two cars at once.
This driveway is inspired by the simple and rustic architecture of a tree house, with the balanced shade and tree canopy views. It is a two-story house that exudes a sense of boldness while still appearing humble from the street.
For the carport itself, you can use a flat roof with brake metal fascia and knotty cedar tongue-and-groove wood for the ceilings. The siding is also knotty cedar, much like the rest of the house.
To contrast the thick and wide roof, you can actually use thin posts for the support beams. This juxtaposing effect can create a unique appeal that is quintessentially modern. Moreover, notice that the carport feels like an extension of the main house but manages to balance the white walls with its black paint.
2. Try a Rustic Carport with Wooden Posts and a Roof to Make Room for a Stunning Surrounding Landscape
You can go even more rustic, like this charming carport that uses wooden posts and roofs to provide vehicle shelter without blocking the stunning views.
It is an excellent design for those whose home is surrounded by a breathtaking panorama and wants to make the most of it. Plus, the idea of using something very raw and natural like this wood structure to house modern cars and vehicles is quite charming in itself.
This coastal carport design is actually separate from the house, making it a free-standing structure that you can add even after the house build has been completed.
In addition, you can see that the choice of wood matches the wood material used for the main building. Plus, it's a good idea to hang some lamps on the carport ceiling. This will make sure that there is proper lighting during the night or late winter days.
For the house itself and porch area, there are various plants and pots dotted around. It allows the house to blend even more with the rich natural surrounding of the forests.
3. Build a Grand Porte-Cochere with Wall Shrubs as the Carport for French Vibes in Front of the House
Next on our list of carport inspiration is this grand and gorgeous design, a modern take of the traditional porte-cochere.
A failproof tip is to use wall shrubs for your carport, which can immediately make any home feel more relaxed and more refreshing, as well as establish a much welcoming atmosphere. Additionally, don't hesitate to make the greeneries as lush and as dense as you can.
Likewise, the circular fountain right in front of the carport structure also enhances the ambiance of the space, while the sound of trickling water and floating lily pads create a soothing environment.
You can further elevate the French-inspired driveway of your home with the shingle roof, classic windows, and arched shape of the cavity in the middle. The result is a magnificently splendid exterior!
4. Create a Domed Carport with Chandelier in Front of the Main House for an Eccentric Look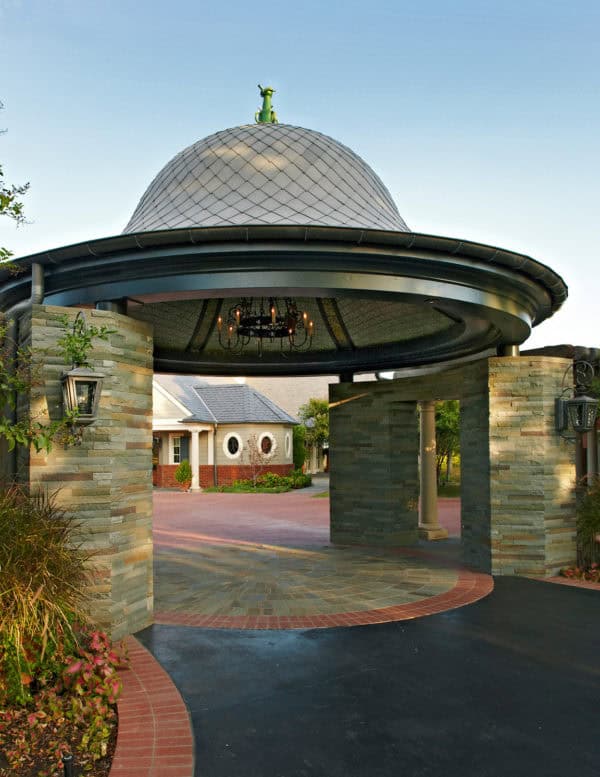 A carport does not have to be boring. In fact, if you look at this photo, you can see how something as simple as a structure for your car can be a central piece.
This eclectic carport design features a large domed roof that is shaped like a bell, evoking a unique sense of character immediately. Not only does the roof sport a stylish crisscross pattern, but it also hides a beautiful chandelier underneath.
Meanwhile, the walls or supporting beams are two chunky posts made of multi-colored bricks. You might notice that these match the flooring under the carport too.
While the chandelier can be a nice touch of style and timelessness, it can be a great idea to provide more functional lighting too. For example, the two lanterns hanging on the walls.
Of course, a bold design like this may not fit all styles of houses, but you can consider taking this inspiration to build something less extravagant.
5. Simple Concrete Carport for a Modern Mid-Century House and Timeless Front
Sometimes, simple is the way to go when designing a new carport to complete your home, which you can see in this modern mid-century exterior.
It uses a simple concrete block design that makes sense for the straightforward architecture of this house. It also has huge signs to show the house number in a contrasting white color.
The siding above the carport is a Hardie Panel, which is a popular choice that is also durable. Made from a combo of cement and cellulose fibers, the result is a flawless and long-standing material that can protect your home.
Finally, the front door is a Crestview Door. While it seems small and narrow in comparison to the width of the house, this actually creates a fun contrast and playful element that will improve the curb appeal.
Plus, the light wooden surface looks bright and cheerful against the muted colors of the siding and carport.
6. Attach the Carport with a Second-Floor Deck for a Seamless and Contemporary Front of House
Another idea to update your carport is by attaching its roof to the second-floor deck, thus creating a seamless look that blends the outdoors and the indoors.
Especially if you take this approach when designing everything else, including the large floor-to-ceiling windows that can open up the space inside to the environment outside.
In terms of the carport, you can simply follow the size and shape of your second-floor balcony and build suitable supporting posts. Here, there is a smaller beam attached to the front porch and a larger one that stands farther from the main house.
As always, don't forget the lighting in your carport. These built-in lights are implanted into the ceilings for a smoother surface and more contemporary feel.
Other than that, this is quite a simple house design with bright and light colors. This is an excellent way to make it seem more modern too.
7. Go for a Modern House Front with a Large Carport and Driveway for a Luxurious yet Classy Feel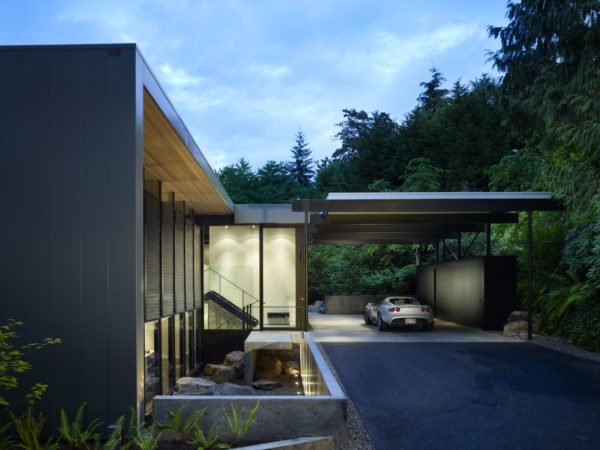 There is nothing wrong with splurging a little, especially when it comes to designing your dream home where you will be spending lots of time.
For some people, there is nothing more perfect than a luxuriously styled home, such as this one. It features a large carport where you can enjoy direct access to the front door without being exposed to the rain or snow.
The driveway material is different for the main one and the ground under the carport, with the former using asphalt and the latter using concrete.
There is also a landscaping area or large terrarium, where you can arrange some natural rocks and plants to create a relaxing sanctuary.
Meanwhile, the siding itself features metal panels painted in 'Firestone' color, which is suitably modern. You can see how they also complement the glass walls and sleek flat roofs.
8. Integrating Carport with the House Structure for Stunning Japanese-Inspired Architecture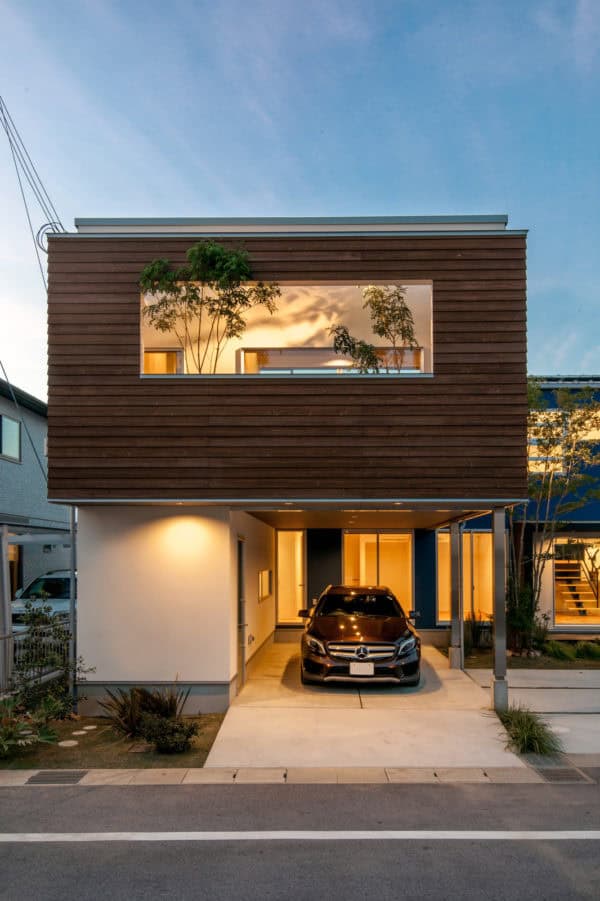 For this next one, you can see another example of an attached carport that is integrated with the house structure. It is a Japanese-inspired model with lots of wood and concrete.
The carport is simply a one-car space that helps protect it from weather elements, but it is large enough that you can comfortably walk around it and park with no difficulty. Again, the attached structure means you are also making the most of the space here.
You can have windows on the wall that is right behind the carport to make the space feel larger and avoid closing off the area. Meanwhile, the taller window height on the second floor helps you establish some more privacy.
At last, if you have some extra space or garden, it is always a good idea to fill it with some plants and flowers. This will liven up the atmosphere and make your home feel more welcoming too.
9. Charming Wooden Log Carport with Circular Silhouette in Front of this Cabin-Style House
This charming log home is the perfect example of how a traditional cabin-style house can benefit and look lovely with a modern carport.
The trick is to make sure that the carport design complements the vibe of the house. For instance, this home is made of natural logs and has a very sustainable feel to it. This is why the circular entry to the carport makes a lot of sense.
The entire structure is just an extension of the house, using woods to create a simple yet functional space. As always, the addition of some outdoor lights would be excellent here.
10. Make a Stunning Farmhouse Carport with Natural Wood Structure and Gravel Driveway
When you're designing a carport for a farmhouse-style home, it is important to invest in the landscaping of the area. After all, you want a place that blends well with the rural surrounding.
In this example, the carport structure is built using natural wood and mimics the feeling of a rustic barn, especially with its slanted roof, simple silhouette, and stone foundation.
This carport is essentially a barn with no doors or walls at either end, which is exactly what a carport is. So if your home already has an unused building, you can easily transform it into a new functional space!
You can opt for gravel for the driveway, as it is one of the best yet most affordable options if you have a long driveway. Moreover, gravel is a permeable material and environmentally friendly, which means it lets groundwater seep through so it can replenish.
11. Complement the Front of an A-Frame House with a Simple Slanted Carport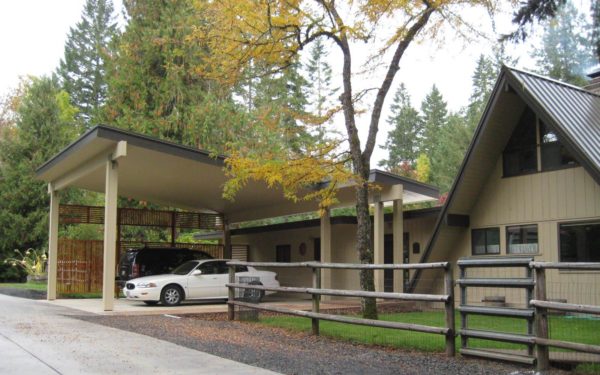 For the following carport example, we wanted to showcase how an A-frame house can build a matching carport to complement the architectural style and theme.
This simple carport is just a slanted roof built on four supporting beams. The flat roof uses the same color and material as the house roof, as does the ceilings and posts, which are in the same yellow shade as the siding.
If you want to create a porch, garage, or carport that appears like a seamless extension of the main house, we will highly recommend adapting similar colors and styles. This can help to not make the new site feel like an afterthought.
In front of the A-frame house itself, it can be great to have a well-manicured lawn, even if it is not too large. This will help create a perfect space where you can then place additional seating or just enjoy an outdoor area.
12. Contemporary Carport that Showcases the Picturesque Backdrop for a Spectacular Panorama
Once again, for those who live in a secluded area or where the scenery is beautiful, it can be important to make the most of it. This includes designing a home and carport that helps showcase the beauty!
We have seen a more countryside-inspired model earlier and now would like to show you this stunning contemporary carport that is sleek, gorgeous, and allows the picturesque backdrop to shine.
Here, you can see that the structure is a simple L-shaped roof and wall. It is the hallmark of contemporary design, which highlights simplicity over ostentation designs. Plus, this works especially well if you look at how the carport complements the main house too.
Considering how this particular carport frames the mountain panorama behind it, professional car advertisements and photoshoots have taken place here. But even when designing a personal home with a nice view, you can take a page from the book here!
13. Use a Batten Carport Awning for a Traditional-Looking Front of House
Up next is this traditional-looking entryway and carport, which uses a simple batten awning to provide shade for your car. This is a perfect inspiration for those with a tight space but who want to create a functional carport.
An awning is basically a simple covering that is attached to your house to provide additional roofing space, which in this case is the carport. It can typically be made of vinyl, acrylic, canvas, or even natural materials.
The one pictured here is curved to add some dimension to the design, which is always a great way to introduce more depth and style to any home exterior!
Moreover, the dark brownish-orange color is a brilliant contrast to the green poles and frame. It also matches the brown siding of the main house as well.
14. Complete a Trendy Wood Exterior with a Simple Carport Design that is Timeless
In this trendy house with a wooden exterior, the simple carport design adds a very functional albeit refreshing feature that makes the home feel more complete.
The house itself embraces quite a unique and contemporary style with its slanted roofs, asymmetric build, and combination of different materials, from the wood and concrete siding to the massive glass windows.
This is a great tip to follow, as mixing various materials when building your home can create an eclectic look that is full of personality. Just make sure to do this carefully and figure out what materials look appealing to each other.
For the carport itself, you can see that it is simply an extension of the roof and is located right in front of the garage. This shows that you can still have a carport even if you already have a garage. This means additional parking and storage space!
15. Embrace Contemporary Architecture with this Connected Carport Next to a Lovely Concrete House
Finally, let us look at another example of a modern home that utilizes unique architecture to build a connected carport. We recommend something like this for those who prefer a smooth and continuous design.
A concrete house is a stunning form of art in itself, which you can see through the unusual shape and silhouette. It emphasizes the height of the building and makes the most of its asymmetric build.
While the house bulges on the upper left side, it uses the second-floor deck level to create an attached carport for your vehicle. It is a pretty large garage so you can have enough space to fit two cars.
Meanwhile, there is a tall window right in the center of the house that helps highlight the height and vertical sense of this modern home. It complements the small skylight windows on the side of the house too.
Closing
So, we have covered 15 of the best carport ideas that you can use to design the front exterior of your house.
Remember that while a lot of these photos show the work of professional designers and experienced homeowners, you are ultimately creating the façade of your own home.
This is why it's important to know what features and styles are the most suitable for you. Don't be afraid to mix and match so you can create the perfect carport that will make your home feel like yours!