Combining storage space with style can be a challenge in home interiors, and one way to ensure a seamless design is by building a recessed wall cabinet between studs.
Wall studs are vertical beams supporting your house frame. They are usually found behind drywall and made of strong wood or metal and are a great place for holding screws. Most homebuilders would use studs to support any drywall more evenly.
Not only does a recessed wall cabinet provide extra storage for you, but it can also improve the aesthetic appeal of a room. That is why it's great to have in homes of any style, including tiny homes and sprawling mansions alike.
Without further ado, let us look at some excellent ideas for adding a recessed wall cabinet between studs in your own home!
1. Try a Sleek and Simple Recessed Wall Cabinet Between Studs for a Bright Victorian Bathroom
The first example of a recessed wall cabinet that we wanted to highlight is in the bathroom, which can be an excellent place for you to store toiletry, bathroom amenities, or even care products.
This Victorian-inspired room has white subway tiles as the flooring and backsplash, which creates a continuity that also evokes a classic, timeless feel to the space.
Meanwhile, the two undermount sinks and countertop are fresh and clean, thanks to the all-white design with beautiful Dornbracht faucets adding a traditional ambiance. Place a vase of bright flowers to brighten up the area!
The recessed cabinet itself is quite simple and sleek in design, and the placement in between studs allows you to maximize the small space and make room for more storage.
You can even see that it has a mirror as the door to make the room feel more spacious.
2. Use a Recessed Wall Cabinet Between Studs to Store Jewelry for a Clutter-less Closet
Almost every bedroom would have a closet, or a cabinet at the very least, where you can store all your clothes, accessories, and even shoes.
For those with limited space, you can create a recessed wall cabinet to organize jewelry!
Not only does this idea allow you to maintain a clutter-free closet that looks neat and clean, but it can also help keep your small objects in one place for easy access and organization.
This jewelry cabinet has been custom-made to fit with the amount of available and required space, which means that it's important to tailor the carpentry to what you have and what you need.
For starters, you can include some pegs on the inside of the swinging door to hang bracelets, chains, and necklaces.
A wire rack can be perfect for display earrings, while having a few built-in shelves let you arrange your other belongings clearly.
3. This Recessed Wall Cabinet Between Studs in the Bathroom Can Hide Toiletry
Here is another bathroom example that features a recessed wall cabinet between studs that function as extra storage and a place to keep the non-pretty knickknacks.
This eclectic bathroom uses mostly white as its main color scheme but has dark tile flooring that balances the vibe well. It creates a cozy and timeless atmosphere.
In this cabinet, you can see how the owner has utilized it for storing bathroom essentials that may not look as pretty when displayed on open shelving. This includes hand towels, extra lotion bottles, and others.
It also shows that you don't always have to place a wall cabinet at eye level, but rather anywhere that is possible depending on your home structure! Because this one is behind a sink and placed low, you may only want to keep items that aren't used daily.
4. Install a Mirror on Your Recessed Wall Cabinet Between Studs for a Multifunctional Feature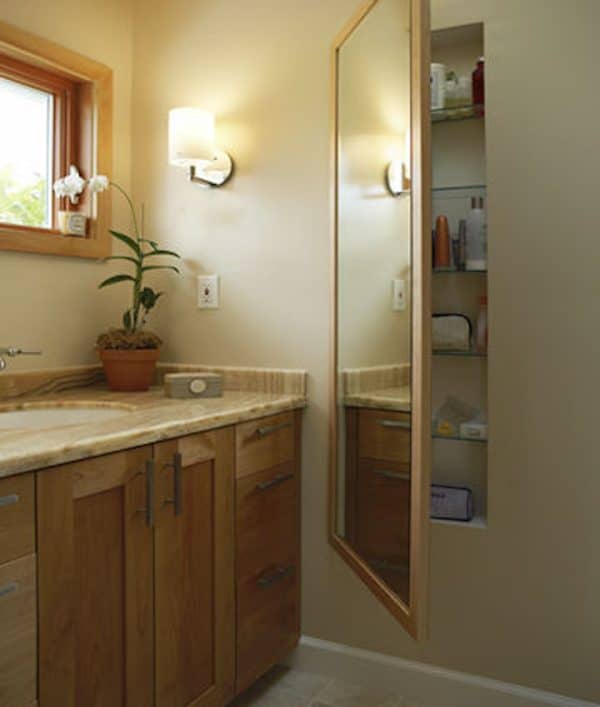 Installing a mirror on a recessed wall cabinet is also one of the best ways to camouflage them and make them appear like a seamless part of the wall structure.
Plus, as you can see from the picture above, this also helps in keeping the lighting bright and airy.
The mirror surface can reflect any natural or artificial light, therefore making the space feel much larger and more welcoming. Not to mention that it provides a full-length mirror where you can get ready each morning!
In this contemporary bathroom, notice how the wall studs have been transformed into a hidden cabinet with glass shelves inside. This is excellent storage for any skincare and haircare products, as well as makeup.
The bathroom itself features an off-white, almost beige color for the walls to establish that sense of coziness. You can complement this with wood accents like the cabinetry, window frame, and mirror frame too.
5. This Genius Recessed Wall Cabinet Between Studs Hide Your Laundry Room
We have talked about how recessed wall cabinets between studs can make excellent secret storage that is perfect for small spaces and hiding clutter.
Well, this design above has taken it up a notch and used the concept of a recessed wall cabinet to hide an entire laundry room inside the wall! You can use this idea for the bathroom, kitchen, or even living area.
Simply hide a foldable ironing board that you can set up and store away as needed and build enough shelves to keep the required accessories and appliances for ironing.
All you need to do is open the cabinets and iron some clothes, and close them, and the mess will be out of sight.
The paint used for the cabinet is Krylon Classic Gray, and while it doesn't blend in with the wall like our previous examples, the warm contrast makes for a refreshing accent against the white wall!
6. Go for a White Recessed Wall Cabinet Between Studs in a Fun, Beach-Styled Bathroom
This fun, beach-styled bathroom features an all-white interior that is super bright and has plenty of natural light, making it feel both inviting and clean at the same time.
One of the things to highlight in this design is the recessed wall cabinet between studs right above the toiler, which you can use to keep toiletries and any bathroom amenities you want.
The white cabinet doors can swing out to reveal the hidden storage behind, but its sleek color lets it fit in well with the other white features. Although, the plain texture may provide a nice, subtle contrast to the striped walls.
We also love the few touches of colors throughout this bathroom, which makes it a fun space for the kids to be in!
From the blue bath squeaky toy to the multi-colored shower curtains, these patterns provide an interesting break from the monotonous white.
7. Choose Translucent Doors for the Powder Room's Recessed Wall Cabinet Between Studs
Up next is a powder room that also incorporates a recessed wall cabinet between studs, which can be especially fitting because you can use this to store any bathroom-related accessories that you may not necessarily need daily access to.
Instead of using cabinet doors that are the same color as the walls, you may want to opt for a pair of translucent doors to add some more texture and fun elements to the interior.
Here, these doors allow an obscure glimpse into the cabinet where you can see that it is filled with various items and colorful things, but not enough to cause a visual clutter in the space.
In terms of the powder room itself, it has a trendy yet simple style with beige walls, marble tile flooring, and stainless-steel accents. Not to mention the large mirror and a strip of bright lighting!
8. Hidden Pantry with this Recessed Wall Cabinet Between Studs to Enhance a Small Kitchen
There is nothing more challenging than designing a small kitchen, especially as this is an important part of any house. With lots of equipment, appliances, and food items to store, as well as counter space, a kitchen can quickly feel cluttered if you're not careful.
With that said, we wanted to show you how you can keep your kitchen looking neat and organized with this hidden pantry idea!
It's a recessed wall cabinet lodged between wall studs, complete with white doors and wooden shelves.
Moreover, the walls are in Benjamin Moore's Moonlight Drive, a warm shade of white that is still bright and cheerful but with a tinge of mellow feeling that will immediately set the tone of this cozy space.
9. Camouflage the Door to a Recessed Wall Cabinet Between Studs with a Framed Photo
If you are looking for ways to cover up the door of your recessed wall cabinet, look no further than this stunning bathroom interior!
Looks can be deceiving because this contemporary framed art is more than just a wall decor. As you can see, it actually hides a small medicine cabinet that can be accessed just by swinging the frame open.
This is perfect if you want to add a little more personality to your interior without covering too much of the walls. Talk about killing two birds with one stone! Plus, this hidden cabinet is excellent for covering up any mess you may have.
One thing we would recommend is choosing a photo or painting that matches the overall tone of the room. For example, you may notice here that the black and white piece fits the monochromatic color palette of this contemporary bathroom.
10. Try an Open Recessed Wall Cabinet Between Studs and Feature Contrasting Colors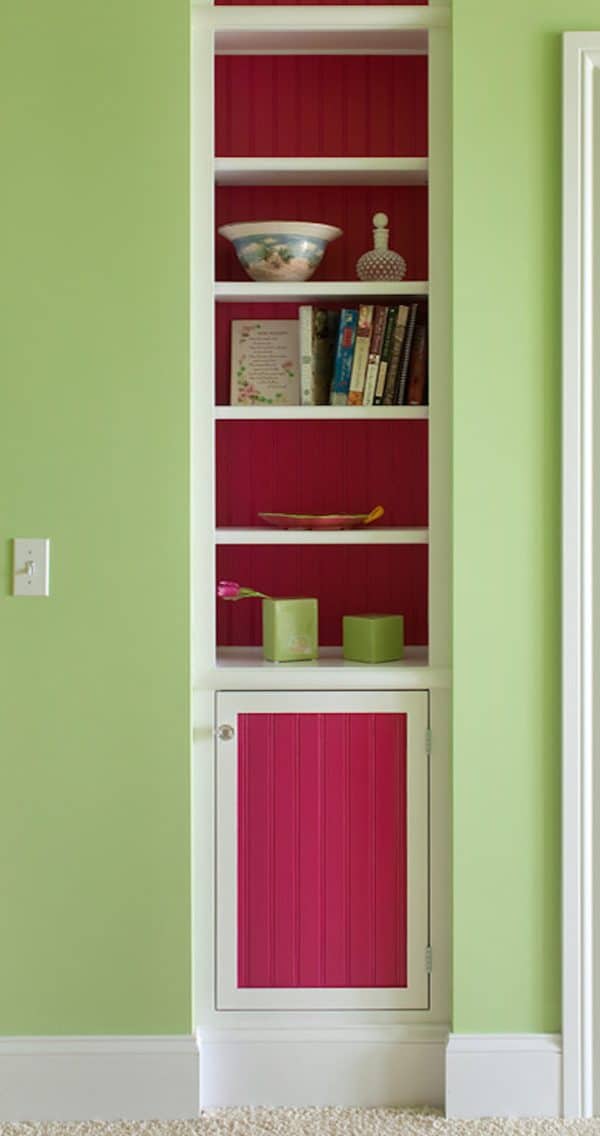 We have shown plenty of recessed wall cabinets with lots of door designs, from those hidden behind paintings to those that blend seamlessly with the wall.
But have you ever thought about a recessed wall cabinet without any door? Yes, this open cabinet is an excellent example of how you can create a beautiful display cabinet that is nestled comfortably between studs and save you lots of space.
One of the things we adore about this design is the choice of colors, both of which are bold and contrasting. Color is one of those things that can easily go wrong but can be quite a dramatic feature when done correctly.
The red evokes a sense of playfulness and charm, while the bright green ensures a fresh ambiance. Meanwhile, the white trimming provides some crisp lines to bring them all together!
11. Add Hooks on a Recessed Wall Cabinet Between Studs for Extra Storage and Pizzazz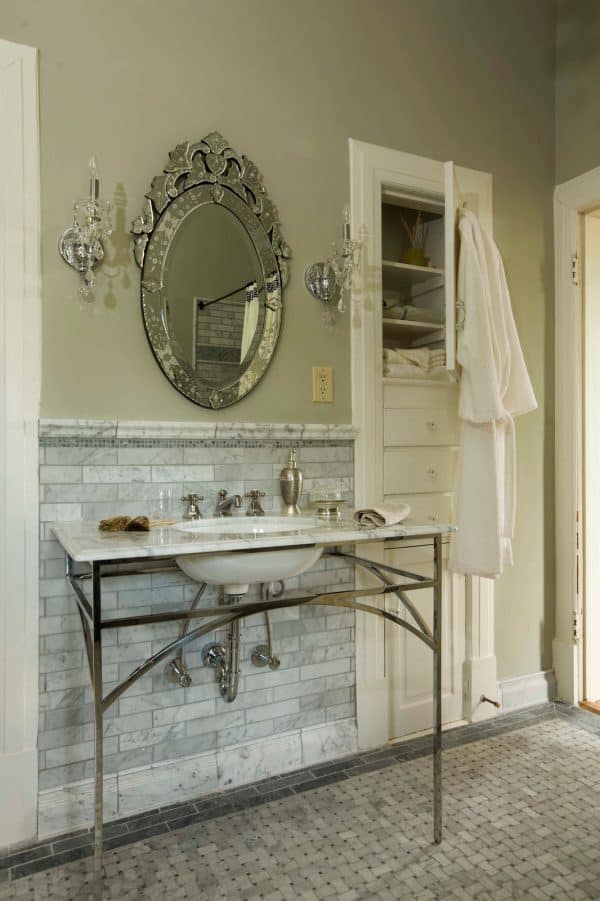 A recessed wall cabinet belongs especially well in a bathroom, because there are often studs that you can build them into and there is always extra storage you need.
This elegant marble tile bathroom features a combination of antique furnishing and modern silhouettes, which include the cabinet and doors. Whereas the intricate mirror piece, sink, and silver crystal sconces evoke a beautiful traditional ambiance.
However, what we think is the most brilliant part of this bathroom design are the hooks on the cabinet door.
They can be an excellent place for you to hang towels and bathrobes. Plus, you can also see that the recessed cabinet features some drawers for a variety of organizational functions.
12. Consider a Classic Style Bathroom Featuring a Tiny Recessed Wall Cabinet Between Studs
This classic bathroom has been inspired by modern art deco elements, which you can see through the fun yellow lines running across the recessed cabinet door.
To start with, this tiny recessed cabinet between studs is a great example of how you can create extra storage and interior features even with a small space. It doesn't have to be big, but the way you decorate it matters!
You can use one of the recessed cabinets as an open shelf to place some decorative pieces like this colorful pottery and creations. Furthermore, you may even want to place some plants that can liven up the area.
13. Use Wood for a Recessed Wall Spice Cabinet Between Studs to Evoke a Timeless Interior Ambiance
The photo above illustrates a simple kitchen design that features a recessed wall cabinet used for spice storage. It utilizes the dead space between studs and provides a great way to organize your spices for cooking.
This kitchen itself is part of a modern house design with lots of wood elements, which include the cabinet structure, flooring, trim, and even ceilings.
One of the ways you can complement all the warm tones of the wooden furnishing is by incorporating some stainless-steel appliances. The cold vibes of the metal can balance out the natural textures well.
14. A Modern Bathroom with an All-Glass Recessed Wall Medicine Cabinet Between Studs and Bright Pendant Lamps
When you are building a recessed wall cabinet in the bathroom, it can be a great idea to hang a pair of pendant lamps to ensure the best lighting in this indoor space.
For instance, you can see that this medicine cabinet also uses the idea of mirror doors to reflect light and make the bathroom feel more spacious.
In fact, this one also opens to reveal mirror interiors too! This one even functions like the typical bathroom mirror above the sink.
The pendant lamps on either side of this cabinet also have reflective bases, which match the mirror element of the recessed cabinet. Meanwhile, the bathroom embraces a minimalist vibe and has a beautiful blue mosaic backsplash!
15. This Small but Effective Recessed Wall Cabinet Between Kitchen Studs Can Store Cooking Tools
Last but not least, this recessed wall cabinet between studs in the kitchen demonstrates how such a feature can be used to store various kitchen utensils. Again, this is a great trick to hide the "clutter" and keep the surface looking clean.
The cabinet here has white doors, which match the rest of the cabinetry and furnishing in this kitchen. But you can see that inside, it features some wood-inspired slats that also go together with the wood flooring outside.
For the kitchen itself, you can be assured that this model of the cabinet will fit in a kitchen of any style. For instance, you may want to incorporate some more medium-tone wood cabinets with glass tile backsplash and granite countertops.
Together, these elements will for sure help you achieve a stunning and contemporary kitchen interior!
Closing
All in all, a recessed wall cabinet between studs is one of the best ways to utilize dead space in a home and make the most out of it. This is a great trick to ensure more storage in smaller houses and help the space appear neater too.
We've featured photos from various parts of the house, from the kitchen to the bathroom. Remember that you can always adapt any of these designs to suit your own needs!
Moreover, don't be afraid to experiment with new styles and fresh approaches to your interior. This will help you discover a new way to express your personality and convey them through your home design.