There are many ways you can use French doors with transom to help your home appear brighter and more stylish, no matter what decorating style you like.
What exactly is a French door?
It simply refers to a pair of doors that features glass panels all along its length, thus allowing natural light to come through. They are typically double doors and great for moving large furniture in and out of the house.
One of our favorite things about French doors is that the glass panes make your interior feel super bright while blurring the separation between the indoors and the outdoors. Moreover, they're versatile and can fit in various interior styles.
They are the perfect door type for those of you who want to create an elegant and elevated entryway. While it's most often used for the patio and deck, you can also use a French door for your living room or study.
Meanwhile, a transom refers to the horizontal beam or structure between the top of a door and the window above it. The transom color often matches the doorframe and trim and can offer a beautiful touch to the overall design.
Here are some of the most beautiful French doors with transom designs you can take inspiration from!
1. Pair Mahogany French Doors with Transom for a Cozy and Timeless Screened-in Porch
A screened-in porch is a great way to enjoy the surrounding environment and natural light, while still keeping out bugs and insects. Plus, it will also shelter you against any rain and excessive heat.
In this first example, you may see how the French doors with transom become such an important centerpiece in the space. The mahogany offers a beautiful natural touch and warm contrast against the rest of the white windows.
The doors themselves are from Brannen Millworks, 8 feet tall and 2 1/4″ thick. The insulated glass that forms the panels helps the entire home feel open and bright, while blending rooms together.
To create a sense of personality and coziness, we recommend going for the furnishing that feels rugged and authentic, and not be afraid of mismatched patterns. For example, the green rocking chair with colorful upholstery and the swing sofa with floral cushion.
Meanwhile, the floors here is pressure-treated pine with tongue and groove decking. They are then finished with priming on all sides and some deck paint.
2. Complement White French Doors from Sierra Pacific Windows with Transom for a Classic Exterior
For the following example of French doors and transom, let's look at this stunning exterior shot of a traditional home that feels quintessentially classic. It also features some pillars on the porch that create a grand sense.
Here, the white doors are 6'8″, whereas the top of the transom is at an 8' height. Made by Sierra Pacific Windows, these doors blend easily with the windows that also have numerous glass panes.
This can be an excellent way to ensure that the inside of your home always feels bright and airy. It can also create a feeling of welcome and invitation for the exterior.
You can place some wooden chairs and table for the porch area to create a homey outdoor nook. And again, the pillars, which are not tapered, bolster the second-floor balcony and enhance the ambiance even more.
3. Style an Elegant Living Room Featuring Custom French Doors with Transom and Dark Wood Floor
Next is an elegant living room that looks sophisticated and cozy, thanks to the fireplace and fuzzy carpet on the wooden floors. These are truly essential features to have if you want to build a snug sanctuary.
We would go for Sherwin Williams 6148 – Wool Skein in terms of the wall color. This gorgeous off-white shade goes well with the trim and ceiling, which are in SW 7012 – Creamy.
They are excellent alternatives to pure white paint, so that you can still evoke a nice warmth to the space. Not to mention that they balance the medium-toned wood flooring very evocatively!
Moving on to the French doors and the lovely transom, these are custom-made by Stewart Brannen Millwork and finished with a sleek Ebony stain.
The dark finish matches the dark wood floor and the overall atmosphere of this living room, which actually has access to an outdoor space.
4. Install Massive White French Doors with Transom Against Red Walls for an Eye-Catching Family Room
Who says that bright and bold colors cannot look classic?
In this next photo, you can see how an eye-catching shade of red can actually be an excellent choice for the family room.
One way to complement such a striking color is to go for white windows and trims, as they can then balance the vibe by toning it down a bit. We also love how the wood flooring has a slight and subtle pattern, which adds more depth.
Meanwhile, the multicolored red rug is inspired by traditional Persian patterns and evokes such a lustrous vibe. The classic colors and floral design deliver a grounding and timeless essence, which can be fitting for a family room like this one.
By installing large French doors with a tall transom, you can create some separation between this room and the rest of the house while still maintaining an open flow. Plus, the glass panels here also allow natural light to travel throughout the house.
5. This Simple Maroon French Door with Transom Completes the Rustic Mountain Style Home
Next, here is another exterior inspiration you can draw from. It is a simple yet charming rustic mountain-style home, where the French door and transom are in a deep maroon color, as are the other large windows.
While we don't have the exact information from the homeowner or builder, you can try using Sherwin Williams' Rookwood Red to recreate this look. The rich and sleek tone is perfect for a cabin-style house with lots of wood elements.
Another trick that we like to implement when decorating a lovely home exterior such as this is to turn to plants and greeneries. For instance, the climbers and bushes that you can see in the landscaping here add so much life to the overall look.
For the porch itself, feel free to keep it simple by stripping back the furnishing and decor. This will evoke a sense of simplicity that fits really well with the mountain and nature theme.
6. Use White Interior French Doors with Transom for a Sleek Home Office Entrance
Do you have a home office or study in your home, and wondering the best way to style its door so that it doesn't feel closed off from the other rooms you have?
Well, using a pair of white French doors with a small transom can make for a ravishing detail in your interior design! Pictured here is a 2′ – 10″ x 6′ – 8″ door with a transom above it. These are interior doors leading into the office space.
The office itself features lots of windows and natural light, so having these French doors with glass panels is actually a great way to let the light stream through and brighten up the rest of the house too.
For the walls, you can go for grey paint and use white for the ceilings. Maintaining a simple color scheme ensures a spacious feel to it.
Moreover, we also love how the office features carpeted flooring, which contrasts the wood floors outside for an additional sense of separation.
7. Brighten Up Your Exterior French Doors with Transom Using Sally Holmes Climber
When you use French doors for your exterior door, it's almost always better to complete it with a transom. It will boost the entry of natural sunlight so you can conserve electricity inside!
There really is no better way to create a charming and classic look than by focusing on the landscaping in terms of designing it. To illustrate, these climbers and roses on the siding of the house offer such a gorgeous fairy tale-esque vibe.
You can use Sally Holmes, a white shrub rose cultivar that is easy to grow and has creamy, white flowers. They can easily complement the white doors and transom that you have. Our tip is to wind it around a wire that you can hang on the walls.
The doors themselves are approximately 26", while the siding is a standard brick in an off-white color. You can go for it to create the ultimate castle-inspired exterior. Perfect for a countryside or rural location!
8. Try a Mediterranean Living Room Featuring French Doors with Transom and Formal Ceramic Tiles
For this next one, we have a lavish example of a Mediterranean-inspired living room, where the two French doors have an arched transom above them and open to the most stunning coastal view.
It's a mid-sized Tuscan space with an open concept and beige color scheme. This simple and neutral color matches the timeless mood of a traditional luxury home.
Here, you can see that the white walls produce a charming balance to the dramatic wood ceiling and beams.
For the flooring, go for ceramic tiles in beige that can evoke a formal vibe while still providing a lovely backdrop for the well-curated furniture choices. From the lush sofas and armchairs to the iron globe pendant, which you can get from Moti.
9. Consider French Doors with Transom to Blend the Indoors and Outdoors in Your Beach Style Living Room
This is another beautiful living room that uses French doors to fuse the indoor and outdoor space, which can be a great idea if you live in a nature-centered area near the beach or with expansive garden space.
Again, this also shows you that using more than a pair of doors can be a great way to let as much light as you can. Not to mention that opening them all will be great for fresh air to circulate through the room. There are also the transoms above the doors that complete the look.
For the furnishing, we love how grey upholstery looks against white walls and wood flooring. You can even place a fuzzy rug or carpet in the center for an even cozier vibe.
Finally, embrace the open concept of living by removing any wall or divider between your living room and kitchen!
10. Go For an Open Concept Kitchen with French Doors with Transom that Open All the Way for a Breezy Vibe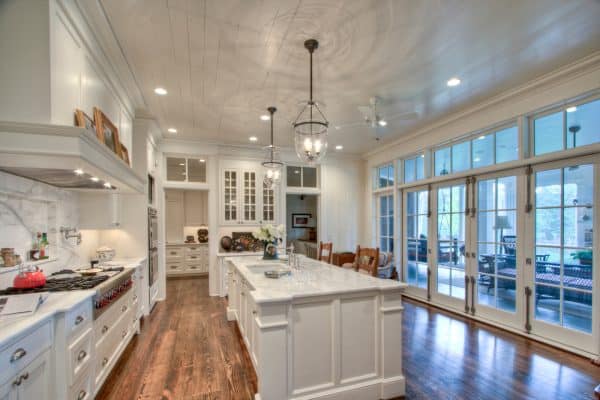 We've talked about living rooms and exteriors; now it's time to see how you can implement French doors in a kitchen and create the ultimate modern atmosphere.
This kitchen in the photo has an open concept with a small eat-in area on the island, where you can place some wooden stools.
The main color scheme is white, a classic and neutral shade that you can never go wrong with, especially when you want to embrace a breezy vibe.
Meanwhile, the floor is an antique heart pine that evokes a warm and textured sense to complement all the white. You can try using white-stained wood for the ceiling to create a subtle sense of depth.
The French doors you see here actually fold completely open and connect the indoor space to a semi-outdoor veranda. We also love that the transom with glass panels ensures that as much natural light can come through.
11. Complete Your Semi-Outdoor Porch Using Antique French Doors with Transom and Matching Sofas
Up next, this is a semi-outdoor porch that has a stunning blue color palette while accentuating timeless classics. It's the perfect inspiration for those who love a home with the ultimate open concept.
There are at least four antique French doors with transom here, which is one of the ways to evoke a grand and elegant feeling in the space. You can try placing sofas with a matching shade and stained ceiling for a seamless look.
Moreover, the rug in the middle of this seating area also portrays an authentic personality through the bold floral patterns and colorful strokes.
This is a great way to ensure that you infuse some character into the design, even when it's elevated and classy.
12. Use Brown French Doors with a Transom Under a Groin Vaulted Ceiling for a Timeless Appeal in the Hallway
For this following example, you can see a long and bright hallway design that features multiple brown French doors and arches as the transom.
This exact look may be fit for a larger house, but don't be afraid to adopt some of these styles to your home, however big or small it is!
If you love the sense of majesty and timelessness of old-school castles and architecture, then this could be the perfect feature for you. Use a groin-vaulted ceiling that elevates the sense of space and height.
We would also recommend hanging some lanterns and candelabras to introduce even more drama to the hallway. For the color scheme, just stick with natural and earthy tones like beige, brown, and white.
13. Build a Timeless Patio that Features Lovely White French Doors with Transom and Subtle Greek Architecture
For our final design inspiration, we have picked a traditional and timeless patio example with charming white French doors and transom above it.
It is subtly evocative of old-school Greek architecture with its pillars and hard edges. But it can be fitting for a contemporary home with a beautiful countryside setting. Especially if you have a large backyard or front porch surrounded by lush greeneries!
The French doors have lots of glass panels, as do the transom, that can help invoke that medieval open feeling that you find in old architectural structures. If you want to recreate this exact look, the door handles are from Marvin.
You may notice the black sconces on the exterior walls, which are from Classic Lighting Devices. In addition to providing illumination during dark evenings and nights, these also add a lovely touch of stark black to the otherwise white siding.
Last but not least, let's not forget the importance of finishing touches to complete this patio. We always recommend placing an outdoor table with a couple of chairs, so that you can have a spot for enjoying coffee in the morning or afternoon tea.
Closing
All things considered, having a transom window above your French doors can be a great way to maintain the sense of airiness and transparency of the glass panels.
Whether you want to use this feature for your entryway, back garden, or even as an interior door, we have summed up some of the prettiest designs we could find. Hopefully, you were able to find some inspiration in these photos.
As always, don't be afraid to experiment with new styles and go out of your comfort zone. You might discover a bold new style that can encapsulate your personality the most. Good luck!