Landscaping slopes with rocks can be a great way to improve your curb appeal while also adding erosion control. This means that you can prevent the weather from gradually destroying your landscape.
Did you know that the surrounding environment can be just as important as the main house itself?
Not only does having an attractive outdoor space make your home feel much more relaxing, but it can also create a more welcoming atmosphere for guests and neighbors.
While landscaping a slope with rocks can certainly be tricky, it is not something impossible to do. You can simply make sure that the stones are arranged in a balanced and stable position.
Today, we thought it would be great to go through some of our favorite landscaping designs on a slope featuring elegant cuts of stones and rocks.
Take notes on what you like and do not like from each example, and you will figure out the perfect style for you!
1. Try a Luscious Front Yard Featuring Landscaping Slopes with Rocks and Ornamental Grasses
For this first photo, here is a lakeside, coastal-inspired yard design with lots of different plantings and ornamental grasses to create a lush and refreshing atmosphere.
The key to making a natural-looking yard that is also beautiful and goes well with the landscaping slopes and rocks is variety. Lots and lots of variety.
The grasses here include different types of Pennisetum and Panicum for a fresh look.
There is also sedum, Mugo pines, and Rudbeckia, each bringing their own unique characteristics and working together to provide a stunning ambiance.
You may also want to intersperse these green and brown colors with a pop of bright flowers!
The rocks themselves vary in shape and size, but most of them are quite large and retain a rugged, uncut look. This can be important to establish a more natural feel instead of a deliberately "fabricated" sense.
2. Use Dramatic Lighting to Elevate This Industrial Backyard and its Stunning Landscaping Slopes with Rocks
It always pays off to give more attention to the lighting in your outdoor areas, as they can light up at night for a truly dramatic and elegant look that will take your landscape to a whole new level.
This industrial backyard features beautiful landscaping on slopes that combines natural rocks with the manmade appeal of steel. These contrasting elements evoke the best features in each other for a magnificent backyard that is sure to impress any guest.
To go back to the lighting situation, you may notice how there are warm yellow lights that seem to glow softly and illuminate the entire space.
Do this by installing lighting hidden amid the plantings and grasses, so they can give off a romantic glow in the dark!
These lights are actually from Unique Lighting Products, specifically well lights and spotlights. They create stunning accents, shadows, and backdrop lighting that are indeed one-of-a-kind.
3. Turn a Steep Hillside to this Serene Landscaping Slope with Rocks and Lush Plantings on Both Sides
The following picture shows a more traditional landscaping style that you may see in any countryside home or cottage.
We love how the slope featuring rocks and stone steps look like a serene pathway into a hidden oasis, especially when surrounded by all these lush plantings on either side.
With a mix of salvias, ornamental grasses, and pomegranates, you can create an ultimate nature paradise here.
If we had to choose one word to describe this site, that would be breathtaking. The landscaping work is magnificent as it favors plants with a plush feel that are soft in terms of its visuals, thus creating an overall relaxing vibe.
Moreover, the slope itself offers the opportunity to use natural rocks for these unique steps. We recommend going for a less uniform approach and let the natural accent and shape of each piece shine.
4. Use Oregon Mild Steel For Landscaping Slopes with Rocks that Can Weather to a Dark, Rustic Look
Up next, this is an example of hillside landscaping and how you can turn your backyard into a beautiful garden complete with retaining wall planters and rocks.
One of the unique ways to decorate your backyard is to use real boulders or rocks and place them in random spots all around. They can add a zen to the entire area while also reinforcing the steel and helping pin them in place.
In terms of which metal to choose, try using Oregon mild steel that can eventually weather and turn into a rustic and dark color. This means that as your steel gains age, it will achieve a more vintage look that will be super beautiful!
Moreover, you can choose any plant for the groundcovers that suit your own gardening preference.
These are Selaginella kraussiana 'Aurea', which does best under shade and may not be the easiest option.
However, the stunning golden shade can complement the landscape really well.
5. Consider Landscaping Slopes with Rocks and a Brick Retaining Wall to Accentuate the Surrounding Nature
Landscaping slopes and retaining walls can go well together as they both have reinforcing abilities. Here, let's explore a more traditional and countryside style that will accentuate the environment around.
Starting with the paver path and stone staircase, this slope is easily a seamless part of the sprawling landscape as they use only natural materials typically found in the surrounding area.
This can be an excellent design tip you can also implement in other aspects of home decorating and landscaping.
Furthermore, the natural feel of this design is established even more by the abundance of trees around the slope. Not to mention the graceful-looking grasses and plantings along with the steps!
This landscaping also features a brick retaining wall for an even more rustic vibe. It can be a great way to help prevent erosion in the soil and also add the decorative element for this hillside.
6. Build a Water Feature Amidst Landscaping Slopes with Rocks for a Traditional but Zen Ambiance
Water features in landscaping can make all the difference!
This simple thing adds not only a dynamic visual to the area, but also improves the soundscape to create a therapeutic background sound!
For instance, we have here a traditional hillside landscaping on slopes with rocks arranged in a small water fountain. There is a mix of tiny pebbles, round slabs of stones, and rugged rocks to create a beautiful structure.
Of course, you can always enhance this water feature by adding more rocks, grasses, and turf around it. This will help center the attention to the water fountain, but still allow the surrounding space to complement it.
Another exquisite detail that is simple but can elevate the design, even more is the picket fence surrounding the area!
The crisp white color and uniform shape provide a stark contrast against the earthy colors of beige, brown, and green. It also adds a touch of contemporary element.
7. Elevate Your Country Home with Rustic Landscaping Slopes Featuring Natural Rocks and Water Fountain
There is nothing more majestic than a country home with wooden architecture, stilts on a slope, and floor-to-ceiling glass windows.
One way to make such a home even more perfect is to pay attention to the landscaping, which will elevate the curb appeal and also let your home blend with the surrounding nature more seamlessly.
In this photo, you can see how the landscaping slopes features natural rocks, a variety of plants and grasses, as well as a unique water fountain gracefully tracing the stone steps down to the ground level. These all create a serene and restorative ambiance that you might love.
8. Try this Craftsman Landscaping Slopes with Rugged Rocks for a Nature-Inspired Staircase
This craftsman home extends its distinctive style to the landscaping of the yard around it, which features a steep slope with rugged rocks for the staircase, as well as mulch landscaping.
First off, we would like to point out that this landscaping may work best for rural homes where the real estate is spacious, and the surrounding views are truly fantastic. This lets you blend the private area with nature for an illusion of the infinite.
A lot of craftsman designs are inspired by 20th-century architecture with an emphasis on exposed natural materials, including the rocks you can see here.
On this slope, you can build a staircase that is also connected with the retaining wall to lead from the front yard to the main entryway of the house. This elevation will also evoke a sense of style and upscale living.
9. This Breathtaking Landscaping Slope with Rocks and Purple Flowers Make for a Magical Scenery
When building your dream home, the landscaping and curb appeal is just as important as the interiors. For example, this slope features lots of rocks and plants that complement the whimsical exterior of the house itself.
This rustic home makes the most of its hillside slope by creating a riverlike waterfall that streams downhill. Here, you can use various rocks and stones to direct the flow of the water. In addition, they also make for more realistic landscaping!
We also adore the purple flowers scattered around the ground, as it provides the necessary pop of color to brighten up the area.
You can even have the same type of flowers hanging from the balcony of the house. This will create a satisfying continuity between the house and the yard.
10. Unique Rock Retaining Walls and Landscaping Slopes with Rocks Evoke a Casual Charm to Your Yard
This next photo illustrates a casual and rustic hillside landscaping that is part of a beautiful and timeless country home.
With a multi-level stone paver retaining wall and luscious plantings all around the garden area, this home truly embodies the calming essence of a forest setting.
You can see how all of the tall trees, with their wide canopies and ornamental shrubs, create a beautiful ambiance.
We have mentioned the importance of lighting earlier, and this landscaping shows again just how magical they can make your yard look!
Install them on the side of the stone steps and along the slopes; these can provide a soft, warm glow to make your home feel welcoming.
11. Turn These Landscaping Slopes with Rocks into a Beautiful Outdoor Area with a Fire Pit
You can also make landscaping slopes that look cozy and inviting as you build a fun outdoor area, complete with a functional fire pit and large rocks for a rustic and timeless vibe.
Start with the landscaping slope that features some ornamental plantings, small pebbles, and natural rock formations. These can help tie your home and yard area to the surrounding nature in a seamless and romantic way.
For the furnishing itself, you can simply opt for regular outdoor chairs that can withstand the rain and dries off easily. Place them surrounding the fire pit for the perfect chill-out spot! Plus, you can even utilize the rocks around the area as additional seating when you are hosting more guests.
Don't forget to choose the right grasses to also fill the empty yard in front of the house.
Make sure they are easy to grow and care for, as the vibrant green color can provide a stunning complement to the dark brown colors of these rocks.
12. Create the Ultimate Oasis Featuring a Pond, Waterfall, and Landscaping Slopes with Rocks
If you are looking for a retreat-like design to build a home that feels like an oasis and an extension of nature, then you may love this next one!
This large, rustic property features the most rural and somehow most serene atmospheres, especially with the landscaping slopes and arrangement of rocks to form a beautiful retaining wall and water feature.
To talk about the water feature, this waterfall connects to the pond and provides a refreshing look that is soothing to the eye. Meanwhile, the rushing sound of the water can also be therapeutic and helps establish that away-from-the-city vibe.
We would also recommend featuring a variety of flowers and plantings that can grow well in the area you live in. Don't go overboard either! Sometimes, less truly is more, and a sprinkling of the right options can say a lot.
13. An Eclectic and Verdant Landscaping Slope with Rocks is a Green Thumb's Paradise
This is another example of a landscaping slope that uses rocks and water features to create a mini garden that feels super calming and relaxing.
The previous state of this area was just a standard front yard, which means you can always transform your own into a green thumb's paradise just like this one! In that case, the first step to do is to remove all the grass while enlarging the beds.
After that, it is time to build some ponds and waterfalls on the slopes.
You can then start decorating around these features with turf, plants, grasses, and a variety of rocks and stones. The earthy colors and tones can be quite rejuvenating for the mind.
This eclectic landscaping style may suit almost any style of the house.
Whether you have the ultimate modern home with sleek lines and simple silhouettes, a classic wood-inspired cottage, or a traditional country house, having a serene spot like this can be super nice!
14. Build Landscaping Slopes with Rocks Leading up to a Dramatic Archway for Exotic Retreat Vibes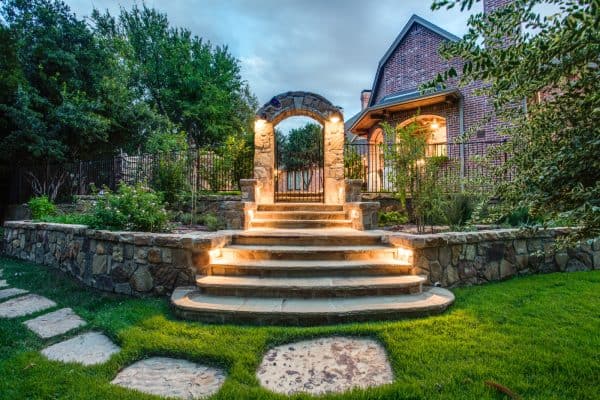 Last but absolutely not least, this beautiful retreat showcases how a landscaping slope with rocks can look even more exquisite with a dramatic archway and staircase to lead into the home.
The archway, staircase, and retaining walls are made of natural rocks for a seamless and grand, traditional feeling. This also means you can plant some trees and grasses in the retaining wall for a little life that will jazz up your home!
Again, yellow lights can elevate the ambiance even more and make this entrance pathway an even more dramatic experience. Not to mention that the use of rocks in this sloping landscape goes well with the classic red brick exterior of the house.
Closing
There certainly is an endless way for landscape design, even for a sloping area that features rocks and other natural features. Your imagination is the only limit there is, and this is also true with any other landscaping project.
For this instance, you can try to mix and match with different elements from different examples. Water features such as a water fountain can be a great way to add some sound to your landscaping, while ornamental grasses can complement the rocks or the retaining walls.
Meanwhile, we always recommend having some kind of colors or textures that stand out against the rest. This will add a bit of playfulness to your outdoor area, which will truly improve your curb appeal. Don't be afraid to experiment with new styles either.
Good luck and happy landscaping!