When designing a dream home, it is crucial to pay attention to not only the interior but also the exterior. It can improve your curb appeal and the first impression that people get when seeing the house. Color has an important role in this, especially as different shades can evoke different ambiances.
Choosing the right house and shutter color combinations may sound daunting at first, but it is actually quite straightforward and can go a long way. The shutters can provide a fun pop of color and pattern to the house, as well as adding style.
You have to choose colors that work together. Think about how the shutters would look next to the siding, in contrast to the trims, as well as the front door. Something as simple as this can have an enormous impact on the overall look of your house.
Today, we will look at some great combos of house and shutter color. Whether you have a crisp white three-story house or a tiny brown home, there is the perfect shade of paint waiting to grace the shutters.
Without further ado, here they are!
1. Combine Urbane Bronze Shutter Color with Dovetail House Siding for a Charming Craftsman Style
First off, this craftsman-style exterior shows how you can combine two neutral colors together for an attractive pairing. Despite appearing quite simple, this house actually shines in its simplicity.
The house siding itself is made of CertainTeed Fiber Cement and uses Dovetail SW7018 from Sherwin Williams. This light grey color is something you can't go wrong with. Complement it with shutters in Urbane Bronze SW 7048 for a timeless charm.
You can also see how the exterior incorporates different materials for a unique yet quintessentially charming style, which is the trademark of a craftsman's house. The stone used for the wall on the front porch is a Canyon Stone brand in Autumn Blend color and Southern Ledge style.
To complete the entryway, you can choose a simple front door and paint it in Sherwin Williams' Decorous Amber SW0007. This is a beautiful brown color that has an earth tone and matches the overall vibe well.
2. Play with Monochromatic Contrasts of White Brick and Satin Black Shutters for Traditional and Timeless
This traditional residence is another brilliant example of how choosing the right house and shutter color combination can truly transform the look of the building. It can be a good idea to play with monochromatic contrasts for a timeless design.
For the white bricks, you can use Sherwin Williams 7005 Pure White. It will create a crisp white exterior that draws the eye and makes the house feel modern, bright, and clean. Whether you prefer a contemporary or classic exterior, it's impossible to go wrong with white.
Meanwhile, paint the shutters in Sherwin Williams Satin Tricorn Black, which is also an exterior paint. The excellent contrast between these two colors is a fool-proof choice that will always work, no matter what style your home is.
Again, remember that black and white is a fool-proof combination that will always give you an effortlessly stylish result. Whether you are revamping the exterior like this or simply looking to renovate the interiors.
3. Try the Classy Charleston Green Color for a Window Shutter in a Grand Brick Home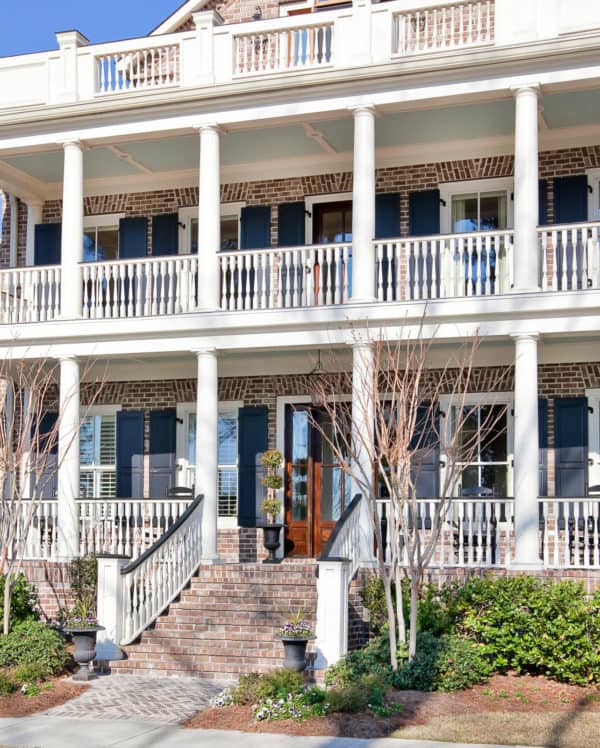 For this following example, we have another timeless brick exterior that uses bright and dark colors to create a classic charm and appeal.
The window shutters here are painted in Old Charleston Green, which provides a nice contrast to the white windowsill and white railings. At the same time, this dark color also complements the brick wall siding.
Meanwhile, you can see that the porch ceiling uses Valspar's Clothesline Fresh, which is a light and bright color. It is excellent because another dark shade would overwhelm the exterior and make it feel stuffy. Instead, this will make it feel spacious and modern.
In addition, you can also ensure that there are plenty of greeneries and shrubs in the front yard. This will make the house appear lively and also more welcoming, which is always a great thing to have.
4. Elegant Tuscan-Styled House with Keystone Grey Shutters and Pearly White Paint
This large traditional front porch has a Tuscan-styled design complete with elegant brick siding, tall shutters, large pillars, and a roof extension.
For the house itself, Pearly White would be a perfect choice as it contrasts the red brick material and helps the house look more elegant. You can then choose Keystone Grey, another beautiful Sherwin Williams color, for the shutters. It is neutral and classy without being too flashy.
This gorgeous and classy house and shutter combination are excellent for those who like a sense of grandeur in their home. The roof extension or portico with white pillars allows you to create a porch area. Place some white rocking chairs here, and it can be a great place to sit in the mornings or afternoons!
Additionally, we adore the brick foundation and steps that can add some height to the house. Not only does it match the classic brick siding, but it also adds a particular charm to the overall look, which you might love.
5. Go for a Dark Shutter Color to Juxtapose the White Exterior and Create a Stunning Urban House
This gable roof remodel is a stunning three-story house example with shutters and traditional architectural features.
The brick is painted Benjamin Moore Navajo White, which is a brilliant white shade to establish a neutral and clean tone for the house exterior. The bricks are great because they add some texture, while the white color ensures that it still has a bright palette.
In terms of the shutters, we recommend going for a darker tone such as this dark grey. This allows the shutters to contrast nicely with the white bricks, and you can also make sure that the windowsill and trim are also in a similarly dark color.
For the rest of the exterior, make sure there is some element of greenery in the landscaping too. This will provide a fresh look so that the house is not completely monochromatic. Meanwhile, you can also have a natural stone retaining wall.
6. Pair Dark Yellow Shutters with White Trim for a Sweet Look and Charming Cottage House Vibe
There is something utterly charming about a cottage-inspired home, especially with the sweet look of its bright colors and brick siding.
Here, you can see a mid-sized two-story house with red and white brick walls, as well as a cozy little porch. This is an excellent tip if your house has a private front yard, as creating a seating area can make the space feel homey and comfortable.
In terms of the windows, you can choose Sherwin Williams 7004 Snowbound for the window trim. This white color provides a stunning complement to the exterior. Meanwhile, go for a dark yellow color for the shutters. In this case, they have used Sherwin Williams 7739 Herbal Wash.
In addition to the spacious lawn with the manicured grasses and bushes, you can also place some vases on the front porch. This will act as an extra ornament to make the space feel more lived-in.
7. Embrace Calming Earthy Colors with Pella Brown for the Shutter Paint and Mocha Brown Siding
Another way to embrace a classic home design that will look timeless and effortlessly gorgeous is to use earthy colors that can evoke the perception of maturity and calmness.
Firstly, the mocha brown exterior can establish a classic look that blends easily with the surrounding environment. You can then build a white portico complete with the pillars to provide some contrast and element of light.
The shutters here use Benjamin Moore's Pella Brown, which is a much darker shade of the beige exterior that can really complement it.
Finally, if you want to recreate this entire look, try going to Jeld Wen to manufacture these windows. The thin frame adds beautiful detailing to the architecture, and you can see how the wiry window and its brown color also match the stone wall.
8. Choose the French Country Style House with Carolina Gull Shutters and Lush Trees
If you like the combination of traditional and modern to create a stunning exterior, perhaps this French country-styled house can be the perfect inspiration for you.
Inspired by modern French country homes, this design incorporates the classic features of old European construction but in a new way. This includes the trademark stucco facade, slope roof, and intricate details all throughout the house.
At the same time, you can also see the white trims and windows, as well as the large front door with glass panes. All of these add a crisp edge to the home, which makes it feel very modern too.
Meanwhile, the shutters are painted in "Carolina Gull" by Benjamin Moore. This natural and beach-inspired shade offers a refreshing pop of color to the exterior, which stands out even more against the beige siding.
Don't forget that plants can be a great way to jazz up the entryway and lawn. They will also make the atmosphere much more relaxed and fresh. As a finishing touch, you can try hanging an antique lantern just above the front door.
For the next photo, you can see yet another brick home, although this one still looks and feels different from the rest.
The house uses Pennsylvania Blue slate stones, which look bright and vibrant with the charcoal HD Timberline shingles. The roof is also not too dark and just the perfect shade to feel both polished and modern.
Meanwhile, the antique brick, or sometimes also known as 'college blend,' is a multi-colored mosaic that makes this home appear quite modern and refreshing.
For the shutters, you can go for a dark shade that can still exude some personality, such as Benjamin Moore's Old Navy 2063-10. This deep blue color can evoke a sense of stability and peacefulness, which is always something you would want in a dream home.
10. Match your Lichen Window Shutter with the Front Door for a Coordinated and Seamless Look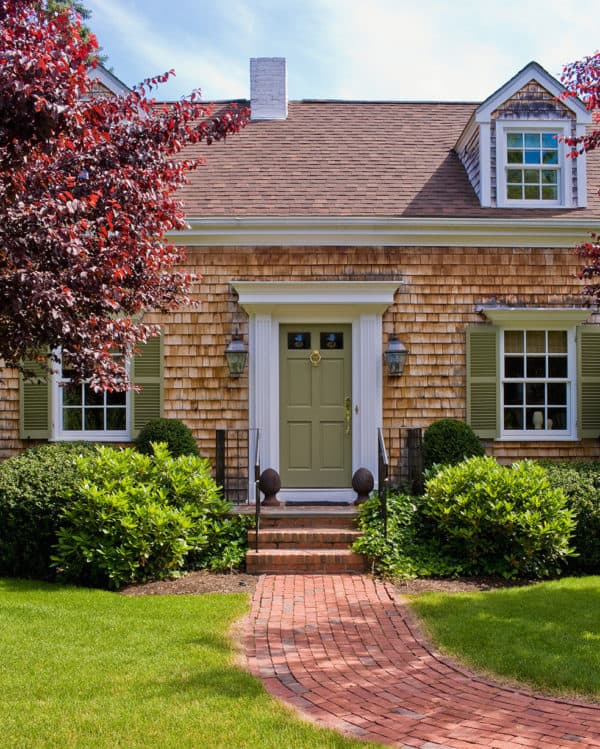 One trick that you can try when designing the exterior of your home is to match the window shutters with the front door. Painting them in the same color will create seamlessness that makes the house look large.
In this case, the door and shutters use Farrow and Ball's Lichen. This is a beautiful shade of green which gives it a natural and earthy vibe.
Additionally, make sure that the landscaping does not shy away from using lush bushes and grasses. The green vibes will be especially refreshing against the Lichen paint.
To avoid monotone, you can then give the front door a white trim, as well as the windows. The white will also add a crispness to the lines, as it looks especially stark against the brown siding.
It can also be a good idea to buy a gold emblazoned knocker to sweeten the front door even more. The same goes with the two lanterns flanking it.
11. Spotlight the Beauty of White Color in this Mid-Sized Traditional Home with Black Shutters
It is no secret that white is an exceptionally versatile color that can help highlight dramatic features in your home without overpowering others.
Not only that, but a white exterior can create a clean yet calming effect while also offering a crisp and clean first impression. This can be important, especially with a large house such as this, so that it doesn't feel too imposing.
In terms of paint colors, you can go for Stone White by Benjamin Moore (2120-70) for the siding. This is an off-white shade that is bright and light but still feels warm. Meanwhile, try the much crisper Simply White by Benjamin Moore (2143-70) for the trim. This will help you create a nice and subtle contrast.
The shutters here use Baby Seal Black by Benjamin Moore (2119-30). It is a simple and muted color that matches the calm ambiance of this entire house. However, the slight shade of darkness around the window also highlights the features well.
12. A Gorgeous House with Grey Shutters, Brown Siding, and Old-School Ironwork Decor
Up next is a beautiful house with brown siding and grey shutters, which at first glance may feel like a monochromatic choice, but is no less stylish.
The body of this house is painted in Sherwin Williams' Palisade, SW7635, gorgeous brown color with a classic earthy tone. This will help ground the house with the landscape. Whereas the shutters use Manor House, SW7505, which is several shades darker and highlights the windows nicely.
The windows themselves are white, as is the door trim, to provide a light contrast and make the house look a little crisp.
Another way to enhance the facade of your home and create an elegant lawn is to include some decorative plants and make sure they are well manicured. You can see how the trimmed bushes frame the house very nicely.
We also love the ironwork decor that graces the entryway. It forms a sort of portico and adds an ornate element to the exterior without feeling too heavy and solid.
13. Consider a Green Black Shutter Color on Crisp White House for the Best Stucco Exterior
Lastly is this white house with a gorgeous stucco exterior, as well as wiry metal balconies that complete this classic old-school design.
For the bricks, you can use Benjamin Moore #1492 Sebring White. This will allow you to keep the rustic texture and detailing of brick walls without having to keep the multi-colored vibe. The white color is also perfect for a cozy countryside home.
Meanwhile, choose Sherwin Williams #6994 Green Black for the shutters, which is a dark enough shade to create a stark contrast with the siding. However, it still provides a sense of character when you look closer.
In addition to the contrasting shutters and white trim, you can also use medium-toned wood for the front door. It's a classic and timeless look that still feels very modern, especially if you hang some wreaths here.
Closing
There are literally endless possibilities of color combination, especially when it comes to the house and shutter. You will find the perfect match for your specific home and individual preference. The key is to be patient and look at lots of inspirations.
We do hope these photos today could provide some ideas as you continue with your designing journey. Once you have chosen the right color for your shutter to match the exterior, you are one step closer to creating your dream sanctuary.
As always, it's also important to let your creativity take the reign when designing anything, including your house. Don't be afraid to experiment with new colors and styles. Who knows, you might find something beautiful that you would never have thought of before!