The bedroom might be one of the most important spaces in the house, as this is where you can rest and recuperate after a long day. It is where you sleep and relax, which is why designing a comfortable bedroom is key to the perfect home.
If you are looking for the right color scheme to use, try going for a black and grey bedroom. This is a safe and neutral combination that works especially well for the bedroom. Plus, it can exude a cozy vibe to help you feel at peace.
To start with, the color grey is an extremely versatile one. No matter what style or ambiance you are going for, there is a grey shade that will work well for the interior. It can also create a variety of moods and provide some depth and personality to the space.
Meanwhile, black is also a basic color that goes well with other colors, especially grey. It can introduce some bold aspects and. From moody walls with a snug feeling to chic and modern decor, you can't go wrong with black.
Here are 13+ elegant black and grey bedroom design ideas that you might love!
1. Encapsulate Contemporary Elegance in the Bedroom with Black Walls and Grey Carpet Flooring
This first bedroom features some of the most straightforward design choices and elements that have worked to create such an elegant and classic space.
See how the black walls immediately draw attention. While painting your bedroom walls in black may sound counterintuitive, it can actually be a great choice because the deep shade creates a sense of warmth and coziness to the area.
You can see how the walls are complemented by the black window frames and black pendant lights hanging above the bed. Again, lights and lamps can be an easy way to vamp up any room without cluttering it, as they are also functional.
The grey carpet flooring also complements the elegant theme really well and can be a cozy way to decorate the floor. We also love the grey headboard and bedside table. In terms of bedding, you can go for a mix of grey and white to balance the colors.
2. Go for Traditional Bedroom Charms through Ornate Black Furniture and Patterned Grey Sheets
Sometimes, traditional-styled bedrooms can be much more charming than contemporary ones. Especially if you are a fan of these interiors.
This bedroom features ornate black furniture, which includes the bed frame and headboard, cabinet, as well as bedside tables. You can also see that the armchair has black accents in addition to the beige upholstery. The grey bedding with white pillows is a great choice to complement this room.
Of course, having a black and grey bedroom does not mean you can paint the walls in other colors. In fact, you can see how the brown shade of Sherwin Williams SW7031 – Mega Greige looks very attractive here.
In addition to the brown flooring, it actually balances the black and grey elements while providing some warmth to the space. The variety can be refreshing and make the room feel homey. Meanwhile, the white trim, ceiling, and windows add some crispness too.
For the knickknacks and small decor, you can maintain that traditional sense by choosing antique-styled items like ornate table lamps, beige books, and black photo frames.
3. This Lavish Bedroom with Grey Walls, Grey Bedding, and Polished Black Flooring
If you are into lavish bedrooms that feel extremely elegant and chic, you will love this contemporary inspiration.
It features polished black flooring that establishes the modern and high-end ambiance of this bedroom. This black color is also present in the stylish armchair and bedside table.
The deep grey walls are for sure one of the most attractive features here, especially as they match the shiny grey curtains and create such a warm and cozy atmosphere.
Do not be afraid to mix different shades of the same color when you are designing a room, like the grey of the bed here. From the headboard to sheets and pillows, as well as the throw blanket, you can see it uses multiple shades of grey. The result is a complex and attractive spot in the room.
Finally, you can also see how the bedroom incorporates some white to offset the darker colors. This includes the plush rug on the floor, pillow on the armchair, and ceiling. It is always important to think about contrasting elements that can enhance the interior.
4. A Trendy Bedroom Design Featuring Wood Flooring, Grey Walls, and Various Black Accents
For a trendy bedroom that incorporates the classic monochromatic color scheme as well as bolder patterns and white accents, this photo can be a brilliant example.
Notice how the black elements in this room are usually accompanied by some extra features. For instance, the black, grey, and white fabric pattern, as well as black beams on the ceilings. We also adore the black-and-white curtains and shades.
For the walls, you can simply go for a medium-toned grey color that is light enough to make the space feel bright but still dark enough to create that cozy vibe. This bedroom, in particular, uses Dunn-Edwards DE6367, which is covered in platinum.
In the meantime, it can be nice to go for some wood flooring to break up the black and grey monotone. Plus, this natural wood texture can provide a rugged feeling that always makes a space feel cozy.
5. Try a Cozy Bedroom Nook with a Black Headboard, Grey Walls, and Warm Lighting
This cozy and dark bedroom is the perfect nook for those who want a peaceful and calming place to rest each night. It features a pretty dark color palette with dim lighting to create that intimate feeling.
Use Benjamin Moore Copley Gray for the wall paint to establish a dark foundation for the interior. You can also choose a medium-toned wood flooring that works well with the deep theme.
For the bed, we absolutely love how the black bedframe looks when you pair them with white and bronze sheets. The latter is a great idea to add some opulence to your room.
The wall art above the bed here is a creation from Natalie Erwin, who is a brilliant artist and makes excellent pieces that you can use for home decor. Meanwhile, you can get the Beatrice Lamp for Jonathan Adler. This is a stunning piece that will light up the space but also looks pretty!
6. Combine Grey Walls and Black Furniture with Brown Blinds in this Modern Carpeted Bedroom
It is always great to have a place at home where you can just feel at peace and recuperate. In this tranquil and calming bedroom, anyone can easily relax.
To balance and complement the black and grey colors here, you can install some brown blinds. As you can see, the brown color fits nicely against the grey walls and black windows. Meanwhile, the paper-like texture also adds some charm.
For the bed itself, you can choose a black frame to ensure that it still feels modern and contemporary, despite the seemingly traditional elements like the tiled flooring and blinds.
Finally, to go with the Japanese-like zen of this bedroom, you can place some decor like the banana leaves to add some aesthetic value and appeal. The brown lantern light on the bedside table can also enhance the warm and peaceful feeling here.
7. Evoke the Classic Cottage House Coziness in this Grey Bedroom with Traditional Black Furniture
A cottage-styled home teems with cozy features that can make the space feel warm, charming, and full of characteristics. You can combine this classic style with more contemporary elements to create a modern-feeling room.
In this bedroom, you can see some quintessential country elements like the patterned curtains and traditional sculpted furniture. This includes the dresser, bed frame, and bedside table, all of which are painted in a bold, black color.
For the bedding, you can choose something that is fun and full of patterns. A grey-centric set like this Barbara Barry Poetical Bedding can be excellent, as the warm grey color will go together with the black shade.
One of the best ways to make any bedroom appear more lived-in so that it feels homey is to place a lot of personal mementos and art that speaks to you, as you can see with the multiple frames in this room.
8. Use an Accent Wall with Coffee Bean Paint Against the White Walls and Gray Carpets
This photo shows that using dark colors in a bedroom is also recommended if you want to set up for a good night's sleep. Deep colors like grey especially will help you feel more relaxed, in addition to being chic.
Here, the dark grey walls create an atmospheric surrounding that works well for the bedroom. You can even paint an accent wall with Olympic or Coffee Bean from Lowe's to create something that pops.
This black color also matches the leather headboard, which despite being simple, is still plush and adds to the overall elegance of the bedroom.
If you want to enhance the ambiance, even more, it can be a good idea to invest in beautiful lamps and pendant lights. The ones here actually cast enchanting shadows on the wall, which can be quite soothing to look at.
Patterns are also a big thing in this interior. For instance, you can mix different patterns on the bed for an eclectic look, be sure to go with similar colors, so they do not clash.
9. Building Mirrors into the Black Headboard to Create the Illusion of Space in an Apartment Style Bedroom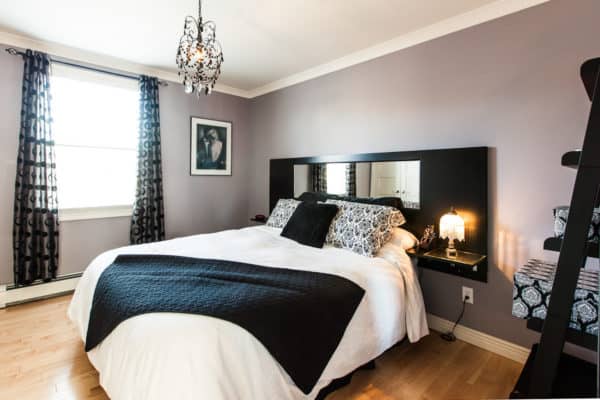 If there was one unique feature in this bedroom, it would be the mirrors on the headboard. This ingenious idea will definitely work for a small space as mirrors help reflect light to make any room feel bigger.
The black headboard itself is quite simple and hangs directly on the wall, but it is the right size and color to complement the plush bed, which uses white sheets and a black throw. This also matches the black patterned curtains and ladder shelves.
Meanwhile, you can go with warm grey color for the wall paint, which is a neutral base that can tie this entire room together.
Don't forget that combining different elements can be worth it, which is why the light-toned wood flooring works well in this space. It adds a degree of coziness and helps ground the interior to a more earthy feeling.
10. Pair Warm Grey Colors and Black Furnishing with Deep Brown Tones for a Comfy Bedroom
When it comes to designing a comfy space, you can never go wrong with black furniture choices, fresh flowers, and classic pendant light.
This bedroom uses Sherwin Williams Dorian Grey for its walls, which have some dramatic undertones. The result is an extremely dramatic look that is full of personality but still elegant and chic.
You can then pair the grey with the pillows and sheets, as well as dark grey curtains to complete the look. Together, these different shades work together to form a warm and cohesive interior.
One way to elevate a black and grey bedroom such as this one is to incorporate brown tones, which you can see in the flooring, cabinet handles, and mirror accents. These subtle touches go a long way.
11. Mix All Shades of Grey and Black Art Installations to Create an Eclectic and Expressive Bedroom
Nothing can be more dramatic and expressive than a bedroom filled with art installations and stylish furniture, which is the case with this photo.
This eclectic bedroom speaks volumes about the owner as it is very simple yet elegantly designed. Starting with the grey walls with a dark grey stripe going across, which gives a unique look to the walls.
Meanwhile, the tall bed also raises the eye upwards and helps to make the room feel spacious and elevated. Even the headboard, which is laced with a beautiful pattern, is quite tall and long. You can also see how the variety of art installations, including the framed images and antique mirrors, enhance the room.
If you want to ensure that a place also feels cozy, you can easily use some carpet for the flooring. You can see that it works particularly well here, especially with the plush grey bedding.
12. Jazz up a Black and Grey Bedroom with Colorful Accents and Wall Art
If anyone says that a black and grey bedroom is drab and boring, this picture will prove them otherwise. In fact, adding a fun pop of color will make the room much exciting and full of life.
This high-rise bedroom is not the most spacious, but you can see how a few simple touches like the turquoise throw, pillows, and armchair make it feel so much bigger. Additionally, there are also a small coffee table and bedside lamp with turquoise linings.
The room itself has simple white walls to emphasize that spacious feeling, while the black bed frame and headboard make sure that it still looks modern. You can then choose grey bedsheets to introduce more color and add some warmth to the ambiance.
13. Play with Wood Textures and Personal Mementos for a Playful Black and Grey Bedroom
A cozy bedroom is easy to create, as long as you put enough personal touches and combine various colors and materials. This will provide an eclectic look that is playful and fun while still being clean.
In this black and grey oasis, you can see how different textures come together to create a rugged and cozy atmosphere. From the wood ladder, guitar, wood pallet bed frame to the desk and shelves, there are a variety of natural wood textures here.
Not only that, but you can also see how they complement the fuzzy carpeting, plush fabric, and sleek walls. Speaking of walls, having a black accent wall among grey walls can also be a great idea to create some warmth without making the room feel constricted.
Moreover, the dark grey blanket with black and white throw also helps to make the space feel cozy. Not to mention the small details such as the quote art, books, and caps!
14. Introduce Black and White Graffiti Murals on Brick Wallpaper to Complement the Grey Wall
Finally, we have here a lovely little bedroom that also shows how combining different patterns and textures can come a long way in creating a cozy nest.
You can start with basic grey walls to establish that comfy vibe, but then introduce brick wallpaper for the added rustic ambiance. Wallpaper is also a great way to create the illusion of raw materials without having to build actual brick walls.
In addition, you can see how the grayscale graffiti on the brick wall section adds even more personality to this space. Likewise, the simple art installation of overlaying empty frames also reflects the artistic tendency of the owner.
In terms of the furniture, you can go for a simple black bed with a crochet pillow, a fuzzy rug to place under the bed and a wire rack as extra shelving. This can also give a slightly industrial vibe to your bedroom.
Closing
Just like designing any other room in the house, the key to creating your dream bedroom is to express your unique style and personality while looking for an aesthetic way to frame them. A black and grey bedroom is definitely the way to go!
We have shown you tons of examples for a snug and cozy bedroom, from a contemporary oasis with bold, black walls and comfortable grey carpet to a more traditional-feeling cottage room with ornate furniture and classic patterns.
As always, it might be best to mix and match from these different photos. Try to look for features and design elements that speak to you and incorporate them into your own bedroom. Good luck and happy decorating!