The entryway is one of the first things that people will notice when visiting or even just walking by your house. This is why you might want to have the best possible door that can represent the home that lies inside and attract people.
Are you thinking of changing your door color, or is this the first house you will be decorating? Either way, a red door can be the perfect choice for you. It is bold, eye-catching, timeless, and very beautiful.
A red door will provide more than mere visual aesthetics to your home; this is a lucky color according to Chinese symbolism! It can attract luck and health, as well as ward off evil from your dwelling. In addition, the shade is a highly positive one that will bring plenty of abundance and passion.
At the end of the day, whether you want a red door for its symbolism or aesthetic value, you will not regret it. Here are some of the best design ideas for houses with red doors to inspire your own home!
1. Include Horizontal Windows on the Red Door for a Contemporary and Unique House
First up, we have this unique contemporary house that comes with an asymmetrical build with a stunning red door in the middle. While the door isn't physically in the center, the pop of red color definitely attracts the eye towards it.
You can choose a door with some glass panes for an enhanced design. It can be much better than a simple, plain door. Additionally, the glass slits also match the open concept of the house with its massive windows.
In terms of the house siding, you can even combine different materials for a refreshing look. This is part of the appeal of contemporary architecture as it experiments with new styles every time. Here, you can see how the grey concrete looks especially charming next to the wood slats.
These are Cedar wood slats whose natural wood color and texture contrast the grey really nicely. The exterior is coated with a smooth finish stucco. Meanwhile, you can use simple black stainless steel for the window and doorframes to add some nice, bold lines.
2. Pair Cottage Red Front Door and Basil Green Trim in a Cozy Cottage House Exterior
If you are looking for a more countryside feeling for your home, perhaps a cottage house-inspired style might be the right one.
In this cozy cottage exterior, we have the classic combination of an off-white color with the brighter shades on the door, as well as the red stone pathway and potted plants. The exact color for this door is Benjamin Moore's E-22 Cottage Red, while you can get the same model from DSA Doors' Tuscany Collection.
For the house itself, you can use OC-120 SeaShell, also from Benjamin Moore, while the trim is in Basil. This beautiful green shade matches the window trims, too, and is an extremely neutral color. The contrasts can evoke a sense of calmness as well.
Moreover, you can place some plants to flank the doors and a colorful mat, therefore creating a warm welcome for whoever stops by your home!
3. Try a Large Red Garage Style Front Door for the Ultimate Craftsman Inspired Porch
There is no reason to stick to tiny doors if they don't fit your design, and the same goes for front doors too. This large red front door is a little garage styled and looks utterly gorgeous in this craftsman entryway.
On the porch, you can use Ipe wood for the decking as it is solid and durable. Plus, this wood has a smooth nature which means you can get a more flawless and exotic look. If you place some outdoor furniture like the bench here, this can also be a great place to sit in the morning.
When it comes to craftsman homes, do not be afraid of mixing colors to create an eclectic look. For instance, the bright red door and yellow siding in themselves are eye-catching already. However, the two different tones of wood on the flooring and ceiling add even more depth to the design.
Keep the finishing touches simple and subtle so that you don't overcrowd this space. Placing a mat can be a great idea, and you can also hang your house number above the door.
4. Go for a Minimalist House with Simple Red Doors, Concrete Gray Floors, and White Walls
Next up is a seemingly simple yet still impactful door. The red color is straightforward, but amidst the white walls and grey concrete both indoors and outdoors, it stands out and becomes a showstopper.
The design is also very simple, which matches the minimalist style of this home nicely. We recommend going for something minimalistic if you like a home without the clutter that also looks stylish and timeless. Also, minimalist design offers a blank canvas that you can easily modify and improve on later.
For the door color, you can use "Tawny Day Lily" from Benjamin Moore (#2012-10). Whereas the walls are in a clean Atrium White that can help the space feel large and spacious.
To complement the stunning red door, you can install some sliding aluminum doors. This can be an excellent feature to have for days when you want to blur the line between the outdoors and the indoors.
5. Dutch Colonial House Featuring Red Double Front Doors with Elegant Glass Panes
There is something quintessentially charming about Dutch colonial design inspired by the East Coast, especially with the trademark features of slanted roofs and narrow construction lines.
This house evokes the old-school appeal of Dutch housing with its beautiful colors and simple look. For instance, the cedar shakes on the siding are incredibly chic and coated in Cabot's Slate with a semi-solid stain. Despite the dark grey coloring, it allows the natural brown to shine through for a subtly rustic vibe.
You can get the grand double doors from Simpson Door. We adore not only the classy red color but also the glass panes that allow more natural light to enter. Plus, the fact that these are double doors and can open widely makes them the perfect gateway for a party.
Complete this look by hanging some antique lanterns, which you can get from Troy Lighting's very own Camden collection. The vintage design fits well with the old age look of this house.
6. Pair Trendy Red Doors with Reclaimed Lumber Exterior for a Rustic Retreat Style House
It is still possible to use red doors even if you want a more rustic atmosphere. This photo shows charming architecture that would fit a mountainside home or cabin retreat, yet the red doors and windows are no less attractive.
In terms of siding, the weathered look that you can achieve with reclaimed lumber is genuinely fantastic. It adds so much to the design of this house. From the authentic cabin feeling to the ability to blend into the surrounding landscape, this is the perfect design for an outdoorsy person's sanctuary.
To complement the wood exterior, you can see how the red color pops against the neutral background and earthy tones of the house. This bright red catches the eye without being too overwhelming.
All thanks to the large windowpanes on the door! Ample windows are a must-have in a cabin-style home as it helps connect you with the natural world outside. In addition, the circular window above the front door also adds some more character.
7. Plant a Japanese Maple Tree to Enhance the Classic Red Door for a Timeless House Look
As we mentioned earlier, red is a symbolic color for some cultures, which is why you will see plenty of red colors in certain ancient Asian architecture and designs.
It is also why using Japanese trees for the landscaping can be the perfect accompaniment to your red front door! Here, the Japanese Maple on the front lawn provides not only shelter and aesthetic appeal but also matches the bright red shade nicely.
For the color, you can choose Behr's Maraschino to get this gorgeous shade. The white trim around here also provides a nice contrast, while the two narrow windows enhance the entryway even more.
Another tip to improve the front exterior of your home is to create a designated pathway. As you can see here, the bushes along the concrete path add to the dramatization of it.
8. Victorian Style House with a Charming Red Door and a Grand Three-Story Plan
A Victorian-styled house is always pretty to look at. If you have a three-story home and would like to incorporate a red door somewhere in the design, this photo could provide some inspiration for you.
Start with a red door that will stand out against the rest of the exterior, which is Benjamin Moore's "Marblehead Gold". This yellow color is a timeless choice that will look chic no matter how many years have passed.
Additionally, you can use Navajo White and Black for the trimming, both also from Benjamin Moore. These are excellent to create some highlights and accents around the main features of the architecture. We also love the double-hung Marvin windows!
9. Use an Eye-Catching Roasted Pepper Red Door to Contrast Beige Walls for an Improved Curb Appeal
If you have multiple doors in the house, don't hesitate to paint them in the same red color! Variety can be attractive, but so can uniformity. In this case, you can see how the three red doors.
Of course, the doors are each in a different shape. There is the regular front door with windowpanes, as well as two side entries with a rectangular and arched top. This adds an eclectic look to the house.
While the best thing to do is probably find a customized red color that matches your specific house, this example uses Roasted Pepper by Sherwin Williams.
Meanwhile, the siding here is Sherwin Williams' Cottage Cream. The contrast between the light color and the popping red from the doors can create a stunning dynamic. Finally, you can also build a small portico to improve the curb appeal even more.
10. Embrace Classical Charms with a Festive Wreath on the Muted Red Door and White Pillars
It is impossible not to feel like royalty when your home is permeated by classical charm and grandeur, such as the one in this picture.
The semi-circle portico with massive pillars makes this front porch feel extremely elegant. It is the perfect way to complete the look of a grand and traditional house. Likewise, the lanterns and pendant lights will be a beautiful addition too.
When you have a huge red door, you can also decorate it by hanging a festive wreath. Even if it is not the holidays anymore, thoughtful touches like this can easily lift up the mood and make your home feel like a year-long holiday home!
In terms of the small details, we absolutely adore the tall planters that flank the porch. You can easily arrange your favorite flowers and plants to make the perfect bouquet.
11. A Charming Arc Red Door with Large Glass Panes and Brick Wall Exterior for a Historical Ambiance
Some people love the look of old architecture and historical buildings, and it's certainly possible to bring that vibe to your own home! This lovely house has a brick siding that matches the arched red door well.
This classic entryway is a stunning remodel, especially if you look at the arched detailing of the walls around the door. The front door itself is painted in Valspar's Tomato Red, a stunning shade that catches the eye while still remaining elegant and classy. Meanwhile, the glass pane design on this door further enhances the look.
In terms of the pavement in front of this house, you should also pay attention to the material that would coordinate with the overall theme of the exterior. We adore the brick and lannon paving materials as they can evoke that historic charm.
12. Complete a Glass-Paned Red Front Door with Overflowing Greeneries to Create a Calming Sanctuary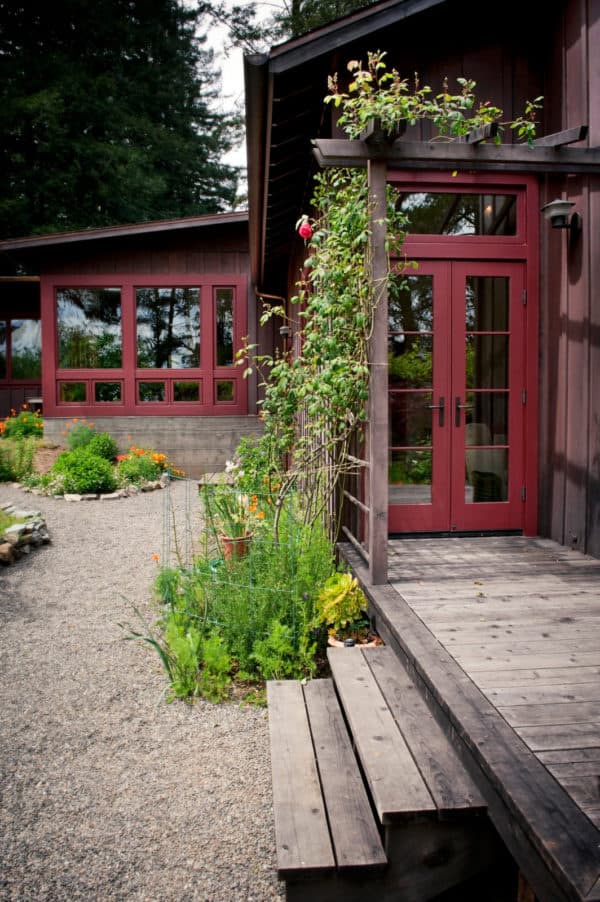 They say home is where the heart is. But home is also a place where we can unwind, relax, and feel completely at peace. One way to achieve that is by designing a house with a calming ambiance. In other words, lots of plants!
This rustic residence shows a mountain-style entryway with wood materials as well as gorgeous red doors and windows. Again, we recommend going for a darker, deeper shade of red as it fits the earthy tones and subtle colors of this home.
In addition, this door is essentially all glass, which is ideal for a sanctuary-like place. This allows you to connect with the landscapes around you while also maximizing the amount of natural light that gets in.
In terms of the plants and landscaping, you can use gravel for the covering on the ground. Having vines and shrubs that grow along the house exterior will also create the effect of an oasis!
13. Classic Red Door in a Mountain Inspired Tiny Home that Exudes Cottage Cosiness and Charm
Who says a tiny home cannot leave an impression just as large as a sprawling mansion or contemporary palace? This mountain-inspired tiny home is an example of how small sometimes means big!
As you can see, the red door here is a crucial element, but it also blends with the rest of the exterior and completes it. You can choose a dark and muted color that almost resembles brown so that it complements the dark-toned wood siding.
We also love the portable decking in front of the entryway, which can provide steps up to the doorway and additional outdoor seating. Place some potted plants with sunflowers or roses around the area to brighten up the mood.
Finally, if you are going for a tiny home, it can be a great idea to include a solar panel system. This will help you reduce your ecological footprint while also sustaining the home on your own, thus allowing you to survive off-grid for some time.
Closing
We truly hope these photos have been enough to provide inspiration for your home designing process. Choosing how to incorporate a red door into your house is not a difficult thing. All you need to do is know your own style and preferences.
After that, it is simply a matter of finding which style of door and shade of red that matches your style the most. We have shown you a myriad of examples, from contemporary homes to sprawling, old-school mansions.
Which one was your favorite? Also, please don't hesitate to mix and match elements from different houses too. After all, this is your home, and you know what works best for it and for you. Best of luck!