Orange is such a rich and bright color that can elevate anything it adorns, especially a front door.
It's an incredibly striking choice with multiple shades that will give you an attractive entryway.
Not only that, a pumpkin or sunset shade is an easy way to make a statement with your front door, as it will immediately grab the attention of anyone who sees it.
The best thing about an orange front door is that it is so versatile, even if you think that its bright color makes it hard to pair with other colors and materials. In fact, you can use it no matter what style your home is in.
In today's post, we will explore some of the most brilliant examples of houses with an orange-colored front door that is alluring and welcoming. Let's go!
1. Use Sherwin Williams, SW 3513 Spice Chest for an Orange Front Door that Pops Against the Black Frame and Grey Exterior
First up, we have a sleek modern entryway that features an orange front door on a fully grey exterior, as well as bare concrete front steps.
The front door itself is in a bold orange paint from Sherwin Williams, which is the SW 3513 Spice Chest shade.
This dark and warm tone complements the deep grey walls of the exterior, while still being able to pop against the more neutral grey and create a stunning effect.
You can then paint the door frame in black to outline the door and provide a beautiful, stark contrast. Meanwhile, having a small glass panel on the door can evoke a sense of invitation and make the most of the natural light inside.
Another thing that we love about this entryway design is the wood panels under the contemporary portico. This modern look establishes natural elements with the raw wood while embracing a new-world style that is super enchanting.
2. Try a Pratt and Lambert 8-14 (Cayenne Pepper) Orange Front Door that Seamlessly Blends with the Grey Walls
Next, take a look at this beautiful home with its exquisite orange front door that actually blends into the grey walls, thanks to the lack of visible door frames.
For the house, you can try using Benjamin Moore's 1543, which is every stylish yet timeless Plymouth Rock. It's a light grey color that is dark enough to convey some warmth but still quite bright that it gives off a clean and modern vibe.
Meanwhile, the front door is in Cayenne Pepper from Pratt and Lambert, a bright orange color that is both attention-grabbing and elegant. It's an especially great look if you are going for a more modern and contemporary style.
You can also see that there is a rain screen on the bay window and front door wall, which is actually painted in Benjamin Moore's 1469 Eagle Rock. Whereas the foundation stucco, roof fascia, and soffits are in Iron Mountain, also by Benjamin Moore.
3. An Orange Front Door with a Large Glass Panel Can Look Super Modern with a Bright White Interior
In this photo, we wanted to show a different side of an orange front door by revealing how it looks from the inside. It's a modern and extremely bright home that basks under natural light.
For the front door itself, the orange color is still visible but offset by the large glass panel that lets you see right into the interior of the home. This is also accompanied by another glass panel to the side.
It's an overall simple yet chic look that may suit a modern entryway.
To balance this open design, the entryway is actually screened from the main living area to ensure some privacy. And yet the flow of space remains open and natural, which gives it a classy and inviting feel.
4. Go for an Orange Front Door Under a Traditional Portico for an Elegant and Timeless Appeal
If you are more interested in creating a traditional exterior that is classic and timeless, then this next example may be your cup of tea.
This elegant home features a bright orange front door that truly stands out against the brown stone wall and exudes a striking persona, which can perfectly complement the otherwise old-school exterior.
We love how the door contrasts the classical appeal of the portico, which has a crisp white paint complete with the traditional pillars and triangular roof. Not to mention the small but pretty lantern hanging from the ceiling of the portico.
To further complement this entryway, you can place a couple of potted plants and both pillars. The greeneries can liven up the space, while the blue pots add another subtle layer of color that is multi-dimensional but still appears effortless.
5. This Therma-Tru Orange Front Door Features Unique Glass Panels to Evoke an Artistic Look
For this next one, we are going to showcase one of our favorite brands of external doors, which is the Therma-Tru Doors. They are known for their high-quality materials and variety of design styles.
In this transitional, mid-sized home, you can see how a simple orange front door can look very artistic with the intricate glass panels, black handle, and a symmetrical pattern.
The door itself is framed with a white outline that provides a neat and crisp look for a modern element. This is an easy way to help your bright-colored front door blend seamlessly with the more neutral exterior of your home.
Furthermore, it can also be a great idea to line the front of your house with some outdoor plants and bushes. Not only do they add fun colors to your home, but they can also make it feel more natural and refreshing.
6. Complement an Orange Front Door with Floor-to-Ceiling Windows in this Limestone-Floored Entryway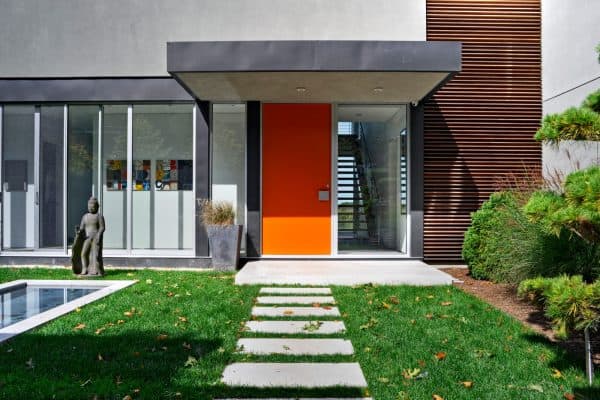 Perhaps you love homes that feel airy and bright and make the most of natural light, then the secret would be to use floor-to-ceiling windows all over the house.
In the photo above, you can see how an orange front door with a simple design looks like it fit right in among all the windows. With a thick and chunky width, the bold orange color provides an attractive contrast to the transparent windows.
Plus, you can further brighten up this entryway by creating a concrete pathway that leads straight to your porch.
Surrounded by lush grasses and a small garden area to the right of the front door, this will create a serene and stylish look.
You may also notice that there is a small decorative pool on the other side of the entryway. It's a great way to use up the front yard and add a therapeutic effect, although having open water in your home means more maintenance.
7. A Charming Barn-Styled Entryway with an Orange Front Door Made of Premium Honduran Mahogany
If you are not into modern, contemporary homes, there is always the option to embrace a more rustic barn style. With this, you can still incorporate an orange front door that complements the raw wood exterior.
The orange color blends right in with the natural wood and offers a beautiful juxtaposition.
The sleek and smooth material of the Honduran Mahogany in a matte finish represents a modern element, while the rugged texture and pattern of the wood walls embody the charm of the natural environment.
Enhance the mountain-style appeal of your home by placing a simple and traditional welcome mat, as well as a few pots of plants to liven up the area.
Furthermore, by incorporating different building materials like the concrete steps, you can also evoke a more eclectic look that will surely elevate the design!
8. Choose Contrasting Orange Color for the Front Door Against Dark Grey Walls and Brown Floors
We have seen plenty of designs of orange front doors that feature grey and white exteriors, but you can also go for a dark vibe by contrasting the bright orange door with dark grey and green walls.
In addition to that, you can see that the brown floors on the porch area also complement this entire look. It can be a great idea to nail in your house number in bold white blocks that will easily pop against the walls.
And contrary to popular belief, dark shades do not actually close off a space or make it feel constricted.
In fact, the dark exterior of this home evokes a cozy ambiance that is also super welcoming. It's great for a smaller house!
9. Embrace the Rustic Allure with a Stone Wall Exterior and a Striking Orange Front Door
Here is another exquisite house exterior that fully showcases the rustic allure of a traditional and rugger riverside home.
The orange shade on this front door is still striking, but it is dark and has a coppery nuance that fits the overall look really well.
If you look at the stone wall exterior, stone flooring, wood pillars, and rural thatched roof, you will undeniably get the feeling of a pastoral retreat and old-world charm.
The orange front door is one way to introduce a surprising element without being too obvious or flashy about it. It provides a bright addition to an otherwise beige and brown-filled home.
To elevate the entryway even more, we would recommend placing some pots brimming with colorful plants, like the yellow and red flowers you can see here. With this simple touch, you can immediately feel the atmosphere become more animated.
10. This Swiveling Orange Front Door is a Centerpiece in this Contemporary White Home with Black Window Shutters
Contemporary design is all about exploring new and creative elements, both in the interior and exterior of a house. It's about flipping the script and experimenting with never-before-seen designs.
For example is this eye-catching swiveling orange front door that acts as a centerpiece in this modern white house.
With a striking orange color that pops against the white siding and monochromatic surface, this door is an easy way to impress any guest.
In addition to a colorful orange frame, this front door features a translucent glass panel in the center, which easily balances the bright color and allows natural light to filter in.
Another thing that we love about this home is the black window shutters that are reminiscent of traditional countryside houses. This combination of innovative design and classic elements makes for a beautiful and thought-provoking finish.
11. Try a Large Double Front Door with Black and Orange Colors for a Modern Entryway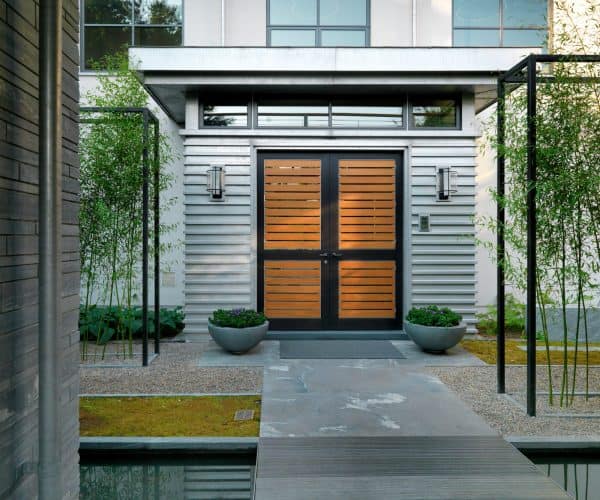 This double front door is part of a modern entryway that stands out against the grey siding and metallic exterior, which evokes a unique but stunning ambiance.
Why go for a double front door in the first place?
We personally love it because it enhances your curb appeal while introducing more architectural style. It also provides a more spacious access point for when you're moving furniture and hosting guests.
In terms of the color choice for this front door, the black outline and the dark orange work well together to evoke a chic and modern style. Meanwhile, the style of the slates and panels also offer a textured and unique look that you might love.
12. Inside, Round Off the Orange Front Door with a Beautiful Chandelier and Authentic Slate Floors
It's time to look at another alternative into the interior of the home that features a fun orange front door.
This is also a lovely double door that is complemented by large glass panels on the side.
Inside, you can see how the beautiful chandelier immediately greets you once you enter through the front door. It is a stunning piece that glows in warm yellow light and evokes an intimate atmosphere right away. Plus, it rounds off the orange color on the door nicely!
Moreover, it draws the eye upwards and makes the space feel even larger and the ceilings taller. We also love the slate floors that give off an authentic and cozy vibe.
13. White Concrete Floor Can Be a Cozy Welcome After the Bright and Eye-Catching Orange Front Door
Having bright white concrete floors can be a great way to welcome guests after being greeted by a bright and eye-catching front door.
You may also notice that this particular front door boasts a glossy finish that is almost reflective, which can make your space feel even larger and brighter.
This stunning gloss also goes well with the dark and tall handle as it creates a stark contrast.
In addition to the white floors, this home also features white walls that further establish the airy and open feeling inside.
We would also recommend hanging some contemporary art or paintings that will help add some character to the area.
14. Nod to 1960s Design with this Orange Front Door and Lush Planters for a Private Entryway
When you want to create a private entryway that feels intimate while still maintaining a stunning and exquisite front door design, you can look at past historical styles.
For example, this house alludes to old 1960s design trends that feel classic, including the silver pendant lights, striped welcome rug, and bright orange shade for the front door.
At the same time, you can certainly feel the modern elements too that balance the overall vibe. Most notable is the white art piece that utilizes textures and sculptured surfaces to portray leaves in an artistic way.
And to create that extra privacy, it can be a great idea to include some lush planters and choose plants that are tall and leafy. They can add vibrancy to your space while adding a curtain of seclusion.
15. Create a Cozy and Welcoming Atmosphere Using an Orange Front Door with Brown Walls and Black Pillars
Last but not least is this beautiful modern entryway with a super cozy and inviting atmosphere. It features plenty of yellow lighting and warm colors that complement the orange front door.
The house itself is an apt example of how mix-and-matching multiple materials can be a brilliant way to evoke an intimate mood that will make you feel relaxed as soon as you walk in.
Meanwhile, the live plants and greeneries will also invigorate your home exterior.
This includes the modern orange door, dark wood siding in the entryway, concrete porch, and medium-toned wood ceilings that blends the outdoor and indoor spaces. Together, these different textures and materials help establish a cozy quality.
You can also see that this contemporary home has lots of floor-to-ceiling glass windows that will make the interior feel bright and clean throughout the day.
Closing
From an elegant and traditional style to modern, cozy entryways that signify the welcoming home inside, we have shown you an array of ways to incorporate an orange front door in your house, no matter what exterior style you prefer.
Our best tip is to carefully study each photo and decide what you like and don't like about it. Once you have identified your favorite elements and decorating styles, it's time to get creative and design a front door that is only yours!
Don't be afraid to experiment and try using materials or colors that you have never used before. This is a great way to ensure that you find new ways to express your personality and character through home design.