There are plenty of ways to build a fence on a retaining wall so that you can design a landscape feature that is both functional and beautifully pleasing.
One of the main benefits of erecting a retaining wall is to prevent soil erosion, especially if the ground slopes downward. But retaining walls can be a charming decorative accent to add even more aesthetics to your outdoor area.
Meanwhile, putting up a fence can be a great idea to establish some privacy in your yard. It's also good for safety and keeping out animals, as well as for decorative purposes.
The fence itself can be on top of, behind, or in front of the retaining wall, and it is becoming more common to combine these two outdoor features together.
Let's take a look at some of the best fence on retaining wall ideas that may give you some inspiration!
1. Try a Short Picket Fence on a Retaining Wall Made of Moss Rock Stones for Privacy without Blocking the View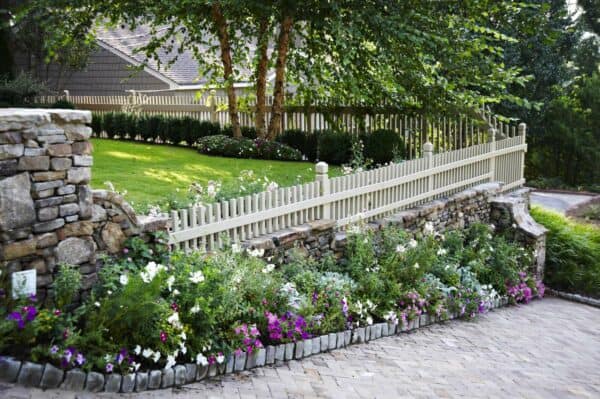 Tall fences can be great for ensuring privacy, but they can also block any view your house has.
Using a low picket fence is an excellent idea if you want to keep an open and wide scene from your backyard.
The retaining walls you see here are made from moss rock stones, which is a type of sandstone with brown undertones. They offer a rustic and pastoral look that may look well in traditional-inspired landscaping. Go for 2-4 inches in terms of the stone size for added variety.
Meanwhile, the short picket fence is in a simple off-white color that brightens up the space while contrasting the greeneries and flowers in the area. They go through the stone into a slab of the concrete block underneath.
In the backdrop of this shot, you will see a large tree that provides plenty of shade for the garden. This is river birch, a species common to riverbanks but is often used for landscaping a home.
2. This White Chestnut Hill Fence Follows the Curvature on The Retaining Wall for a Stunning Arch and Beautiful Backyard
Next, this gorgeous backyard features a stunning arched retaining wall and fences that follow its curvature on top of it. It has been customized to match the wall, while the rails are aligned for the best aesthetic.
This is a great way to style your fence on a retaining wall as it will provide a dynamic and fluid shape that helps enhance the surrounding area. Moreover, the white creates a stark and crisp contrast to the lush plantings and trees.
To attach this fence on the retaining wall, you can use a steel rod cemented into a drill hole. This should be something that most local installers can help you with!
Furthermore, the sturdy white Chestnut Hill picket fence is quite a common option with its subtle pointed tops.
The square posts provide stable support while interspersing the asymmetrical design too.
3. Add Plexiglass Border Above Horizontal Cedar Fence on Retaining Wall for a Contemporary Landscape
This townhouse backyard is an apt example of how you can create a verdant paradise that feels intimate and refreshing, even if your home is located in the middle of a city.
In this contemporary landscaping, the homeowner has incorporated a bluestone patio, a paver stone retaining wall, as well as a horizontal cedar fence with a sleek plexiglass border along its top.
One of the main benefits of using plexiglass as the border is its durability and transparency, as it keeps the backyard feeling open and not restricted. They're also relatively easy to install.
For the furnishing, we love the modern wood dining table that provides a space for outdoor dining. This can be an excellent spot for hosting guests in the evenings.
The greeneries are not to dismiss either, especially the lush and vibrant hornbeam trees and purple fountain grasses. Not to mention the boxwoods, blue fescue, and a gap in the ground filled with smooth river stones.
4. Go for a Wooden Fence on The Midwest Stone Retaining Wall to Evoke a Traditional Charm in Your Backyard
Here is a traditional backyard with a classic stone retaining wall and a wooden fence for our following example. The concept of using two natural materials in the same feature is recommended for creating an eclectic look.
Here, the Midwest stone retaining wall is a timeless touch that is reminiscent of the wall structures in traditional houses in the countryside. Even if the rest of your home has a contemporary vibe, you really can't go wrong with this.
Adding a wooden fence on top not only establishes more privacy from the street but also adds a subtle Japanese vibe to your space. This Zen atmosphere is charming as well as relaxing and can be great for transforming your backyard into a serene spot.
One foolproof way to ensure a cozy mood in any outdoor area is to place some outdoor furniture, like this picnic-style bench. This wooden table set matches the fence while providing a beautiful focal point.
5. Pair Trellis and Fence on a Low Stone Retaining Wall for Added Seclusion with Relaxing, Lush Plantings
For an elegant backyard patio, you can feature a low stone retaining wall with a lovely trellis and fence on top of it. This ensures some seclusion while still enabling you to evoke a calm atmosphere.
The retaining walls vary in height from 24 to 40 inches, creating a perching wall that may also double as a seat. Although for that specific purpose, we would highly recommend going for around 18-inch in height.
This non-uniform silhouette is also ideal for a dynamic and lively appearance.
Of course, the lush plantings are also an important aspect of this patio. From the trees and shrubs to potted plants and the climbing vines, they all add a stunning appeal to the space for the ultimate home garden.
You can stick to a brown, grey, and earthy color palette for a genuinely back-to-nature feel.
For instance, all the furniture fits in really well with the surrounding stones and rocks. From the garden bench all the way to the outdoor dining set.
6. Evoke a Dramatic Appeal by Placing Hollywood Junipers Against Wooden Fence on Bluestone Retaining Wall
Your fence and retaining wall do not have to be boring and plain, and the photo here shows exactly how you can create your own dramatic appeal for an eye-catching outdoor feature.
Hollywood Juniper is doubtless one of the prettiest juniper you can find, especially with its twisting and rustic form that makes for a captivating landscape.
You don't have to be into topiary to turn these trees into an attractive part of your wooden fence. Plus, the gnarled appearance adds such a unique architectural accent.
Meanwhile, the retaining wall beneath uses bluestone in Select Blue, which is a grey shade with cool blue tints.
This is actually a lovely touch that can contrast the warmth of the wooden fence for a contemporary yard idea!
7. This Horizontal Fence on The Retaining Wall Provides Full Privacy and Shade in a Full Sun Yard
When you are erecting a retaining wall with a fence, one of your main purposes would be to add privacy to your backyard.
But did you know that a tall fence can also be great for providing shade?
For example, this full sun yard features a large open space where the kids can run around, or you can host your own backyard gathering. The area gets at least six hours of direct sun per day, which can be lovely but also hot!
This is where a tall fence on top of a retaining wall can come into play. They are not actually anchored behind the wall but right on it. The posts floated through the gravel and fastened to the 1-foot foundation of the stone retaining wall.
While the partial shade may not offer complete respite from the harsh sun, it is still enough to create a slightly cooler outdoor area where you can feel more refreshed.
8. This Aluminum Fence on a High Stone Retaining Wall Evokes a Lofty and Lavish Presence
If you have a grand and traditional house with classic architecture, you might love the following picture. It shows a lofty presence evoked by the imposing retaining wall and aluminum fence.
Here, you can see that these two outdoor features function not only on an aesthetic level but also in a practical way. They can help keep out wild animals and intruders while also offering a sense of privacy and security.
The concrete paver retaining wall is an excellent choice as it is both durable and gorgeous looking. It fits well with a larger mansion and more traditional home and stands tall to invoke a lavish presence.
Moreover, the aluminum fence on top provides a safety feature that overlooks the surrounding landscape. They also add a touch of modern architecture as the use of manmade material may juxtapose the stone nicely.
9. Erect Black Railing Fence on Retaining Wall Made of Gabion Stone for a Modern Landscape Ambiance
In this photo, we are looking at modern landscaping, which pairs a black railing fence with a Gabion stone retaining wall.
Even the retaining wall itself is a charming feature, and you can recreate this classic look with Gabion stone. It is simply a type of crushed stone (usually limestone) that you can then use for filling a gabion box or cage. The result is an eclectic effect that is also unique and quite modern!
Furthermore, the fencing on top of this retaining wall is made of black railings. It is a simple choice that can enhance this modern landscaping, especially because the simple block of black metal provides a cool contrast to nature.
Don't skimp on the plantings either. We love how the grass ground looks super fresh and luscious next to the stones and adding a large tree for shade and the visual effect is also a great idea.
10. Consider a Grand Atmosphere with a Cedar Tongue Fence on Allan Block's AB Classic Stone Retaining Wall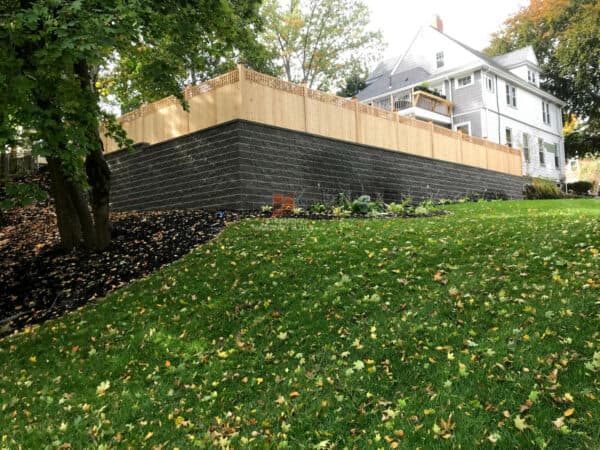 When building a dream house, the exterior can be just as important as the interior. It is one of the first things you notice before walking in and can set the mood of your entire home.
First off, the retaining wall has been constructed using Allan Block AB Classic in Stone. It is a fairly dark color, almost resembling black, but has that rugged stone texture that may evoke a lovely rural vibe.
Another detail you might find useful is that the fencing uses Cedar Tongue in Groove. We always recommend this material for siding and other exterior uses, thanks to its classic color and easy installation.
Moreover, the fence features a 1-inch Square Lattice Top to add even more character and personality. It's a great idea so that your fencing is not just plain!
This additional decorative element also helps add a deeper layer to the overall wood design.
11. Embrace Rustic Landscaping with a Rugged Fence on Allan Block's Europa Retaining Wall
A rustic theme embraces warmth and character above all else, allowing you to create a simple but charming atmosphere that can turn any landscape into an authentic and personal space.
This classic deck in a home's outdoor area features a rugged fence on Allan Block's Europa Retaining Wall.
We think that using such raw materials like the logs on this fencing is an underrated idea. You can treat them minimally and just let their natural appeal shine for the most fantastic and rustic look.
Keep the deck itself simple and stripped back, which will draw attention to the stone retaining wall as well as the garden area. This is a great place to plant some flowers, grasses, and bushes that will elevate the outdoor appeal.
Not to forget a set of outdoor dining areas too. Here, you may even consider adding an umbrella that will be great for especially sunny days.
Choose a more neutral color that will work well with the brown deck and grey stone walls, as the earthy tones can evoke a more peaceful vibe.
12. Create a Contemporary Patio Featuring Classic White Fence on Concrete Retaining Wall
The best thing about decorating your patio is that you can choose a style that fits your personal aesthetic to create a comfortable and gorgeous home.
In this next photo, you'll see a contemporary patio with fencing on the retaining wall.
Its most striking feature is hands-down the white fence on the concrete retaining wall, which matches the beautiful white siding of the house itself. This also evokes a bright and modern feel that will help create a clean space.
However, if you look closer, there is actually a second retaining wall with fences that surrounds the house! Here, using wood fences to encompass the house guarantees the ultimate seclusion and serenity.
In terms of the furnishing, don't be afraid to mix up a few different styles and materials, too, like the metal chair and table set and the small armchair with a dark wood structure.
The overall contemporary mood is definitely uplifting and fun!
13. Play with Height through Your Cedar Fence on The Juniper Wood Retaining Wall for a Unique and Artistic Charm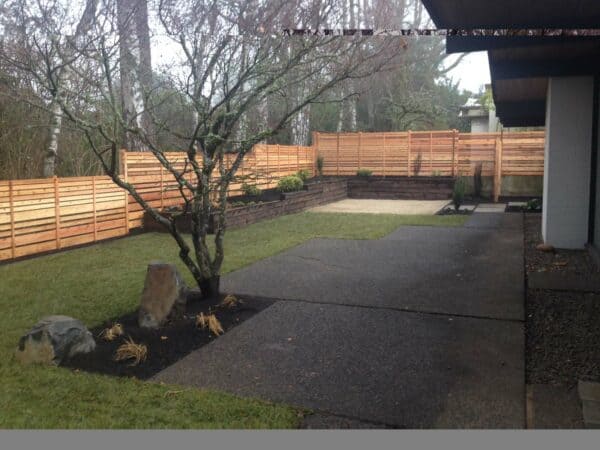 Last but not least, here is a midcentury landscape in a spacious backyard, where the retaining wall and fence offer a unique appeal as much as functional use.
One unique idea you can try is to play with the height of your retaining wall, which will affect the fence on top to produce an artistic silhouette that may look captivating in both a modern and traditional home.
The retaining walls here are made of strong and durable juniper wood, which is then used as basic planters if you ever want to add some flowers or bushes.
We also love that the cedar fencing features horizontal slats. These ensure the privacy you may want while still allowing light and air to ventilate so that your yard doesn't feel too closed off.
Feel free to incorporate a mix of manmade and natural surfaces for the patio for some extra variety.
You can see that there is a section of decomposed granite, which contrasts the plot of earth and grasses for a one-of-a-kind landscaping.
Closing
That wraps up our top picks for a beautiful fence on retaining wall combinations.
Which one did you like the most?
Ready to design and build your own?
Don't forget to check and think about the strength and integrity of the retaining wall, which can ensure your fence can stand properly and stably.
This is a failproof pairing to provide privacy and safety at home.
Of course, you can mix and match various examples to come up with the perfect look for your outdoor space. Good luck!