Landscaping the front yard can be just as important as decorating the interior of your home. After all, this affects the first impression of guests when visiting and the first thing you see when you get home each day. Not to mention that boosting curb appeal can increase the value of your property!
Yes, it can be challenging to create a beautiful exterior and front yard. Other than planting some bushes and a few flowers, how exactly can you make a stunning space? The answer is by using a retaining wall in your front yard.
This is an excellent way to enhance the visual of your front landscape and incorporate some concrete elements into the area. Retaining walls do more than just look pretty; they are actually quite functional.
You can use them to hold flowers and plants and even prevent erosion of the garden soil. You really can't go wrong with building a retaining wall, regardless of the style of your home.
Without further ado, here are some ideas for a front yard retaining wall that will make your home look even more beautiful.
1. Use Natural Stones for the Front Yard Retaining Wall to Create a Charming Craftsman Home
An easy tip to make sure your landscaping looks stunning and timeless is to use natural materials, including stones, for your retaining wall. This is an especially great idea for a craftsman's house.
You can see how the natural shape and color of each stone are unique and rugged. Arrange them into a retaining wall block for a charming look, which you can also match with the stone steps leading up to the house.
Furthermore, this retaining wall serves as a planter for some flowers and grasses, which you can also recreate in your home. In addition to the lush lawn, stone pathway, and concrete patio, the ambiance of this exterior is very calming and soothing.
Now you can come home each day and be greeted by the refreshing appeal of the greeneries and gorgeous features of the natural rocks and stones. We also love the large tree on the left-hand side of this photo as it provides a nice shade.
2. Try a Simple Front Yard Retaining Wall for a Contemporary House Exterior
Do you have a modern house and want to go for contemporary landscaping to maintain that present-day vibe? In that case, look at this concrete retaining wall that is simple but still elevates the front yard.
The retaining wall block is made using grey concrete and forms a structure to retain the soil within it. You can then place your choice of flowers and bushes, preferably those that look nice with the other plants in your front yard.
Another way to use the retaining wall for an extra function is to paint your house number on it. White paint will be especially visible against the grey color. Meanwhile, pour some gravel on the ground in front of the wall to add some more texture.
This concrete material also carries on to the steppingstones and steps, which form a clear pathway to the front door. You can plant some taller trees and add a black retaining wall on the upper level to create a private and enclosed path too.
3. Go for a Mediterranean-Inspired Front Yard Retaining Wall with Concrete Paver
Moving on to the Mediterranean-inspired home, this is another example proving that you can have a front yard retaining wall in all sorts of architectural styles.
The most important part of this retaining wall is, of course, the color. Its reddish-brown hue matches the traditional vibe of this house, and it is actually the same material as the front side of the building.
Using the same material in different parts of the house and landscaping can be a great way to create a feeling of continuity and seamlessness. This will also make your home appear well-designed and classy!
In terms of plant or flower choices, you can never go wrong with choosing colors that have to appear in the design of the house. For example, the dark pink and purple flowers are a nod to the roofing, while the green plants and trees match the green window blinds inside.
4. Complement Your Front Yard Retaining Wall with Large Monolithic Steppingstones for a Modern yet Classic Design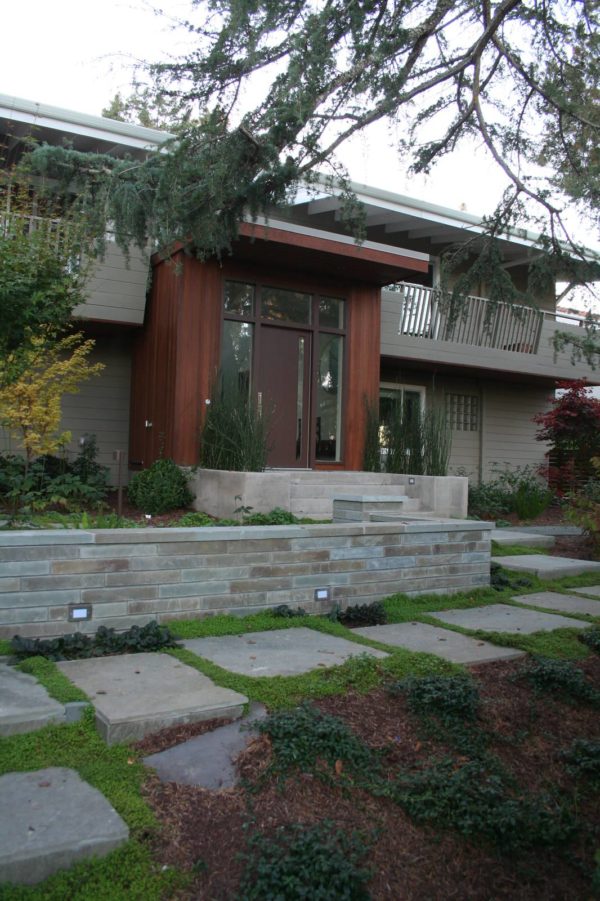 For our next design inspiration, we are considering another modern landscaping in a contemporary home. The use of large monolithic steppingstones may feel like a juxtaposition of the modern ambiance but can add a lot of style and character to the front lawn!
In terms of the retaining wall itself, it is a simple brick structure made of chiseled natural stones. You can keep the natural colors of these stones to introduce that earthy aspect that will complement the more contemporary lines of the architecture.
However, the spotlight no doubt goes to the massive steppingstones which we totally adore. These giant monolithic stones are placed in a somewhat haphazard line. They are not perfectly aligned nor in uniform size to further enhance that rugged and natural vibe.
Surround these stones with an overgrown turf in green and dark purple, so you can create a sense of toned-down wilderness in your front yard. It is an easy way to incorporate the outdoors and surrounding landscape without overpowering the elegance of this house.
5. Create a Multi-Level Garden and Concrete Retaining Wall for a Unique and Refreshing Front Yard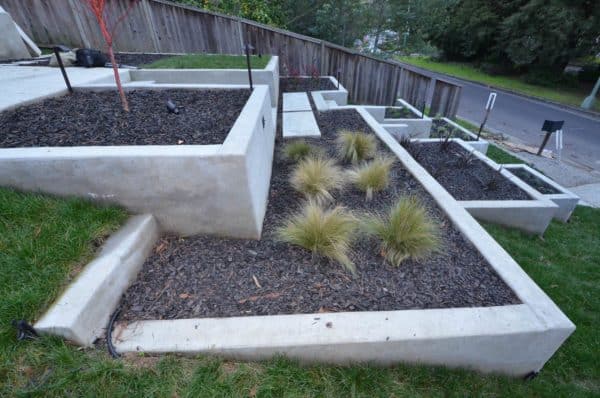 For a more unique approach to modern landscaping, it is also possible to use a front yard retaining wall as the base for a multi-level garden.
The picture does not show when the area is fully planted, but one can easily imagine the soil brimming with all sorts of flowers, grasses, and even vegetables. That's right! You can use this as your at-home garden to grow your own fruits and vegetables.
This multi-tiered landscaping consists of individual retaining wall blocks arranged on the slanted ground. The result is a refreshing front yard that will no doubt impress anyone who walks by.
Feel free to let the natural concrete hue remain as it blends well with the brown color from the soil and various green shades from the plants. It is a neutral and classic beige tone you can't go wrong with.
6. An Eclectic Landscape with Colorful Flowers and Flagstone Masonry to Complement Natural Retaining Wall
In this next photo, you can see an eclectic front yard featuring a stone retaining wall and stone steps leading to the front door. It complements the medieval-esque facade, which is also a charming look in itself.
For the retaining wall, you can arrange rectangular stones of different sizes and thicknesses to create a rugged frame. Fill it with plenty of colorful flowers and greeneries to create a bright arrangement that is both calming and fun to look at.
Moreover, this stone retaining wall will also match the custom-shaped pavement in front of it, as well as the steps towards the front porch. We adore how the natural stone textures complement the brick siding of the house too.
The house itself incorporates a lot of flagstone masonry, while the antique lantern hanging above the front door provides a subtle touch of old-school charm. This is a rustic and traditional home that you might love!
7. A Quintessentially Country Front Yard Featuring Stone Retaining Wall and Victorian Style Exterior
There are very few decorating styles that are more quintessentially charming than a Victorian farmhouse home. This house is located amidst lush greeneries that are no doubt quite isolated from the neighbors, thus ensuring plenty of privacy in this countryside sanctuary.
The use of natural stones and pebbles to build the front yard retaining wall here is very ingenious. They also match the steps and foundation of the house itself.
For an even heightened sense of grandeur, you can make the front yard two-tiered. The first set of steps lead to a vast opening for more space, while the second takes you straight to the porch.
Of course, even if your home does not have the luxury of an isolated land such as this, you can still use this as an inspiration for your front yard. Especially the rugged stone retaining wall and pathway.
8. Stunning Modern Home with Sleek Front Yard Retaining Wall in a Picturesque Landscape
This is another instance of retaining walls in modern landscaping at its best. In a mid-sized front yard such as this, it is always advised to go with sleek and elegant designs.
Look at the simple concrete retaining wall in a clean beige color, which is a gorgeous shade to have in the neutral color scheme here. You can see how it brightens the overall architecture. The house itself has some white, light-toned wood color and a sparkling roof.
Use the retaining wall for your well-trimmed lawn and plant some occasional flowers across the space. This can be a brilliant spot to enjoy the view around.
Doubtless, your house will look even more exquisite if it stands atop a hill and overlooks picturesque scenery. For example, this one commands a truly spectacular view of the distant mountains, the city below, and the ocean.
9. Build a Drought-Tolerant Front Yard Using Gravel Retaining Wall and Attractive Plantings
Living in a dry area of the world that often suffers from long months of drought can be tricky, especially when it comes to the landscaping of your home.
Try building a drought-tolerant front yard like this one. While the main foundation is a traditional concrete paver retaining wall, the spotlight is definitely what goes inside.
First off, we recommend using a mix of gravel and soil for the ground planting and choose only plants that are known to be hardy. Mostly this will be cacti, succulents, and specific types of grasses. A few examples include the Russian sage, Californian poppy, Lantana, and Catmint.
While it may not be clearly pictured here, this front yard is actually an additional entryway from the street. For a large house, you can always have multiple entries from different sides of the property.
10. Summer-Ready Front Yard with Natural Stone Retaining Wall, Concrete Steps, and Beige Siding
On another note, if you want to have a summer-ready front yard, then it is important to provide lots of open spaces where you can place a grill, temporary seating and host an exciting barbeque party.
This house here has exactly that. It is a huge partial sun front yard that features a concrete paver retaining wall and beautiful landscaping. From the well-manicured grasses and flowers to the pink trees, you can create a stunning venue for entertaining.
The retaining wall itself is made from natural stones and form a multi-tiered yard. This matches not only the concrete steps between each level but also the simple yet stunning beige siding of the main house.
11. Go Back to Classic with this Traditional Rustic Landscaping and Beautiful Front Yard Retaining Wall
This is another Mediterranean garden inspiration for those of you who prefer rustic landscaping that is traditional and charming. It uses a stone retaining wall for a gorgeous full sun front yard that also feels relaxing!
The foundation is to start with a large Mulberry tree that can provide some shade in this hot region. It also helps you create an amiable entryway and social area where you can hang out with guests and spend some time.
The red fescue meadow grass and agaves can be the perfect choice for this landscaping, as they are cooling and refreshing without needing too much maintenance.
In addition, the stone steps are lined with a shallow stone structure too. You can use this to place some outdoor candles and décor to infuse more of your personality into the design. As always, try to make this feel like yours by incorporating elements that showcase your personal style.
12. Induce Old-School Charm in a Red Brick Home with Stone Front Yard Retaining Wall and Huge Vases
If you want to style a front yard retaining wall, one foolproof way is to use a brick material that matches the red brick exterior of your home.
The retaining wall itself is in a natural beige color, which you can also use for the flooring for the rest of the front yard. Choose some bushes and plants to fill the soil or garden area.
Meanwhile, the red brick siding is multi-colored to create a charming and eclectic façade. You can hang some old-school lanterns on the walls for both decorative and lighting purposes, which will definitely improve the curb appeal.
If you want to add more style or elements to this front yard, you can also use tall vases and fill them with colorful flower arrangements. Something pink and purple would look especially beautiful in this space, but feel free to go with other colors too!
13. Multi-Tiered Front Yard Retaining Wall with Gorgeous Perennials to Create a Grand House Design
It should not be a surprise by now that a multi-tiered front yard can be absolutely stunning, especially if you like the sense of grandeur and opulence that it creates.
In this next photo, you can see that the traditional landscaping features a whole array of marvelous perennials to embellish the retaining wall. The natural stones are arranged in a brick-like structure for utmost durability and aesthetic appeal.
Look at how the retaining walls are built to fit with the slanted street, which means the height of each level can vary. This is a reminder to adapt to the surrounding landscape and be flexible with your design. We also like how the stone steps use the same material and look like an extension of the walls.
Meanwhile, the house itself has light-yellow paint, which works well for a countryside or suburban setting. You can also see the large white shutter windows and wooden front door, as well as the white garage doors on the side.
Closing
To conclude our list today, let us recap some of the most beautiful ways to style your front yard retaining wall. Some of the most popular materials include poured concrete and stone, which you can style in your own way.
It hardly matters if your home has a modern and contemporary style or is more traditional, as you can always adapt the retaining wall to go with the house exterior. Natural materials like stones can also fit in both scenarios by contrasting the modern exterior or enhancing the traditional design.
We hope these photos could provide some inspiration for your own decorating journey. Perhaps you realize that you prefer one style over another or found the perfect way to incorporate retaining walls in your front yard.
So, don't be afraid to mix and match features from different photos to come up with the ultimate design for your dream home. Good luck!