Nothing can be more relaxing and fun than enjoying a nice swim in your own home. Especially during the sweltering heat of summer, this can be a great way to cool down and spend time with loved ones.
However, to ensure that you have a great time, you need to choose the right material for your deck. A popular option is to use stamped concrete for the pool deck as it is affordable, long-lasting, and versatile. Not to mention that it is easy to clean!
Stamped concrete also provides a textured surface like natural stone, which means it is not slippery. This can make playing around the pool area a fun yet safe activity, even if there are kids.
Whether you have a modern or more classically styled home, you can't go wrong with a stamped concrete pool deck. There are so many ways to incorporate them and make them your own, but here are some of our favorite examples!
1. Pair Stamped Concrete Pool Deck with Palm Trees and Outdoor Bar for a Beachside Resort Style Backyard
Everyone loves spending their holiday on a gorgeous beachside resort, but not everyone is fortunate enough to live close to the beach or simply have the time for a vacation. Why not bring a that exotic and elegant vibe to your own home?
This well-manicured backyard is inspired by coastal resorts and features a lot of trees and greeneries, though the highlight would be the palm trees. The oversized leaves will provide a cool shade while casting attractive shadows on the deck. Overall, they also create the sense of being at an actual beach.
The stamped concrete itself follows the kidney-shaped pool and natural hot tub. The light beige color has a neutral and clean undertone, which works well for this design. We also love the outdoor bar, complete with a grill and outdoor dining area.
It isn't hard to imagine hosting a sensational pool party or BBQ lunch in this backyard. Doubtless, the modern appeal and elegant look of this estate will impress all your guests.
2. Stamped Concrete Pool Deck Can Look Trendy in Front of an All-Glass House Exterior
If you prefer a simpler and more modern style, a stamped concrete pool deck will look right at home. You can see how this photo shows an all-glass house exterior, while the modest pool deck serves more to enhance the overall look.
There is nothing fancy about this pool deck, yet it is the simplicity that is truly stunning. It surrounds the rectangular pool and is interspersed with a green lawn. Having grasses and shrubberies in the backyard can add a fresh feeling to space.
Don't forget to place some sun loungers too! You can use this to relax on a bright morning or breezy afternoon while savoring the beautiful architecture of your own house.
In addition to the main house, there is also a pool house made almost entirely out of glass and black frames. You can use this as an additional lounging area or for entertaining guests during parties and events.
3. Rustic Indoor Pool Featuring Stamped Concrete Deck and Opulent Vaulted Ceilings
Who says you can only have a stunning outdoor pool? This example illustrates an indoor pool design that is lavish and spectacular, exuding rustic vibes inspired by old-school architecture.
The stamped concrete features not only the pool deck but the entire flooring for this cozy sanctuary. A brilliant idea is to use multicolored tiles to make the flooring look even more eclectic for a charming finish.
Meanwhile, the opulent vaulted ceilings come with a long skylight to make this indoor pool feel bright. It is also difficult to ignore the grand silhouette of the wooden beams, which make for a breath-taking feature.
Finally, you can round up the look by incorporating another main color, such as green, in this case. The large windowsills have an appealing green paint that adds a cool and refreshing touch to space. Complement this with similarly colored rattan chairs.
4. Try a Modern Pool Deck Using Stamped Concrete, Tropical Plantings, and a Contemporary Cabana
This modern pool project uses a combination of the stamped concrete deck and tropical plantings to create a beautiful backyard with a pool, hot tub, and the perfect entertaining space.
It is a minimalist space that features a custom-shaped infinity pool with a fountain design. As you can see, this style works even if you don't have access to an expansive landscape, as your neighborhood could look just as pretty from it.
We particularly love the water feature near the fireplace, which creates a therapeutic sound of water rushing in the background.
In addition, there is a large cabana with an outdoor kitchen and a cozy fireplace pit. This provides a great space where you can host a garden or pool party and enjoy a nice barbecue meal with loved ones.
The luscious tropical plantings also add to the refreshing vibe of this backyard, whereas the raised planters and synthetic grasses ensure some degree of privacy from the neighbors and passer-by.
5. Go for a Custom-Shaped Pool in a Classic Backyard Design with Stamped Concrete Deck and Stunning Water Features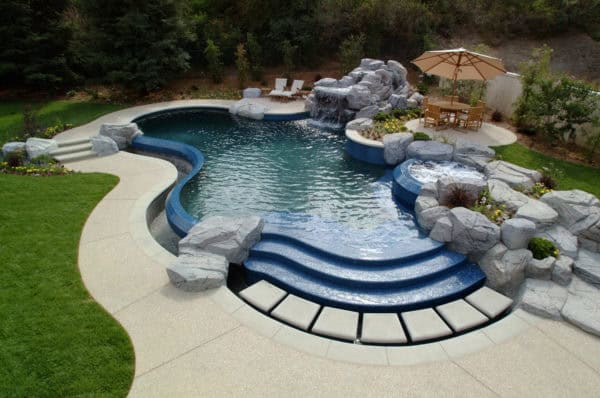 Perhaps instead of a modern backyard, you prefer something more classic, timeless, and grand. This could be the perfect inspiration for you!
This stunning custom-shaped pool features a vanishing edge, which will make it feel like an infinity pool and provide a touch of elegance to the design. The artificial rock and water feature also make this pool feel like a part of a lake in a beautiful landscape.
Meanwhile, the stamped concrete pool deck is the right choice for this design as its beige color complements the natural vibe really well. It's also non-slip, durable, and looks very chic next to the overflowing pool water and elaborate rock formations.
In terms of the furnishing, we'd recommend a pair of sunbeds where you can relax and soak in the view. Perhaps also place an outdoor umbrella table and some chairs to provide shelter from the blazing midday sun.
6. Furnish Stamped Concrete Tiles for a Picturesque Pool Deck with Multiple Sun Loungers for a Resort-Like Vibe
Here is another inspiration for a resort-like atmosphere that will make you feel like you are on a tropical getaway on the other side of the world when you're really just lounging in your own backyard.
This contemporary pool features a stamped concrete tile deck in an off-white color that looks gorgeous and sleek. It makes for an especially picturesque setting if your backyard has access to a beach or even a mountain view.
To complete this pool design, arrange a line of sun loungers which can further make this space feel like a lavish resort. You can use this to invite friends over and enjoy a girl's day by the pool – filled with tanning, fun music, and homemade cocktails.
Finally, you might want to include some outdoor umbrellas to ensure that there is available shelter and shade for when the day is too hot!
7. Open Air Cabana and Stamped Concrete Deck Make for a Luxury Pool Backyard
For the next stamped concrete pool deck inspiration, we wanted to showcase a luxurious backyard made for anyone who likes an exquisite and opulent home.
This beautiful pool design features an Antigua Pebble finish, which is shiny and lustrous, exactly what you want for a stunning backyard. There is also a spacious tanning ledge and five bar seats – enough to host a small pool party with your closest friends or family members.
The L-shaped open-air cabana is a great way to complement your stamped concrete deck. It has a semi-outdoor living space complete with a dining area and space for lounging. Not to mention the professional kitchen with top-notch appliances, a refrigerator, and even a wine cooler and grill.
This can be a truly wonderful space to entertain large parties and small cookouts alike. You can also install a small waterfall feature in the pool to create a soothing background sound.
Moreover, the pool itself features some warm lights, which, if you pair with the soft lighting in the cabana, can make for a truly mesmerizing scene at night.
8. Use Stamped Concrete for the Pool Deck in a Timeless Backyard Surrounded by Lush Forests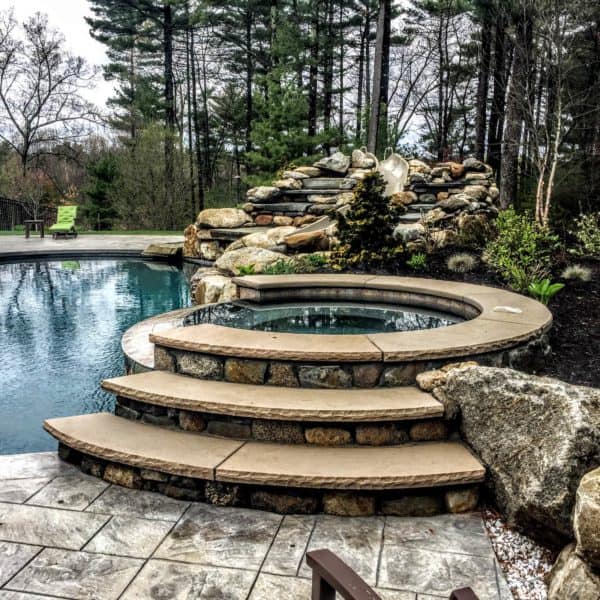 For those who like the rugged and rustic vibe of a natural backyard, then here's one way to use stamped concrete for your outdoor deck.
This timeless backyard is found in a lush jungle or forest area, but we imagine it will look equally fitting in any setting, especially if you invest in the nearby landscaping and planting. The idea is to create a cozy nook for a respite from the stress and buzz of everyday life.
The stamped concrete itself is used to create a charming surface around the pool and custom-shaped hot tub, including the small steps leading up to it. Don't forget to construct a beautiful rock formation using natural stones to further enhance the ambiance.
Stick with simple choices for furniture, such as a modest sun lounger and side table, as well as wood chairs and tables. This is an example where you can definitely see "less is more" manifesting in the concept.
9. Combine Countryside and Rustic Charm with Stamped Concrete Pool Deck and Cozy Hot Tub
Another way to incorporate natural elements in your backyard and make it a seamless extension of the surrounding landscape is to combine countryside with rustic charms, as you can see in this photo.
For the pool deck, you can use stamped concrete for a non-slip and classic look. This connects the main pool with the cozy hot tub, which is always an excellent addition to have in your backyard.
The spotlight falls on the mini cabana with a sunken kitchen and bar. This means you can serve exotic cocktails and homemade smoothies while staying dry and clean, while another friend can be swimming in the poolside. Better yet, there is also a fully functioning grill here!
In terms of the construct, the wooden cabana is extremely simple. It is made of four strong posts and a humble roof, but you can embellish it with some decor (like the bullhead pictured) to add some personality.
10. Can't Go Wrong with a Simple Rectangular Pool and Stamped Concrete Deck to Complement a Colonial Home Exterior
Into classic-styled homes and colonial architecture? This rectangular pool looks even more beautiful with a stamped concrete deck, which you can try for yourself.
Here, you can also see how sometimes simplicity is the way to go. There is nothing fancy or over-the-top about this backyard, but that is also why it works. You already have the elegant details of the main house, so this pool should only complement that.
You can surround the deck itself with a green lawn. It is a great way to ensure that some greeneries are still present in the exterior. Besides, it will also prevent the beige house and backyard from feeling too drab.
11. Evoke Craftsman Style in This Traditional Backyard with a Stamped Concrete Pool Deck
This is an inspiration for a mid-sized craftsman backyard, where the pool becomes a centerpiece complete with the fountain, in-water bar, and stamped concrete deck.
The pool is also attached to the bar and BBQ station, making it an attractive spot for entertaining guests. As you can see, this wooden cabana is outfitted with everything you need to enjoy a fun BBQ or afternoon hangout.
There is also a mini fountain feature that does not simply look stunning in this setup; it adds the sound of rushing water to make for a calming environment.
Furthermore, we think this pool is perfect for adding to an eclectic house exterior, such as this one. The oriental-inspired doors and old Japanese-era windows definitely enhance the charm of it.
12. Make your Backyard Fancy with Stunning Water Feature and Stamped Concrete Jumping Deck
Fountain features are obviously one of the best ways to elevate a pool design. Here, this fancy backyard has exactly just that, as well as a large rectangular pool and white cabana.
The water fountain creates beautiful arches of water that fall into the pool, forming a sort of water tunnel at the edge. We love how graceful it looks and the therapeutic sound it makes!
For the furnishing, try placing several sunbeds on one side and providing plenty of seating so you can comfortably host a large party. The stamped concrete pool deck is also spacious enough and extends to a custom shape that adapts with the land.
In addition, you can see the large white cabana where there are even more seats and a couch. One foolproof tip when decorating an elegant and modern backyard is to choose elements that are timeless and neutral, so you can pair them with other details of your liking.
13. Infinity Hot Tub and Stamped Concrete Pool Deck Will Enhance a Tuscan Style Backyard
Next up, we wanted to show you this Tuscan-style backyard with an infinity hot tub, beautiful pool, and a lavish set up with plenty of sun loungers and seats. It is a truly charming setup fit for most homes.
In terms of the pool deck, you can use stamped concrete for a non-slip and textured surface that is easy to clean. But more than that, concrete decks are also beautiful, and the earthy tone here matches the old-school vibe of this house.
You can even place some potted plants on the corners of the pool to provide some greenery. They will brighten up space and make it feel even more cozy and refreshing. Don't forget to install enough lighting to illuminate the space during night-time!
14. Round Off Your Stamped Concrete Pool Deck with Horizontal Wood Fencing and Green Sunbeds
Finally, take a look at this stunning 1950s courtyard with a rectangular pool and stamped concrete deck. It is an especially charming venue and design for homes located amongst lush forests or the countryside.
In addition to the beige concrete deck and crystal-clear blue waters in the pool, you can incorporate another main color to complement the surrounding landscape: green.
For instance, see how the line-up of sun loungers in an appealing green color matches the range of green shrubs on the other side of the pool. It is a simple and subtle touch, but no less stunning!
Remember to embellish these sunbeds by providing small side tables. You can even place complementary accessories such as pool towels and decor like potted plants.
You can complete this backyard design by using some horizontal wood fencing. The even gaps between the posts can look very eye-catching; they offer glimpses into the natural landscapes outside of your home.
Closing
Overall, an easy way to transform your backyard or home pool is by installing stamped concrete for the deck. They are easy to clean, durable, non-slip, and very stylish. Plus, the huge range of colors, textures, and shapes means you will find something that works especially well in your home.
Our tip is to consider your personal style and make sure it shines through your pool area. It is easy to pair stamped concrete with other natural elements, too, from rock formations and wood furniture to impressive water features.
You can take inspiration from the different photos we have shown you today. Pick and choose elements that you like, then combine them to create your own unique style for the perfect pool deck. Happy decorating!