Having a kitchen bay window over the sink can be a great way to elevate your space and make your kitchen appear more substantial. A bay window refers to a window that protrudes from the wall and extends to the interior.
Some styles include the traditional, box bay, bow, and garden, while the most common type of bay window is an angled bay. Not only are bay windows quite affordable to install, but they can also transform your kitchen in a dramatic way.
Whether you have a traditional or classic kitchen interior inspired by English cottage homes or more modern space with contemporary design elements, you can't go wrong with a charming bay window. It will even let in more natural light into your kitchen and make it feel much cleaner and more spacious.
Overall, a kitchen bay window is a popular feature to add to a home of any style. Here are some stunning examples that might inspire your own design!
1. Large Bay Window Over Sink in an All-White Kitchen for a Bright and Modern Atmosphere
For our first photo, we'd like to spotlight a beautiful all-white kitchen featuring a 30-degree Andersen bay window over the farmhouse sink. This bright design is perfect for those who like a clean and modern ambiance.
The window itself, like most of the kitchen furniture, is painted in crisp white color. You can then add a few pops of color and vibrancy by placing some of your favorite flowers on the base. Other details like the colorful crockery, turquoise mixer, and red coffee maker would add to the vibrancy too.
Meanwhile, the white shaker cabinets and soapstone countertops are complemented by a gorgeous grey backsplash. These are from the iconic Artistic Tile, which is hand-glazed light grey with some light green undertones and an elegant relief pattern.
You can also get the same stove range, which is a 48" model from GE Monogram. Complete the look with some stainless-steel appliances like the vent and large fridge.
2. Try a 6-Feet Wooden Bay Window Along with a Traditional U-Shaped Kitchen Setup
If you prefer a more traditional kitchen vibe with warm elements and lots of wood, don't worry! You can still incorporate a bay window above the sink for a quintessentially charming look.
In this open concept kitchen, the countertops are arranged in a U shape to make the most of the corner spaces. It is a great idea for those with smaller kitchens.
The bay window itself is around 6 feet wide and uses a stylish wood encasement. Meanwhile, the under-mount sink is right in the center, and underneath is a café brown SILGRANIT sink by Blanco. You can place some indoor plants or herbs here, where they can get plenty of sunlight.
To complete the look, this kitchen features granite countertops, white flat-panel cabinets, stainless-steel appliances, as well as modern brown porcelain tiles for the backsplash. Make sure to hang some pendant lights to add some more pizzazz to the room and provide illumination at night.
3. An Elegant Kitchen Remodel Featuring Bay Window Over Sink and Limestone Countertops
In this elegant L-shaped kitchen, the combination of tiled backsplash, bright countertops, grey cabinets, and dark wood flooring makes for a warm and cozy space. It's an especially gorgeous design for a smaller kitchen.
One of the defining features, of course, is the gorgeous bay window over the sink and oak wood windowsill. It is stained in the same shade as the floor to create a seamless effect. Meanwhile, you can use this base to arrange some houseplants and make the kitchen greener.
The sink itself is from Nantucket and made using 16-gauge stainless steel. You can get the NS43-10 model to recreate the exact look. Installing some tiled backsplash can also be a way to introduce some more variety in the interior.
Moreover, the countertops are made from limestone in "Sea Grass" color, while the Bentwood cabinets are painted in "Sourdough". These colors are quite neutral but have a warm undertone that is very fitting for this kitchen.
4. Go for Prairie-Style Interior with this Kitchen Bay Window Over the Sink and Sapele Wood Cabinets
You can also use a bay window in a prairie-style kitchen interior for a classic yet modern look. It's a contemporary design that can fit in any modern home.
The simple and charming garden bay window is from Jeld Wen, which as the photo shows, perches right above the kitchen sink. Place some decor or plants on the windowsill to jazz up space.
For the cabinets, you can opt for Sapele wood and arrange them in an L-shaped set up to create a beautiful kitchen like this. The marble pattern countertops contrast the wood color nicely and match the dark grey tile backsplash.
In terms of the finishing touches, adding stainless-steel appliances like a coffee maker, knife rack, and others can be great too! Feel free to make space feel like your own by incorporating elements that suit your personal style and individual taste.
5. Create a Trendy Kitchen with Curtains over the Kitchen Bay Window and Beige Backsplash Design
For our next inspiration, this picture of a trendy kitchen illustrates how a bay window can look even more elegant with some curtains.
If you're not a fan of overly white interiors, perhaps go for black cabinets like these. The color can make your kitchen feel much more regal while still seeming clean and bright. To complement this dark element, you can use medium-tone wood flooring.
Make sure to balance this by pairing it with a few white cabinet sections, bright ceilings, lots of lights, and a granite island countertop. This is to prevent the effect of overcrowding and feeling cramped.
The bay window that sits over the sink is graced by a modest yet stylish curtain. It overlooks the rolling greeneries of the garden area, which helps to make the kitchen seem bigger. Plus, adding some matching bar stools around the island means you can turn it into an eat-in kitchen too.
Meanwhile, the gorgeous beige backsplash also adds some fun patterns to create more depth and dimension. Don't forget about the stainless-steel appliance too, like the stove range, vent, as well as built-in microwave and oven!
6. Use Glass Tiled Backsplash and Gardenia Topiaries to Complement Bay Window Over the Sink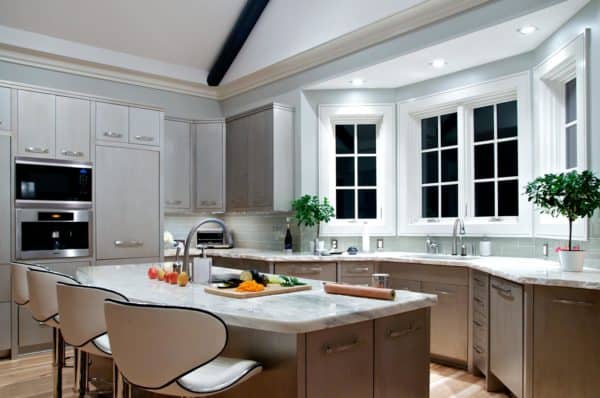 In this beautiful kitchen remodel, the main highlights include the stunning grey cabinets, marble island, and bay window over the sink with the gardenia topiaries. It's an excellent interior for anyone who likes a stylish and modern kitchen.
The cabinets are in a contemporary light grey color with a silver Stria finish. This goes for the island cabinets, too, and matches the grey wall paint of the room. Moreover, the island countertop uses White Carrera Marble for an exquisite sheen.
Place some barstools to make this an eat-in kitchen where friends and family can hang out in. You can get these trendy chairs from Barstools & More Seating, which is based in Miami, Florida.
Meanwhile, the light green tiled backsplash will add some color while still being subtle and muted. You can further complement this by planting two pots of gardenia topiaries and placing them on either end of the window.
7. Embrace White Color Scheme and Andersen's Bay Windows Over the Sink for a Stylish Modern Kitchen Interior
If you adore an all-white kitchen, this interior will be the perfect inspiration for you. Despite being tougher to clean, a white kitchen can freshen the room and make it feel extremely bright and modern.
One easy way to avoid a flat and monotonous look is by adding darker accents. This will also add a dramatic element that makes your kitchen all the more impressive. As you can see, the dark wood flooring and black leather stools have done exactly that.
You can also incorporate different textures using the white color to add some more depth. For example, the tiled backsplash and white marbled countertops all belong to the same color scheme but can still appear fresh.
The bay window itself is from Andersen, and placing some houseplants on it can make be another great way to add more color to space! The same goes for other pieces of decor too.
8. Farmhouse Kitchen Looking Cozy and Warm with a Bay Window Over Sink and Natural Wood Cabinets
Perhaps you are a fan of more natural styles that are timeless, classic, and quintessentially charming. If contemporary white kitchens aren't your think, don't worry.
This is an example of how a bay window can look just as exquisite in a farmhouse-style interior. Even more perfect if your kitchen faces a garden or green space, as it can provide a refreshing cottage house vibe.
Moreover, this L-shaped kitchen features a range of medium-toned wood cabinets with cool quartz countertops that are clean and bright. The multicolored stone backsplash also adds some more dimension and style to space.
The trick with making a kitchen like this appear more lived-in and fuller of character are to mix in a lot of personal touches. We are talking about sentimental mementos or décor pieces that mean something to you.
For instance, you can display some crockery you have bought overseas or a wooden toy that you keep from your childhood years.
9. Combine Farmhouse and Industrial Vibes for a Unique and Eclectic Kitchen with Bay Window
This waterfront log home is the perfect design for a cabin-inspired kitchen that combines various elements from both farmhouse and industrial style.
It is an eclectic interior that can express the owner's personality like no other, especially with the dramatic log surfaces and room for customization. The logs here are not stained and left to develop their natural appeal, though they are protected in a clear UV coating to make them more durable.
Furthermore, the countertops are Corian wood, which is an incredibly durable material that can be easily fixed in case of any scratch or mark. It is also a classic color that has graced countless homes throughout the years!
Installing some multicolored stone backsplash can be another brilliant touch to this kitchen. Whereas the rugged green recessed-panel cabinets add some rustic style. You can create some built-in shelving to store your favorite cookbooks too.
10. Pair Your Wiry Bay Window Over the Sink with Wooden Decor and Attractive "Skiffkey Blue" Cabinetry
Another great way to style your bay window is by using wooden decor and stunning blue cabinetry. The Farrow and Ball "Skiffkey Blue" color create a retro feel that is both classic and modern.
Pair this with an antique cement tile flooring, which in this case hails all the way from France. But don't be afraid to look for options in your own local shops.
The gorgeous farmhouse sink itself is from Julien, which, as you can see, fits well with the modernized concept of a classic farmhouse kitchen. The gold-emblazoned faucets are actually unlacquered brass, which you can get from Newport Brass.
For the large kitchen island, you can use reclaimed wood and finish it with wax for a new and glossy finish. The countertops are Carrera marble for a contemporary touch.
Finally, the light fixtures from Schoolhouse Electric look like elegant baubles that can tie up the interior. The brass and golden light also match the other unlacquered brass elements around the kitchen.
11. Choose a Luxurious Kitchen Featuring Maple Wood, Quartz, Onyx Finish, and a Bright Bay Window Over the Sink
This kitchen remodel has transformed what was once an old and outdated space into a truly marvelous and luxurious haven.
The main feature is, no doubt, the bay window over the sink. It is large, minimal, and lets in a lot of natural light to make the kitchen feel even more beautiful. The under-mount sink also hides pull-out storage!
Meanwhile, the U-shaped cabinet setup uses maple wood in black paint and an elegant onyx finish. There are also two different materials for the backsplash, including the grey stones for the sink and window wall and grey ceramic tiles for the stove area.
We also adore the oversized island in this interior. With a built-in microwave, more drawers for storage, a solid surface countertop, and some seating, it makes the kitchen such a cozy place to spend time in.
You can further highlight the modern aspect of this kitchen by incorporating stainless-steel appliances. This includes the stove range and hood, microwave, and professional-grade fridge.
12. Try a Tuscan-Style Interior Blending Elegance and a Touch of Rustic with this Granite Ledge on Bay Window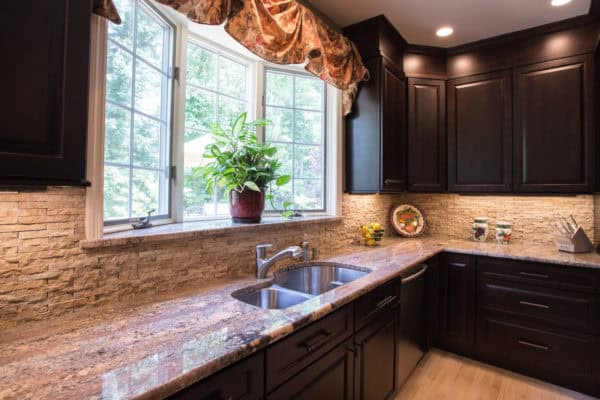 Our next photo showcases a Tuscan-inspired kitchen that blends elegant modern design with a touch of rustic elements.
The bay window features a granite ledge for some old-world charm that makes space feel even more warm and refined. You can use this ledge to place some houseplants or create your own mini herb garden.
Moreover, the countertops are granite in Juparana Crema Bordeaux, which is also the same material used for the island countertop not pictured here. Yet this seamless flow can tie the look together well.
You can paint the dark wood cabinets in black and install some natural stone backsplash in beige. This natural material will certainly evoke that unique yet charming vibe you want in a kitchen.
Overall, this Mediterranean-style kitchen is the perfect look for both a modern or more traditionally furnished home. It certainly feels very homey and cozy indeed!
13. Use Eye-Catching Pendant Lights and Houseplants to Complement the Kitchen Bay Window Over Sink
Finally, we'd like to show you how the little details can elevate any room to a whole new level, including the kitchen.
In this case, the striking pendant lights serve not only as illumination during the night but also as an important feature that sweetens the interior.
In terms of the bay window over the sink, you can complement it by decorating the area with some houseplants. Go for white pots to match the overall theme of the kitchen, but make sure to choose a vibrant plant that can add some life to space.
Additionally, the two-toned cabinet is a great idea to connect the dark and light elements of this kitchen. The white upper cabinets are a nice complement to the white ceilings and bright walls, while the dark grey lower cabinetry matches the natural dark wood flooring.
You can also place some wooden bar stools to provide seating for the island and use stainless-steel appliances for that modern look, from the sleek dishwasher and stovetop to the faucets, fridge, and toaster oven.
Closing
That's all for our favorite inspirations for a kitchen bay window. It is more than just a regular window; it can add tons of personality to the kitchen and enhance the atmosphere. Remember to keep the design quintessentially yours by choosing features that suit your style and needs.
Finally, there is an infinite way to decorate and style your bay window. This includes placing houseplants, starting a mini herb garden, and using vines to propagate the window. You can also install shelves at the base to create more storage space or even use them to showcase some of your personal mementos.
All in all, a bay window over the sink is a failproof way to transform your kitchen into a cozy and attractive space. We hope some of these photos can provide a little inspiration for your own kitchen design. Good luck!