Are you looking for the perfect retaining wall design and thinking of using Corten steel?
Whether to prevent soil erosion or improve curb appeal, sometimes the best way to find inspiration is to look through various existing designs.
So, what is a retaining wall?
It's essentially a wall structure used to hold back soil, protect flower beds, landscaping, and keeping animals away from your plants.
People build retaining walls from a range of materials, from brick and stone to timber alike.
Today, we would like to put the spotlight on a specific material: Corten steel.
It is weathering steel made of alloys that can naturally develop a gorgeous rust-like exterior when exposed to the weather. This material is durable, corrodes slower, low maintenance, and quicker to construct.
If you need a design for your new home or simply want a renovation, we have compiled a list of the best Corten steel retaining wall ideas, complete with failproof tips and tricks. Without further ado, here they are!
1. Use Corten Steel Retaining Wall and Concrete Paver Landscaping for a Southwestern-Inspired Home
This is the perfect example of a southwestern home with drought-tolerant landscaping. You can use this as an inspiration if you live somewhere dry.
Make sure to use plain and untreated steel for the retaining wall, especially if you want to plant anything in it. This will ensure no harmful chemicals can filter into the soil and damage the live plants.
Moreover, the Corten planters, which you can see here, are 1/2″ thick. That's strong enough to contain all the soil and plants, but still, quite think for a natural and contemporary look.
Instead of boring boxes and rectangles, the design here goes for a more dynamic approach where the retaining walls have varying shapes. You will see later on that most modern designs prefer this over symmetry.
Remember that Corten steel will develop a rusty look over time, so it will appear less rustic and worn out in the beginning. But paired with an earthy color palette like the exterior here, your home will be sure to impress!
2. Try a Contemporary Corten Steel Retaining Wall Landscape with Dynamic Step Design and Gravel
In this photo, you can immediately tell that the landscaping is inspired by a greener and more luscious look. This retaining wall uses Corten steel in a much more contemporary setting.
Just like the previous example, there is a clear tribute to asymmetry here. The step designs do not line up, while some of the walls have an ascending height. This is a great way to add some more character to your house exterior.
If you live someplace more humid where lush greeneries can thrive, it can be worth planting lots of grasses and trees. The verdant sight will help make your yard feel more relaxed, more refreshing, and soothing.
Another benefit of using Corten steel is that there is no need to treat it with any chemicals. The steel will naturally oxidize to give that charming industrial look – a perfect addition for any modern home.
3. Industrial Retaining Wall Featuring Corten Steel to Create a Cool and Secluded Pathway
Over here, we have got an industrial retaining wall landscape using Corten steel. If space allows, this is an excellent opportunity to create a revitalizing and secluded pathway that leads into the main house.
The retaining wall itself consists of a 1/2″ Corten steel plate. We genuinely adore how the steel adds so much depth and appeal to this landscaping. Additionally, it is also a solid and lasting material that does not need much maintenance.
As you can see, the slight profile and natural patina look like a mere extension of nature. It blends really well with the grasses, plants, and trees.
For the ground cover, you can use gravel and intersperse it with buffalo grass. This grey-green perennial turf can grow relatively high, are long-lived, and have beautiful slender stems. A thoughtful detail to elevate the space!
4. Modern Hillside Home with Contemporary Landscaping and Corten Steel Retaining Walls
Set within a hillside background, this is another contemporary landscape featuring Corten steel retaining wall.
The retaining walls are evidently one of the main features of this gravel landscaping. Not only do they retain some of the soil and plants, but they also act as a partition between the house and the outside. This sort of separating can make your home feel much cozier.
Made from Corten steel, these walls can develop a natural patina to form this charming rusted color. But unlike some types of steel, Corten will only rust to a degree and stop, therefore preventing it from breaking down over time.
If you like the fillers around the stepping stones, you can recreate them using green Western Dichondra. There is also the blue leaf variety, so feel free to choose the one you prefer.
Meanwhile, the long concrete pavers are poured into place on-site. You can roll the pathway lights in Corten steel too, and most local contractors will be able to help you with this.
5. Try this Mediterranean Landscaping with Silver Ponyfoot inside Corten Steel Retaining Wall
This Mediterranean landscaping is an example of how you can create a beautiful terrain in a desert-inspired setting with Corten steel as the retaining wall.
To create that "overrun" feeling of nature's beauty leaching its way onto the human structure, you can drape Dichondra argentea, or more often called Silver Ponysfoot, all over the steel.
Admittedly, this kind of landscaping may not suit a modern home with bright colors, especially if it is in a smaller space. If you really like the design, there is always the option to scale down.
This includes creating smaller and shorter retaining walls to fit the number of steps you have. Do not forget not to overcrowd the soil with too many trees and plants. You want to ensure that they have space to grow and are each given a spotlight!
6. Build a Green Thumb's Paradise with Some Retaining Walls Made from Corten Steel Planters
Are you a green thumb who feels happy in a garden? If one of your priorities in a home is to have a spacious outdoor area where you can grow flowers, vegetables, and other plants, this contemporary landscaping can provide some inspiration.
As you can see, the Corten steel retaining walls are used to create an elaborate home garden. The beds are raised on several different levels, which you can use to design something less mainstream and uniquely you!
Arrange the plants based on type, shape, or color – however, the way you think is best for your home.
We recommend using a 1/2″ Corten steel gauge to hold the curved beds. It is important to maintain the flowing design so you do not end up with stiff and rigid planters. This shape really will help make space feel more natural and relaxing.
7. Combine Corten Steel Retaining Wall and Stone Sculptures with Warm Lighting for a Dark yet Sophisticated Landscape
This landscaping involves one of the more unique ways to use Corten steel. It utilizes the distinct appeal of steel by combining it with stone sculptures and rock formations.
There is not one thing that stands out, but all of the different elements come together for a truly stunning landscape.
For instance, the retaining walls have a charming reddish hue while containing the soil used to grow various plants and greeneries. Meanwhile, the rock formations form barriers as well as a sculpted outdoor table.
You can't miss the water feature either. As the stream cascades down, this movement creates a gorgeous attraction for the eye. Not to mention that the sound of the rushing waters can be quite soothing too.
Lighting also plays a huge part here. The yellow light in the waterfall spotlights around the space and flickering LED candles all work together to emanate a warm and sophisticated atmosphere.
8. Go for a Modern Landscape with White Railings, Metal Pergola, and Corten Steel Retaining Walls
For our next inspiration, we are looking at modern landscaping in an equally modern and contemporary home exterior.
The use of Corten steel for the retaining wall is quite evident, and you can see how the distinct red rust-like appearance becomes more prominent here. That is because of the whites contrasting it from the white railings to the white metal pergola, as well as the off-white steps.
You can use the retaining wall as a planter for some greens or draping vines, as shown in this picture. But it is totally fine to leave it empty and use it simply as a reinforcement for the structure of the raised level.
Behind this landscaping, the main house has a beige brick wall that suggests a preference for more classic styles instead of fully industrial ones.
9. Add Trailing Lantanas to Spice Up the Corten Steel Retaining Walls in Your Colorful Home Exterior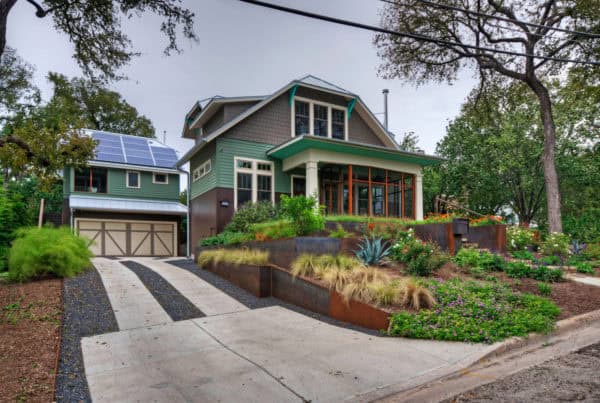 The photo above illustrates a colorful home featuring a drought-tolerant front yard.
Because the house has an eclectic exterior that mixes a few different colors, using Corten steel can actually be a brilliant idea. In fact, the signature rusted look of the steel over time is quite natural so that it will compliment almost any style.
At the bottom right of the photo, you can see some purple Trailing Lantana as the choice for the ground cover plant. It can be a great way to add some color and life to the planters.
The driveway has a beautiful combination of concrete paving and gravel, which helps establish some stylistic character to the house. Without a doubt, the curb appeal is extremely stunning!
10. All Green Plants to Create a Monochromatic yet Soothing Environment of Modern Steel Retaining Walls
As you can see in this photograph, the main stars of this landscaping are the trees, plants, grasses, and greeneries.
Yet at the foundation of all these is the Corten steel retaining wall, which provides a strong and solid base for the rest of the landscaping. You can build the walls in the middle of the steps for some asymmetric design.
If you find it, planting some Beaked yucca can be a great addition too. The spiky leaves in the foreground of this photo are refreshing and cool. The trees are Italian Cypress, which are tall, skinny, and adds a unique landscaping feature.
We love how the all-green plant choices create a kind of monochromatic vibe that is almost therapeutic. In contrast with the dark soil beneath and steel colors, this luscious landscaping is very soothing.
Meanwhile, you can add a pop of color to the soft grasses by introducing just a bit of purple lantana. This vibrancy helps create some life and variety too.
11. Roadside Landscaping Makes Use of Rustic Corten Steel for the Retaining Walls
Whether you have an exceptionally large yard space or simply looking to landscape a roadside park, this example can provide some inspiration.
It uses rustic Corten steel for the large retaining walls. They also act as planters where you can plant large trees, grasses, and some smaller plants. Gravel is evidently a crucial element here as it feels the entire ground too.
The steel also runs throughout the steps and reinforces their main structure. Fill it with some concrete and line with more gravels.
To provide some space for hanging out and relaxing, wiry steel furniture can be a great choice. As you can see, they do not take away from the natural landscaping and blend into the background instead.
12. Consider a Clean Modern Front Yard with Corten Steel Retaining Wall and Open Play Areas
When designing a house with kids, you have to consider their playing areas and how much open space there is. Children need places to have fun, run around, and simply have fun.
This modern front yard is an apt example of how you can turn the space in front of the house into a spacious field while still featuring some planters or garden areas. The goal is also to create a clean space but with enough room for the kids to enjoy the outdoors.
The anchor or centerpiece of this yard is the large rock and water feature. It is placed in the middle of a seating pit, which you can see is wrapped in durable Corten steel.
This retaining wall forms not only a structure for the pit but also to hold back the soil. You can then use this as planters to grow your favorite flowers, plants, or even vegetables. Meanwhile, the steppingstones are concrete poured in place with lots of gravel to fill the spaces around them.
For the upper patio and concrete steps leading to the house, you can use contemporary railings and fences. Do not forget to get enough outdoor lighting to provide illumination at night, as well as safety and comfort.
13. Complement Your Wood Siding with Some Corten Steel Retaining Wall and Concrete Pad Steppingstones
For our final inspiration, we have decided to feature this stunning contemporary landscaping in a house with wood siding and a style from traditional Japanese architecture and design.
The Corten steel retaining wall is used for a large mini-park area, where you can plant grasses and a few large trees to provide shade. Additionally, the natural patina and color of the steel actually match the wood siding.
To add some more greeneries, line the side of the house with your favorite plants. It will help the house appear more luscious and relaxing. Something as simple as this can really set the mood whenever you are coming home!
You can also build steppingstones using concrete pads to instill that sense of privacy and seclusion as you move from the outside and into the house. Around the concrete, install some crushed limestone gravels that will ground them. This earthy color also resembles the natural ground.
Closing
If you can learn one thing from this post, it is that there is no right or wrong way to decorate your house, including the exterior. We have given you some inspirations to use Corten steel for your retaining wall, but none of them is perfect if they do not suit your style, taste, and needs.
Whether you have a modern and contemporary house or a classic one, it is difficult to go wrong with some Corten steel. Its reddish rustic appearance is charming and looks nice in almost any setting.
Another tip is to analyze each of these photos and decide what you like or do not like about them. This will help you figure out what your style is like and what kind of design works well for your home.
After all, you do not just want a retaining wall that other people think looks pretty – you should personally love it, and it should be fully functional to accommodate your needs too. Good luck!