Having a bathroom in your pool house can be a game-changer, especially if it takes a while to walk from the pool into the main house. If you're looking for the best pool house with bathroom ideas, you've come to the right place.
A great pool house will make your home feel like a place for vacation. Complete with an unobstructed view to the pool itself, space for lounging, an entertainment area, and maybe even a mini kitchen, it's easy to never want to leave the pool house!
There are many ways you can design your pool house, whether to complement the main building, the pool, or as its own unique entity. From a classic country style to a more contemporary take, we have some recommendations.
So, if you're looking for the next inspiration to build or renovate your pool house so it features a bathroom, here are some brilliant photos for you!
1. Try a C-Shaped Pavilion around a Fire Pit for a Cozy Pool House with Bathroom
This first photo is the perfect inspiration for anyone with a large home and spacious backyard. You can see how the massive pool and wooden deck form the centerpiece of this area.
Yet the C-shaped pavilion provides a cozy structure to place your bathroom, complete with a comfortable couch circled around a fire pit and copper hood. The entire space sits snugly under a roof but has open walls, which makes for an excellent semi-outdoor area.
On the left-hand side, there is an outdoor kitchen fitted with some barbeque grills, a stovetop range, a heavy-duty oven, and a dining area. One idea is to use a natural all-wood table that is durable while using rattan chairs can help them withstand weather elements.
Meanwhile, in front of the bathroom, you can create a makeshift game area with a foosball table and a TV. The tapered slate columns of this pool house are the same ones that the main house features. It can be great to incorporate some of the same elements in the two buildings.
2. Wood Cabana for a Traditional Looking Pool House with Bathroom and Stylish Pergolas
Here's an inspiration for those who like the traditional charms of a wooden cabana that can transport you from your own home to a beautiful cabin in the woods.
There is little doubt that the pool is an enchanting feature that will attract anyone who sees it. It looks beautiful with the scintillating pool lights that cast a gorgeous blue glow, a raised spa built from natural stone, double tanning ledges, and a sleek-looking waterfall.
Right behind the pool is a cabana featuring a semi-outdoor living space, fire pit and water feature combo, stunning cedar walls, and most importantly, an enclosed bathroom.
You can also see the pergolas on either side of the cabana. Use this to create an extra living and entertaining space. Hang a TV or place a pool table, for example.
This elegant backyard is perfect for anyone who likes the style of a stone and rectangular natural pool with a classic pool house design.
3. Contemporary Backyard and Luxurious Infinity Pool Featuring a Modern Pool House with Bathroom
There is nothing more attractive than the crux of contemporary architecture combined with plenty of luxurious elements, as shown in this night view of a contemporary backyard illuminated in warm golden lights.
While the highlight of this backyard has to be the massive infinity pool overlooking a tranquil landscape, one cannot ignore the exquisite house that stands behind it.
For the furniture around the pool, these chaises have a white satin finish that delivers a modern yet industrial vibe. You can get them from Sunset West Outdoor Furniture.
The pool house itself is an open living area with a comfortable space for dining and entertaining guests. With wood interior walls, dramatic pendant lighting, and cozy seating, you can enjoy your time in the pool and warm up here.
Not to mention the bathroom that has a door leading from the outside, so you do not have to directly walk inside dripping with water and get the floor wet.
4. Dramatic Pool House in Greek Style with a Hidden Bathroom Behind an Exquisite Pool
If you are interested in traditional architecture and design, check out this dramatic pool house. It is inspired by the oversized pillars and roofs of a Greek pantheon.
In addition to a hidden bathroom in this otherwise semi-outdoor structure, there is a fully equipped professional kitchen too. Complete with a refrigerator, microwave oven, stove range, and a minibar, this is the perfect space to host a pool party.
You may spot a solar panel system latched onto the roof of this pool house, which can be a great way to introduce reusable energy into your lifestyle. The two panels may not be enough to power the entire home but could certainly handle a few elements of this pool house.
Meanwhile, the rectangular lap pool is lined with bright gold lighting. When lit up in the dark, the pool water's turquoise glow can be a soothing sight, especially as the foreground to an ethereal pool house.
You can also add some outdoor seating to places around the pool, like these outdoor chairs, tables, and sun loungers. In short, create the space that you need!
5. Consider a Custom Pool Shape with Natural Stone and a Pool House with Modern Black and White Bathroom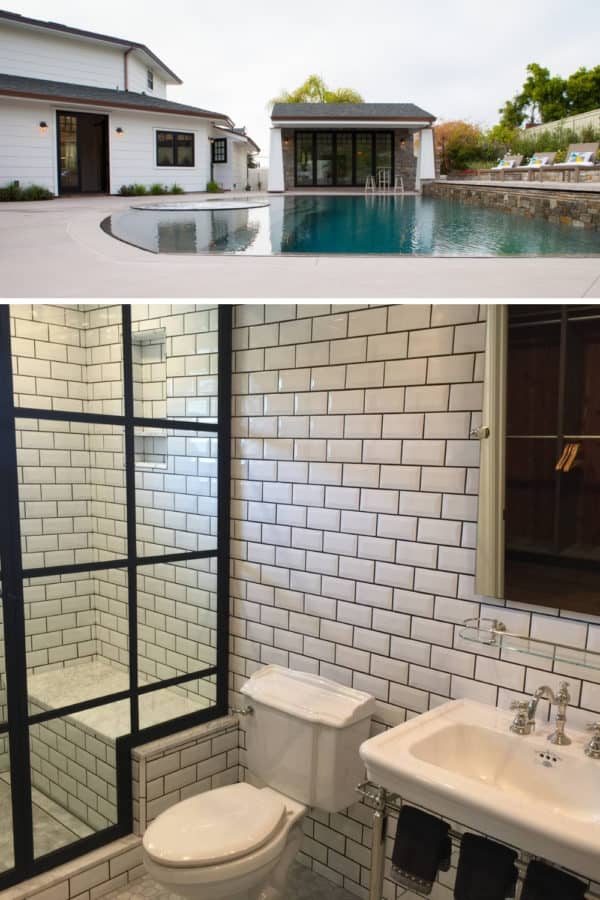 This next photo showcases both the main house and pool house, which both share similar elements in terms of paint colors and roofing.
Additionally, the large windows and glass doors also match the glass-paneled walls of the pool house. This is where you can build a bathroom, where you or guests can jump into the shower and dry off after soaking in the pool.
Speaking of the pool, this picture also provides inspiration for a modern pool design with seamless edges and a natural stone dais. Here, the chaise overlooks the beautiful house and is the perfect spot for relaxing.
For the bathroom, the owner here has decided to stick to a simple yet quintessentially modern trend: black and white. With monochromatic tiled walls, subway mosaic floors, a white toilet, and a console sink, the bathroom exudes an irresistible charm.
6. Country Pool House and Bathroom with Classic Barn Doors to Complete an Oversized Swimming Pool
Another way to make your pool house unique is to install a sliding barn door, complete with a wheel and track, as you would see in any traditional farmhouse.
Not only is it charming, the barn door actually lets you fully open the pool house to transform it into a semi-outdoor space. Chill in the seating here as you listen to the rippling pool fountains and leaves rustling from outside.
Inspired by a country-style house, you can use rough trusses to evoke that rural atmosphere. It's even more fitting if the main house has structural components that also incorporate these, therefore creating a seamless theme throughout the home.
If you look closely, you can even see an opening at the back of the house, which can be used to bring in firewood to fuel the hearth. It's the small details like this that can truly elevate a design.
7. Beach Style Pool Surrounded with Verdant Greeneries and an Open-Air Pool House with Bathroom
In this pool house cabana, the star is not only the open-air structure but also stunning landscaping around the pool. The lush greeneries featuring a range of bushes, grasses, flowers, and natural rocks can make your backyard feel even more calming.
The pool house is mostly an entertaining open space that can be used for hosting family gatherings or parties. There is an extensive outdoor kitchen, an informal dining area, and plenty of seating.
In terms of the furniture choice, you can use rattan chairs and a glass-topped table to establish that villa or holiday home ambiance. Creating a mini bar complete with rattan bar stools can also be a great addition.
Meanwhile, the bathroom can be a great place to wash and clean up after soaking in the pool water. For those who prefer an outdoor shower, there is always the option too.
8. Try a Minimalist Backyard with Stylish Lap Pool, Modest Pool House, and a Contemporary Bathroom
There is nothing wrong with minimalist styles. In fact, some people prefer to clean-cut lines and simple shapes of a minimalistic home over the intricate details of classic exteriors.
If this is your cup of tea, you will love this stylish backyard featuring concrete pavers, a geometrical lap pool, trimmed grasses, and a trendy pool house.
The pool house makes up half of the charm of this beautiful backyard. It consists of two enclosed rooms, one of which is a modern-styled pool bathroom with all the contemporary amenities. The open space is a full-sized kitchen and a dining table.
If we had to sum up the design inspiration for this one, it would be two simple words: modern luxury.
There are still all the essential poolside elements like sun loungers and cozy outdoor chairs. And yet choosing uniquely designed furniture can make a huge difference to the overall atmosphere.
9. Unique Lighting and Water Features to Highlight an Urban Pool and the Gorgeous House with Bathroom
Bored of rectangular pools and want something more dynamic? Shake it up a bit by playing around with the shape, like this one. The semi-circle sections on either end can be a great spot to sit back and hang out.
Line the sides of the pool with some comfortable chaises and build a larger pergola on the other side. This can provide a cool shelter during hot summer days, where you can lounge on the sofas and escape the blazing sun.
What about the pool house? You can see how the custom-shaped pool house matches the timeless design of this backyard. It contains a bathroom and a secondary living space too, complete with a TV and some armchairs.
10. Use Natural Stone and a Beach Style Pool House with Eclectic Bathroom for a Beautiful Backyard
Those lucky enough to live in the countryside or an area with lots of greeneries, where your backyard is essentially an extension of the natural landscape, should make the most out of it.
For example, this one has lots of natural stone to build the deck and pool, which is also a custom shape that mimics the flow of nature around it.
It also has a beach-style pool house that features an eclectic bathroom. The bathroom itself uses porcelain flooring, raised black cabinets, beige walls, and opulent quartzite countertops.
In the open space beside the enclosed bathroom, you can build a stone countertop with a grill. Imagine having a private BBQ party on a cool, breezy morning in the middle of a forest. Sounds plentiful, right?
11. Large Craftsman Pool House with a Cozy Bathroom to Complete this Charming Stone Backyard
Another excellent idea to create a seamless continuation of the surrounding environment is by embracing the use of natural materials, including stone and wood.
This craftsman pool house has a hidden bathroom, whereas the semi-outdoor space is utilized as a living room and entertaining space. Place some TV and stereo sets, sofas, and armchairs that are weather-resistant, a fire pit, and generous yellow lighting.
You may see that the structure uses mainly natural elements, from the stone and red brick pillars to the wooden walls and ceilings. This is a timeless way to incorporate nature into the design and structure of your home, which can immediately make it feel cozier.
The pool itself takes a rectangular shape but is no less charming. Make sure to illuminate the water with some lights so that it can glow in the dark with this beautiful blue color.
12. A Transitional Backyard Amidst Natural Landscape Featuring a Modern Pool and Open-Air Pool House with Bathroom
In this transitional backyard, the advantage of having a spacious surrounding and more distance to neighbors is indeed apparent. But even if you live in a closely packed neighborhood, there's no reason you cannot try out this design.
The main feature is definitely the lap pool, which, although just a rectangular shape, is no less stunning. It features a jacuzzi or spa section in one corner, while the rest is opened up for swimming.
Of course, the pool house is also an essential element of the backyard. It is an open-air space that you can open on all sides or close via the sliding barn doors. Inside, there is a pool bathroom and a modern lounge area for entertaining guests.
Don't forget some sun loungers so you can sit back in the afternoon and enjoy the stunning architecture that is your home against a backdrop of greeneries! A small table in between would be great too.
13. Build an All-White Pool House with Bathroom and Second Living Room for the Ultimate Pool Experience
Moving on to a more modern take of the pool house, we absolutely adore this all-white pool house featuring an enclosed bathroom and second living room.
First, let's talk about the pool first. This rectangular lap pool is simple and classically beautiful, thanks to the stone pool coping that lines all its sides. You can also create a separate jacuzzi or hot water closer to the pool house, so people in the pool and inside the house can still talk.
While the pool house has an indoor bathroom, you may spot a showerhead peeking out of the right-hand side. This semi-outdoor shower is a brilliant way to still connect with nature outside while providing some privacy.
Meanwhile, on the left side of this pool house is a cozy living room – the perfect place to relax after showering and drying up post-swimming. Place an oversized couch and a TV, and this can turn into a family theatre too!
The front of this pool house is also covered with lots of windows, which allows natural light to stream in and make the interior feel brighter and larger. Plus, the doors can slide all the way open to create a semi-outdoor space!
Closing
When designing a pool house with a bathroom, the most important thing is to make sure it accommodates your personal needs and individual taste. We can provide all the world's inspiration for you, but you are the only one who can make it feel like home.
You can embrace the farmhouse style, beach house, or urban architecture. Incorporate a range of colors or stick to a monochromatic palette, make a fire pit, provide comfy seating, and create your own cozy relaxation space.
Our advice? Identify your favorite elements from these different photos and decide what your interior style is. Feel free to pick and choose, thus combining a few of these pool houses into your perfect one.