These excellent retaining wall fire pit designs may be exactly what you're looking for to turn your home into an oasis to relax, hang out, and just enjoy the outdoor atmosphere.
When we're talking about what a fire pit really is, it covers a large scope of things! From a simple hole that you dig into the ground, to intricate structures made of stone or even metal.
In essence, fire pits can elevate any patio or backyard space.
The flickering flames can not only provide cozy warmth during cold winter evenings, but they also create a unique ambiance and charm. It can be quite common to feature fire pits in a luxury home, but today we will show you different ideas to create a retaining wall fire pit according to your own style.
Plus, using retaining wall building blocks for your fire pit is also a great way to use up any remaining materials from retaining walls when you're renovating your home exterior. It can also ensure a seamless look that is certainly appealing.
Without further ado, here are some extraordinary designs of how homes incorporate a retaining wall fire pit!
1. Try Placing Bright Blue Pillows on Your Outdoor Sofas with Retaining Wall Fire Pit for a Fun Patio Design
This trendy patio is part of a contemporary home exterior and features a simple yet stunning fire pit design with retaining wall blocks. It's perfect for those who want something basic but still beautiful.
One failproof way to jazz up any space is to place a pop of color that contrasts with the rest of the design.
For example, the bright blue pillows not only stand out against the brown chairs, but also add an element of fun and youthfulness to this patio!
The fire pit itself matches the retaining wall along with the patio, which holds the soil for a mini garden but can also be extra seating.
This natural rock color is super stunning and will provide the ultimate contemporary look.
When possible, it can also be a great idea to plant some trees and greeneries, which will help establish a strong sense of nature in your home!
2. Build a Retaining Wall Fire Pit with Seating Complete with Rattan Accents to Evoke a Cozy Vibe
Another way to complement a retaining wall fire pit is to use rattan accents on the chairs, tables, and other decors that will evoke a cozy vibe in the space.
The simple wooden chairs have blue fabric upholstery that pops against the beige undertones of this area and the green from the plants. You can also add a settee or small rattan stool for an extra flair.
Plus, you may notice how part of the retaining wall is also a seat wall.
This can be an affordable trick to provide more seating that adheres to the designing theme without having to add more furniture pieces.
Try to make the seat wall extra comfortable by putting on some beige and blue pillows.
A pair of wood-inspired vases or outdoor lanterns can be excellent additions, as they add lovely touches to the patio.
3. Pair the Natural Stone Retaining Wall Fire Pit with Red Brick Flooring for a Classic and Traditional Patio
This traditional patio sports a classic look that can never go wrong, no matter the style of your home. Whether it's a classic palace or super modern house, an outdoor patio like this can be a great spot to have.
As you may expect, the fire pit is the centerpiece of this patio as it is the source of heat and where you and your loved ones can gather around when it's lit.
The design here is to choose a stripped-back concept with exposed red brick flooring and natural stones as the retaining wall.
The lack of furnishing actually makes this patio such a great thing. It is open, so you can always redecorate depending on the event you are hosting. Simply place a few folding chairs to chill around the fire.
You can even set up camp tables to place any foods and drinks, use the retaining wall as seats, and still enjoy a great time with your guests!
Of course, it is always worth it to install an outdoor BBQ where you can cook various grilled dishes. This makes the area an excellent place to host small parties.
4. Use Round Drum Seats Around a Retaining Wall Fire Pit to Enhance a Tuscan Inspired Backyard
One of the most attractive things about Tuscan design is the charming textures of crumbling stone walls, wrought-iron details, rustic elements, and countryside ambiance.
This backyard embodies the best of Tuscan-inspired spaces, what with the stunning iron light frames and rugged rock retaining seat wall.
You can layer this wall with brick paving to create a more comfortable surface for sitting.
Moreover, the fire pit also features these natural stone blocks to evoke a quintessentially rural feeling.
With the flame on and drum seats all around, you can easily feel the chilled and laidback atmosphere of the space!
If your home features a large outdoor space, you can also separate the fire pit area from a relaxing nook with more chairs and tables.
There, feel free to plant lots of bushes and flowers that can make the area feel luscious and more invigorating.
5. Combine Gravel Landscaping and Wildflower Garden with a Retaining Wall Fire Pit for a Unique and Relaxing Ambiance
If relaxation is your key priority when designing an outdoor space, then this photo shows the perfect inspiration for you!
The secret is to try pairing gravel landscaping with creating your own wildflower garden in addition to a small but pretty fire pit.
Together, these elements can create a unique ambiance that will help anyone who enters the place to feel relaxed.
You can use the gravels and stones to build a sort of nook or recess into the ground. This is where you can build your fire pit and place some chairs.
The separation from the rest of the backyard or garden area is excellent to evoke a sense of privacy.
Not to mention that the matching retaining walls along the pathways can also be home to some of your favorite wildflower plants!
In addition, using wooden planks and crates can also be a great way to upcycle old materials while maintaining an alluring charm. You can notice how these wooden boards form one-of-a-kind steps and deck.
6. A Simple Recessed Ground Retaining Wall Fire Pit and Seat Wall Amid Luscious Greeneries
Up next is a recessed ground retaining wall fire pit design, which you can use for inspiration in a lush and vigorous backyard full of greeneries and plants.
One of the best appeals of having a fire pit area that is recessed into the ground is the sense of comfort and privacy that you can get. Plus, it also adds a separation from the rest of the landscaping and garden.
You can use a natural stone cap for the seat wall and fire pit, which goes really well with the stones used to build the foundation of this structure.
With the built-in seat wall, there is no need to waste the space for more chairs and furniture! It's super simple to set the fire pit, gather some friends or family members around it, and have a casual gathering session.
Moreover, the traditional landscaping includes lush grasses and vigorous bushes, which can ensure a relaxing and invigorating atmosphere around the space!
7. Complement Your Retaining Wall Fire Pit with a Lavish Water Feature for the Ultimate Backyard Design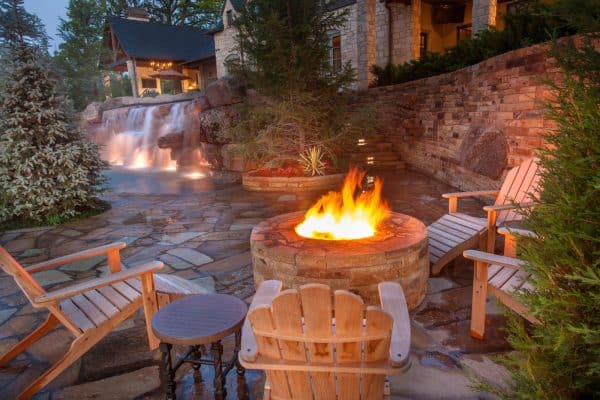 Another breathtaking way to complement your retaining wall fire pit is to install a grand water feature that can evoke the ultimate sense of luxury with some resort-like vibes.
This can be great if your backyard has enough space for these features. It also helps to pay attention to the landscaping and have the most exuberant plants that will enhance the design.
The natural stones used for the fire pit, retaining walls, and flooring of this patio are perfect for the rugged, back-to-nature theme.
They add a rustic feeling that looks incredibly charming against the rushing waterfall and flickering flame in the fire pit.
Moreover, you can place some reclining chairs around the fire pit. This can be where you and your loved ones can sit back while enjoying the impeccable ambiance, complete with the warmth from the fire and the rushing sound of the water.
8. Consider Stone Landscaping and a Retaining Wall Fire Pit in Your Rustic Terrace
Here is a more rustic-inspired landscape design that features lots of stone and natural wood to elevate the retaining wall fire pit of this beautiful rural home.
You might want to focus on the stone landscaping and how it can balance the red wood exterior of the house.
It's also great for houses located amid a jungle or hillside venue, as these elements help the home feel like a seamless extension of the surrounding nature.
For example, the jagged steps leading to the patio area are made of real carved stones to evoke an authentic effect. Whereas the plants and small trees in the retaining wall help establish the presence of greeneries.
Near the fire pit itself, you can place a line of outdoor chairs against the wall. This sense of order provides an exciting contrast to the seemingly haphazard concept of the design, which makes for an appealing look!
9. This Craftsman Inspired Retaining Wall Fire Pit with Multiple Levels Creates a Stunning and Layered Curb Appeal
This next photo depicts a craftsman landscaping with multiple levels and different materials. It uses a retaining wall fire pit surrounded by grey gravel for a natural feel, while the greeneries also help create a relaxing vibe.
Try to incorporate terraced planting on multiple levels for a unique layered charm to your curb appeal. This also helps create some separation between the fire pit, door into the house, and outdoor dining area.
If you are trying to build a multi-layered patio like this, you can use plants in a retaining wall as a buffer and further enhance the separation.
Here, you can see how these plants also add a refreshing break for the visuals.
In terms of the fire pit area, using gravel for the surrounding surface is great because it's nice to walk on and excellent material for fire pits!
It can also be a fun thing to include a barbecue grill on the top level, in addition to a set of outdoor dining table and chairs.
This will allow you to host outdoor events and provide different spots for guests to mingle.
10. A Hillside Retaining Wall Fire Pit that Overlooks the Transcendental Ocean Creates a Cozy Nook in Nature
For those lucky enough to have a home overlooking beautiful sceneries, it can pay off to make the most out of it! In this case, by building a cozy fire pit nook near the waters for a transcendental view.
Here, the main highlight would be the gravel landscaping amidst a lush grass surface.
You can build a retaining wall fire pit here that connects to the ground for a rugged and natural feel.
You may also see how something as simple as a couple of chairs can instantly make this an excellent spot for relaxation.
Picture the place at night with lighthouses twinkling in the distance, the cool ocean breeze, and the flame from the fire pit flickering onwards.
11. Build a Retaining Wall Fire Pit with Rugged Steppingstones in the Woods for a Magical Spot to Hang Out in
This is another example of how you can take advantage of a natural surrounding and build a fire pit to create the most magical spot for hanging out and relaxation. Of course, this can work only if you have the right to do so!
The rugged steppingstones leading to the fire pit area match the vibes of the wood.
You can then build the fire pit recessed into the ground for a unique and quintessentially rural feeling.
In terms of furniture, we recommend going for a beige or earth-toned color that goes well with the grey of the stones and green of the trees. They will also look like a complement for the natural stone retaining wall!
12. Spruce Up a Modern Backyard with a Simple yet Stunning Retaining Wall Fire Pit and Adirondack Chairs
For this next backyard, we wanted to show a modern space with a simple but still captivating retaining wall fire pit. It's great for those who like simple designs but still want to impress.
You can choose Adirondack chairs for the seating around the fire pit.
The rounded shape provides the best comfort, while the countryside look of this chair is perfect in a down-to-earth luxury home.
For the fire pit, it can be a great idea to use naturally formed stones as a kind of frame around it.
This will help establish a little bit of separation and make the area feel much more intimate and comfortable.
13. Complement a Retaining Wall Fire Pit with Lush Greeneries to Create a Cool and Therapeutic Backyard
It will always work to complement your fire pit with ample amounts of plants, greeneries, and bushes.
You can see how this helps invoke a rejuvenating and therapeutic backyard that is super inviting!
This modern partial sun patio features a small but exquisite fire pit surrounded by rocks, pebbles, and some select plants.
Because the fire pit is in the middle of a garden area, you can only place seating on one side of it.
You can also see how the retaining wall extends behind the fire pit. You can use these as planters and fill them with various plant species too!
Not to worry, as this can still create a stunning look. Plus, it can be a great idea to place some more chairs and a table on the patio for more seats.
This can be excellent if you plan to host guests or simply have more people living in the house.
14. This Half Circle Retaining Wall Fire Pit on a Brick Patio Evokes a Homey and Down-to-Earth Ambiance
We have mostly talked about fire pits with circular retaining walls to frame the area. But for our last example, it's time to explore a more unique approach that's perfect for creating a homey ambiance.
Starting with a brick patio to establish a sense of timelessness and earthy effect, rest assured that this design will be right at home in houses of any style. From traditional and classic, to modern contemporary alike!
Of course, you won't miss that the centerpiece of this fire pit area is the half-circle retaining wall, which encases the fire pit neatly in a sophisticated way. It is also a seat wall, which means a lot of people can be enjoying the atmosphere here together.
We also love how the small lanterns and lights implanted into the wall provide a beautiful warm glow.
These can also help keep the space well-lit when the flame is not in use. Plus, these lanterns add a lovely charm to the area.
Closing
So, what do you think of these retaining wall fire pit ideas?
Did any of them inspire you to revamp your own outdoor space?
Or have we missed any brilliant design trend that might look perfect for your home?
Don't be afraid to experiment with your individual style by combining elements from different examples that you've seen today. There is no design more perfect than the one that fuses your personality and what you need in a space.
When building a retaining wall fire pit, it can also be a great idea to install a steel fire ring. This may help your retaining wall blocks last even longer. Good luck!