Are you looking for the best design to create a raised patio against your house? Well, you've come to exactly the right place!
When you're building a raised patio against your house, you can include unique features like curved edges and corners, as well as stairs. It's an easy way to expand your living space while elevating your landscape appeal.
There are a lot of reasons why adding a patio space can be an excellent way to improve your home design.
You can use it as an outdoor dining area for barbecues and hosting parties, an entertaining space, an extra spot for relaxing, and simply enjoy the surrounding environment of your neighborhood.
Without further ado, here are some of our favorite ideas for a raised patio against the house that you may find inspiring. Let's go!
1. Complete Your Raised Concrete Patio Against The House with an Outdoor Kitchen and Pergola
Our first example is a contemporary multi-level patio that features a stylish outdoor kitchen and a pergola over the entire space.
This raised patio uses concrete as the main material, which is super durable and can last you at least 30 years. Besides this durability, concrete is also a neutral and versatile base that goes well with a variety of architecture styles.
For the outdoor cooking area, you can see that the owner has placed an outdoor grill and enough countertop space for prepping the food. This can be an excellent addition if you want to turn the space into a place for entertaining guests. Just grill some burgers and veggies and enjoy them on the dining table!
Moreover, you can also see how the pergola acts as both shelter and aesthetic decoration. It can help keep some degree of weather elements away from the furniture, while the black color is a stunning look against the white exterior.
2. Try a Raised Patio Against Your Exterior Stone House for an Elegant and Medieval Feeling
Next up is a raised patio for an elegant stone house exterior. The multicolored stones also evoke a medieval-esque feeling that can make your house appear grand.
This classic design idea can be a perfect inspiration if you're looking to create a house that feels traditional and charming but still ultimately timeless.
In terms of furnishing the patio, you can consider arranging some sunbeds along with it too. This provides spots for you to relax on during the day. Meanwhile, planting some vines and greeneries here can establish some coolness too.
You can even add some stairs leading from the front yard to the patio, which you can then use to step into the main house. This means creating multiple points of entry to your home and enhancing the illusion of size!
3. Go for a Raised Bluestone Patio Against the House with Matching Front Entry Steps
This traditional patio is the perfect example for those who are looking for a simpler approach and do not want to place any furniture on their patio.
This raised bluestone patio sits nicely against the Fondulac stone walls and features front entry steps using the same materials. Here, you can see that the patio simply acts as an extension to the front porch that leads straight into the home.
Adding some height to your home can be a great way to make it feel much more elevated and upscale. It keeps the house separate from the natural landscape while still being ensconced by the lush greeneries and trees.
You can even place some potted plants along the wall. They can maintain the simplicity of the façade while still adding some life and evoking a bit more character to the space too.
4. Contemporary Wood Home Exterior Featuring a Trendy Raised Patio Against the House
Here is another contemporary house, this time with a wood exterior and the trendy raised patio against it. You can see an example of how to utilize the space as a place for hanging out.
The raised patio itself is a pretty simple stone slab built against the main building of the home, enclosed on three sides by different walls of different rooms. This surrounding arrangement is actually great at creating a sense of privacy and coziness to the patio.
You can place an outdoor table and some chairs here where you can enjoy an outdoor meal or host garden parties. Using glass doors around this area also helps blur the inside spaces with the outside.
Plus, to make the patio even more beautiful and feels refreshing, don't skim on the potted plants and greeneries! Not only will these match the green lawn right in front of it, but they can also make the air feel cleaner too.
5. Complement the Raised Patio Against Your House with Decorative Planters for a Lively Ambiance
We have seen that plants truly can transform a space and fill it with life, evoking so much soul in what would otherwise feel like a flat and unlived area.
Here, the raised patio can be coupled with decorative planters to create the ultimate green thumb's paradise. Build the planters right into the patio structure to have that integrated and seamless connection.
You can also place one set of planters on each side of the entrance, where these planters can be the attractive homes of your favorite plants and trees. The contrast to the plain and empty patio is also quite an appealing jux.
While these planters may still look a little bare and small right now, remember that they can grow more luscious as time goes. Imagine just a few years down the line when the small saplings become bushy trees framing the home!
6. Build a Classic Raised Patio Against The House Complete with a Roof Extension and Cozy Seating
Another great idea you can try to implement when building a raised patio against your house is to extend the roof structure so that it provides shelter and a cozy atmosphere to the entire enclosed space.
First off, this is the kind of architecture you can adopt in a house with any style, including this elegant traditional exterior with its beige siding and clean landscapes.
When you are creating a roof extension that connects with the raised patio, you probably need some additional beams to support the structure. The wooden posts themselves actually look quite fitting for this house too.
Moreover, you can place different chairs and seats here to create various spots – perfect for entertaining!
The retaining wall around the patio is also meant to be a seat wall, which means they are short enough that people can comfortably sit on these surfaces. It really is an excellent use of space while also providing some more privacy to your patio.
7. Blend Your Raised Patio Against the House with a Retaining Wall Frame and Plantings
We have up next a similar design where the raised patio with retaining wall can also be a seat wall. But here, you may also notice how the huge emphasis on plantings allow the house to integrate even more with its luscious surrounding.
This is also an example showing how you can use a raised patio in your backyard instead of always in the front. It's a brilliant alternative if you want to maintain some sort of privacy that is farther away from the sidewalks.
The concrete paver used for the raised patio is framed by a retaining wall block, which creates an excellent outline for the shape and connects it with the stone steps. You can also use this as a sitting wall to ensure enough seating when you have guests over.
Finally, consider adding more plantings on the ground right next to the raised patio. Use this space to plant some of your favorite flowers, bushes, and trees, to create the perfect backyard!
8. Create a Multi-Level Raised Patio Against The House with a Fire Pit for the Perfect Hang-Out Spot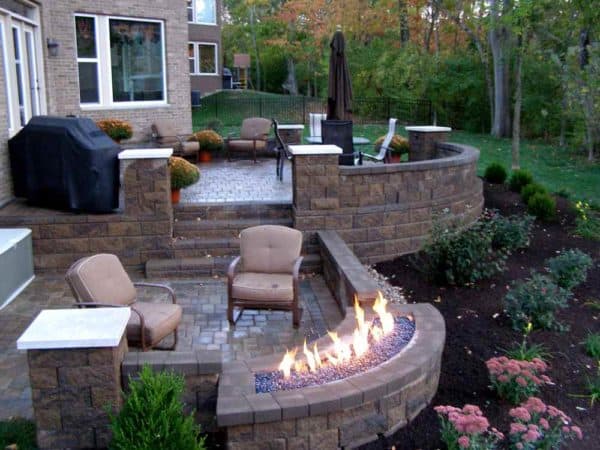 A multi-level patio is perfect for those wanting to add some depth to their home's exterior while providing more space and seating at the same time.
You can see here how the raised patio against the house features two different levels, each with its own dedicated space for sitting and relaxing. The above level is much larger with multiple chairs, an outdoor umbrella, and some decorative plants.
Meanwhile, the lower level of the patio is intended for a cozy and more intimate ambiance. The two armchairs facing outside are a great place to read a book or just watch the landscapes. Not to mention the fire pit to add some more beauty and warmth to the space!
If you are planning to build a multi-level patio like this, it may be worth considering multiple steps, too, so you can enter from different parts of the garden and make it more accessible.
9. This Timeless Stone Exterior Looks Classy with a Raised Patio Against the House
In this timeless stone home with lots of charming windows and a beautiful light moss green color, you can see that the raised patio feels like a very natural part of the house instead of an afterthought.
This can be an important design tip when creating any additional parts to a home, which is to make sure that they look seamlessly integrated with the rest of the house.
The raised patio in this picture features a material that complements the stone exterior of the house, as well as tiled flooring that looks extremely classy and timeless at once. What is even more impressive is that this tiled pattern is mimicked on the lower level lawn with grass and stone.
For the patio, you can maximize the additional living space by placing some outdoor chairs and tables. Don't forget to adorn the empty spots with lots of colorful plants and flowers!
10. Consider Modern Architecture Featuring This Raised Back Patio Against the House
This next photo showcases a modern backyard and raised patio that fits right into the rural neighborhood. However, it still maintains a unique sense of personality with a lot of individualized elements.
The contemporary white exterior is a popular choice for modern homes, while the subtle touches of wooden slats along the windows and square balcony carved right into the corner edge evoke some Japanese architectural vibe.
The patio is home to two sets of dining tables and chairs, which is excellent if you like entertaining large groups of people at once. You can even place a BBQ or grill here to complete the outdoor living experience.
Of course, no outdoor area is complete without the right lighting. Go for a nice mix of wall lamps and lanterns, as well those implanted on the ground too! This will ensure that you have a well-lit patio you can use even after nightfall.
11. A Simple Yet Stunning Raised Patio Against The House for a Lovely Blank Canvas
Oftentimes, it is the simplest design that can have the most powerful impact, which you can see through the dramatic rounded shape of this raised patio.
Unlike the straight lines and blocks that seem to be ever popular in today's modern home designs, this patio goes back to the classic round shapes, soft edges, and flowing styles of naturalistic design.
It is excellent if you want a house that blends well with its surrounding nature, which you can see this house does. You can keep the patio space fairly simple by not placing anything on it. Instead, this can be an empty and refreshing space that bridges your house and the front lawn.
But that doesn't mean you cannot dress up the areas around this patio! Place some potted plants and plant even more bushes and flowers for a refreshing vibe.
12. Raised Patio Against the House for a Charming Backyard Connecting to the Pool
Here's another example of a raised patio in the backyard set right against the house. This time, it helps create a classic courtyard complete with an outdoor kitchen and living space that also connects to the pool area.
You can feature some stylish elements like the dining area, outdoor sofa, fireplace, and stone steps towards the pool. Meanwhile, the brick paver pool decking matches the material used for the patio, and this allows for a seamless connection between the two.
Of course, you should always have some sun loungers next to the pool. It's the quintessential look for a classic countryside pool design. The decorative planters along the patio seat wall are also great at enhancing the visual appeal of this backyard.
13. Use Glass Doors and a Raised Patio Against the House for the Perfect Entertaining Space
Next, we have a raised patio design that also opts for a more flowy and circular shape rather than the traditional square or rectangular silhouette. Again, this establishes a beautiful relation to nature while complementing the sleek white exterior of the house.
The main appeal here is the glass doors and numerous windows. All of these can slide to the side and upwards to take the space to a whole new level. Opening up the indoor space lets it blur with the outdoor patio and make for the perfect home for entertaining!
Don't forget to place multiple sets of dining tables and chairs, as well as an outdoor grill. From hosting family gatherings to parties with friends, this patio is a truly charming spot in the house.
14. Try a Rectangular Pool with a Fountain and Planters to Complement Your Raised Patio Against The House
Last but not least, this lovely house incorporates a raised patio against the house that is also integrated with a traditional pool and fountain features.
Water features are an underrated element in design that can truly elevate your space, especially an outdoor area like a raised patio. The planters are filled with beautiful red flowers and have a built-in fountain that goes straight into the pool.
Meanwhile, you can use large steps towards the raised patio for a more spacious feeling. The patio also extends outwards and is wider than one side of the house, which also creates an illusion of space.
Another great idea is to build some tables along the windowsill and place a couple of bar stools to set up a cozy little breakfast nook!
Closing
All in all, there is no limit to how you can design a raised patio against your house. Whether you want something that is rustic and country-style or a more modern and sophisticated design, we hope these photos could provide some ideas for you.
Feel free to pick your favorite elements from each example and combine them to create the perfect patio for yourself. You can then place furniture like swing chairs, picnic benches, an outdoor grill, and lounge chairs.
This will allow you to create a cozy lounging space for unwinding in the outdoors. Of course, it's always a good idea to incorporate greeneries and lots of natural materials too. Good luck!