Our front steps are not only how we can get into our homes. They represent the beginning of your safe place, marking the threshold between the outside world and your personal sanctum. This is where you sit in the summer to read a book or simply watch the neighborhood.
A beautiful front step design will welcome your guests, and one of the best ideas for this is to use concrete. They are not only simple and perfect for a timeless design; concrete front steps are also functional and nondescript.
Whether you like a minimalist or extravagant style, concrete can be your best friend. They can help your home look more appealing and completely revamp the exterior of your house. From the easiest ideas to the most dramatic, we have compiled some excellent photos that you can use as reference.
Without further ado, here are 12 of the most brilliant concrete front steps design ideas to inspire your home decor. As always, don't be afraid to mix up the different designs and make them your own.
1. Raw Concrete Front Steps to Match A Grey Farmhouse Design Exterior
We've mentioned that concrete is the easiest way to transform the front exterior of your house, and these raw concrete front steps can prove that.
Despite its incredibly simple design, it can highlight the elegant single front door, which you can get from Thermatru. The neutral gray color offers a natural complement to the house's grey and white farmhouse style.
In terms of the paint color, the house is coated with some stunning James Hardie's pre-finished colors – Timberbark for the wall and Navajo Beige for the door and window trims.
As a finishing touch, hang a modish wreath on your front door. This could help create that warming and welcoming effect.
Additionally, the yellow pendant lighting is from Home Depot. It's an excellent choice for this house design, although you can always choose a different style that suits your own preferences!
Placing a pot or growing some bushes next to the concrete steps could be a great idea to add some greeneries too.
2. Hidden Concrete Front Steps Leading into A Tranquil Home Design Amid Luscious Home Gardens
If simple, mainstream is not your cup of tea, don't worry. That means you're looking for a showstopper of a front porch that will impress any guest. In this photo, you can see a tranquil home design surrounded by luscious private gardens.
It more than simply dazzles; this front house becomes the ultimate entryway leading you from the bustles of the outside to the peace and calm that lie within.
Use stained and textured concrete pads as the steppingstones to the house. If you want to create the sunken and integrated look, we recommend forming and pouring the concrete in place.
For the perfect garden, it is best to consult with a landscape architect who knows the best plants for your geographical location. This one uses a mix of Ardisia Crispa, Xanadou Philodendron, Acanthus, several types of ferns, and Indigo.
The bamboo is Bambusa eutuldoides viridi-vittata and Asian lemon bamboo, which don't have to be contained. These may be more difficult to source, but once planted, the bamboo will be a stunning focal point that makes your home feel like a tropical paradise!
3. Create a Comfortable Modern Villa Design with Large Concrete Front Steps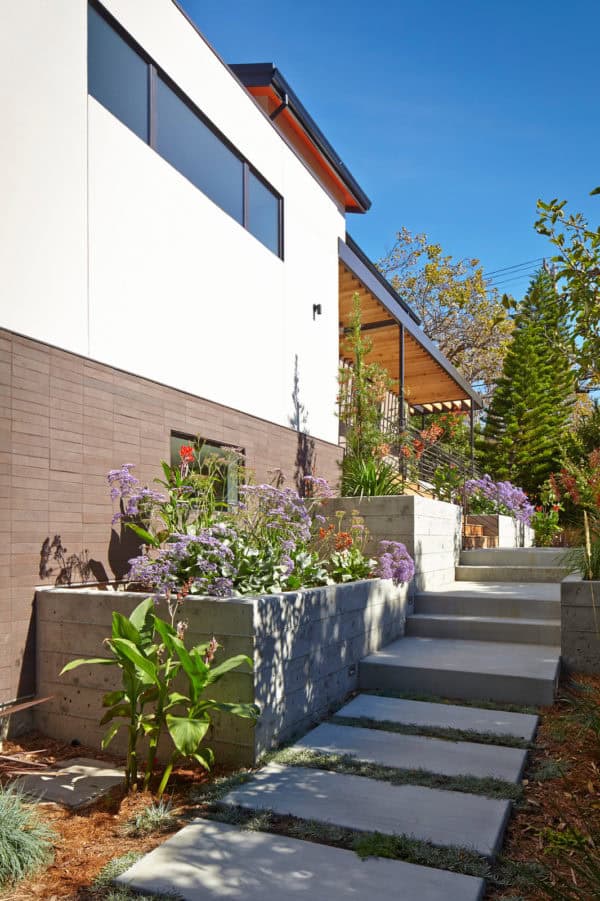 For our next design idea, we are featuring a comfortable modern villa with concrete planters, concrete pads, and concrete front steps taking you to the front porch and main doorway.
First of all, notice how the concrete retaining wall planters match with the steps and lead you to the multi-level entry. The effect grounds the house onto the site while wrapping it with surrounding greeneries through the veranda and trellis. You can even use large eave overhanging from the roof to enhance the house's character.
It can be a good idea to embrace your heritage and cultural values in your design. For instance, the owner of this villa displays their Dutch heritage by painting the eaves orange. This also accentuates the prominent roof in addition to the dramatic overhangs.
Additionally, you can paint certain areas of the house, like the master bedroom in this case, with a white box for an extra flair. It will open up and complement the veranda even more.
4. Concrete Path and Front Steps with Yellow Illumination Can Evoke an Exquisite and Trendy House Design
This front entrance pays homage to trendy patio designs reminiscent of contemporary Japanese styles. The concrete path and front steps are illuminated with warm yellow lights for the perfect ambiance of a cosy and welcoming oasis.
To get the same look, you can pour the concrete in place and use a sand blast finish, which we recommend for a local contractor to create for you. Add some gravel and pebbles around the steppingstones to mix up the texture.
Meanwhile, you can also plant some ferns and small trees around to add the natural and exotic appearance. To make the transition more seamless, install some more warm lights on the porch area to match the outdoor lighting.
This design inspiration is perfect for those wanting an exquisite and trendy exterior without making it too extravagant and overwhelming. Better yet, this kind of style fits well with almost any house siding, especially neutral-toned ones.
5. These Concrete Front Steps and Walkway Showcases a Dramatic Design Idea with Unique Vibrancy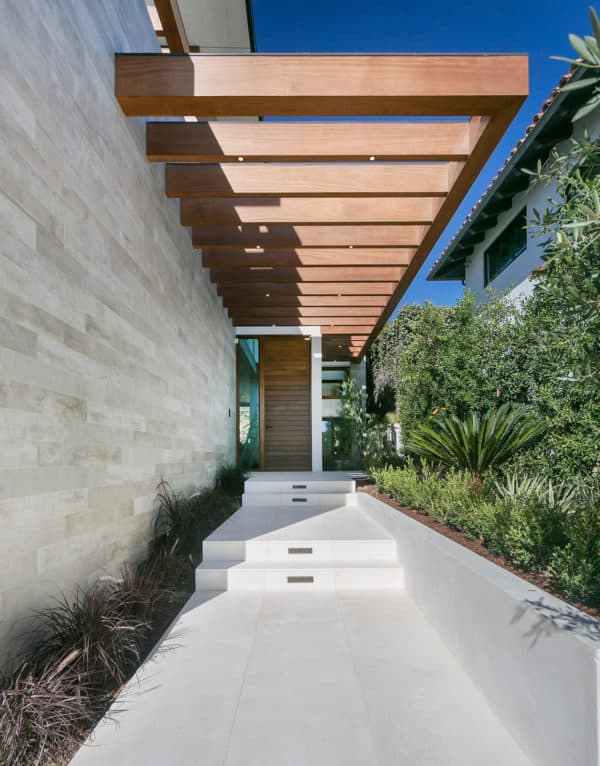 Part of the appeal of a contemporary home is its refusal to conform to just one category of design. To illustrate, the house pictured here is both simple and elegant in all aspects. It is a brilliant entryway that has a tinge of drama presented in a classy way. In other words, grand yet modern.
You can see how the rich mahogany wood door and trellis provide a stunning contrast to the limestone and white concrete walkway. It evokes a sense of vibrancy and elevation without being too much.
There are several brands offering a similar-styled front door, including Ville Doors and Glass-Door.US. However, we're sure that any local contractor or builder would be able to customize something for you.
Feel free to place planters along the walkway filled with native plants, which can bring more color and lushness to your home. This will help prevent the space from feeling to dry and stoic.
In addition, the plants can create a degree of separation and privacy from your neighbors and the outside world, thus creating a safe space just for you and your family.
6. Try the Idea to Pair Concrete Steps with Ornamental Perennial for a Beautiful Front Exterior Design
Bored of grass, bushes and boring trees when trying to liven up your home?
We have the perfect idea for you!
In this charming home, plant colorful perennials, shrub roses, and ornamental grasses to create a gorgeous front yard garden.
It teems with the perfect appeal as it provides a cacophony of bright colors, especially when contrasted with the concrete front steps and metal railings leading up to the house.
Some of the plants used include Karl Foerster Feather Reed Grass and Hydrangea, but don't be afraid to experiment with different perennials and flowers.
You can see a small sitting area at one side of the house, which is paved with Brussels Block, just like the front walkway. It is the ideal complement to the concrete front steps, as they both have a neutral and toned down look, which immediately grounds the house to the local landscape and architecture.
Moreover, you can get a similar look for the front door by painting yours in Cinnamon Brown, Pantone CMS 491. It is a beautiful natural tone that can fit with any exterior style, including this green and lively cottage garden home!
7. Contemporary Home Design Featuring Descending Concrete Front Steps and Wood Front Door
There is no rule when it comes to home design because it is exactly as it says on the tin: your home should feel like an extension of yourself, which is why it should cater to your personal taste and preferences.
In fact, the best design choices are those that reflect your personality!
In this photo, you can see how the owner is inspired by non-traditional conventions.
The concrete front steps descent to the house, instead of the typical ascending steps. These lead to a concrete pavement or porch and wood front door, which also connects to the textured wood front.
These descending steps are actually an excellent way to create a sense of privacy and separation from the outside world.
Especially when your property is surrounded by private grounds or forests, as it can make your home feel like a complete sanctuary to rest in.
To complement the front steps, you can incorporate ideas like a simple metal railing, potted plants and flowers, as well as a rooftop with massive skylights, so that this semi-outdoor space still feels open and bright.
8. Concrete Front Steps that Lead to A Charming and Traditional Cottage House Design Can be A Genius Idea
For your next inspiration, we present a traditional cottage house which looks so quintessentially countryside. It is perfect for country houses, or anyone who wants to capture the laidback and timeless sense of the style.
As you can see, the house here is more traditionally elevated, which is why a simple yet charming front step from concrete could be the best idea. Specifically, the walkway and front steps use James Hardie Cement Board siding.
You can also get this garage door from Twin City Garage Door in Minnesota, although any good door supplier should be able to customize a similar one for you. Plus, hanging outdoor lanterns can provide some excellent illumination while adding some character too.
In terms of paint colors, this house Ben Moore shades, including Copely Gray for the body and Elephant Tusk for the trim.
We recommend getting samples first as these colors may look different on your house. Meanwhile, the roof is Barkwood painted in Timberline.
9. Evoke A Modern Architectural Design and Dramatic Flair with Staggered Concrete Front Steps and Asymmetric Railings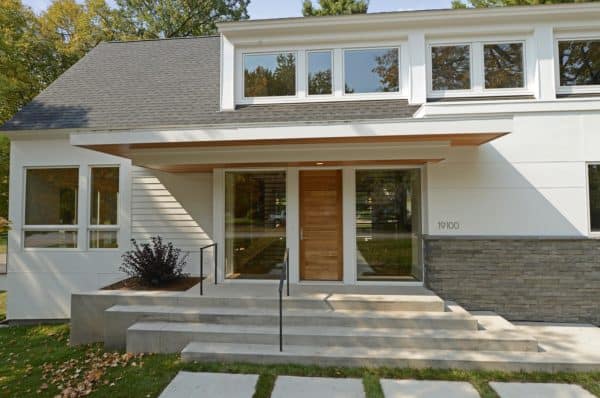 Symmetry can be an attractive element in design, but so does asymmetry. You can see how the house in this picture showcases the best of modern architecture vibes with its asymmetrical concrete front steps and staggered railings.
This is a reminder that you can be as creative as you want when designing your house. Try to express yourself and be bold in making architectural choices. Who knows, the results may surprise you, as in this one!
The concrete front steps also open up on one side and supports a built-in planter. You can use this to plant some flower shrubs, perennials, or any ornamental plants that you like. They can add a touch of the wilderness in an otherwise contemporary haven.
As with the previous photo, the door depicted in this one is also from a local store in Minnesota, which is Fullerton Lumber. It is a perfectly simple wooden door but looks stunning flocked by the floor-to-ceiling glass windows.
10. Unique Idea to Contrast Neon Colors with Industrial Concrete Steps for a Funky and Attractive Resident
Another unique idea which you can try is to contrast neon colors with industrial concrete front steps. This will evoke a funky style that makes your house look truly attractive.
For instance, this photo depicts a bright neon front door matched with a bright red butterfly chair. When combine with the darker colors of the house, they look extremely eye-catching. The siding and eaves both use Benjamin Moore, which is Graphite (#1603) for the siding and Gunmetal (#1602) for the eaves and fascia.
Moreover, you can achieve a similar stucco by using Timberwolf also from Benjamin Moore, whereas the front door is Tequila Lime with a semi-gloss finish. In addition to the dramatic structure of the house itself, these colors will appear very cohesive and in place.
Moving on to the concrete front steps, you can ask your contractor to create some lines to further enhance the industrial look. The raw material and color of pure concrete slabs provide a beautiful stairway leading up to the house.
11. Build a Regal Concrete Staircase for a Timeless Lake House Model Design
If you are going for a more royal and classic design that will never go out of style, take a look at this beautiful lake house design. The house itself flaunts a gorgeous architecture with excellent siding and colors, but the walkway and steps are equally dramatic.
These paved steps lead to a walkway flanked by ornamental shrubs and flowers, which will take you to the gorgeous front porch and door. Look at how the glass-paneled doors blend with the surrounding windows. This can be a great way to create a seamless look that blends together, perfect for a classic style.
Moreover, you can surround the concrete front steps and walkway with some grass or garden area. It is a slope so you can't actually place outdoor seating or swings, but making sure the lawn is manicured can make your home feel like a tropical haven.
12. Perfect the Minimalist Design by Combining Concrete Front Steps with Wood and Metal Elements
In our last photo, we wanted to highlight another excellent minimalist design that combines different materials together. Wood and metal are no doubt the star in this exterior, but so are the concrete front steps and its unique styling.
The mixed siding exterior is an excellent way to evoke both nature and manmade elements, while the concrete grounds them together. You can get a similar shade for the gray exterior using Sherwin Williams' Zen Retreat. There is also a great opportunity to plant some shrubs and small trees in front of your home to add a touch of lusciousness.
Furthermore, the concrete steps are laid atop a metal structure that matches the railings. Instead of the traditional solid concrete steps, the spaces and gaps here can evoke a contemporary vibe. This helps to make your house feel lighter and more spacious, while creating the illusion of a house which is floating midair.
Closing
Designing your dream home begins on the outside and there is no better way to revamp its exterior than choosing the best concrete front steps. After browsing through this list, we hope these design ideas could spark some inspiration for you.
Whether you prefer a contemporary and modern look with bold lines and simple features, or a more traditional and timeless style with dramatic accents, these front step ideas could offer the perfect starting point.
Remember that it's important to recognize your personal taste so you can ensure that your home reflects who you are. Do not be afraid to get creative and think outside the box, combining your favorite element from one design with another. Good luck!